[$5,000 Voucher] How to accept e-vouchers for Shopify, Shopline, Boutir & WooCommerce | Article – HSBC VisionGo
How to accept e-voucher payments from your customers on Shopify, Shopline, Boutir & WooCommerce online stores? What options do you have?
Finance · · 4 mins read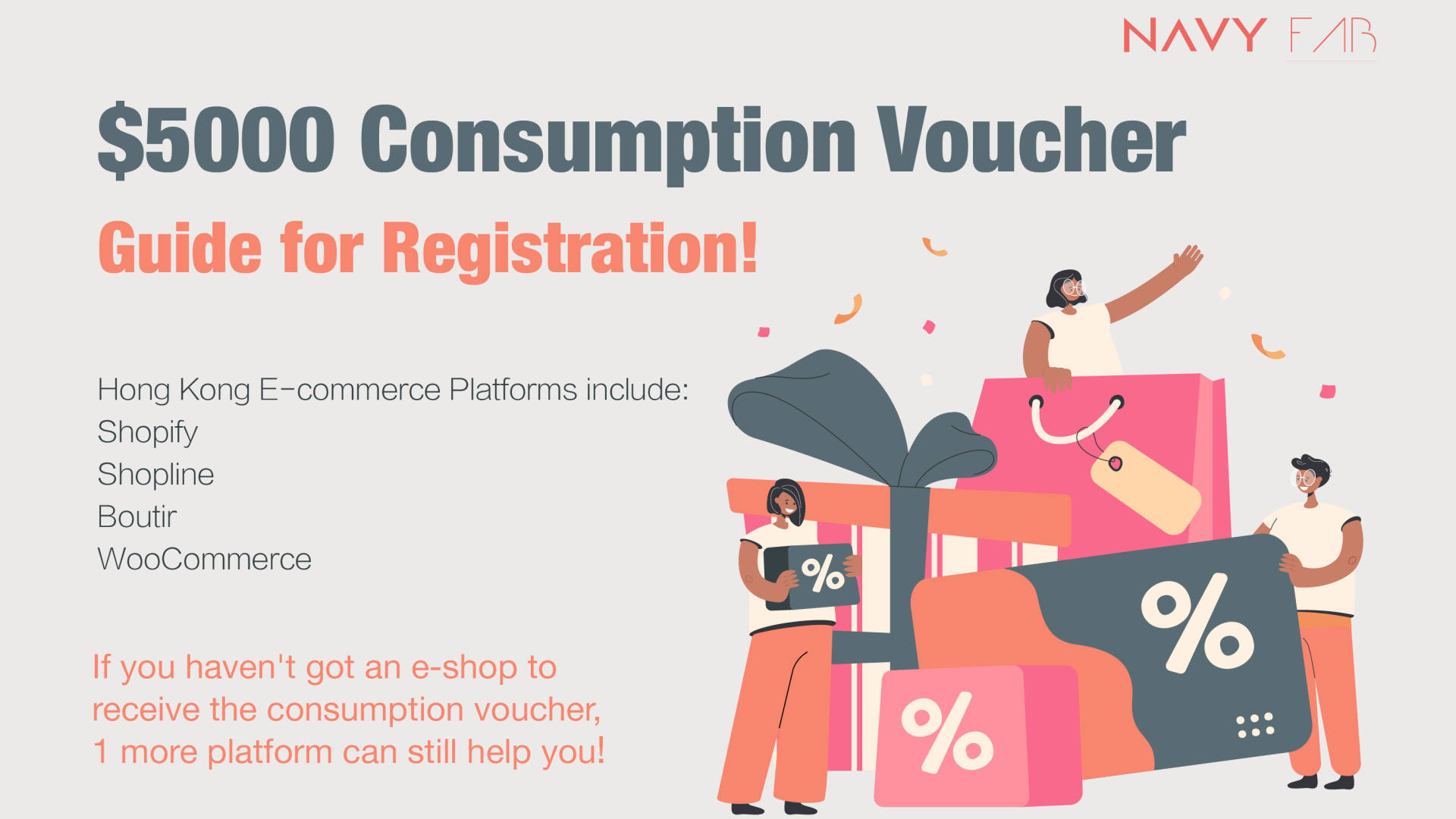 According to the 2021 – 2022 Financial Budget, the government has announced that Hong Kong residents will receive $5000 in digital vouchers to boost spending and stimulate the economy in Hong Kong. When can you start applying? What kinds of companies and businesses are eligible to accept e-voucher payments from customers? How to accept e-voucher payments from your customers on online stores?
As an ecommerce and government funding expert, Navy FAB team will let you know the details below to prepare you earlier!
What is the Consumption Voucher Scheme?
When delivering the Budget on February 24 this year, the Financial Secretary proposed issuing electronic consumption vouchers in instalments with a total value of $5,000 to each eligible Hong Kong permanent resident and new arrival aged 18 or above, so as to stimulate local consumption. The Consumption Voucher Scheme (the Scheme) aims to stimulate the consumer sentiment, enabling the funding under the consumption vouchers to circulate in the local economy, so as to boost local consumption to the fullest extent and accelerate economic recovery through the multiplier effect. It is estimated that there are around 7.2 million eligible persons, involving a financial commitment of about $36 billion. At the same time, the Government also wants to encourage through the Scheme more local merchants and members of the public to use electronic payments, so as to foster the development of the local electronic payment market.
How will the electronic consumption voucher be distributed?
The electronic consumption vouchers could be distributed in two rounds of HK$2,500 through the four selected four stored value facility (SVF) operators and recipients given two months to spend each instalment.
The residents can only choose one of the 4 SVF operators to receive the consumption vouchers throughout the scheme.
Consumer Eligibility
Eligible Hong Kong permanent resident and new arrival aged 18 or above, including persons entering Hong Kong with the "Permit for Proceeding to Hong Kong and Macau" (commonly called "One-way Permit") and those as dependents of Hong Kong permanent residents
Applicable Business/ Merchants
E-vouchers scheme aims to boost local spending and domestic consumption and accelerate Hong Kong economic recovery. Businesses including food sectors, wet markets, ecommerce platforms such as HKTV mall or online stores operated with company BR are benefited. Please note that e-vouchers cannot be used in foreign merchants, online businesses that do not hold company BR, utility bills like electricity and water bills or for tax payment purposes.
4 E-payment Platforms to Issue Digital Vouchers
Alipay HK (支付寶香港)
Octopus (八達通)
Tap & Go (拍住賞)
WeChat Pay HK (微信支付)
Registration Method for $5,000 Consumption Vouchers
Register and verify your identity from the central registration system set up by the Government. In addition to the central registration system, eligible persons may also register through paper forms and submit them with copies of their identification documents at designated locations.
Provide basic personal information, including name, number and date of issue of the identity card or Certificate of Exemption, mobile number.
Select AlipayHK and provide the account number.
Application Period
The government plans to open the registration in July 2021 at the earliest.
FAQs
Q: Is the consumption voucher scheme applicable for Hong Kong Shopify?
A: Yes, but only registered businesses of Hong Kong on the Shopify platform can accept e-voucher payments.
Q: Which e-payment service operators accept consumption voucher transactions?
A: AlipayHK, Octopus, Tap & Go and WeChatPay HK. These operators have agreed to waive, as far as practicable, relevant fees for the installation and usage of payment devices by local merchants and the administrative fees for processing payments made with the consumption vouchers. Popular mobile electronic payment services such as Payme and BOC Pay cannot use digital vouchers.
Q: Which e-payment methods can Hong Kong online shops install to accept payments from the electronic consumption voucher?
A: Popular online store Saas platforms such as Shopify payment methods of Tap & Go, AlipayHK and WeChat Pay for customers to use the electronic consumption voucher while for Shopline merchants, they can only use AlipayHK. For Boutir merchants, they can accept AlipayHK WeChat Pay and Tap & Go. As for WooCommerce merchants, they can install ScanForPay, FIbreAPI or other payment service providers which can enable the transactions via AlipayHK and Wechat Pay.
For the common credit card payment options such as Visa, Master and UnionPay, the electronic consumption voucher cannot be used.
If you would like to compare the benefits and drawbacks of using Shopify, Shopline and Boutir, please check this article.
Q: What payment methods on Hong Kong Shopify stores can accept digital consumption vouchers?
A: Shopify natively supports Tap & Go as it allows MasterCard payment method. Meanwhile, Hong Kong Shopify accepts WeChat Pay HK and AlipayHK through certain payment partners without paying 'Additional fees using all payment providers other than Shopify Payments'. However, to note, there will be a one-off settlement account opening fee. Applying through Navy FAB will have a discounted package on the handling fee. Navy FAB also partner with Alipay to offer direct installation such that you can receive payments from Alipay HK and Alipay Global as well! Please contact us for more details.
Q: What payment methods on Shopline stores in Hong Kong can accept electronic consumption vouchers?
A: Shopline accepts Alipay HK and Tap & Go.
Q: What payment methods on Boutir stores in Hong Kong can accept electronic consumption vouchers?
A: Boutir accepts Alipay HK, WeChat pay and Octopus.
Q: What payment methods on WooCommerce stores in Hong Kong can accept electronic consumption vouchers?
For WooCommerce, you can apply for ScanForPay or other payment service providers such as Alipay, Alipay HK, Wechat Pay.
Q: If our company may not have enough budget and resources to build a new online store, while we still want to be benefited from the $36B Consumption Voucher Scheme, what would be the fastest and most affordable method to sell my products and accept e-vouchers online?
Alipay RewardBuy Platform is a new ecommerce channel on AlipayHK mobile app for merchants to drive their online business. The Platform has over 9M views and has high flexibility on managing the e-shop, where you can easily upload the products and manage orders while customers can effortlessly browse and search your brand on the platform. Also, it provides an e-stamp reward scheme to let customers earn e-stamps during each expenditure and different promotion events to attract purchases. Normally the duration of launching a new e-shop on the Platform takes 2-3 weeks, then you can already accept digital vouchers directly on AlipayHK app. If you would like to understand more about our package, please contact us as soon as possible!
About NAVY FAB
Navy FAB is a full-service digital agency and ecommerce technology startup leveraging the cutting edge of digital and ecommerce solutions. We wholeheartedly believe in the power of brands and our mission is BRINGING YOUR BRAND TO THE GLOBAL STAGE. We help brands achieve an online presence by working to build unique brand identity through our custom ecommerce and tech solutions.
Certified as Shopify Expert in Hong Kong (verified Shopify Partner) of Hong Kong, our team are passionate and sophisticated in Shopify web design and web development, Shopify and ecommerce consultation, custom Shopify app development, Shopify SEO, Shopify email marketing and other kinds of digital marketing.
Our design and development experience extends across retail brands, direct-to-consumer brands and service brands. At Navy FAB we immerse ourselves into our clients' businesses, taking a consultative approach to digital branding strategy & ecommerce when providing professional services.
Visit our website and learn more about our Shopify branding development workflow, web design workflow and our best web design showcases.