Can I set up a business bank account without having an office? | Article – HSBC VisionGo
The answer is "Yes"!
Finance · · 3 mins read
Can I set up a business bank account without having an office?
Opening an online business is becoming one of the main options for many first-time business owners because of lighter initial investments and easier access for customers to products and services without geographic boundaries. But when it comes to opening a bank account, first-time business owners may have this question come to mind: Can I open a bank account for my businesses without having any physical office in Hong Kong?
The answer is "Yes".
【From now to 31 January 2021, enjoy 15% off the account application fee if you successfully submit an account opening request online. Click here.】
It is not necessary to lease physical office space in Hong Kong for opening a business account. Some home-based or service-oriented business owners, where clients can contact the company online or over the phone, may consider not to have an actual physical office for their businesses. And this will not be included as a consideration for whether the application of account opening will be accepted or rejected.
However, business owners need to provide an address to list as a workplace of the company during the business incorporation process. To verify the authenticity of the company, banks may also require a proof of business address, which should be identical with the one used for business incorporation.
Before approaching banks for opening a business account, you should first complete the business incorporation/company registration. In the unlikely case that you have not gone through the mentioned process, you can visit https://www.gov.hk/en/business/registration/businesscompany/index.htm to know more.
In this article, we will walk through how businesses can open a bank account without a physical office.
Eligible address proof for account opening
Suppose you are a first-time business owner with limited resources, in that case, you may consider using your home address or office service providers as alternatives. Before making a decision, you can read below to catch a brief idea of these alternatives.
Virtual Office
Virtual Office is a business centre that offers virtual solutions to startups and small businesses that need office space and services. Most importantly, it provides an office address for company registration and account opening.
[Tips: What is the difference between Virtual Office and Co-working Space ?]
When you rent a virtual office, you will get service associated with an actual office, such as a physical address, call answering services and reception, which is a great option for entrepreneurs who do not want to use their home address as a business address, or for freelancers who constantly move. For a Co-working Space, it is more like a shared office space that are rented by entrepreneurs and startups of any kind, and most importantly, it is cheaper that traditional offices.
2. Company Secretary Services
Limited companies registered in Hong Kong are required to appoint a company secretary, and its role is to ensure that the company complies with all standard financial and legal requirements in Hong Kong. The company secretary can be a body corporate, and its physical office address can be used for company registration and account opening.
3. Accountancy Firms
Using the accountancy firm office as the registered office address and account opening is also acceptable. Accountants can also provide services like managing all routines correspondence that comes in for limited company and take good care of the processing and filing of documents and information.
4. Home address
First-time business owners may want to use their home address for company incorporation and business registration, as it does not involve any added costs of leasing a physical office and your organisation correspondence will be brought to you home conveniently. However, there are several factors to take into consideration when using a home address for commercial use: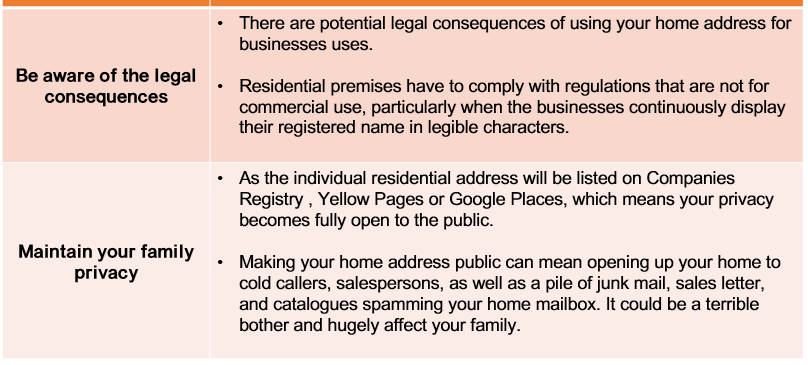 It is also important to know that the residential premises have to comply with regulations that are not for commercial use. Home address is therefore not accepted for business registration and bank account opening when the primary commercial activities of a company seemingly cannot be conducted in a residential place.
For example, if your company is a garment manufacturing company, business activities range from spinning, knitting, dyeing and finishing obviously cannot be carried out at home. In this case, using your home address for registration can be considered unacceptable.
In short, if you can provide an eligible proof of address, whether you have a physical office in Hong Kong or not should not be an obstacle for opening a bank account.
Banks in Hong Kong have been committed to offering easy access to affordable banking services and solutions to early-stage companies, particularly in helping startups and SMEs.
Taking HSBC as an example, the bank now enables eligible SMEs to complete the entire account opening application online without leaving the comfort of your home.【From now to 31 January 2021, enjoy 15% off the account application fee if you successfully submit an account opening request online. Click here.】
HSBC also offers a new proposition called "HSBC Sprint Account" that provides a more straightforward and smarter banking experience for small businesses and startups.
Whether the business has just started or is getting ready to thrive, business owners should always choose a trusted partner that can safeguard finances and provide a faster and better banking experience. Visit: https://www.business.hsbc.com.hk/en-gb to see what HSBC has to get you covered.