[GBA Strategy] How can companies in the Bay Area and Mainland China leverage Hong Kon | Article – HSBC VisionGo
The revelation of Hong Kong Macao Great Bay Area Seminar · August 2021
Management · · 11 mins read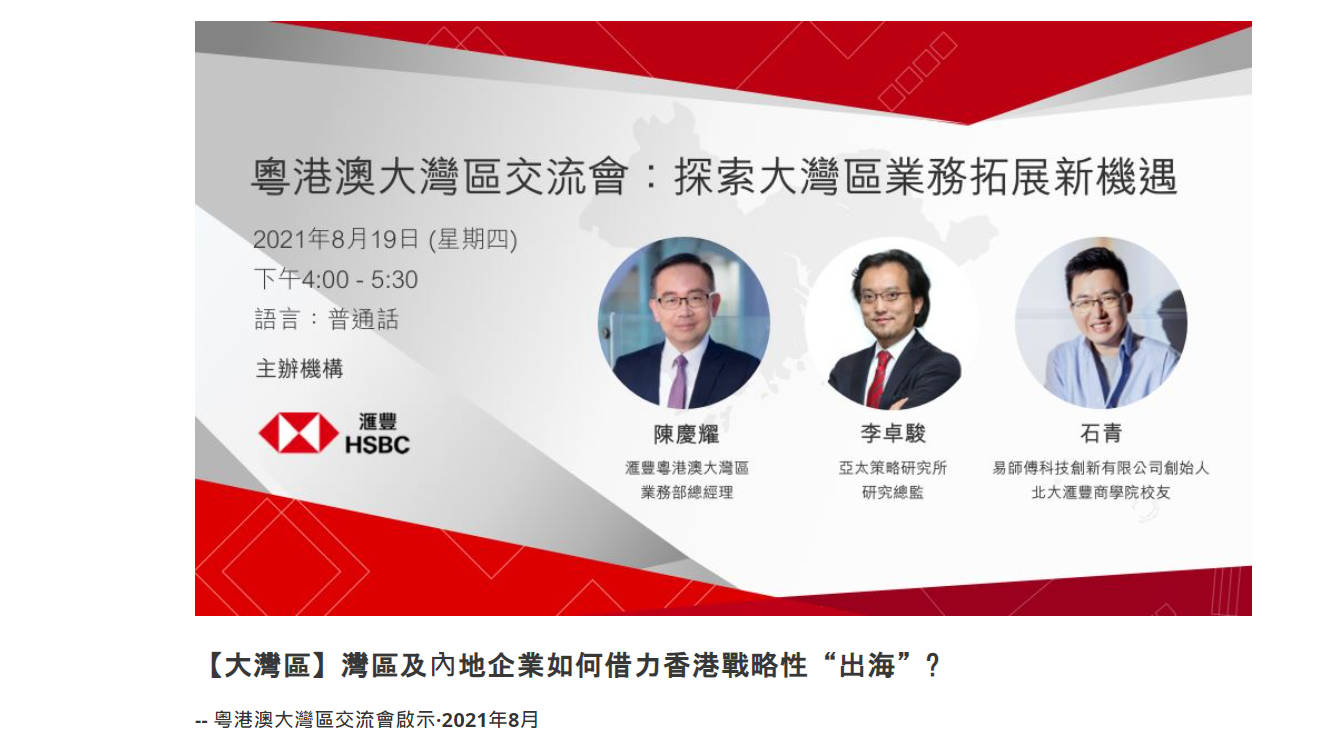 [GBA Strategy] How can companies in the Bay Area and Mainland China leverage Hong Kong "Going Abroad" strategically?
The revelation of Hong Kong Macao Great Bay Area Seminar · August 2021
Aims to explore new business development opportunities Bay Area, Peking University HSBC Business School (PBHS) held an online seminar across business and academic on August 19. At the meeting, all parties conducted in-depth discussions on funding, talents, industry opportunities, etc. Participating experts and scholars paid high attention to the Bay Area strategy and the opportunities for enterprises to " go abroad ". How can companies in the Greater Bay Area leverage Hong Kong to "go abroad " or even help more Mainland enterprises "go abroad "? As the invited unit, Dr. Mark Lee, the research director of Asia Pacific Institute for Strategy, was invited to the seminar. He gave insights and thoughts on how the Bay Area strategy supports the national strategy and how Hong Kong can assist mainland enterprises in "going abroad".
1. Reject "Involution", the new opportunities of "Dual Circulation" development pattern for companies in the Bay Area and mainland China
Entering 2021, there are two very hot words in the domestic economic field: one is " Dual Circulation ", and the other is "involution." " Dual Circulation" means that a new development pattern will gradually be created whereby domestic and foreign markets can boost each other, with the domestic market as the mainstay. The essence is to emphasize domestic demand as the mainstay and synchronization with external demand, whereby domestic and foreign markets can boost each other, it is by no means behind closed doors to involute.
While "Trade Restrictions" and " Entity List " continue to intensify, the growth rate of high-tech products exported by the United States to the mainland has begun to decline and turn negative. In the first half of 2020, among the high-tech products exported by the United States to the mainland, the growth rate of information and communication products has decreased by more than 15%, and the growth rate of aerospace products has decreased by more than 60%.
However, since 2013, "the Belt and Road" has been continuously promoted. The Chinese government has successively signed 200 cooperation documents for the joint construction of "the Belt and Road" with more than 138 countries and 30 international organizations. In contrast, in 2020, the total volume of imports and exports reached 32.16 trillion RMB. Compared with 2019, it increased by 1.9%, reaching a record high.
The 9+2 region of the Greater Bay Area has been a window of China's economy to the outside world for many years, especially Hong Kong and Macao, which have the most mature " export-oriented" economic model in the world. And they are bridges between mainland China and the world.
With the promotion of GBA construction, the flow of talents and funds in the bay area is more smooth, and the industrial division of the bay area is further obvious. For example, the role of high-end manufacturing in Shenzhen, Dongguan, Huizhou, and Foshan has become clearer. And the role of science and innovation origin in Hong Kong, Shenzhen, and Guangzhou are more prominent. With the" export-oriented " experience and the world's leading business environment, Hong Kong can provide the best service and platform for enterprises in the bay area and mainland China to "go abroad".
2. How can Bay Area companies "go abroad" through Hong Kong?
Hong Kong has always been the hub of domestic and foreign markets. But there are many misunderstandings about how Hong Kong assists mainland enterprises to "go abroad".
Misunderstanding 1: Hong Kong is just an advantage in industries such as finance, logistics, and legal services industries, but the manufacturing industry is "hollowed." Hong Kong's core industries are indeed in these areas. When looking at the Greater Bay Area and the whole country, the capital-driven manufacturing industry in Hong Kong is still a very important component of the Chinese economy. At the same time, Hong Kong's investment in technological innovation has gradually increased in recent years, and high-end manufacturing will become the brightest part of Hong Kong's industry. For example, VTech, Johnson Electric, TTI, BIEL, etc. are still the backbone of Hong Kong's manufacturing industry. BIEL is the world's largest mobile phone glass manufacturer. More importantly, Yeung Kin-man, founder of BIEL, ranked among the top ten richest people in Hong Kong in 2018, breaking the monopoly of Hong Kong's real estate industry in the billionaire list. In science and technology, DJI occupied 70% of the global UAV market and ranked first in global civil UAV enterprises. SenseTime is the first "unicorn" in Hong Kong Science Park. Soundbox is a global leader application service provider, is leading the acoustic field with the global influence of research-oriented enterprises.
Misunderstanding 2: Hong Kong's competitiveness continues to decline, and it is no longer competitive in the world. The " 2021 World Competitiveness Report" shows that Hong Kong's competitiveness ranking has dropped from 1st to 7th in the last five years. In fact, the decline in Hong Kong's ranking is mainly due to the dual impact of social unrest and the epidemic. On the contrary, some Nordic countries have greatly improved their ranking because of social stability, better control of the epidemic, and less dependence on other economies in the world. In contrast, the United States ranked first in global competitiveness in 2018, but it is also ranked 10th in 2020 and 2021. Social unrest and epidemic are also the major factors. Therefore, when the social and economic environment improves and Hong Kong's economic model adjusts gradually, Hong Kong's ranking will still return to a high level. In the first quarter of 2021, Hong Kong's GDP growth rose to 7.9%, which is very good.
Misunderstanding 3: Hong Kong is only a " Transfer Station" for mainland enterprises to go abroad, without substantive value-added contribution. The goods labeled "for Hong Kong" are very popular in the domestic market. Because Hong Kong's food safety regulations are improved earlier and more stringent safety requirements, which is the product brand and quality assurance of value. Pang Aibin, deputy general manager once said they will continue to use this platform to expand the Hong Kong market at home and abroad, and the company also has always insisted on the unique pattern. They use the high-quality assets of the parent company Sinopec and inject them into Guande through integration, which will develop overseas business more effectively. This is also the value of Hong Kong's platform. From our research, Hong Kong is not only a "super contactor", but also a value-added creator. We call it " Enabler" or "Catalyzator".
Many domestic enterprises have already enjoyed the openness of Hong Kong and the overseas dividends brought by Hong Kong's capabilities of logistics, legal services, financing, technology transformation, scientific research, and education.
Integrated manufacturing and consumer service provider, established in 2006 in Shenzhen. On the one hand, it fully integrates the supply chain capabilities of the Bay Area and built warehouses in Shenzhen, Huizhou, Dongguan, etc., which form an efficient supply chain. On the other hand, relying on Hong Kong's superior geographical environment, it actively expands overseas business, such as the European market and Asian markets in India and Vietnam.
It makes extensive use of Hong Kong's air express, shipping, and customs clearance services, such as Hong Kong airport. At present, the group has 50-60 employees working in Hong Kong, responsible for supplier management, inventory, logistics, and transportation, etc., and can achieve two-hour fast customs clearance services.
Make use of professional services such as finance, auditing, and law provided by banks, accounting firms, and law firms in Hong Kong. Since international norms and standards are different from those in mainland China, and international affairs need to be handled by professionals in Hong Kong.
With the help of Hong Kong's financing and financial capacity, they launched international financial services such as deposit financing, Hong Kong Credit, and international settlement.
So far, its business covers more than 200 large and medium-sized cities in China. At the same time, it has also comprehensively expanded to more than 200 countries and regions in North America, South America, South Asia, Africa, and Central and Eastern Europe. The volume of general imports and export exceeded US $48 billion.
In addition to Bay Area companies, many mainland companies can also obtain more overseas development opportunities through Hong Kong's financial services and investment banks. For example, Shanghai Construction Group benefited from Hong Kong's strong financial services and guarantees during "go abroad". Relying on the Hong Kong platform, it issued corporate bonds, raised US$400 million to expand overseas development, and concentrated on "the Belt and Road" infrastructure projects.
China Tourism Group Corporation Limited has established 6 document service centers in Hong Kong to expand the processing of 13 types of document services such as visas from various countries and license plates from Guangdong and Hong Kong. It also cooperated with Shun Tak Holdings Limited to establish Shun Tak-China Travel Ship Management Limited to operate a high-speed passenger transport business among Hong Kong, Macao, and the Pearl River Delta and pioneered cross-regional sea to air multi-mode international transport services.
3. Hong Kong opens up international horizons for Bay Area enterprises to "go abroad" for innovation
Feng Hongzhang, then vice chairman and president of the Hong Kong Chinese Enterprises Association, pointed out that the professional service standards of Hong Kong are high and are in line with international standards. "They are sensitive are familiar with foreign markets". Kent Wong, managing director of ChowTaiFook, and Dr. Mark Lee, research director of Asia Pacific Institute of Strategy, also proposed in a GBA jewelry industry seminar that the GBA Area will gradually focus on some industries to form industrial clusters, which focus on core competencies, capital, talents, information. The convergence speed of logistics has more advantages than any other place in the world to do the same industry, and finally reaches the strongest in the world.
The Bay Area cluster is actually an innovation center with a cluster effect. The mainland has its advantage in the supply chain and has a population of 1.4 billion. However, Hong Kong has a natural business advantage. It can fly to half of the world in six hours, including India, Japan, and Singapore. It can form a strong cluster in terms of supply and demand. Hong Kong can use the technology of Shenzhen and the demand characteristics of Southeast Asia to make the supply chain and renewal cycle of products faster and continuously replace each other and then form an innovation center. Hong Kong can take the entire supply to meet the needs of Southeast Asia or larger customers.
The Bay Area cluster is also an onion effect. You can obtain industrial resources from others industries. The industrial cluster is not just production, but also more professionals. It requires highly demanding customers, including a population of 14 in China, and a population with unique tastes in different countries around the world. In addition to helping mainland enterprises open up their horizons in Southeast Asia, Hong Kong also comprehensively expands its global horizons. Similarly, the Chinese have entered the stage of pursuing taste and have their own characteristics. They are no longer just pursuing overseas tastes but integrating Chinese and Western cultures, which has a specific role in promoting the clusters.
When the global vision is opened and domestic demand is released, "coming in" becomes a necessity. When the global taste is opened, international demand is insight, and mainland enterprises take the initiative in product innovation, "going global" becomes possible. Many people maybe regard ECOVACS, a cleaning robot company, as a foreign company. Thanks to the Hong Kong investment background and the international business division in Hong Kong, it has attracted professionals and resources to respond to the services of global users and to further strengthen ECOVACS 's user service standards in the Asia-Pacific region and the global market. For example, in view of large residential areas in the United States, the battery life is increased, and its new product N9+ also adds a self-cleaning function. The sweeping robots market share of ECOVACS in North America is 3% in 2020, ranking third in this Area. In 2020, the overseas revenue of ECOVACS increased from 2.504 billion RMB to 3.379 billion RMB, accounting for 46.71%. The overseas business supported half of the market value of ECOVACS.
4. Hong Kong provides more opportunities for the domestic and international "Dual Circulation "
Companies in the Bay Area and mainland China can leverage the service capabilities of Hong Kong companies, enjoy the talent dividends brought by Hong Kong education, and then "go global". Mr. Zhang Xialing, vice chairman and president of the Hong Kong China Enterprise Association, said that more and more Chinese-funded enterprises "go abroad" through Hong Kong. By 2020, nearly 2000 Chinese enterprises had set up companies in Hong Kong, of which nearly 600 use Hong Kong as their regional headquarters and regional offices, an increase of over 60% from three years ago. With the continuous advancement of national strategies such as the procedure of GBA, the " Dual Circulation " and the "One Belt One Road " initiative, he believes that more Chinese-funded enterprises will be settled in Hong Kong in the future and go global through Hong Kong.
At the same time, the Hong Kong government and enterprises have made greater efforts to build a plug-and-play platform for the "Belt and Road" and " Dual Circulation ". Among them, the "Hong Kong-Zhuhai Trade Facilitation Electronic Platform" is a project supported by the innovation and technology fund of the Hong Kong government. It is planned by LSCM and hopes to assist and promote GBA enterprises to move towards the "Belt and Road" and expand global trade by combining innovative technology and innovative trade business model.
The Hong Kong Hosted Data Center is also a digital platform for mainland Chinese companies to expand internationally, and it is also a digital infrastructure for international companies to serve Chinese customers. The revenue of the Hong Kong Hosted Data Center was US $883 million in 2018 and is expected to reach the US $1.7 billion in 2023. As an important data center in the Asia Pacific region, Hong Kong has always been a "battlefield" and the first stop for many Chinese enterprises to "go abroad".
Shenzhen financial technology Institute, a subsidiary of DCEP Institute, cooperated with Hong Kong Interbank Clearing Limited, built a platform to connect the trade finance blockchain platform and the Hong Kong trade linkage platform ( e-TradeConnect ), which help to improve mutual trust and facilitate cross-border trade finance Level, reduce the foreign trade financing costs of small and medium-sized enterprises, and leverage enterprises to "go abroad."
Many outstanding companies in Hong Kong provide services for domestic companies to "go abroad" from an industry perspective or a corporate value chain perspective. For example, the "MTR Academy" training model developed by the MTR Institute can not only show that the mainland can cultivate more international talents, but also promote the exchanges between mainland/Hong Kong and the countries along the "Belt and Road". And then it tries to cultivate more talents suitable for economic globalization.
Such platforms can integrate Hong Kong's advantageous capabilities, and then give facilitate GBA enterprises and mainland enterprises. We believe that these platforms will be more and more, and more diverse so that Hong Kong can use its unique advantages to help more and more domestic companies.
5. Hong Kong helps create talent dividends for Bay area enterprises to "go abroad"
For Bay Area companies to "go abroad", besides logistics, financing, international legal services, and other capabilities provided by Hong Kong, it also needs talents with a global perspective. People will always be the core elements. Without people, the market does not exist and the economy does not exist. Conversely, what kind of people will give birth to what kind of economy. Similarly, the market and economy also require the emergence of talents in reverse.
For the talents demand in the Bay Area, we cannot only rely on introduction but should strengthen the training internally. However, domestic and international perspectives are key during training talents for the Bay Area. Companies and universities in Hong Kong have been committed to assisting the development of talents in the Bay Area. In Hong Kong, there are some advantages, such as international perspective, scientific research independence, and scientific research investment. From the perspective of the economic model of the Bay Area, new requirements will appear in the structure of talents, which will give birth to a new education model. PBHS is a new business school model for new business management and innovation. So far, three complementary talent training modes have been formed in GBA:
Vocational-oriented schools jointly run by schools and enterprises, Hong Kong enterprises will export their management experience and provide a practical training environment. Such as PBHS, Silk Road Institute established by PolyU and Xi'an Jiaotong University, etc.
Jointly run schools between Hong Kong and Mainland universities, which use the advantages of Hong Kong universities' educational model and international scientific research capabilities. For example, International College by Beijing Normal University and HKBU, a master's degree education in business administration jointly organized by Tsinghua University and the Chinese University of Hong Kong, The Chinese University of Hong Kong (Shenzhen), The Hong Kong University of Science and Technology (Guangzhou), Hong Kong City University ( Dongguan ) and The Open University of Hong Kong (Zhaoqing), etc.
Of course, there will also be domestic and foreign universities settled in the bay area, which can export talents with the characteristics of the bay area. For example, Tsinghua-Berkeley Shenzhen Institute, Peking University, Harbin Institute of Technology, and Wuhan University have settled in the Bay Area.
The ability to cultivate the talents of Hong Kong will also bring a talent dividend to the bay area, providing "seed" and "circle" ability for Bay area enterprises to go abroad. The so-called "seed" ability means that talents already have an international vision and thinking of going out in the training stage. When they enter to work, they must have the ability and attempt to "go out". And the "circle" ability is the alumni circle forming an international vision, which will be the inherent advantages of the enterprise's "going abroad".
6. Hong Kong is still the first choice for companies to " Go Abroad "
In the 1980s, Hong Kong captured the opportunity of the mainland to understand overseas and overseas to enter the mainland and achieved a brilliant Hong Kong. Now, through Hong Kong, bay area enterprises and mainland enterprises will be able to capture the global vision and global taste, and leverage Hong Kong's commercial advantages of an open business environment, as well as the global service capacity of Hong Kong enterprises to go abroad smoothly. At the same time, assisting mainland enterprises better "go abroad" will also be the most direct commercial dividend enjoyed by Hong Kong and Hong Kong enterprises during building GBA.