2021 Shopify vs Boutir vs Shopline: Which Online Store/ Ecommerce Platform is Better | Article – HSBC VisionGo
Which platform is our top pick for SME's in Hong Kong?
Technology · · 9 mins read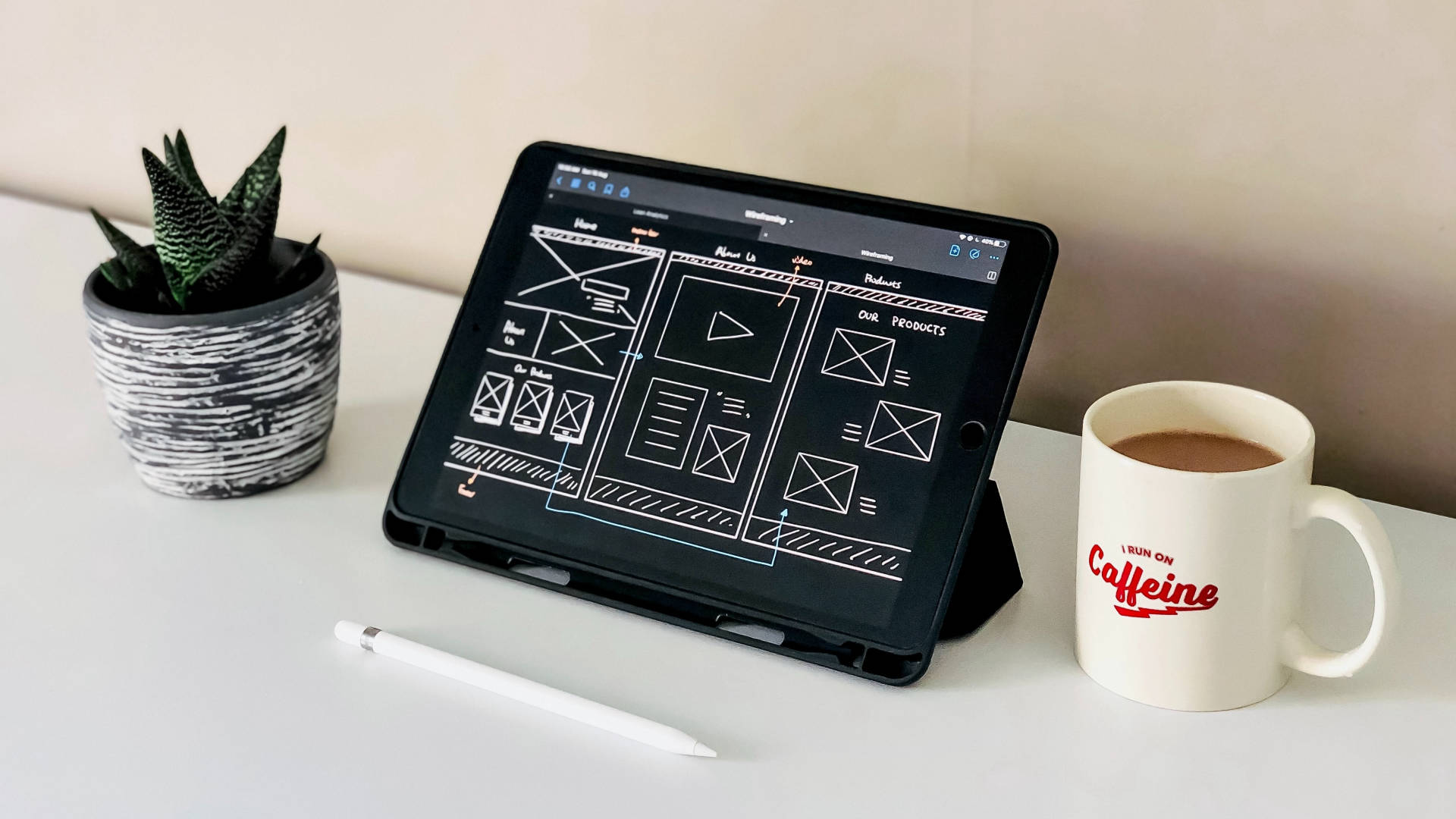 Information may not be up-to-date. For the most updated version, please visit the blog post on our eCommerce Academy.
There's a lot to consider when starting your eCommerce business. Aside from what product or service you'll be selling, there are additional aspects to take into account such as operations and logistics, marketing, and accounting. As such, it's important that you find an eCommerce platform that not only works for you financially but can also address other requirements for your business.
We'll be taking a look at three main competitors for hosted eCommerce platforms available in Hong Kong; Boutir, Shopline, and Shopify. All three platforms run on a monthly fee basis, however, they all vary in pricing structure as well as the offerings that are available. It's important to remember that there is no perfect platform, however, a good frame of reference when making a consideration is the long-term roadmap for your business - what is your long term goal and which are key factors on your eCommerce platform that you plan to see a return on investment?
Depending on what your budget and requirements are, we've rounded up key points from each platform here for you to consider.
Hosted (SaaS) vs. Self-Hosted Platforms
Before we begin, it's important to make a distinction on what a hosted platform entails. A hosted platform is a type of Software as a Service (SaaS), whereby users pay a monthly fee to build and host their online store. All files and data are stored with this platform and typically these platforms will have eCommerce features built in, such as shopping carts, Customer Relationship Management (CRM) systems, online payment, security & compliance, fulfillment systems, as well as product and inventory management.
Counter to a hosted platform are self-hosted options, where your business will need to set up a server to store and maintain all files and data. Popular self-hosted platforms include Woocommerce (plugin for Wordpress) and Magento. Self-hosted platforms require more time and maintenance as all eCommerce features need to be customized and self-maintained.
For SME's, hosted platforms are typically the go to choice as they require less maintenance. Although they allow for less customization in comparison to self-hosted platforms, there are workable solutions to fulfill many (if not most!) of your requirements.
Popular SaaS Solution in Hong Kong
Boutir
Launched in 2015, Boutir is a Hong Kong based eCommerce platform founded by entrepreneur Eric Ng. Through Boutir, merchants are able to open an eCommerce store and have an overview all via their app. Wittily named 掌舖 (zoeng2 pou3) in Chinese, literally meaning palm store, it is an homage to holding your store in the palm of your hand.
Shopline
SHOPLINE was founded in 2013, by CEO Tony Wong and COO Fiona Lau, as one of Hong Kong's first homegrown eCommerce platform solutions. SHOPLINE allows merchants to create their eCommerce store with minimal effort and is hyper localized for the Asian market.
Shopify
Shopify is a Canadian eCommerce solution launched in 2006. Now a multinational company, Shopify has expanded into the Asia market allowing merchants to create online stores with a wide range of readily available themes and templates.
Shopify vs Boutir vs Shopline: Plans and Pricing
Boutir: Plans & Pricing
Boutir has a three-tier system for plans – Starter, Business, and Business Plus. Plans without a long-term commitment start from HK$118 a month up to HK$618 a month. For a full breakdown see the pricing table below. For larger businesses, enterprise solutions are available upon request from the Boutir team.
Shopline: Plans & Pricing
Shopline made changes to their pricing structure in 2020 and provided three different commerce solutions, Social Commerce, Online Store, and Retail POS. Each commerce solution targets a different method of selling and there are additional add-on modules that can be combined with these plans. Most importantly, they now charge an additional 0.5% Gross Merchandise Volume (GMV) of the stores instead of only charging a fixed monthly fee.

It's worth noting that the "eCommerce Starter" plan, starting at HK$899/month, is essentially the basic plan to get an eCommerce store set up. If you sign up for a one year offer, which rounds out to be approximately HK$582/month, the "eCommerce Starter" plan provides you with everything you need to get started, such as a custom domain & SSL certificate, on-page SEO's, inventory management systems, integration to payment gateways and logistics systems, and ready to use shop themes.
However, for SMEs, it might be beneficial to opt for the "eCommerce Pro" plan as this plan supports setting discounts or promotional offers which is crucial to boost sales. All in all, Shopline plans are flexible and customizable to build a plan that targets your business strategy. For enterprise solutions, you can contact the Shopline team directly and they'll create a unique package for your business.
Shopify: Plans & Pricing
Shopify also runs on a three-tier system for plans – Basic, Shopify, and Advanced Shopify. Starting at US$29/month (approximately HK$225/month) up to US$299/month (approximately HK$2317/month), the monthly subscription fee allows your business to run an online store via the platform. Shopify also offers a lower-tier option – Shopify Lite for US$9/month (approximately HK$70/month) – which allows you to add products to websites or blogs and accept credit card payments. For enterprise companies, Shopify runs an additional solution – Shopify Plus – for high-volume businesses and merchants.
Compared with the plans and price of three mainstream eCommerce platforms, Shopify's plans are created relatively equally, with most features readily available at the lowest tier – the Basic Shopify plan. Upgrading to Shopify and Advanced Shopify will increase the number of staff accounts, add advanced reporting functions, and lower payment fee percentages. For SME's with a lean eCommerce team, we suggest Basic Shopify as this will be enough to satisfy the overall eCommerce requirement for your business.
Shopify vs Boutir vs Shopline: Ease of Use
For those who aren't tech savvy and are looking for a simple option to get your store up and running, this might be the option for you. The Boutir app provides an all-in-one simple platform for you to create your store and manage all orders, products, and customers in one place. The platform is straightforward, allowing you to connect socials and upload products directly from your phone – once payment options and delivery options are set up, your store is up and running and ready to sell.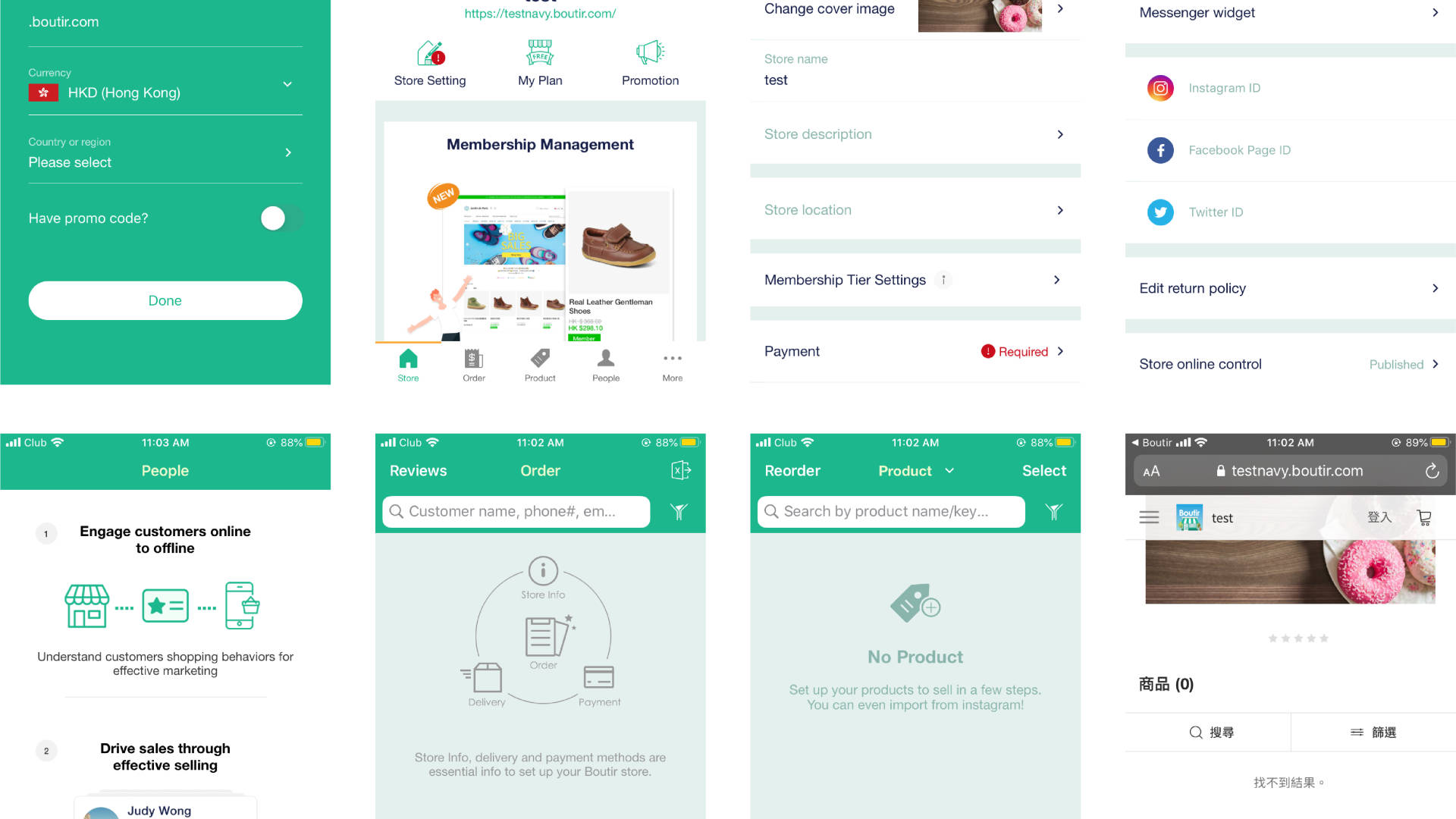 Similar to Boutir, Shopline's ease of use and platform setup is fairly straightforward. Once you've signed up for a site, you'll be prompted by a quick start guide and you'll have 30 days to test out their platform. After entering currency and location along with delivery and payment options, you're ready to upload products and to start selling. Compared to Boutir, the admin dashboard offers a larger breakdown of areas such as inventory management, promotions & rewards, and reports & analytics.
In comparison to Boutir and Shopline, Shopify has the most features to navigate to get your store up and running. Nevertheless, the interface is still very user friendly, with readily available themes (either for free or can be purchased) that fit your brand's style and guideline. Shopify offers step by step guidance on how to set up your store and you're free to try out themes to test out custom features for your website.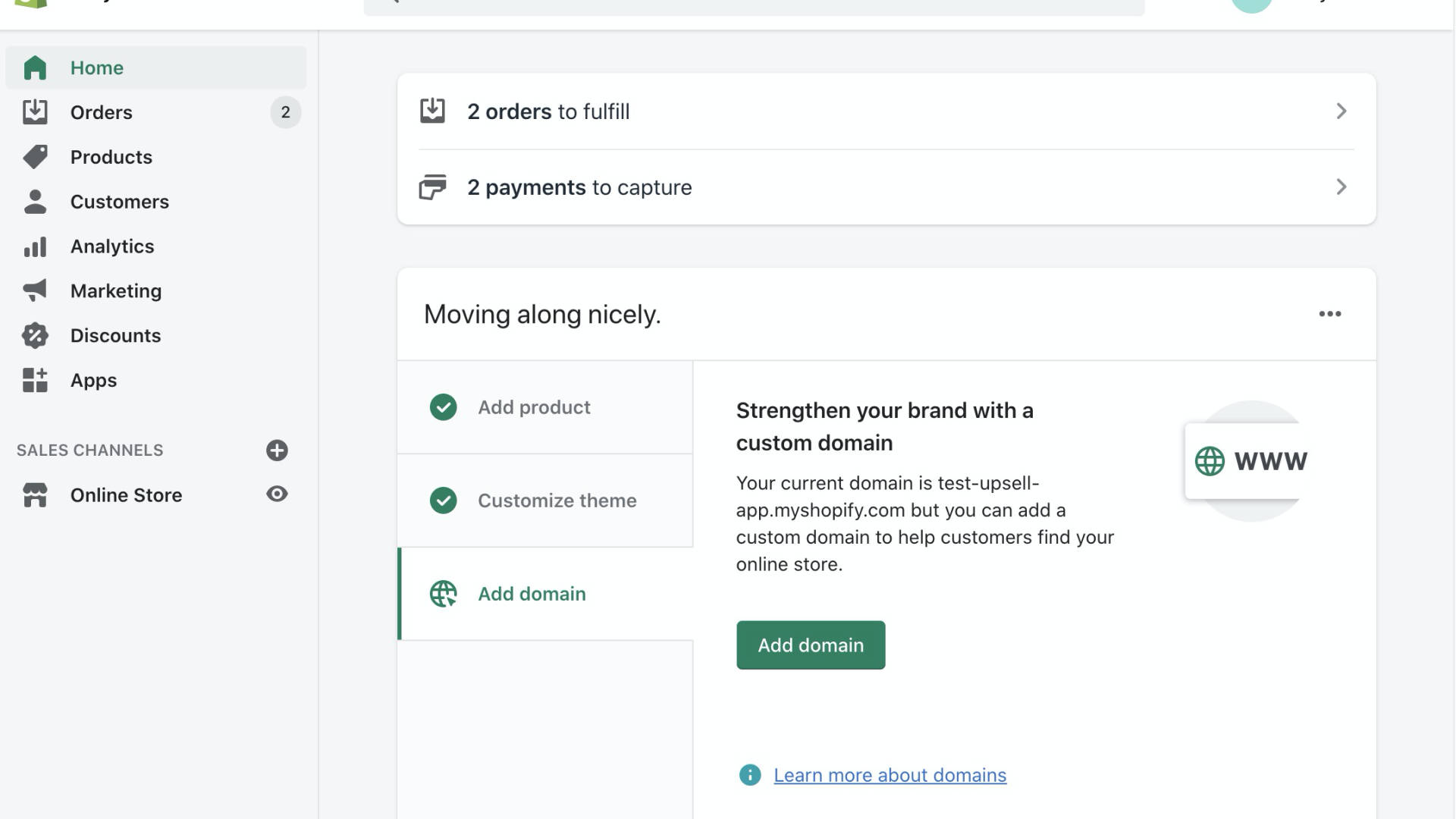 Shopify vs Boutir vs Shopline: Payment and Logistics
Boutir
Currently the available payment methods on Boutir include Stripe and PayPal for all major credit cards as well as Apple Pay and Google Pay. They also allow for localised options such as bank transfer, PayMe, Alipay HK, as well as FPS for HSBC business account holders.
Current payment options for Boutir are linked with Stripe and PayPal, Apple Pay, and Google Pay. There are also localized options such as bank transfer, PayMe, AliPay, and FPS. In comparison to payment options, Boutir's logistics solutions are weaker as they were originally only connected to Alfred smart lockers. Since then, Boutir partnered with ShipAny which is Hong Kong's first Smart Logistics Gateway for Domestic Logistics Service. Logistics are automated and they offer diversified delivery options such as SF Express and ZTO Express. Additionally, as your business grows with a larger turnover and you look to outsource your logistics, it's important to note that Boutir is unable to integrate with third-party logistics (3PL) freely.
Shopline
With a localized focused footprint, payment options on Shopline include PayMe, bank transfer, cash on delivery, and SHOPLNE Payments which accepts credit cards (limited to stores with HK currency) and PayPal. Shopline also allows for third party payment gateways, however, there are additional transaction fees required. An important point to note is that each store can only support 1 currency – therefore, customers are unable to pay in their home currency.
With Shopline, their logistics are also localized to the Hong Kong community. An SF Express integration is offered as the main logistics partner and delivery fees can be set as flat rates or calculated by weight. Other delivery options can be manually added, however, it's important to note that per logistic option, a maximum of 20 shipping zones are permitted. When planning out logistics for your business, it may be worth looking into which company is capable of handling delivery to your target markets.
Shopify
Available payment methods on Shopify through Shopify Payments include credit cards (Visa, Master, American Express), Apple Pay, Google Pay, and Shop Pay. Shopify also supports a third-party payment gateway but it should be noted that there will be additional fees according to different Shopify subscription plans.
In comparison to local solutions, Boutir and Shopline, Shopify targets an international market therefore payment options are less localized to Hong Kong. Hence, in 2020 Shopify has partnered with a QR code payment service provider, QF Pay. With this partnership, QF Pay connects Shopify to WeChat Pay, Alipay, UnionPay, and FPS payment platforms. Meanwhile, eWallet payments are exempted from 'Additional fees using all payment providers other than Shopify Payments' when using QF Pay. However, a point to note is that there will be a one-off handling fee when creating and clearing accounts. Further details can be found by contacting the service provider directly.
Similar to payment options, Shopify also lacks localized logistic solutions. However, merchants can use ShipAny, which is a free smart logistics gateway that also assists in the logistics of handling large numbers of orders. Various logistic providers are available such as SF Express, EF Locker, and ZTO express which makes it easy for both merchants and customers. For more details, please contact us.
Shopify vs Boutir vs Shopline: Flexibility in customization
The major setback on Boutir, counter to the ease of use and simplicity of the platform, is the possibility for customization. There is only one template available to use - a store banner and set product grid. The only option to "customize" your store is to change your photos and product images to set yourself apart.
A large setback on Shopline is its limitation in customization. Although they have several themes that are provided, the possibility to edit and customize sections and layouts are limited to what is provided within the theme itself. For the most part, customization is limited to changing colours within the theme and adding photos and banners.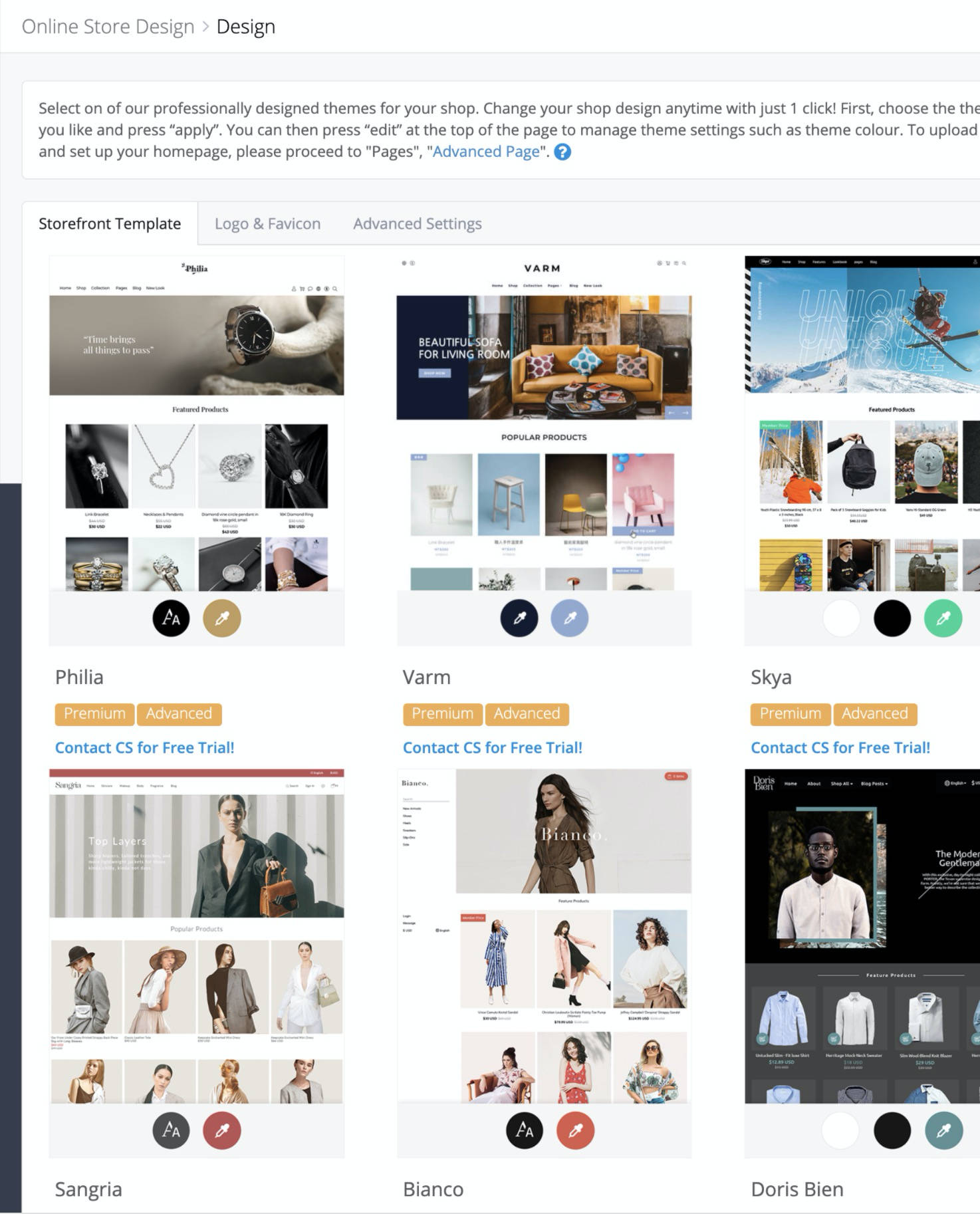 However, the key winning factor on Shopify compared to Boutir and Shopline is the flexibility to customize themes and layouts. In addition to themes that are available to purchase, layouts and sections are all customizable – either through available theme options or via Shopify Liquid. For SME's with tech teams this can be handled in-house, however, it can also be outsourced to developers who are well-versed in Shopify's platform.
Shopify vs Boutir vs Shopline: Scalability
With Boutir, scalability options are low in comparison to competitors. Available API integrations to third-party apps and custom applications are limited and opportunities to add plugins are limited as well.
Scalability on Shopline is minimal as there are no API integrations available to support third-party apps and custom applications. There is a possibility for additional add-ons via Shopline's custom quotes, however, projects are limited to Shopline's in-house team and they cannot be outsourced.
Shopify goes hand in hand with customisation. Shopify uniquely offers an AppStore with over 4000 different apps that can integrate directly with your store. These apps range from email marketing to product reviews, and even language switchers – all providing unique store experiences tailored to your needs.
Shopify vs Boutir vs Shopline: Help and Support
With an easy to use interface, the need for help to set up your store may be minimal. On the odd occasion you do require help, support is provided by Boutir via email, WhatsApp, Line and Facebook Messenger. They also have a Boutir Academy with blog posts on new updates and features available.
Shopline provides a wide range of help and support via their website FAQ and their customer service team can also be contacted via email or live chat. Outside of Shopline's in-house materials, however, there are less resources available online to browse and self-help.
Shopify has a rich FAQ bank and help center with in depth tutorials and discussions on all Shopify topics. A quick Google search will also yield a multitude of answers and discussions, however, you can get in touch with the Shopify team directly via email. In addition to the Shopify team, Shopify also boosts a recognised community of agencies and freelancers who can help with design and maintenance of stores on your behalf - useful for SME's without a designated tech team.
Shopify vs Boutir vs Shopline: Key Takeaway
Boutir is an affordable and easy to use platform for those starting off their business. Although customization is less flexible and scalability is limited, their hyper localized options for payment will work for small business owners with small turnovers looking to mainly target the local HK market.
Although weighing in on the pricier side, Shopline is a good option for those looking to scale up their operations in the Asia market without too much emphasis on customisation and design. With localised footprints in many APAC and SEA countries, Shopline allows for an easy transition from a local Hong Kong to Asia focused business.
Shopify is now moderately priced in-between Boutir and Shopline, and is the best platform for businesses looking to scale up on an international scale. Although there are fewer localised features on Shopify, the ability for customisation and scalability to grow a global business and traffic outweigh the lack of a local Hong Kong footprint.
---
Shopify vs Boutir vs Shopline: Overall
As mentioned previously, there's no all-in-one platform that will provide a perfect holistic solution. Whether your plan is to grow locally in Hong Kong or to grow to an international scale, what these eCommerce platforms can provide is a gateway for your future business plans. With our key comparison points provided, it's important to pick a solution that will fit your business needs and have the capability to scale up and grow with your business in the future.
About NAVY FAB
Navy FAB is a full-service digital agency and ecommerce technology startup leveraging the cutting edge of digital and ecommerce solutions. We wholeheartedly believe in the power of brands and our mission is BRINGING YOUR BRAND TO THE GLOBAL STAGE. We help brands achieve an online presence by working to build unique brand identity through our custom ecommerce and tech solutions.
Certified as Shopify Expert in Hong Kong (verified Shopify Partner) of Hong Kong, our team are passionate and sophisticated in Shopify web design and web development, Shopify and ecommerce consultation, custom Shopify app development, Shopify SEO, Shopify email marketing and other kinds of digital marketing.
Our design and development experience extends across retail brands, direct-to-consumer brands and service brands. At Navy FAB we immerse ourselves into our clients' businesses, taking a consultative approach to digital branding strategy & ecommerce when providing professional services.
Visit our website and learn more about our Shopify branding development workflow, web design workflow and our best web design showcases.