Calculating Duties and Taxes: What You Need to Know When Shipping Internationally | Article – HSBC VisionGo
In this guide, we'll cover what you need to know about duties and taxes, including definitions, calculations and how it applies to eCommerce.
Technology · · 5 mins read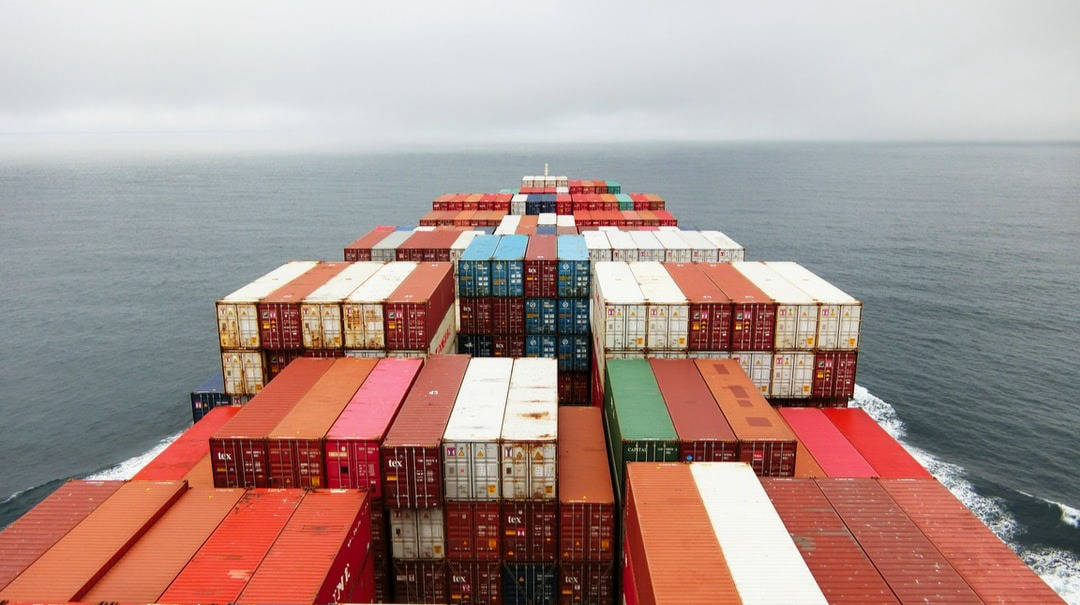 According to Easyship co-founder, Tommaso Tamburnotti the demand for international shipping will continue to grow as the adoption of eCommerce accelerates in the retail industry.
"Selling cross-border has quickly become an expectation of shoppers, especially for premium goods. The secret to tax and duties is that there is no secret. Every country has unique approaches to their customs clearance which is why finding scalable software solutions will help eCommerce merchants optimize the process," said Tamburnotti.
While duties and taxes are not a topic most entrepreneurs want to spend time thinking about, it's crucial to understand the nuts and bolts of the calculations so you can properly budget and communicate the costs to customers. The last thing you want to do is to get hit with hidden costs or have shipments delayed in customs. These can have major impacts on your bottom line and overall customer satisfaction, which might lead you to abandon international shipping altogether.
The quickest and easiest way to get a real-time estimate for an international shipment is to use a duties and taxes calculator. These are great tools if you have one-off shipments but ideally, your goal is to scale your international shipping and grow your business. That requires powerful shipping software to automate your taxes and duties calculations in order to provide as much transparency to your customers as possible. Take advantage of online guides to learn more country specific taxes and duties, and shipping restrictions.
First, we need to start with a few definitions so you can understand the factors that go into calculating duties and taxes.
Shipping Duties and Taxes Definitions
What are duties and taxes? Well, we're all familiar with taxes, however, international commerce comes with a special series of taxes that vary depending on the country. It gets complicated quickly. Governments tax shipments from other countries because they want to protect domestic companies from foreign competitors, control the flow of certain products and raise revenue.
First there are a few common terms that you'll encounter when it comes to international shipping.
Import Duty: Sometimes called an customs duty or tariff, this is a tax paid by the importer to bring goods into a country. It's calculated based on the value of the products shipped, with the percentages varying for each category of goods. Each country has its own specific import duty tax which it applies for each HS code (Harmonized System Codes.)

Value Added Tax (VAT): A tax charged to consumers when they buy any good or service. The idea with VAT is that it's taxing the value added to the item at each stage of production, from raw materials to manufacturing to wholesale to final sale.

Goods and Services Tax (GST): A type of VAT that is levied on almost all products sold to the general public, and charged in stages, then reimbursed to everyone except the end buyer. It's similar to VAT except it's a flat-rate percentage of the total transaction, instead of a percentage of value-added.

De minimis value: The tax threshold, or the amount where a person begins paying taxes on an item.
The European Union and over 120 other countries around the world use the VAT model to calculate the import of goods, so it's important to understand when shipping internationally, as it will cover a large portion of the destinations. But how does it differ from sales tax, which is most common in the United States? Good question.
A sales tax is only collected once at the end of the supply chain by the retailer while a VAT is collected multiple times along the supply chain, and paid by different vendors. It can get very complex, and there are serious debates around which model is better both for governments and consumers.
For eCommerce sellers there are also two important Incoterms (International Commercial Terms) to understand as well. These refer to how and when duties are paid.
Deliver Duty Paid (DDP): The seller is responsible for handling the risks and costs of the shipment, including import duty and any other charges related to delivery.

Deliver Duty Unpaid (DDU): The receiver/customer is responsible for settling all charges in order for customs to release the shipment and have it delivered.
For eCommerce merchants, opting for DDP is generally the best practice as it removes the burden from customers and prevents hidden costs, which can lead to unhappy customers and returns. Make sure international shipping costs are clear at check out to avoid any confusion.
Now that we understand the definitions, it's time to start doing the calculations. First, we'll need to take a look at the two valuation methods.
Two Valuation Methods: Cost, Insurance, and Freight (CIF) and Free on Board (FOB)

There are two main valuation methods that countries use to determine taxable value that are necessary to understand before making calculations.


"Free On Board" (FOB): The taxable value is the value of the product plus the cost of transportation, loading, unloading, handling and insurance. However, this only applies if items are shipped by sea freight, and not air freight as is the case for most B2C eCommerce.
"Cost, Insurance, and Freight" (CIF): The taxable value includes the item value, cost of insurance (if any), and cost of transportation to the final receiver of the goods.
How to Make Calculations
Once you know the valuation methods, you can start to make the calculations. To calculate the import tax and import duty amount for your shipment, multiply the taxable value of your shipment by your destination country's tax and duty percentage.
CIF Price Calculation
Duty = duty % x (product price + cost of shipping + cost of insurance)
FOB (Free on Board)Duty
Duty = duty % x product price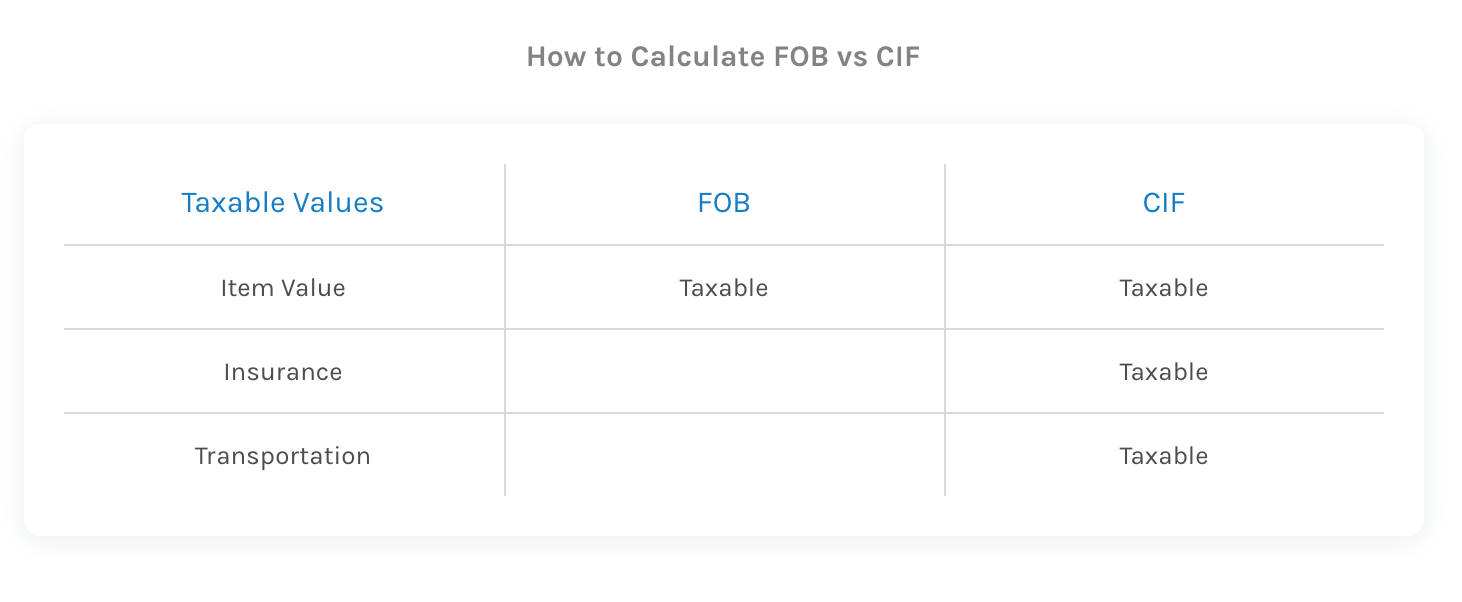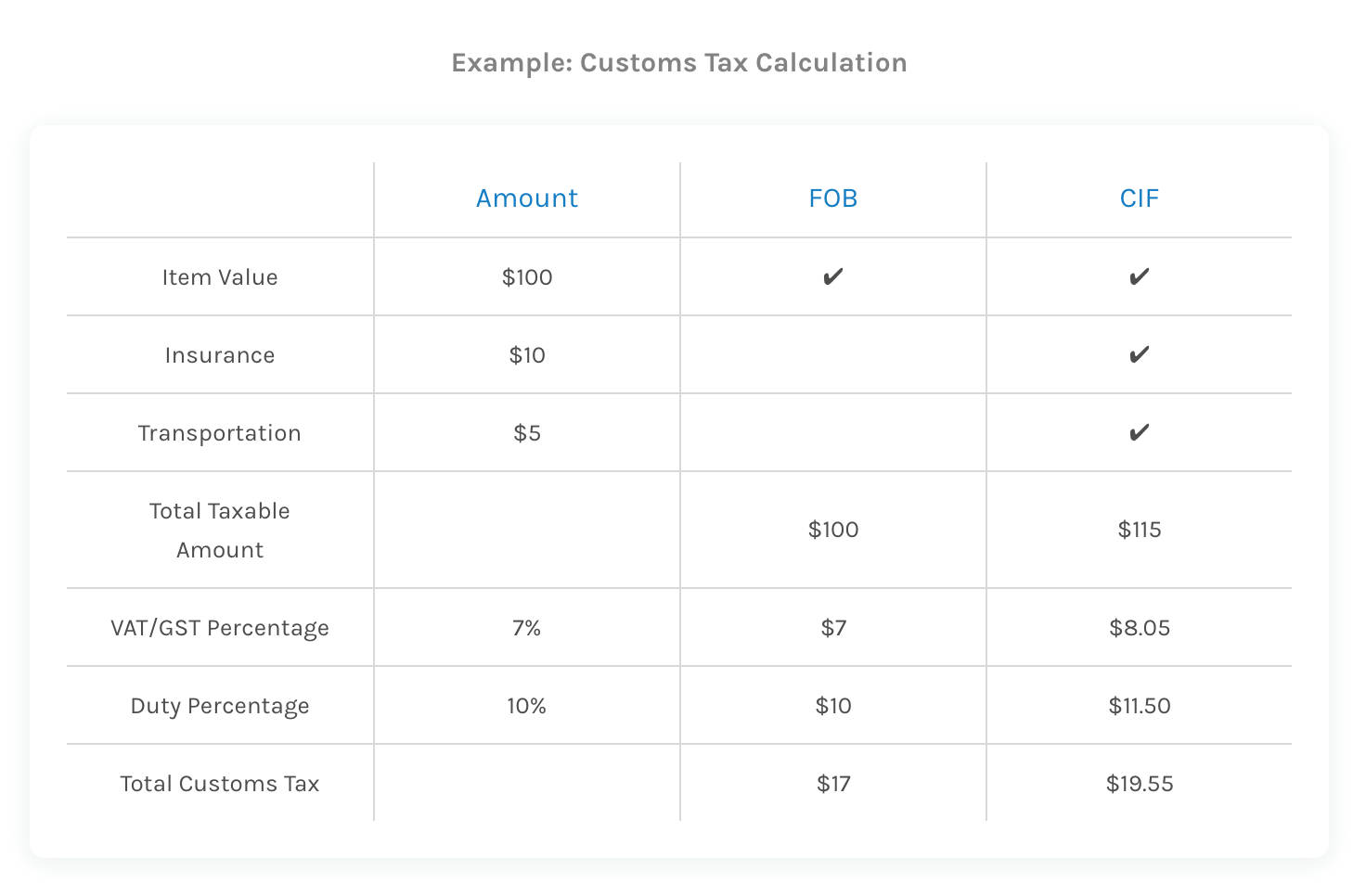 (Learn more in the Easyship Taxes and Duties Guide)
Further Charges to Take Into Consideration
In many instances, there will be additional charges for international shipments that you'll want to understand and build into your calculations. Common charges can include a consumption tax on luxury goods, an environmental tax and various courier handling fees.
You will also need to take into consideration the De Minimis value, a country-specific value below which duty and tax are exempted. Each country has its own threshold so it's important to do the research beforehand to learn whether taxes and duties will be applied.
The Importance of Planning Ahead
While understanding and calculating duties and taxes can get complicated, it's important to acquire a firm understanding before starting to ship internationally. It's important to plan ahead and understand the further costs that will be added to shipments so there are no surprises for you or your customers.
According to Tamburnotti, the near future will bring new opportunities and continued challenges.
"Geopolitical issues like Brexit and the trade conflict between the United States and China will continue to add uncertainty to international shipping that entrepreneurs need to factor into their business plans. However, we expect Hong Kong to remain a free port (meaning no taxes and duties in and out) so it's a huge opportunity. A tool like Easyship helps navigate these unclear waters by dynamically adjusting taxes and duties."
It's best to be as transparent as possible in communicating the additional costs to your customers for international shipping. A few places on your site you can add information include: Your shipping policy page, Product pages, Checkout and Order confirmation emails.
With proper research and transparency, the challenges of taxes and duties on international shipments can be overcome. It's worth investing the time and effort because unlocking a new international customer base can be exciting for your eCommerce business and help accelerate your growth.
Click here for more information about How to Calculate Taxes When Shipping Internationally.