VisionGo CNY Referral Programme - Refer a friend to get HK$50 e-gift voucher | Article – HSBC VisionGo
VisionGo is launching "CNY Referral Programme" to thank our members. Refer a friend and share this article to get HK$50 Pacific Coffee e-gift voucher.
Lifestyle · · 5 mins read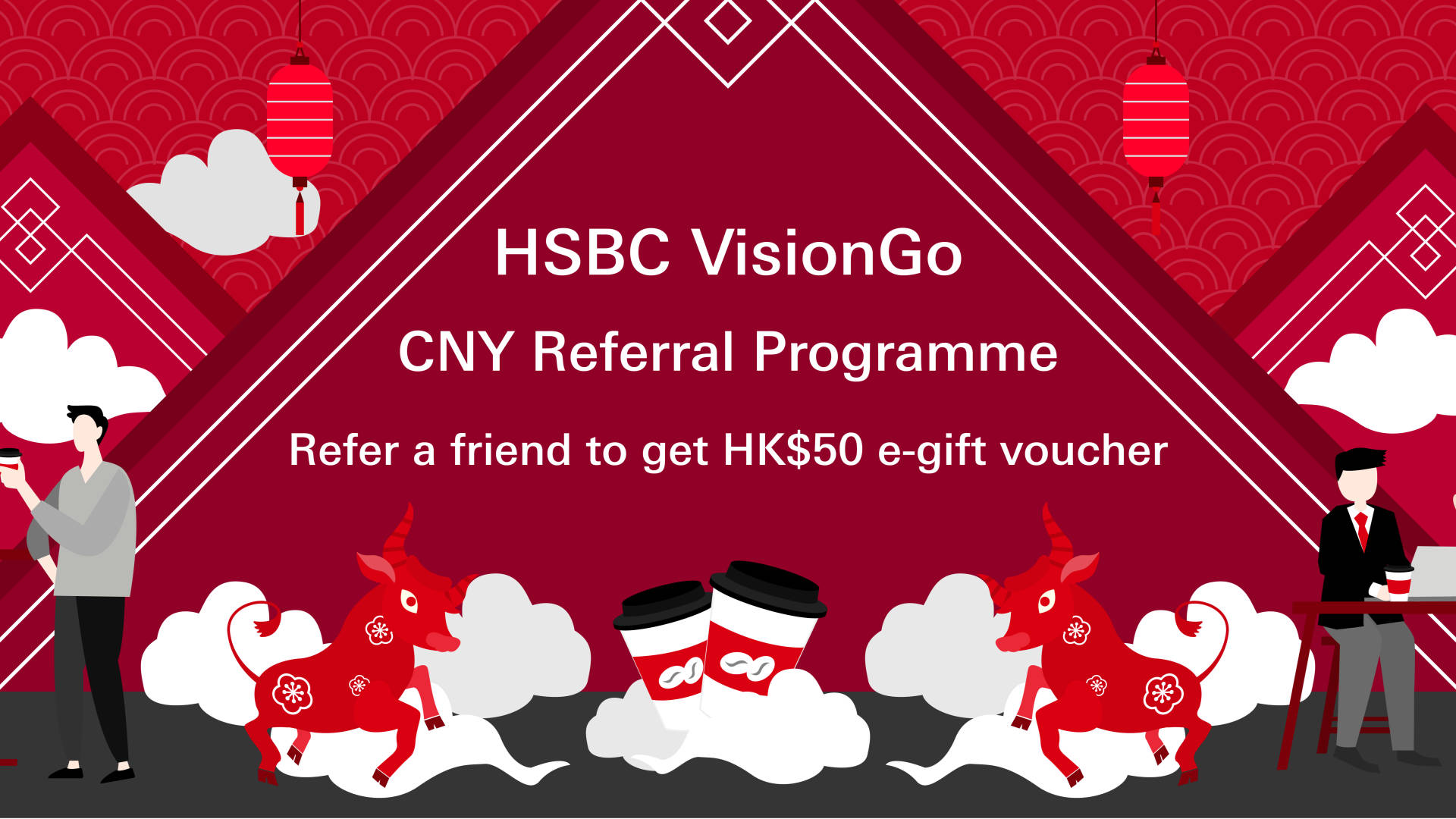 A big "Thank you" to VisionGo members for your overwhelming response since we launched the existing member-get-member programme recently. To show our appreciation and to celebrate Chinese New Year, we are offering 168 e-gift vouchers additionally as gifts under the special version "VisionGo CNY Referral Programme". While the existing programme is limited to members registered before a set date, the flash offer will be available to all members as long as they register within the promotion period!
Details of the offer
Simply complete the following two steps between 8–18 February 2021 and you can take home a HK$50 Pacific Coffee e-gift voucher!*
**Make sure you are already a VisionGo member before asking a friend to take the following steps**
Step 1: Follow these steps to introduce HSBC VisionGo to a friend, encouraging him to register as a member.
1. Log on to your VisionGo account and click the gift box icon at the top right corner of the page. (If you do not see any gift box icon, copy and paste this URL: www.visiongo.hsbc.com.hk into the browser to access the VisionGo landing page.)

2. Go to the page "Refer a friend", then scroll down and click the "Refer a friend" button.

3. Look for your QR code from the pop-up window, share it with your friend and ask him to scan on it. You can also direct your friend to the registration page by sharing a link, over the social media or by email.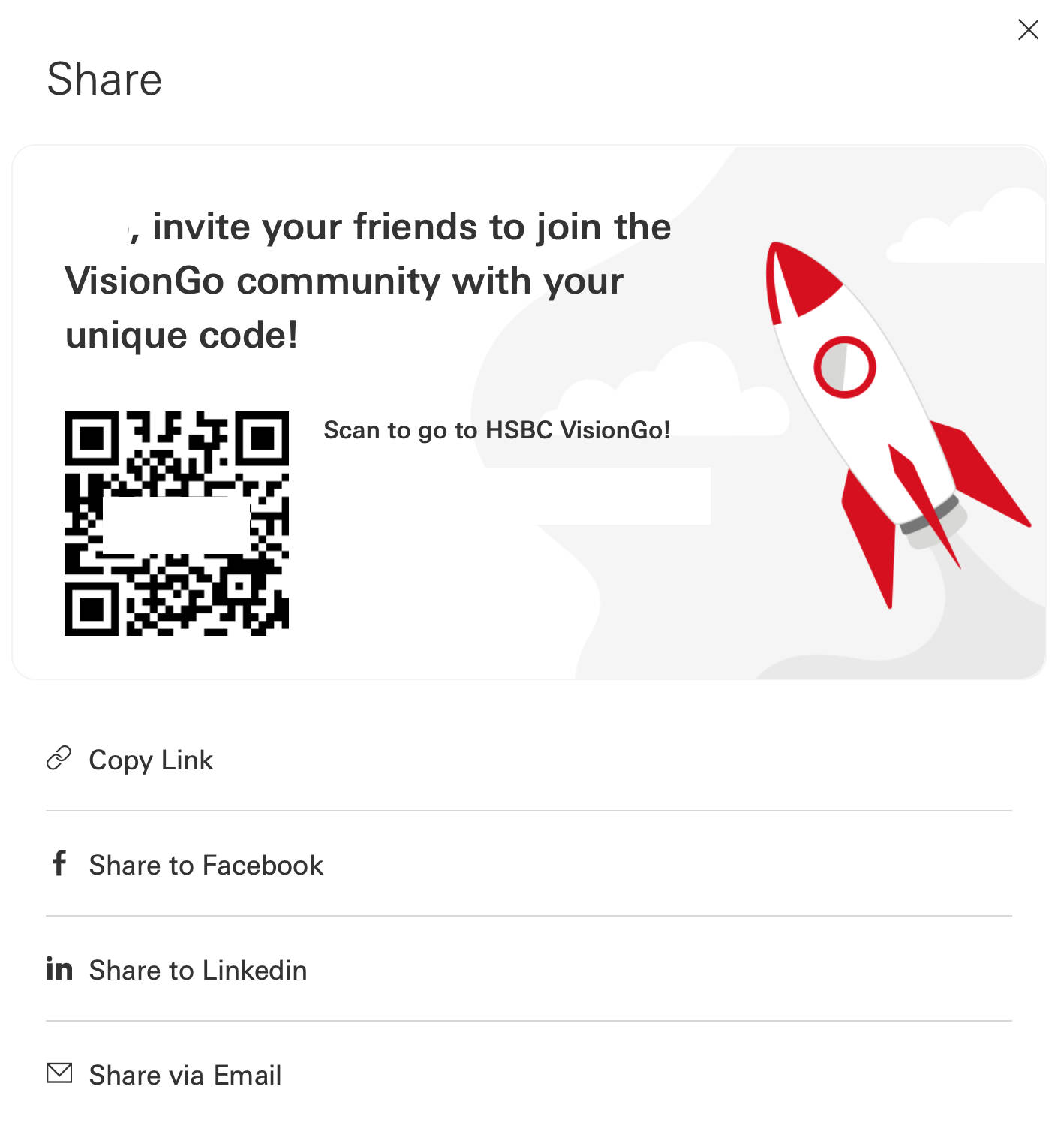 4. Once your friends receive the dedicated link or QR code from you, they can follow the instructions to complete the application directly.
Step 2: Share this article with your friend. Click on the "Share" button next to "Bookmark" at the top right corner. Then choose how you prefer to share the article. This will let your friend have the opportunity to win e-gift vouchers under the CNY referral programme!
Just two simple steps away and you will get a HK$50 Pacific Coffee e-gift voucher!
*Terms and conditions apply. Please refer to below terms and conditions for more details.
FAQ
Will all VisionGo members be eligible to join member-get-member programme?
All VisionGo members, including those registered during the promotion period, are welcome to join the CNY Referral Programme. However, since the existing programme is open only to those registered before 4 January 2021, you will be eligible to join only the CNY Referral Programme if you become a member after 4 January.

How many gifts are offered in the CNY programme?
On a first-come-first-served basis, a total of 168 e-gift vouchers will be offered for successful referrals under the CNY programme.

Can I join both referral programmes?
Sure. Thank you for your support in the existing member-get-member programme. There are two likely scenarios in which you can join both programmes:

Scenario 1: If you have already made 5 successful referrals [under the existing programme], you can now refer another friend and win an extra HK$50 Pacific Coffee e-gift voucher.

Scenario 2: If you have not yet made any referral so far, you can win a HK$50 Pacific Coffee e-gift voucher simply by inviting a friend to register on VisionGo and also share this article. If you repeat this process with two other friends (3 referrals in total), you will satisfy requirements for both programmes and hence eligible for a HK$100 Pacific Coffee e-gift voucher.

How do I know how many referrals I have made?
You can check out the number of successful referrals you've made as mentioned in this article. Successful referrals under the CNY Referral Programme will be counted in the VisionGo system rather than the referral counter of the existing referral programme.
Encourage your friends to register as HSBC VisionGo members now! Open the opportunity for them to win Pacific Coffee e-gift vouchers, and to stay update with SME market trends and smart operation tips in the long run.
-------------------------------------------------------------------------------------------------------------------------------
Terms and Conditions for VisionGo CNY Referral Program (the "Promotion")
1. The Promotion period is from 8 February 2021 to 18 February 2021 (both dates inclusive) ("Promotion Period").
2. Staff of The Hong Kong and Shanghai Banking Corporation Limited in Hong Kong ("HSBC") and its subsidiaries are not eligible for this Promotion.
3. To be eligible to participate in the Promotion, the referrer (the "Referrer") must be a member of HSBC VisionGo, a digital community platform from HSBC, during the Promotion Period.
4. A Referrer can refer a non-member to sign-up to HSBC VisionGo, as a member (the "Referee") by sharing the Referrer's unique referral code within the Promotion Period.
5. The Referee must successfully complete sign-up, verify and activate the VisionGo account within the Promotion Period for the referral to be recognized as an eligible member referral ("Eligible Referral").
6. Subject to condition 7 below, a Referrer will be entitled to the reward of HK$50 Pacific Coffee e-gift voucher ("Reward") for (a) sharing the Promotion article by pressing the share button on the Promotion article and (b) making an Eligible Referral, during the Promotion Period.
7. No reward for Referrer will be allowed for a Referrer to refer himself / herself to sign-up as an HSBC VisionGo member. Each Referrer can earn a maximum of $50 Pacific Coffee voucher within the Promotion Period.
8. The Reward for the Referrer will be sent to the email address provided by the Referrer when they signed-up to HSBC VisionGo by email on or before 31 Mar 2021.
9. The Eligible Referral made under this Promotion by a Referrer, who is an existing member of HSBC VisionGo before 4 January 2021, can also be counted towards the VisionGo Member-Get-Member Referral Program.
10. The Pacific Coffee e-gift voucher ("Gift") is only available while stocks last. HSBC reserves the right to replace the Gift with any alternative gift without prior notice if the Gift under this Promotion is not available or out of stock.
11. The use of the Gift (or any alternative gift) may be subject to the terms and conditions stipulated by the supplying manufacturer/supplier/merchant.
12. HSBC is not the manufacturer/supplier/merchant of the Gift (or any alternative gift) and assumes no responsibility for the functionality, quality or workability of products and services provided by the supplying manufacturer/supplier/merchant of the Gift (or any alternative gift) and will not be responsible for any damages caused as a result of the use of such Gift.
13. The Referrer cannot choose or request to change the manufacturer/supplier/merchant supplying the Gift (or any alternative gifts).
14. It is Referrer's responsibility to comply (at their own expense) with any laws requiring payment of any tax, duty, levy or similar impost relating to the award of the Gift, and HSBC shall have no responsibility in respect thereof.
15. The Gift is provided subject to prevailing regulatory requirements.
16. In the event of any dispute arising out of this Promotion, the decision of HSBC shall be final and conclusive.
17. HSBC reserves the right to revise these terms and conditions and/or postpone, suspend or terminate the provision of the Gifts (or any alternative gift) or the Promotion at any time without prior notice. HSBC accepts no liability for any such change, postponement, suspension or termination, and has the final decision on all matters and disputes arising out of the Promotion.
18. No person other than HSBC and the Referrer will have any right under the Contracts (Rights of Third Parties) Ordinance to enforce or enjoy the benefit of any of the provisions of these terms and conditions.
19. All references to time in these terms and conditions are to Hong Kong time.
20. In case of discrepancy between the English and Chinese versions of these terms and conditions, the English version shall prevail.
21. These terms and conditions are governed by and construed in accordance with the laws of the Hong Kong Special Administrative Region ("Hong Kong"). Each of HSBC and the Referrer submits to the non-exclusive jurisdiction of the courts of Hong Kong but these terms and conditions may be enforced in the courts of any competent jurisdiction.
Issued by The Hongkong and Shanghai Banking Corporation Limited