COMBATING COVID-19 SERIES: RETAIL TECH TO MANAGE INVENTORY IN UNCERTAIN TIMES | Article – HSBC VisionGo
In collaboration with Chain of Demand and Reflaunt
Technology · · 4 mins read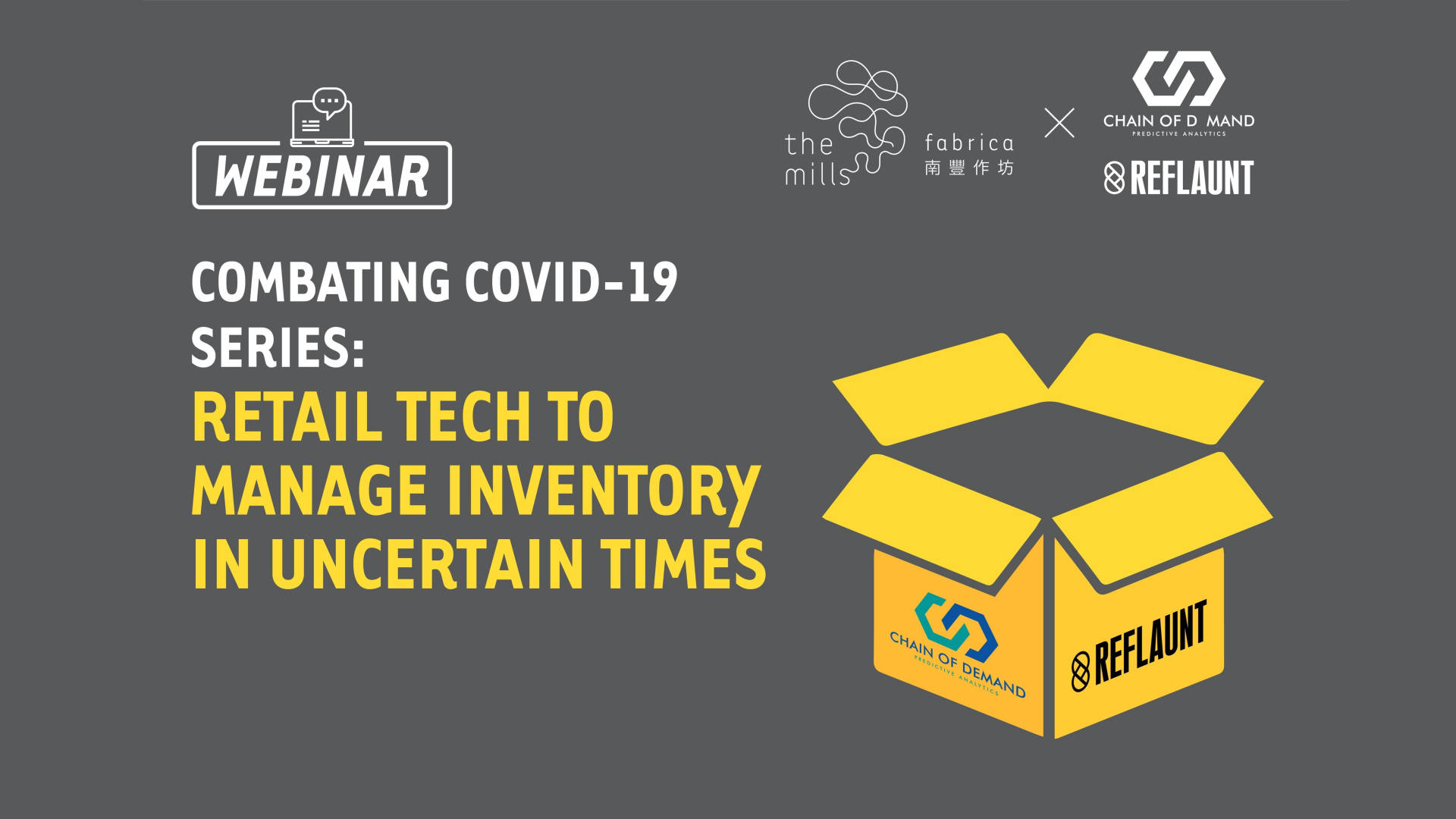 As the COVID-19 continues to spread and disrupt global supply chain operations, we are organizing a 'Combating COVID-19' Webinar Series to help you navigate ways to make better business decisions on arising challenges.
In the first talk of our webinar series, hosted on March 26th 2020, we discussed how to use retail tech to better manage inventory and invited two of our incubatees and portfolio companies, Chain of Demand and Reflaunt to share their insights on:
1) Minimizing supply chain disruptions through predictive data forecasting, and
2) Leveraging new opportunities by tapping into the fast-growing resale market
"We always believe the best thing to do is to get all relevant data you possibly can so you can make better decisions; and even better, share with your supply chain [and] your whole value chain; because through the transparency of data, all the suppliers and brands can [then] work together to find the solution to fight this war." – AJ Mak, Founder & CEO, Chain of Demand
Predicting inventory needs with data analytics and A.I.
Chain of Demand is a predictive analytics company focused on solving problems for the retail industry. It offers their proprietary A.I. models to analyze and predict market demand, allowing brands and retailers to minimize inventory risk and improve profitability.
As AJ Mak observes, "The situation is changing rapidly, especially in the supply chain and demand market around the world". The key challenge in the past few months has been that China had been on lockdown and factory workers had not been able to handle the production. This had affected the other producing countries with delays in raw materials and fabric production. However, as China's supply chain resumes and is back to 60-80% of its normal operations, Western parts of the world are pausing consumption due to the global spread of coronavirus. The whole world is now facing a mismatch in supply and demand.
Considering the lower market demand, brands have been canceling orders to minimize inventory for the coming quarters. The situation gets even worse for brands without significant online presence that rely on physical stores. For instance, New Look and Primark are pausing most of their productions. Nordstorm and Nike have been offering discounts on selected products, while others are seen laying off employees and offering unpaid leave.
As companies need better predictions for markdown strategies, Chain of Demand offers two predictive models to fulfill the different needs of the brands and help them through this stage.
The Pre-season model helps brands minimize cost of inventory and upfront capital required while helping brands buy more strategically before the season starts. The In-season model helps to minimize cost of excess inventory and excess markdowns where the customized AI models can forecast sales out on a monthly basis.
In the current industry practice, it takes about 2 weeks for merchandisers to collect and analyze data to make decisions for markdowns and product reallocation. Chain of Demand's A.I. model is 168x faster and the predictions are 30% more accurate than the industry average.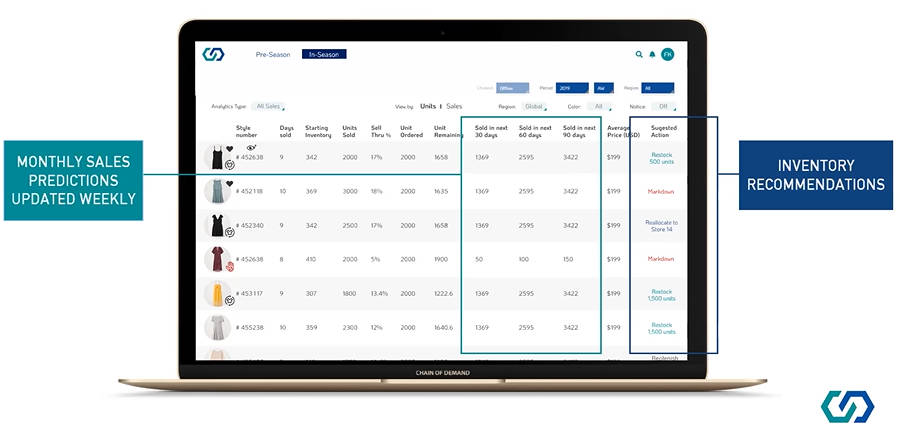 Above is a dashboard showing the monthly sales prediction and inventory recommendation
To make accurate predictions, Chain of Demand collects and trains their A.I. with data in 5 major categories: macro data, online data, proprietary data such as competitors' data, brands' own sales data and product data.
Leveraging their team's experience in tracking a pandemic's impact, Chain of Demand can also incorporate COVID-19 related data into their predictive model.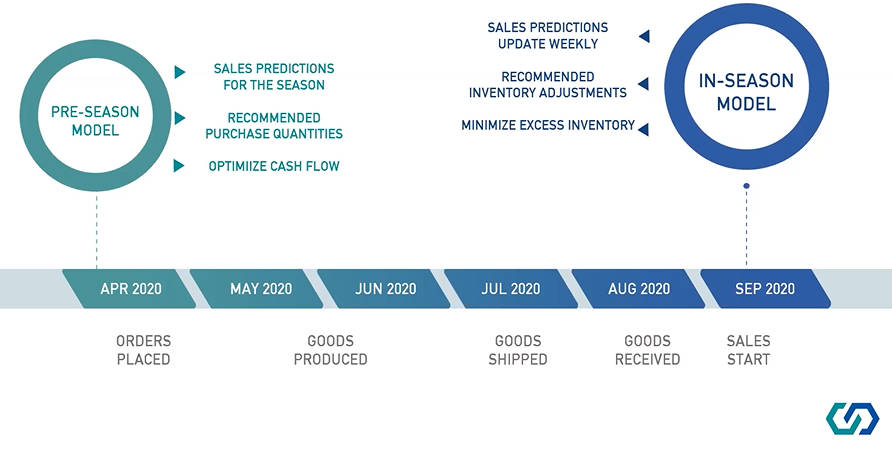 Above is a timeline for your potential inventory planning process when leveraging Chain of Demand's two predictive models.
Chain of Demand has been helping numerous brands to achieve their goals, mainly, in optimizing cashflow and minimizing costs. The case study below demonstrates their results.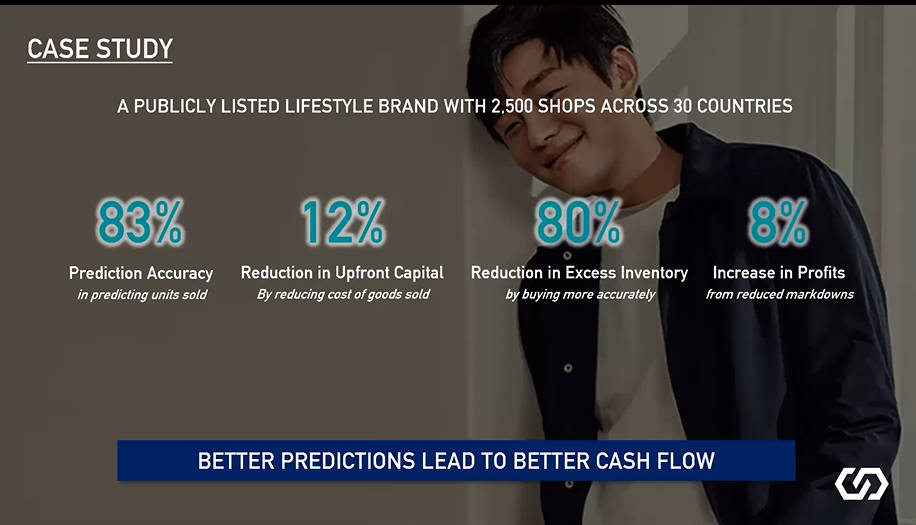 AJ's final message to the audience was to "focus OTB dollars on best sellers; take into account as much data as you can; and make sure the data is updated frequently".
To get started, Chain of Demand is now offering a free feasibility study to help brands identify areas to save cost & improve cash flow. The team can offer analytic insights on a weekly basis, aiming to help C-suites managers collect data and make key decisions in the coming months based on the market, consumer groups and COVID-19 data. Lastly, you can also get a flavour of their latest product which allows a plug in to directly connect to online sales platform for quick extract of backend data.
Get in touch with the team to learn more! To read their whitepapers on predictive analytics, visit their website and learn more about them on their Linkedin.
"Retail has to reinvent itself. And with the current events, digital is obviously taking a predominant part in retail activity. With what's going on today, it's an opportunity to try new models and rethink the way we consume. I sincerely hope that our society will really consider the current context as a wake-up call to reconsider the way we operate." – Felix Winckler, co-founder & Chief Commercial Officer, Reflaunt
Leveraging new opportunities to tap into the resale market
Reflaunt creates a technology platform to bring "reselling as a service" for brands and help their users sell products on multiple marketplaces without ever leaving the brand's website and repurchase with digital shopping credits.
Reflaunt provides brands "to own the customer journey and design the resell process while leveraging existing third-party secondhand markets" summarizes Felix Winkler. Through Reflaunt's resell button imbedded in the brand (or retailer) website, users can resell or upcycle their past purchases to multiple third-party marketplaces in a click from their online account or brands' "digital wardrobe". Brands can gain visibility to the secondhand markets and leverage the traffic on those platforms.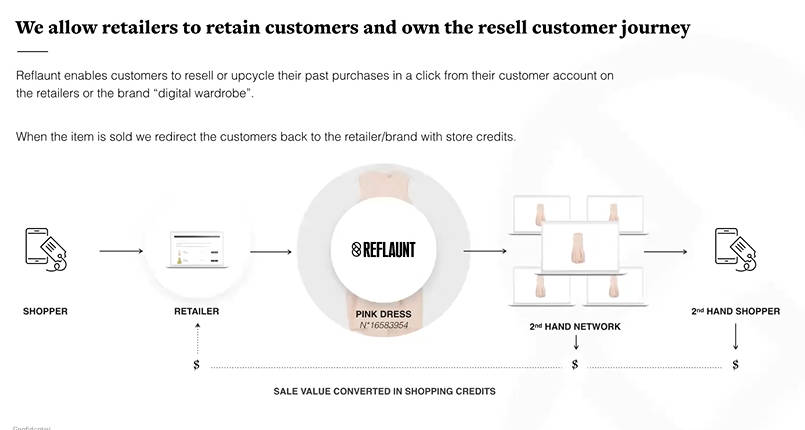 Through connecting brands to secondhand buyers, here are the key benefits that Reflaunt can bring to the brands:
1. Help brands monetize the secondhand market: when an item is sold, Reflaunt redirects the customers back to the retailers and brands' websites with additional store credits; shoppers with credits are found to consistently top up to purchase other items
2. Gain visibility and control over the secondhand market: brands and retailers can track their products with digital IDs on Reflaunt and combat counterfeiting while they can also access valuable post purchase data
3. Boost customer loyalty: bring customers from offline to online through the platform, own the customer journey to retain them post sale and post resell

The current secondhand market size is around $21 billion USD and is expected to reach $51 billion USD in the next 5 years. Despite the current COVID-19 situation, the secondhand market is still expected to maintain momentum commented Felix. As per Reflaunt's data, resell had been growing 20x faster than retail apparel where resale disruptors gained 49% growth in GMV in 2018 (vs 2017).
Nonetheless, the key challenge that most brands and retailers are facing is to deal with deadstock. To help brands sail through the difficult times, Reflaunt is offering a new solution to take stock on consignment and sell to over 35 marketplaces at the best possible price.
Get in touch with the team to learn more, especially about the solution to deal with deadstock!
———-
Share your feedback with us through the survey: https://forms.gle/dk6Q6JrNyLmUzX5c6
Recap video: