Comparing commercial banking mobile apps | Article – HSBC VisionGo
Which one's better: virtual banks' or conventional banks'?
Finance · · 7 mins read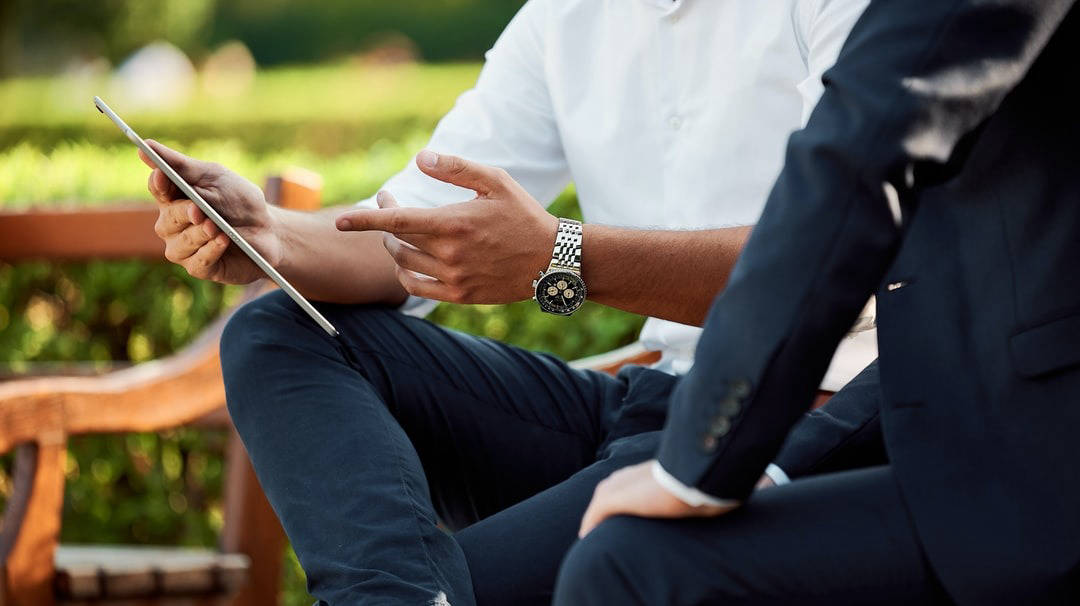 Since virtual banks went into service in Hong Kong, many people have started using them and benefiting from the convenience and wider choices available.
The arrival of virtual banks have driven conventional banks to be more proactive in developing more innovative products for customers. Faced with the growing range of choices, how should SMEs choose the banking services that suit their businesses best? Considering SME owners' need to stay on top of their finances all the time, this article gives an overview of some of the mobile apps for business banking provided by virtual and conventional banks, for your reference while you look for the services that best suit your business.
What are virtual banks?
Virtual banks primarily deliver retail banking services through the internet or other forms of electronic channels instead of physical branches. They are a Hong Kong Monetary Authority initiative to drive smart banking and financial inclusion. Virtual banks normally target retail customers, including SMEs.
Virtual banks are subject to the same set of supervisory requirements applicable to conventional banks. At the same time, like using conventional banking services, personal bank accounts should only be used for personal banking purposes, while business banking needs should be dealt with using a business banking account. As such, this article will only introduce banking services dedicated to business banking customers.
Without physical branches, the operating costs of virtual banks are significantly reduced. Service charges are therefore relatively low, and there is usually no minimum deposit requirement or threshold for account opening. In terms of approval process, such as those involved in account opening and loan application, conventional banks focus on reviewing a list of required documents for internal approval, while virtual banks make use of big data, which makes the process much simpler and faster. Without the burden of legacy, virtual banks are able to leapfrog into the latest technologies right from the start, and are able to improve their services to suit the needs of their customers much faster and with more agility.
Faced with the competition brought by virtual banks, conventional banks have been continuously innovating and taking steps to lower their service charges in the past two to three years. The beneficiaries are of course the consumers of banking services.
Virtual vs conventional banking apps: What can they do for you?
You may already be familiar with the personal banking services provided by virtual banks, and you may also have got used to using conventional banks' mobile banking apps to manage your personal finances or that of your company. But in fact, among the eight virtual banks in Hong Kong, only three provide banking services targeting business customers, and only one of them provides a mobile app – and that is Ping An OneConnect Bank (PAO). PAO does not have desktop internet banking, so basically all services are accessed through its mobile banking app.
Let's take a look at what mobile apps of virtual and conventional banks can do for you.
Account opening
To open an account with PAO, companies with only one director can open an account through the mobile app in as fast as 25 minutes, and 40 minutes if there are two company directors. Note that according to our actual enquiry, at the moment the bank will only consider account opening applications from SMEs interested in applying for loan products. This also reflects the direction of PAO's development. To apply for a loan with PAO, you may submit your company's basic information through the chat function of their app, and their staff will get in touch with you to follow up.
As for conventional banks, HSBC and DBS are some of the more popular banks among SMEs. Taking the HSBC Business Integrated Account as an example, you may first submit your application through HSBC's website, and then submit your identification documents through the HSBC HK Business Express mobile app to complete the identity verification process. There is no need to meet any bank staff face-to-face or over a video conference, and no need for physical documents or signature. If you need to apply for more complex services at the same time, such as investment account and trade facilities, then you will have to apply in a Business Centre.
Meanwhile, DBS will email a QR code to the applicant, who can then scan the code, follow the instructions, and complete the verification process through a mobile device.
Deposits
PAO provides HKD savings account without any minimum deposit requirement. Customers can deposit funds into their accounts 24/7 through FPS, and view their account balance and monthly statements anytime through the mobile app. The eStatements are kept for two years.
The HSBC Business Integrated Account provides services such as savings and time deposits. Foreign currency savings are available in 11 currencies: US dollar, Euro, Pound sterling, Australian dollar, New Zealand dollar, Japanese yen, Canadian dollar, Singapore dollar, Swiss franc, Renminbi and Thai baht. These services can be accessed through the Business Express app. You can also view and download eStatements of the past seven years and eAdvices of the past three months from the app.
For DBS, through the IDEAL app, customers can view details such as account balance, incoming funds and time deposit, covering account activities in the recent six months. Its business banking account supports 14 currencies, including also Danish krone, Norwegian krone and Swedish krona.
Transfers and payments
Using the PAO mobile app, PAO customers can make use of fingerprint or facial recognition to transfer funds to other PAO customers. They can also make instant local transfers to account holders of other banks using FPS. No charge is involved in either type of transfer.
With the HSBC Business Express app, users can make instant local transfers to another HSBC account or accounts with another bank using mobile phone number, email address, FPS or QR code. If your company's day-to-day transfers are handled by your staff but require your approval, you can set up push notifications on the HSBC Business Express app, and approve the transactions on the app once prompted. You can verify all these transfers and approvals on your mobile device using fingerprint or facial recognition. DBS's IDEAL app has a similar function, allowing users to make or authorise local payments and transfers anytime.
The HSBC Business Express app also supports international payment, and allows you to track the real-time status of transfers from HSBC to the beneficiary bank. Users can also settle various types of bills through the app, including those from public utilities, government organisations and insurance companies.
Loans
Like conventional banks, virtual banks are licensed by the HKMA and are subject to the authority's stringent regulations, so they are a reliable source to borrow from. PAO provides SMEs with loans and guarantee financing solutions, and as mentioned, this seems to be its direction of development.
With the PAO app, users can view real-time loan balance and past repayment records, and even repay loans early without incurring penalty charges. DBS customers can also view their loan details on the IDEAL app.
Instant support
Although mobile apps are very easy to use, customers may still need bank staff's support every now and then. Virtual banks have no physical branch, so customer service on the app is particularly important. With PAO's in-app live chat, customers are able to get support by a real customer service agent.
Although conventional banks have physical branches, customers may still want their banking needs fulfilled anytime, anywhere. HSBC customers can log into the Business Express app to contact a customer service agent through the chat function for support, even concerning their specific accounts. Even if you have to switch to another mobile device in the middle of a conversation, you will be able to continue with the same agent. Meanwhile, DBS's virtual assistant, Joy, and HSBC's Amy are also able to provide automated response to general enquiries anytime.
Operating languages
The PAO app is available in Traditional Chinese and English, while the HSBC Business Express app also has a Simplified Chinese version. In addition to these languages, DBS's IDEAL app is also available in Bahasa Indonesia and Vietnamese.
Service fees
With PAO, unless you need the paper monthly statement, which costs HKD100 each, other than charges involved in loans and repayment, there is no service fee nor minimum account balance.
While conventional banks provide more comprehensive business banking support, more of their services involve service fees. But customers may look out for fee waivers every now and then. For example, for HSBC Commercial Banking's Sprint account which targets start-ups, the monthly service fee for the first 12 months is waived. Thereafter, the HKD200 monthly service fee is waived if the company maintains an average total relationship balance of the previous three months at HKD50,000 or above.
DBS SME Banking may waive the account opening fee of HKD1,200; and the minimum account balance fee may also be waived during the first 12 months.
Using the HSBC Business Express app is completely free, and you may even enjoy discount on service fees for specific transactions on the app, such as cross-border payment. Using the DBS IDEAL internet banking and mobile banking app for transactions in addition to basic enquiry services requires a monthly service fee of HKD150.
Other functions
Compared to conventional banks, virtual banks are still in their early stage of development, and their attraction very often lies in their relatively simple and straightforward services, which allow companies to choose the virtual bank that best suits their specific needs. But as a company expands, they may need banking services that are broader or more sophisticated, which may not be offered by virtual banks. Here are some examples.
Cheques
Cheques are a more conventional way of payment. It shouldn't come as a surprise that virtual banks do not offer this service. However, some relatively conventional business partners may still request payment to be made by cheque. For DBS customers, if they issue physical cheques for payment, they can make use of the IDEAL app to keep track of the latest status of a cheque, and download cheque status report for record keeping.
Credit cards
Credit cards are very common among virtual banks in the personal banking space, but are rather limited when it comes to business banking. Meanwhile, when an HSBC customer receives a new commercial card, information about the new card will have been pre-filled in the Business Express app, so the customer can simply log into the app, review the information and activate the new card, without having to call the credit card hotline nor upload any photo of the card face.
Instant foreign exchange
If your company operates any cross-border business, or imports supplies from overseas markets, you may have the need for foreign currencies. HSBC Business Banking customers can make cross-currency conversions between up to 19 major currencies, and utilise real-time exchange rates for transaction amounts up to USD5 million or equivalent.
You can also set up "Rate Alert" and "FX Order" on the Business Express app so that once the exchange rate hits your target, the bank will automatically execute an exchange for you, allowing you to get hold of every opportunity, while enjoying preferential rates for getting foreign currencies through the app.
Using the DBS IDEAL app, you can also set up customised "FX Watchlist" and "Price Alert" to conduct foreign exchange anytime. When foreign currency funds are credited, your currency account within your multi-currency savings account will be automatically activated.
Virtual? Conventional?
With more options, users are of course the ultimate beneficiaries. If your company is in the start-up stage, where your banking needs are not too complicated and capital not yet very stable, then virtual banks are definitely a very good option, especially with their low account opening threshold. Meanwhile, conventional banks operate on a larger scale and provide a broader scope of services. They are also supported by staff who are familiar with various areas and are able to provide professional advice.
Business owners who want to plan ahead for their future businesses should consider whether the banking services they use will be able to support their needs in the future. If you plan to expand your business soon, conventional banking services which give you comprehensive support may therefore be more suitable for you.