Content Marketing 101 – A Comprehensive Tutorial: from Beginner to Expert | Article – HSBC VisionGo
This article introduces the profound concept of content marketing and invites a number of channel owners on HSBC VisionGo to share their experience!
Marketing · · 9 mins read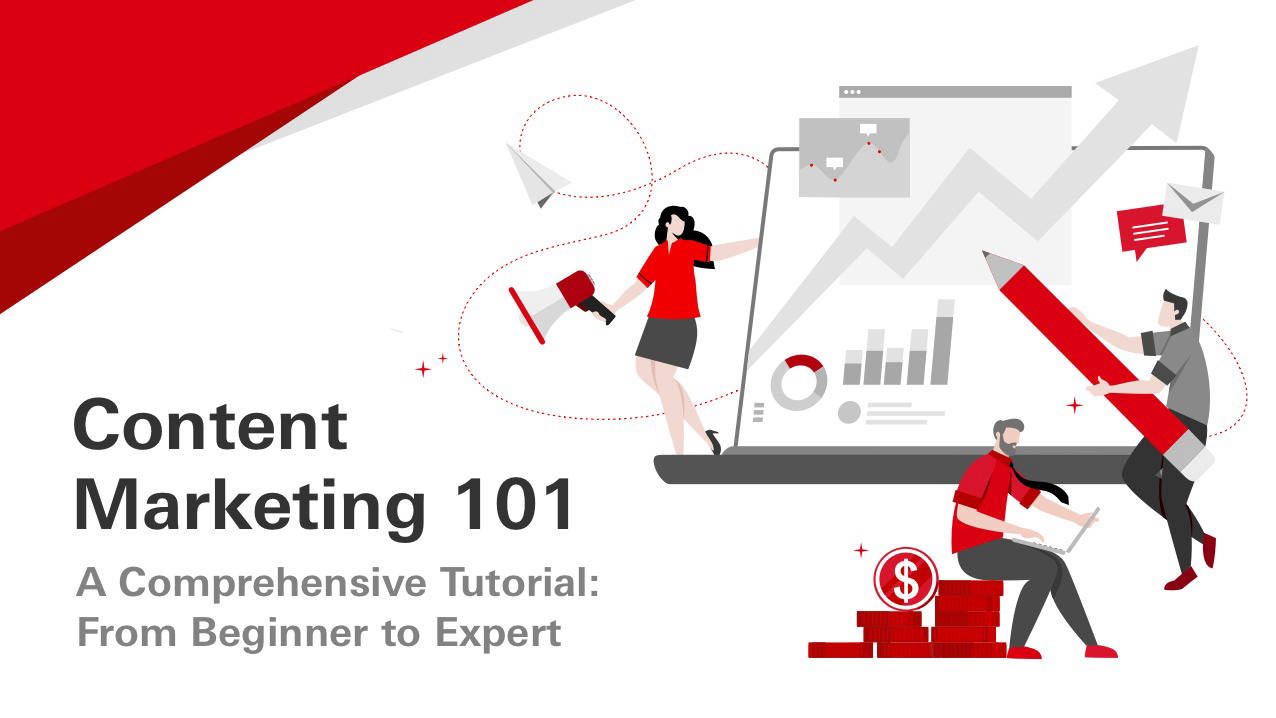 Content marketing is an important component of digital marketing, and is made up of different means and strategic considerations. This article introduces the profound concept of content marketing in simple terms and invites a number of channel owners on HSBC VisionGo to share their experience in content marketing. Don't miss it!
"Content is King" – these days, creating valuable content is essential in promoting a brand or a company in order to garner support from customers and drive sales. In particular, since the COVID pandemic, consumers have been spending more time at home reading blog articles, watching YouTube videos, listening to podcasts, and learning new knowledge from social media. Valuable content has become increasingly powerful and has turned into another important promotion strategy besides hard-sell advertising.
This article shares with you a comprehensive content marketing strategy in simple language, guiding you from how to start from the beginning, to producing appealing content to attract consumers. We will also go through various content formats and their advantages.
What is content marketing?
According to the renowned Content Marketing Institute:
Content marketing is a strategic marketing approach focused on creating and distributing valuable, relevant, and consistent content to attract and retain a clearly defined audience — and, ultimately, to drive profitable customer action.
Content marketing channels are not limited to written articles, but span across different media such as YouTube videos, podcasts, along with the more conventional blog articles and electronic direct mails (EDM).
Why is content marketing important?
Unlike online advertising that pushes advertisements to the market, content marketing uses valuable content to encourage potential customers to find out more and eventually make purchases. It comes with a lot of benefits: it costs less compared to placing ads, while achieving a higher conversion rate, since consumers are attracted by your content and their purchase intention would therefore be higher.
In the long run, drawing customers' attention with concrete content helps build a brand's reputation, creating a virtuous cycle from gaining trust from customers to retaining them for future purchases.
Content Marketing Tactic #1 – Blogging
Blogging is a traditional and effective way of content marketing. From the audience's perspective, articles introducing products or services through the author's personal experience and assessments provide them with comprehensive and objective suggestions. From the technical perspective, an even more important function of blogging is Search Engine Optimisation (SEO).
SEO optimises site content to increase the visibility of your website when users look up specific keywords on search engines such as Google, therefore increasing the chances of customers entering your website. Although results at the top of a search engine result page (SERP) are mainly ads feeds, in the customers' eyes, they are more hard-sell and not objective enough. Meanwhile, organic search results generated from SEO would come across as more objective and trust-worthy. This is the key reason why small eCommerce merchants; informational websites or large-scale businesses will never ignore SEO in their content marketing.
Let's take a look at a simple example. Now that you understand more about SEO, you look up Google for experts who may help you with SEO for your company. Which search result would grab your attention? Definitely the one ranks the highest on SERP! The ranking result shows exactly the capability of that SEO expert in putting him/ herself at the top of the list. Whether your company is a B2B or B2C business, SEO is always the way to gain traffic!
On VisionGo, there are many content marketing experts who know SEO very well. Here are some recommended articles for you:
Tips for Creating an SEO-friendly Website to Increase Traffic
Meanwhile, we have also invited two SEO experts, Ringo Li from Owlish Online and Bernie from Social Stand Limited, to share the importance of blogging and SEO considerations during the writing process.
Click here to enjoy the full version of video from Ringo!
Let's enjoy the full version here!
If you are ready to make great strides in content marketing, start preparing your first piece on VisionGo now! Through publishing useful content from members constantly, VisionGo has established a certain level of capability in SEO. If you publish your articles on the platform, you will be likely to rank higher on SERP!
If you find the information above useful and would like to receive future updates about content marketing, please subscribe to our newsletter! 🔗https://www.visiongo.hsbc.com.hk/en/thematicNewsletterSubscribe/5?newslettersTitle=Member%20Sign-up
Content Marketing Tactic #2 – Video Marketing
Video marketing is currently the most popular marketing tactic, especially when people have to work from home due to the pandemic and are therefore able to absorb a wider range of multimedia content.
The key function of a brand's videos is to introduce its products in an interactive way. High-end products such as smartphones, computers, luxury handbags have a high price tag and are not always easy to use. So consumers tend to learn more about the products before making a purchase. To avoid being a "target" of salespersons in a physical store, watching product videos online becomes a causal and comfortable way to help complete the consumption journey.
Besides product-related videos, video content could also be tutorials or informative scenarios. For instance, "Start Hong Kong Holding Limited", a VisionGo Business Member, very often shares videos about creative thinking and business management with concise content at the right length, which bring lots of practical knowledge and values to the audiences. The importance of video marketing is to create more personalised interactions between you and your potential customers through videos, to make the content more interesting for the audiences, eventually shaping the brand image, leaving a lasting impression for the customers.
Advanced video marketing can also be used to target business clients. The website Skillshare is the best example that addresses the unique needs of both B2C and B2B clients at the same time. It is a video learning platform where professionals from different industries share their knowledge, ranging from personal skills to business knowledge such as business management, creative media, computer programming, etc. These in-depth videos cover a wide range of topics, while being tinged with content marketing.
In order to help you understand more on how to use video marketing to boost sales, we have invited Ivan So, an expert in SEO and digital marketing, to share key areas that you should bear in mind:
Let's enjoy the full version of video by clicking the link here!
Content Marketing Tactic #3 – Voice Marketing
Purely using voices for marketing is the latest strategy in the market. As mentioned above, consumers absorb diverse multimedia content during the pandemic, and podcasts and the most on-trend real-time discussion platform, Clubhouse, are the areas that many marketers would like to get into. But what's so special about this tactic?
Let's first use podcasts as an example. The topic, length and depth could be more flexible than video and text content. Programs can range from a "5 mins podcast Academy" to two hours of in-depth discussion, all depending on the topics and the preference of the host. Meanwhile, since it is not necessary to present the show in person and only voice recordings are required, the production cost would be lower than other methods. Most of the podcast programs are presented as casual chit-chats, so the hosts would not need to write long scripts as in a video production. As long as they can find a topic that they are interested in or know well, they will be able to have a good discussion.
How does it work for marketing? In general, podcasts are usually deep dives into a specific topic, and seldom sell products directly. However, the discussions in a podcast may involve key points related to a particular product and brand. For example, if you run a skincare and beauty brand, you can focus on informative topics like "How to choose suitable skincare/ makeup products" or "How to do skincare while sleeping", while touching on your brand product softly during the program.
Similarly, if you provide professional services such as video editing, you can think about high quality content on topics like "How to produce high-quality special effects with a low budget" as the core of the program, then indirectly introduce your service to attract the audiences. Compared to hard selling, providing information and values is even more effective in boosting customer loyalty and repeat purchases.
On the other hand, Clubhouse is the latest social media platform that focuses on voice content. Since it is a real-time show where participants have a chance to interact with the host, it is very fitting for members-only discussions to enhance a closer community atmosphere. Depending on the unique target audience and consumer segments of your brands, both podcasts and Clubhouse live-streaming allow you to create business management and solution service-related content. For instance, there are business-specific categories on the Apple Podcast app, such as management, digital marketing, investment, etc. Such content targets not only retail consumers, but also business managers or bosses.
Bernie Wong from Social Stand Limited knows podcast marketing very well. Here he shares his views about this new method:
Click here to know more about Bernie's experience in Podcast marketing!
Content Marketing Tactic #4 – Email Marketing
Email marketing is the most traditional way of online marketing and the most common practice of content marketing. Promotional emails are usually sent to existing customers or audiences who have subscribed to a newsletter through various channels, in order for the brand to interact with existing customers and offer special discounts to them. Email marketing is also useful in attracting new customers, for example through offering referral discounts to existing customers when they introduce new customers to the brand.
We use email in various aspects of our everyday life. It's so common that promotional emails are more likely to be ignored by the target audience. For instance, we are used to checking our mailbox every morning when we wake up. Those work-related emails are always the most eye-catching ones, but promotional emails would be automatically filtered. Therefore, in order to develop wonderful email marketing, it may need to be more creative and unique than videos and blogs. There are various ways and formats to interact with existing customers by email. The most common way is monthly or weekly newsletters where a brand shares its latest updates and products with existing customers. Apart from that, if you are operating an eCommerce business, you can also send member-exclusive offers by email to drive more purchases.
HubSpot, the renowned content management and digital marketing institution, also makes good use of email marketing to share tips on digital marketing and business management with their subscribers. By regularly sending email blasts with the latest industry updates and business management tips, HubSpot boosts the chances of companies adopting its service as a marketing partner.
To receive the latest updates, sign up for our newsletter now! 🔗https://www.visiongo.hsbc.com.hk/en/thematicNewsletterSubscribe/5?newslettersTitle=Member%20Sign-up
Similarly, the weekly newsletter from VisionGo shares useful blog pieces, upcoming events and promotions uploaded by VisionGo Business Members with our subscribers through email. If you sign up as our Business Member, you will also have these marketing exposure for free!
There are numerous other applications and benefits in email marketing. This article may help you understand more: Why do you still need to do email marketing?
Content Marketing Tactic #5 – Influencer Marketing
Strictly speaking, influencer marketing is not really a content marketing tactic. Instead, it is a platform for doing marketing. Through collaborating with celebrities or experts from different fields of expertise, it helps introduce products and brands to influencers' supporters through the influencers' social media posts, video clips and blog articles. This helps explore new customer base, boost conversions and promote brand reputation.
On the surface, influencer marketing looks pretty much the same as celebrity endorsements. However, the fine difference is that KOL (Key Opinion Leader) influencers do not have to be superstars in the arts and performing industries. As long as someone excels in a particular area and stands out from the crowd, or is able to attract followers simply with his/ her charming personality, he/ she may become an outstanding KOL.
Influencers are categorised into tiers, such as "macro-influencers" and "micro-influencers", according to the size of their followers. They have their own characteristics. For example, macro-influencers have more followers and are able to build brand reputations more easily, while micro-influencers are able to achieve conversions more easily as they have closer emotional interaction and engagement with their fans.
In particular, there are many influencer marketing experts in VisionGo, such as Cloudbreakr, who from time to time provide special offers to businesses looking for KOL services. Stay tuned for the latest offers! You may also find the best-fit business partner at VisionGo Partnership to kick start your digital marketing adventure!
Besides logging into VisionGo to browse around the blogs and promotions, you can also subscribe to our weekly newsletter to receive updates on articles, upcoming events and promotions! 🔗https://www.visiongo.hsbc.com.hk/en/thematicNewsletterSubscribe/5?newslettersTitle=Member%20Sign-up
To know more about influencer marketing and how businesses should optimize their promotion strategies accordingly, please refer to this article on VisionGo:
How Online Shops Sell More Through KOL Marketing?
The Success Formula For KOL Marketing in 2021
"Omni-channel" Content Marketing
We have now discussed various methods of content marketing. To maximize the impact, brands can consider going for "omni-channel". Whereas "multi-channel" marketing refers to promoting a brand across its distinct platforms, such as Facebook, Instagram and YouTube channel, with content specific to each platform to target the respective audiences, "omni-channel" marketing utilises the crossover of content originating from these different channels. For example, a brand may introduce its Facebook page in its YouTube videos, or encourage its Instagram followers to subscribe to its email newsletters to get the latest promotional offers.
Omni-channel content marketing helps maximise content penetration. Since content released on different platforms may not be the same, smart use of omni-channel marketing allows potential customers to receive all the information about your brand from all channels. That would also help drive customer loyalty, introduce customers from one of your platforms to another, and explore a new customer base.
Find out more from this article about how to better utilize omni-channel marketing to attract potential customers:
Marketer 101 part 2: 8 terms you should know in marketing world
How to develop valuable content constantly?
To capture the attention of potential customers through content marketing, you will need fresh content to keep them coming back for updates, and for them to benefit from your new content so that they would make purchase again. Here are some considerations in generating new content constantly:
Product launch:

Whenever a new product is launched, post new articles and videos at the same time to bring excitement to customers with new information.

Market news:

Make use of news related to your business to generate new content. In particular, introduce the latest news about your industry through podcasts. There is a certain level of attraction to keep customers coming back for more.

Brand crossovers:

To keep the content fresh, businesses may collaborate with brands from other industries to generate new content. For instance, a sneaker brand can invite an accessories brand to produce a podcast about fashion trends, or produce fashion look-book videos. This would help reach new customer bases in addition to bringing an impact with new content.
We hope this article would be useful to your journey of content marketing. If you are interested in the content contributed by the authors in these articles, you are welcome to follow their VisionGo profile pages so you won't miss out on any of their new blog posts!