A Fitness Centre Of Unconventional Scope And Service | Article – HSBC VisionGo
Tom Summers And Matt Jacob Of Pinnacle Performance
Lifestyle · · 2 mins read
When it comes to improving one's health, shaping one's physique, or enhancing sports performance, having a professional trainer should always be of some assistance. Concerns over health have drastically increased in Hong Kong in recent years, as evidenced by the vast presence of gyms over the city. Most fitness centres work on a 'membership' model where upon joining members are free to choose courses such as personal training, yoga, aerobics and many more. While this mode warrants freedom to some extent, it nonetheless may not answer the true needs of our bodies.
When Tom Summers and Matt Jacob visited Hong Kong for a business trip in 2013, they found that the generic gyms could not attend to the true needs of those who are health-conscious, and thus founded Pinnacle Performance. Combining Tom's rich experience as a strength and conditioning coach and Matt's background in business and economics, Pinnacle strives to offer individually oriented, one-stop fitness, health and well-being services via its unique subscription model.
Professional coaches to help set personal targets
Tom and Matt are determined to establish an innovative model of operation: with a subscription mode, Pinnacle is able to provide training to suit needs in the most minute details. "Our services are always personalised. At the first meeting, our coach will first get to know the client regarding their body conditions, help them set goals and compile a professional training schedule," says Tom, who is in charge of strength training.
While the average goal of people going to the gym may be "to lose some weights" or "to get stronger", coaches at Pinnacle do need clearer ones. "Whether one may want to gain some mass, to be firmer, to have no sports experience, to demand high-intensity training, to train specific muscle groups to handle a specific sports item, all these factors will drastically alter the direction of their training programme." Once there was a client who was injured and required special care, and was equally taken care of by Pinnacle's coach.
Each and every training staff is well-versed in strength and conditioning, and is able to design training programmes which best suit clients' needs. For instance, Tom has served at England Women's Football Association, Zimbabwe National Cricket Team and the English Institute of Sports to provide training and support for international elite athletes. In addition, Pinnacle coaches can also provide diet and nutritional advice to help clients attain health in enhanced efficiency.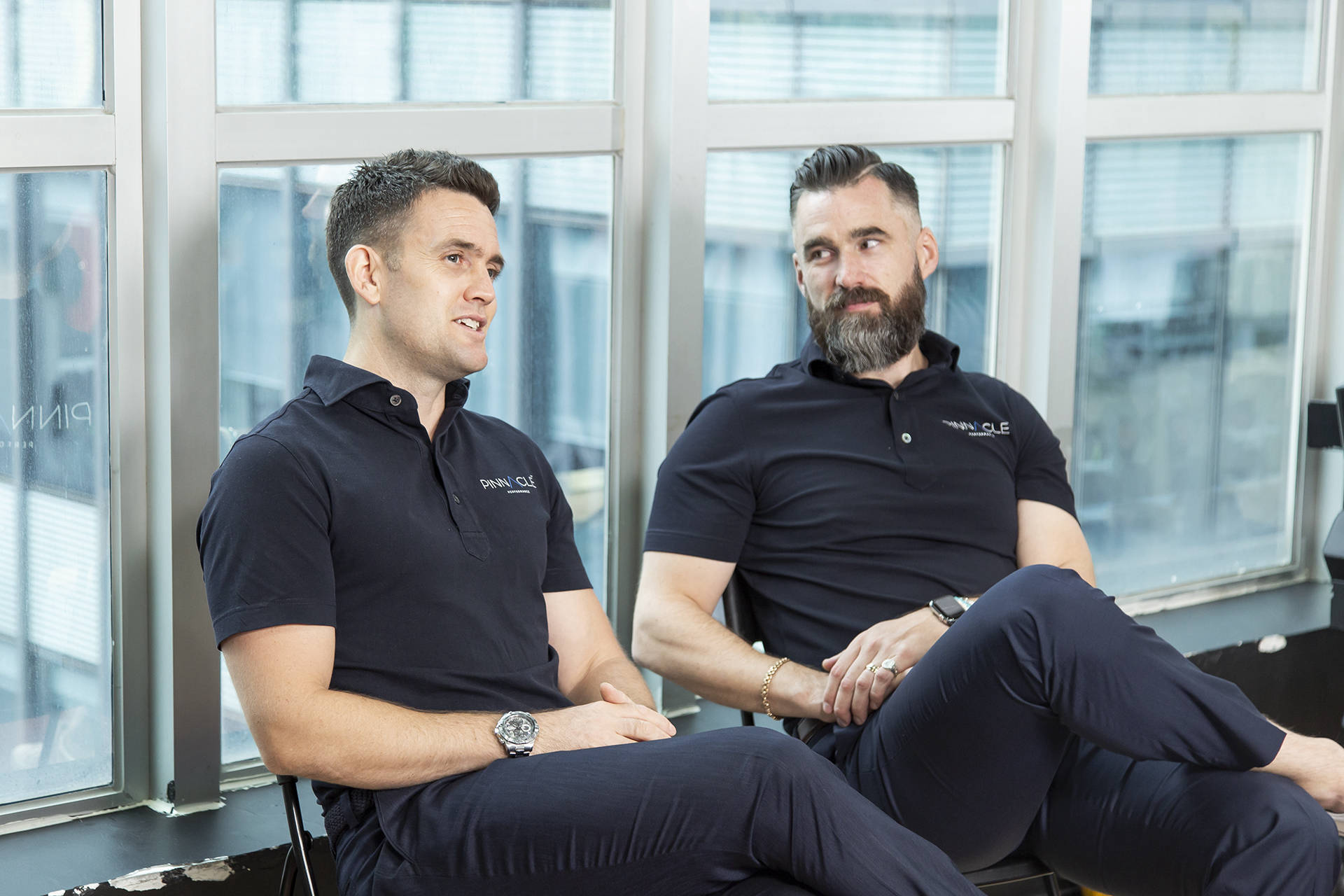 Tom Summers(left)、Matt Jacob(right)
A unique subscription mode with individualised flexibility
The greatest difference between Pinnacle Performance and the average fitness lies in its operational mode: with a one-includes-all subscription fee, clients are entitled to unlimited use of its facility, and are assigned a lead coach to help set goals and regularly monitor progress. Standard members take class in small groups of 4 to 6, to ensure each student is attended to. Black Tier members can enjoy 1-to-1 training where the coach closely follows the progress to make fine adjustments to the programme, making it the best solution to those who require greatest flexibility. In light of the COVID-19 pandemic, Pinnacle is also experimenting with a new Online subscription mode where classes take place over video conferencing and similarly each is assigned a lead coach for following up progress. This mode is specially designed for those in quarantine, who are always on the move, or who do not wish to leave home to protect their families.
An intimate community of more than fitness
Apart from an innovative operational mode, Pinnacle is keen on establishing intimate relationships with clients. Matt, in charge of business development, remarks that coaches are encouraged to communicate with their students. "Communications are not limited to classes. We welcome questions on fitness, diet and nutrition over texts and voice messages. We think that on the path of fitness, relationships ought to be mutual." As such, Pinnacle has been successful in forming a close community.
For Matt, Pinnacle's philosophy not only offers the most attentive care and knowledge to any fitness seeker, but also benefits the personal development of its coaches. With the subscription model, coaches no longer need to trace monetary targets. With no competition between coaches, they can share with each other training tips and programmes when handling different students. Tom and Matt has also set up a coaching academy to guide their coaches how to develop their personal careers in a more humanistic and long-term way.