Three keys for a successful digital transformation in Food and Groceries businesses | Article – HSBC VisionGo
You will learn about how a food retailer saw a surge in sales by adopting digital solutions and three keys for successful digital transformation.
Management · · 5 mins read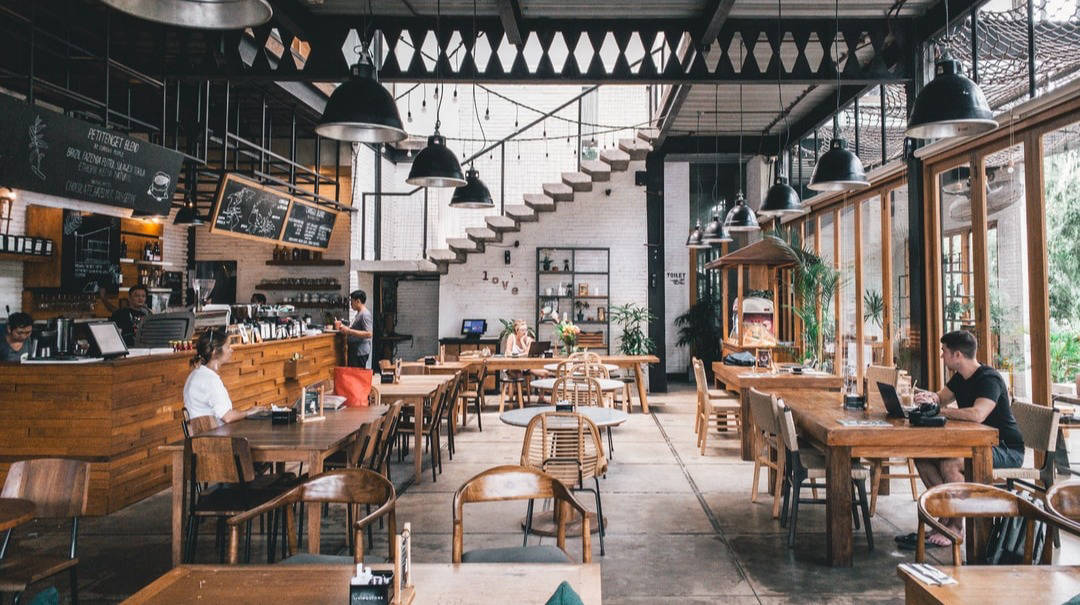 The pandemic situation in the past two years has posed significant stress to Hong Kong economy. Food and Groceries sector is one of the most affected sectors in result of social distancing, lockdown and travel restrictions. It seems to be commonly known fact to everyone but how was the pandemic exactly affecting Food and Grocery businesses industry as the situation evolves?
Continue the read, you will learn about how a food retailer saw a surge in sales by adopting digital solutions; and most importantly, three keys to a successful digital transformation in a future of digital savvy consumers.
How was Food and Groceries sector affected during the pandemic?
Food and Grocery sector has witnessed how customer behaviour changes could have significant impact on the business at different stages, according to our Market Pulse new insight on HSBC Smart Solution, a digital platform to help SMEs embrace the digital transformation with toolbox and data insights.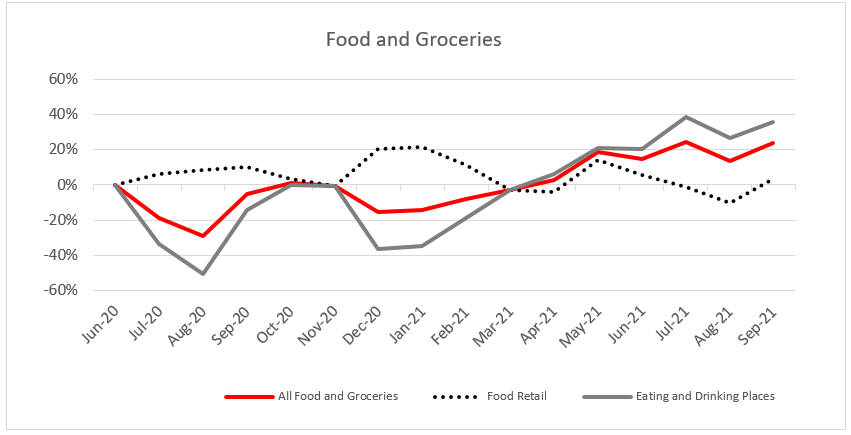 Monthly change in online and offline credit card transactions in Food and Groceries Sector (vs June 2020)
Source: HSBC Smart Solution Market Pulse.
When the pandemic got worse in the summer of 2020 and the beginning of this year, people tend to cook and eat at home. Compared to Jun 2020, there was at around 30% drop in Aug 2020 and around 15% drop in Dec 2020 & Jan 2021 for the overall sector. Restaurants were suffered even more, at around 50% drop in Aug 2020 and around 35% drop in Dec 2020 & Jan 2021 as compared to Jun 2020.
On the contrary, the food retailers were able to capture the opportunity of changed consumer behaviours. As a result of more people getting their food from grocery stores and cook on their own, sales of the food retail sub-sector picked up.
The overall sector has observed a strong recovery since the second quarter of 2021 with an almost 40% bounce back in Sep 2021 (vs June 2020), thanks to the more controlled pandemic situation. The market has also found that the increased adoption of digital solutions by both merchants and consumers contributes to the recovery, for example, e-consumption voucher for digital payment and online orders.
In Deliveroo's latest Restaurant Confidence Index survey[1], nearly 70% of restaurant merchants have benefited from e-consumption voucher, and while people started to dine in again, the habit of food and groceries deliveries stays.
Case study: How a food retailer opens up new channels to reach out to customers and generate millions of engagements by adopting chatbot solution?
Apart from digital payment and orders, the fact is that consumers are becoming more digitised throughout the buying journey, and merchants should adopt digital solutions in every corner as much as possible to respond. For example, can you imagine how to leverage chatbot to interact with their customers and hence boost sales?
In HK, 88% of internet users in Hong Kong use Facebook and/or Instagram while more than 90% of Hong Kongers are using WhatsApp, according to the data from Meta in Q3 2021 and Statista. Sanuker Inc. Limited ("Sanuker") is one of the leading chatbot solution providers in the city, leveraging the widespread of messaging apps to help merchants drive traffic from online to offline and even boost sales.
During the pandemic, Maxim's Cakes partnered with Sanuker and creative agency CMRS to design an innovative Monopoly promotion campaign on Messenger and WhatsApp, turning a traditional board game to a broadly social game. A chatbot is built to automatically send out pushes and messages about Monopoly tasks to customers, and customers can collect property and scores for offers and lucky draw chances within 30 days.
As a result of the interaction with customers via chatbot, Maxim's Cakes were able to generate 9.7 million customer interactions, 8 million branded messages, 1.6 million enquiry messages and opened up two new touchpoints (Messenger & WhatsAPP) to further contact with customers. The magic power of messaging apps also increased the successful friend referral by 85%.
To sum up, there are three keys to a successful digital transformation for Food and Grocery retailers
1. Make good use of data and information for business growth
Information and data is the most valuable asset in today's business world. SMEs should be equipped with the handful tools to keep abreast of what's going on in the market anytime anywhere, so you can adjust the strategy and prepare beforehand.
Market Pulse on HSBC Smart Solution tracks the performance of various sectors by analysing retail consumers' credit card transaction data month by month. It zooms in transaction distribution by online and offline, by location, by order size, as well as concentration by hour/day to comparing performance of top/ bottom movers at a glance, giving SME users insightful data points to make better-informed decisions.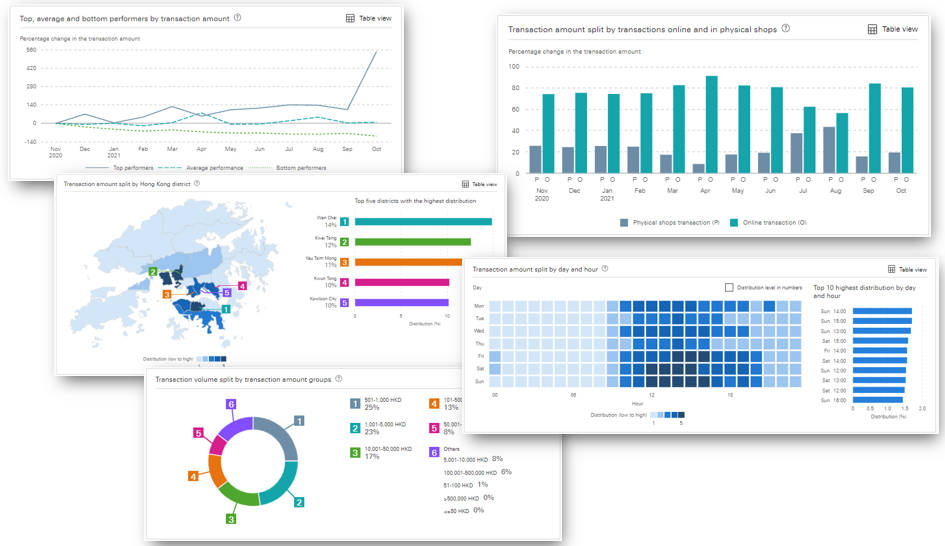 Another free resource of information is HSBC VisionGo, a B2B online platform for SMEs to find knowledge and business partners. For example, if you are a business owner in Food and Grocery sector, there are a few articles you may find helpful. From there, you can get in touch with the vendor for further consultation and partnership.
Sign up for HSBC VisionGo's weekly newsletter, so you won't miss out!
2. Keep the bonding and relationship with customers digitally
Stay connected with customers in today's tech-savvy world is another key pillar of successful digital transformation.
"When it comes to F&B sector, the pandemic has made it harder for people to go out for friend gatherings, date nights, and wedding banquets directly affecting the bonding and relationship with clients. Hence, keeping in touch with customers becomes a big challenge," says Burton Chau, Co-founder & Chief Executive Officer of Sanuker.
Burton continued, "The wide adoption of messaging app, with Messenger and WhatsApp as one of the most prominent messaging apps, is well-positioned to help businesses stay connected with their customers closely."
In fact, there are lots of customer touch points that merchants should transform digitally, including e-coupon and membership. HSBC Smart Solution offers a wide range of tools and solutions to help merchants to digitise their customer journey comprehensively including but not limited to:
E-coupon and online reservation
The Gulu - It supports e-coupon creation for food and groceries/ retail businesses. The restaurants can provide remote queuing and reservation via the app. It also allows merchants to sell their products in advance by customising and releasing e-coupons via The Gulu's online shopping channels.
Sanuker – It enables SMEs to create and customise their own chatbot including creating conversation flows, writing different types of responses and launching chatbot on multiple messaging platform such as Whatsapp, Facebook Messenger, Wechat, LINE and Web Chat. It makes instant replies to the customers and hence can help to convert chats into purchases from your online shop.
Eber – It is a consumer experience platform for retail, food and groceries to grow their customers, loyalty and revenue. It comes with comprehensive solutions for membership, loyalty, rewards, automated marketing campaigns, eVouchers, customers' feedback and CRM. For example, offering member focus features such as digital member cards, points and rewards in one place. This solution saves your time by automating tasks like member upgrades.
How to get started on HSBC Smart Solution for Market Pulse and other tools?
Just simple 3 steps to get started HSBC Smart Solution for free.
Click "log on" at the top right corner of our public website and select "HSBC Smart Solution"
Logon using your HSBC Business Internet Banking (BIB) username and password
Answer 2 questions and start using HSBC Smart Solution for free
You may also logon HSBC Business Internet Banking, then click "HSBC Smart Solution" at the top left corner to logon HSBC Smart Solution directly.
3. Adopt inclusive digital payment system
The pandemic has fast forwarded us to a cashless society, and businesses must respond as quickly as possible for the benefits of consumers. Merchants should be able to deal with a number of digital wallet providers, and to reconcile transactions made through different wallets.
HSBC Business Collect may be the solution for SMEs. It is a mobile payment collection solution that allows merchants to collect payments from customers through multiple digital channels via one device, including the government e-vouchers paid through AlipayHK, WeChat Pay HK, Octopus and Tap & Go, but also other digital payments using FPS, credit cards, and mobile wallets such as Apple Pay. What's more, this is the only point-of-sale payment collection platform that accepts payment from PayMe's more than 2.5 million users.
To learn more details of how HSBC Business Collect works, please visit this page: One device that takes all kinds of digital payment (Limited time offer)
[1] https://bit.ly/3HlSVDU