FX Matters October 2021 | Article – HSBC VisionGo
Oil and US yields jumped, RBNZ and BOC led tightening
Finance · · 18 mins read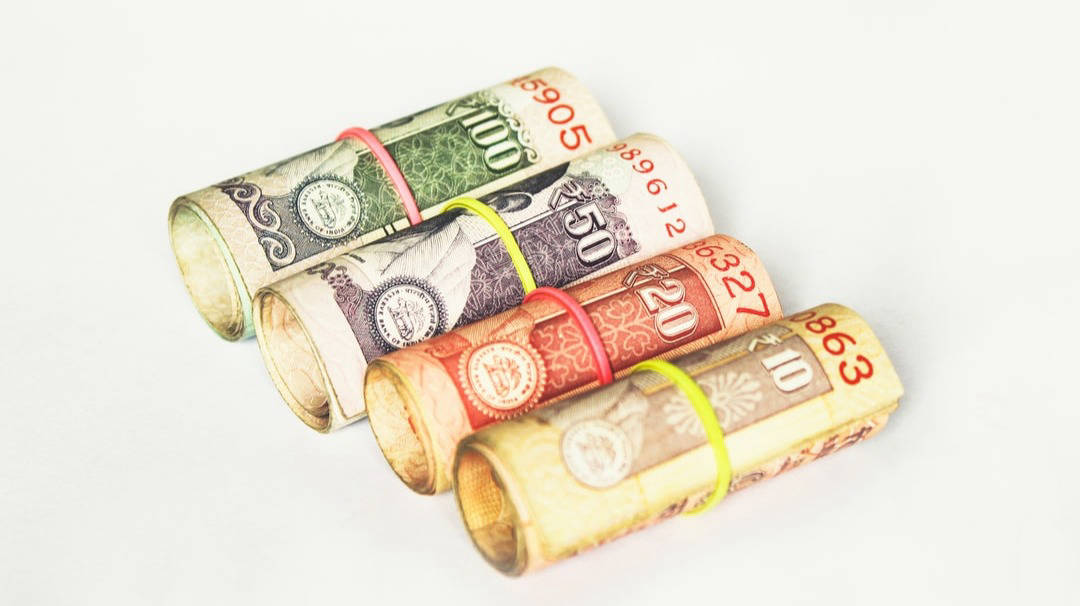 Oil prices top USD86 per barrel for the first time since 2014
Shorter-term US Treasury yields jump, with 2-year yields climbing from 0.28% to 0.50%
The RBNZ hikes rates to 0.5%; BOC ends QE earlier than expected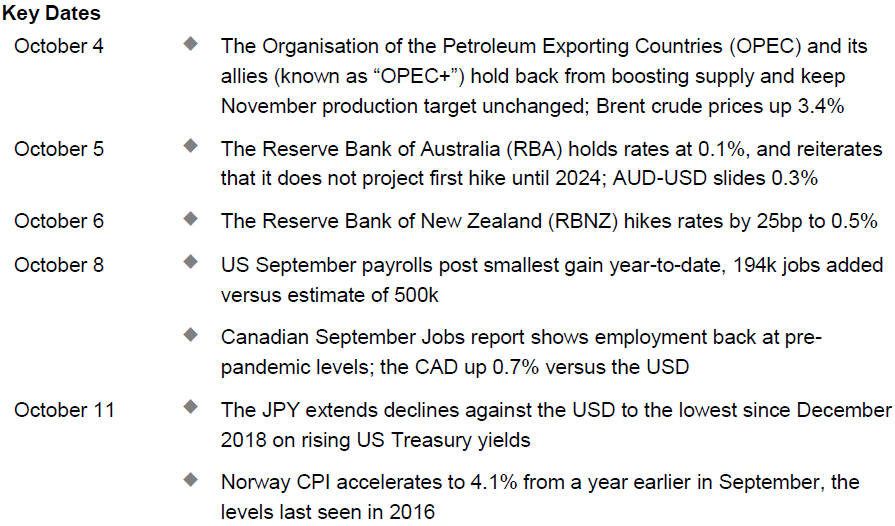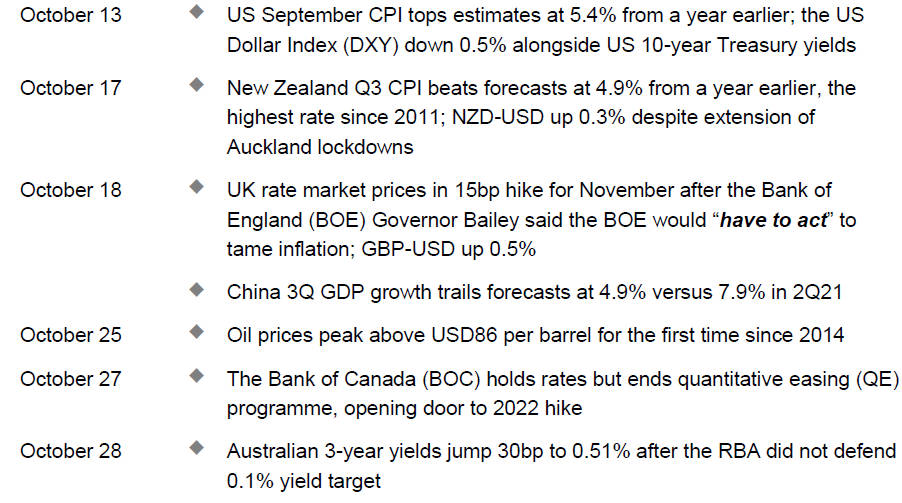 Summary – Risk-on leads the pack
The USD slipped 0.1%[1] in October, dropping against most of its G10 peers. The USD's underperformance mostly reflected a shift in the market's rate expectations for other major central banks to hike more aggressively relative to the Federal Reserve (Fed). That said, the USD managed to pare most of its losses as speculative repositioning in the run-up to the November Federal Open Market Committee (FOMC) meeting saw the USD selling wind down. US payrolls missed expectations in September, posting the smallest gain year to date, as 194k jobs were added compared to estimates for 500k. However, the US Dollar Index (DXY) only slid 0.2% on the day as expectations for a Fed taper largely held steady. Whilst the USD managed to find some reprieve throughout the month, it was ultimately dragged lower by the higher than expected September CPI report and disappointment in 3Q GDP growth.
The EUR posted a modest loss of 0.2% against the USD in October, as broad USD weakness and a seemingly more hawkish European Central Bank (ECB) throughout the month pushed the currency higher before recoiling on the final day amid a surge in the USD. On 28 October, the ECB held rates and its asset purchase programme unchanged while ECB President Christine Lagarde noted the elevated inflation readings, which accelerated to 4.1% in October, were unlikely to persist. Markets disagreed, however, and pulled forward rate hike expectations, pricing in a 20bp hike by October 2022, which propelled the EUR higher. ECB President Lagarde did not explicitly push back against the re-pricing, instead noting that it was "not for me to say" if markets were getting ahead of themselves.
The GBP climbed 1.54% in October against the USD, but failed to advance as far as some other "risk-on" G10 currencies, which were bolstered by soaring oil prices. GBP-USD's ascent was supported by rising shorter-term rate expectations and hawkish comments from Bank of England (BOE) members, which fuelled expectations for the bank to hike, potentially before year-end. BOE Governor Andrew Bailey stated the bank would "have to act" in order to tame inflation, which continued to accelerate, at 3.1% from a year earlier in September, squeezing consumers further on top of rising energy costs.
Elsewhere: Brent taking off
Oil prices rocketed in October, with Brent crude rising 7.5%, as oil demand continued to rise in the face of persistent supply shortages. Fuel demand was exacerbated by the surge higher in natural gas prices and the shift to colder weather. Meanwhile, supply remained constricted as the Organisation of the Petroleum Exporting Countries (OPEC) and its allies (known as OPEC+) held back from boosting supply and crude stockpiles sunk further. However, gold managed to make a modest 1.5% gain as concerns over persistently elevated inflation intensified driving demand for the precious metal as a hedge against rapidly rising prices.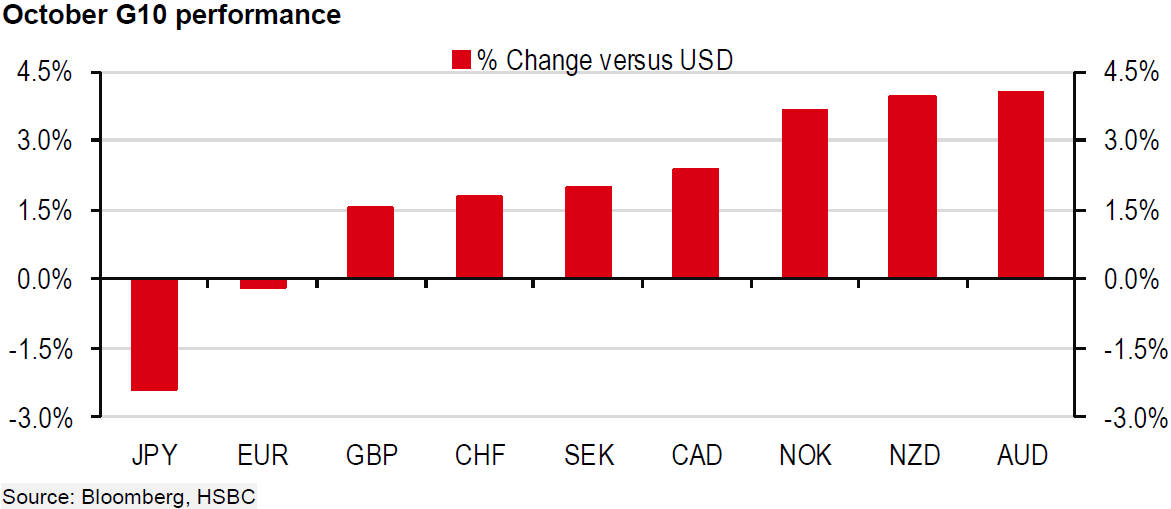 [1] This report uses Bloomberg prices.
USD: Overtaken
The US Dollar Index (DXY) fell 0.1% in October as the USD dropped against most G10 currencies. This was largely driven by a repricing in rates as markets aggressively ramped up expectations for other central banks to hike relative to the Fed. However, the path for the USD was not a steady grind weaker, with the currency managing to pare losses on multiple occasions, before ultimately being dragged lower.
October began with the USD slipping lower as US Treasury yields came under pressure ahead of payrolls and CPI data releases. The USD did manage to reverse some losses over the next few sessions, however, as rising gas prices stoked inflation fears, denting risk appetite and simultaneously spurring haven demand. On 8 October, US payrolls posted the smallest gain year-to-date, adding 194k jobs in September, well below expectations for a 500k increase. Meanwhile, the unemployment rate fell to 4.8% as labour force participation declined and average hourly earnings jumped. Markets likely looked through the September jobs miss, with the DXY slipping a meagre 0.2% on the day.
The September CPI report on 13 October showed a faster than expected rise in consumer prices, at 5.4% from a year earlier, above estimates for 5.3%. The USD slumped 0.5% alongside US 10-year Treasury yields as concerns spread over the impact of rapidly rising costs on the nascent economic recovery. These fears worsened as energy prices rocketed higher with US 10-year breakeven inflation rates (an indication of the markets' inflation expectations over the 10-year horizon) climbing to a 15-year high on 25 October. Although this provided some relief for the USD, as rapidly accelerating inflation fuelled market expectations for a Fed lift-off in 2022, the USD relinquished these gains after 3Q GDP growth missed estimates on 28 October. The US economy expanded at its slowest pace since the start of the recovery, at a 2% annualized rate, below expectations for 2.6%, as consumption cooled, notably weighed down by supply bottlenecks, rising prices, and the delta variant. The USD tumbled 0.5%, but managed to reverse most of its losses the next day, as it rallied 0.8%, amid waning USD selling flows as the 2-3 November Federal Open Market Committee (FOMC) meeting came into focus.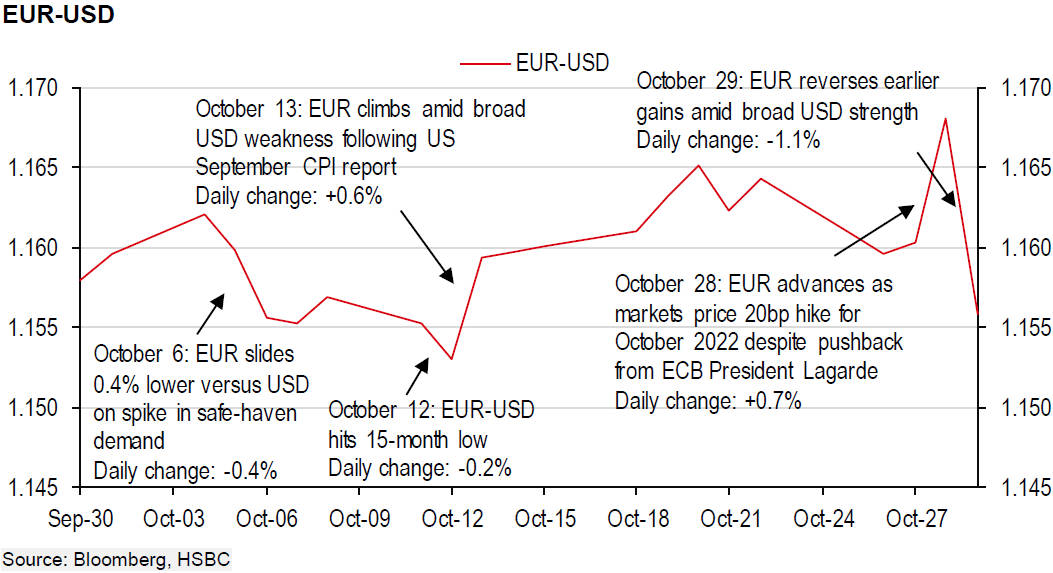 Eurozone: Succumbed to the USD
EUR-USD weakened marginally in October, with the currency falling 0.2% as it relinquished its gains on the final day of the month. However, it was not a clear journey downwards with the EUR faltering in the first half of the month on inflation woes, staging a comeback later on the USD weakness and perceived hawkishness from the European Central Bank (ECB), before posting a hefty fall amid a rebound in the USD.
By 6 October, European gas prices had surged 60% in the previous two days, fuelling concerns around the impact of elevated inflation on growth. Haven demand spiked, which saw the EUR slide 0.4% lower against the USD, and hit a 15-month low on 12 October at 1.1524.
However, the EUR managed to stage a comeback during the middle of the month, where it rose 0.6% on 13 October as the USD slumped following the US September CPI report. The EUR steadied over the next few days, managing to clamber higher, back above 1.16, on 19 October when positive risk-on sentiment weighed on the broad USD. Nevertheless, this level was not maintained for long as expectations for a 2022 Fed rate hike rose, strengthening the USD, following a surge in US 10-year inflation expectations to a 15-year high on 25 October. The EUR was dragged down 0.3% on the day alongside data showing German business confidence plummeted to a six-month low.
On 28 October, the ECB kept interest rates and its bond-buying programme unchanged as expected. ECB President Christine Lagarde acknowledged supply chain disruptions would likely take a "good chunk" of 2022 to resolve but reiterated that elevated inflation readings were unlikely to persist. Markets pulled forward ECB rate hike expectations, pricing in a 20bp hike by October 2022. EUR-USD climbed 0.7% on the day for its best one-day performance in October as President Lagarde's push back against the shift in rates market pricing was deemed somewhat mixed. Although she stated the ECB does not expect the pre-conditions for a rate hike to be met "at the time of lift-off as expected by markets nor any time soon thereafter", she would not explicitly say that markets had got ahead of themselves. The momentum was short-lived, however, with EUR-USD reversing gains a day later amid a jump in the USD.
Economic data generally pointed towards a slowing recovery alongside record inflation levels. Purchasing Managers' Indices (PMIs) generally weakened across the board, while retail sales also disappointed. Advance estimates for 3Q GDP showed the Eurozone economy expanded by 3.7% from a year earlier, marginally above expectations. Inflation in the Eurozone also accelerated, to 4.1% in October, exceeding forecasts for 3.7%, based on the preliminary data, while the core measure printed 2.1% from a year earlier, the highest in over a decade and above expectations for 1.9%.
UK: Poised for lift-off
The GBP managed to gain 1.54% against the USD in October, but underperformed most "risk-on" G10 currencies, some of which benefited from the rally in oil prices. GBP-USD's clamber higher was not smooth, however, facing occasional pullbacks amid periods of the USD strength. GBP-USD start the month strongly, climbing 1% in the first two trading sessions, as it clawed its way back above1.36 after falling to a year-to-date low of 1.34 on 29 September. The initial gain came alongside a broadly weaker USD as US Treasury yields came under pressure.
GBP-USD struggled to climb higher until the second half of October, fluctuating as it made modest losses and gains, before edging beyond 1.36, bolstered by rising front-end rate expectations and a slight hawkish tilt in Bank of England (BOE) rhetoric. On 9 October, BOE Monetary Policy Committee (MPC) member Michael Saunders suggested the re-pricing seen in rates markets was "appropriate" and BOE Governor Andrew Bailey warned current levels of inflation could be "very damaging" if action was not taken to prevent inflation expectations from becoming entrenched.
The GBP proceeded to extend gains, rallying 0.5% on 13 October, as the USD slid amid a pullback in US 10-year Treasury yields. By 15 October, the GBP 1-year 1-month overnight index swap (OIS)[2] rates had risen 25bp from the start of the month, reflecting growing concern that price pressures from supply shortages and the natural gas crisis would persist into 2022. Rates markets continued to ramp up expectations for a BOE hike on 18 October, and fully priced in a 15bp hike for November, after BOE Governor Andrew Bailey said the BOE would "have to act" to tame inflation. GBP-USD jumped 0.5% the next day, breaching 1.38 temporarily before steadying and consolidating gains going into the end of the month.
Economic data was generally mixed. On the one hand, consumers have been squeezed by supply shortages and rising fuel costs with headline inflation continuing to run hot, as CPI rose 3.1% from a year earlier in September. Meanwhile, retail sales excluding auto and fuel for September disappointed, registering a fall of 2.6% from a year earlier versus estimates for a 1.6% decline. On the other hand, UK Purchasing Managers' Indices (PMIs) for October all beat forecasts. The longer-term outlook, however, may remain weak, with the Office for Budget Responsibility forecasting that Brexit should leave UK GDP roughly 4% lower in the long term on top of the pandemic cutting a further 2% from output. This assessment came on the day of the Budget (27 October), although GBP was little moved as many of the fiscal announcements had been leaked in the run-up to the announcement.
[2] An overnight index swap (OIS) is a contract that involves the exchange at maturity of a payment linked to a predefined interest rate for one linked to the compounded overnight interest rate that has prevailed over the life of the contract. The relevant overnight rate for GBP contracts is the GBP overnight index average (SONIA), which is calculated by the Wholesale Market Brokers' Association. (Source: BOE)
Japan: Left behind
The JPY was the worst performer in the G10 space in October, slumping 2.4% versus the USD. The currency's weak performance was driven primarily by the widening yield differentials between Japan and the US as inflation concerns bolstered expectations for Fed policy normalisation whereas the Bank of Japan's (BOJ) accommodative policy is widely seen as remaining unchanged.
On 11 October, the JPY extended its decline and fell 1% to its weakest level since December 2018, as US Treasury yields pushed higher, propping up the USD. The sustained rally in energy prices over the past month likely also weighed on the JPY given Japan is a net energy importer. However, the currency did manage to pare some losses before steadying into the end of the month as US 10-year Treasury yields reversed some of their earlier gains.
Domestic data generally underwhelmed in October, likely reflecting the impact of the emergency virus containment measures that ended on 30 September. Core machine orders disappointed expectations for a 1.4% increase and instead fell 2.4% from a month earlier in August. However, retail sales data came in better than expected, and rose 0.7% from a month earlier in September, whereas industrial production slowed sharply in September, falling 1.3% from a month earlier.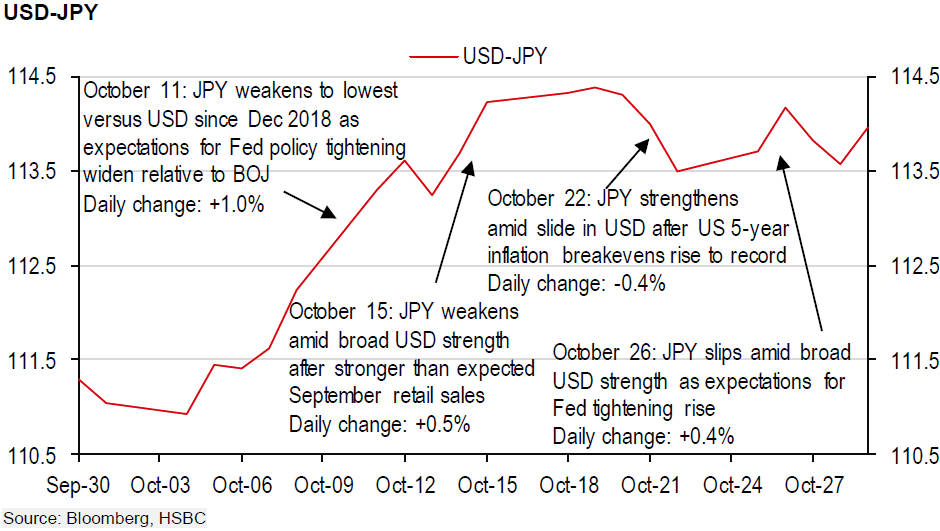 China: Staging a recovery
The CNY advanced to a four month high in October, climbing 0.6% as USD-CNY briefly dipped below the much watched 6.40 level. The currency started off gradually drifting lower on broad USD weakness, before jumping 0.7% against the USD on 19 October, amid "risk-on" sentiment. However, its three-day gain was halted on 20 October after the People's Bank of China (PBOC) set a higher than expected daily reference rate[2] for USD-CNY, slowing the currency's appreciation to a stop as it steadied, trading sideways going into the end of the month to finish just above the 6.40 level. China's economic outlook faced further challenges in October from the global energy crunch with industrial production in September having slowed sharply to 3.1% from a year earlier, from 5.3% the month prior, as power outages hampered activity. China's GDP growth for 3Q also slowed more than expected, with the economy having expanded by 4.9% from 7.9% in 2Q21.
Canada: End of a chapter
The CAD strengthened 2.4% against the USD in October, but its advance lost steam in the latter half of the month with USD-CAD unable to push below 1.23. The CAD's outperformance was likely largely attributable to the commodities rally and the move higher in rate hike expectations. The CAD clambered higher as oil prices surged beyond USD80 per barrel, hitting levels last seen in 2014, after OPEC+ decided only to boost supply gradually despite the natural gas crisis exacerbating oil demand.
On 8 October, the CAD extended its gains, advancing 0.7% versus the USD, after Canada's September jobs report beat expectations and showed employment had recovered to pre-pandemic levels. Headline CPI inflation also topped estimates, rising 4.4% from a year earlier in September, overshooting the Bank of Canada's (BOC) earlier forecasts. On 27 October, the BOC held rates but ended its quantitative easing (QE) programme in a hawkish move that saw the CAD jump 0.2% on the day. This decision and the BOC's statement opened the door to a rate hike in the middle of 2022, affirming the market's view of tightening commencing next year.
Australia: Gaining on anticipation
The AUD climbed 4.0% in October versus the USD, outperforming most of its G10 peers as it tracked the move higher in Australian rate expectations. On 5 October, the Reserve Bank of Australia (RBA) held rates at 0.1%, and reiterated it does not project its first rate hike until 2024 at the earliest. The AUD slid 0.3% after the announcement cooled the climb in rate expectations, with investors expecting the AUD to weaken. That said, the decline was brief and the currency resumed its climb higher alongside a weakening USD and sharp moves higher in shorter-term swaps.
On 19 October, the AUD advanced 0.9% against the USD for its best one-day performance as the latter was dragged lower by a decline in US Treasury yields. Boosted by strong export demand, AUD-USD rose to 0.755 on 21 October, but failed to sustain its gains.
Into the end of the month, the RBA's decision not to intervene in the bond market to bring 3-year yields back to the 0.1% target raised expectations of a potential hawkish shift by the central bank. But the AUD did not fully capitalize on this, and retreated slightly going into the end of the month even as Australian 3-year yields topped 1% for the first time since 2019 after 3Q core CPI beat forecasts, rising 2.1% from a year earlier and putting it back inside the RBA's 2-3% target band.
New Zealand: Bolstered by risk-on sentiment
The NZD rallied 3.9% versus the USD in October, the second best G10 FX performance. This rally reflected a broadly weaker USD and a significant rise in short-term rate expectations.
On 6 October, the Reserve Bank of New Zealand (RBNZ) hiked rates to 0.5% from 0.25%, despite the extension of lockdowns in Auckland, and noted "further removal of monetary policy stimulus is expected over time". Despite initially rising, the NZD actually tumbled 0.7% on the day, dragged lower by a stronger USD as rising gas prices stoked fears around elevated inflation and weakening risk sentiment. NZD-USD mostly traded sideways before continuing its ascent in the second half of the month. On 17 October, New Zealand's Q3 CPI beat forecasts at 4.9% from a year earlier, registering the highest rate since 2011. The currency jumped initially on 18 October alongside the NZD yields but later pared gains, ending the day up 0.3%, following an announcement that the Auckland lockdown would be extended by two weeks. That said, positive momentum following the CPI high and increased "risk-on" sentiment helped the NZD advance further going into month-end against a broadly weaker USD.
Norway and Sweden: Fuelling gains
The NOK rose 3.7% against the USD in October. The currency's impressive rally was fuelled by the sprint higher in oil and natural gas prices coupled with rising expectations for the Norges Bank to raise its rate path outlook. The NOK started the month off on the front foot, climbing 1.4% on 1 October, as the currency was boosted by a surge in Brent crude prices. The NOK continued to extend gains alongside other oil-sensitive currencies as oil prices breached USD80 per barrel. Norway's CPI accelerated in September, to 4.1% growth from a year earlier – a rate last seen in 2016 – from 3.4% the month prior. With the Norges Bank having already flagged another potential hike in December, shorter-term market expectations drifted higher in tandem with NOK-USD.
The SEK rose 2.0% against the USD and 2.1% against the EUR in October. Much of this was associated with a broadly weaker USD throughout the month, rising risk appetite and a modest shift towards more hawkish Riksbank expectations. On 13 October, the SEK gained 1.1% versus the USD, after the US CPI report showed inflation accelerated to 5.4% growth from a year earlier in September. The SEK continued to extend gains as the USD slid further alongside a flattening US yield curve. Headline CPI continued to accelerate, rising 2.5% from a year earlier in September, but the Riksbank Deputy Governor Per Jansson stated on 18 October there was still "some way" to go. EUR-SEK fell below 10 on the 22 October as the Riksbank Deputy Governor Henry Ohlsson provided a more hawkish view that inflation was looking more persistent, although his was a somewhat lone voice at the still predominantly dovish central bank.
Oil: Flying higher
Brent prices soared in October, climbing 7.5% and peaking above USD86 per barrel, the highest levels seen since 2014. The rally was propelled by rising oil demand in the face of supply shortages that showed few signs of easing. On 4 October, OPEC+ held back from boosting oil supply and kept its November production target steady at 400k barrels per day. Oil prices jumped 3.4% after the announcement as tight supply conditions looked set to persist. That said, there was some hope for price pressure to ease on 6 October when the US energy secretary announced the US may consider tapping into its strategic crude reserves alongside a pledge from Russian President Putin to boost gas supplies to Europe. Oil prices slipped 1.8% on the day likely in hopes supply shortages may ease somewhat alongside oil demand if fewer gas users switch to oil. However, even with Putin's pledge, oil prices continued to advance as fuel demand was exacerbated in Europe by calm weather limiting wind power generation and in China by the coal and power crunch which has increased its demand for oil to meet its heating needs for the coming Winter. Meanwhile, the Energy Information Administration (EIA) expects the natural gas crunch to further bolster oil demand by 500,000 barrels per day. Oil prices steadied above USD86 per barrel as Saudi Arabia urged caution in boosting supply but ultimately failed to sustain this level, retreating to around USD84 per barrel at the end of October amid a surprise jump in US crude inventories.
Gold: Propped up by inflation woes
Gold's performance was not quite as stellar as Brent's, rising 1.5% in October, driven primarily by growing fears of persistently high inflation and a broadly weaker USD. The precious metal began the month with relatively smooth price action, before popping 1.2% higher on 8 October, when September US jobs significantly missed expectations, cooling Fed taper expectations and temporarily propping up gold prices. However, gold was unable to sustain its rally as 10-year Treasury yields rebounded from the initial sell-off. Price action remained muted until the 13 October, when gold climbed 1.9% following the September CPI report, which showed US headline inflation topped forecasts at 5.4% from a year earlier. The report fuelled concerns the global energy crunch may be leading to a stagflation-environment, driving gold demand as a safe-haven hedge. That said, these gains were relinquished soon after on 15 October following a rebound in US Treasury yields after US retail sales for September beat expectations. However, the sharp decline was but a blip for gold, which pushed higher in the remainder of October on the back of a broadly weaker USD as investors remained concerned about high inflation.
[3] China Foreign Exchange Trade System (CFETS) publishes daily reference rates (also known as daily fixing rates).


Disclosure appendix
This document is for information purposes only and should not be regarded as an offer to sell or as a solicitation of an offer to buy the securities or other investment products mentioned in it and/or to participate in any trading strategy. Information in this document is general and should not be construed as investment advice, given it has been prepared without taking account of the objectives, financial situation or needs of any particular investor. Accordingly, investors should, before acting on it, consider the appropriateness of the information, having regard to their objectives, financial situation and needs and, if necessary, seek professional investment and tax advice.
Certain investment products mentioned in this document may not be eligible for sale in some states or countries, and they may not be suitable for all types of investors. Investors should consult with their HSBC representative regarding the suitability of the investment products mentioned in this document and take into account their specific investment objectives, financial situation or particular needs before making a commitment to purchase investment products.
The value of and the income produced by the investment products mentioned in this document may fluctuate, so that an investor may get back less than originally invested. Certain high-volatility investments can be subject to sudden and large falls in value that could equal or exceed the amount invested. Value and income from investment products may be adversely affected by exchange rates, interest rates, or other factors. Past performance of a particular investment product is not indicative of future results.
HSBC and its affiliates will from time to time sell to and buy from customers the securities/instruments (including derivatives) of companies covered here on a principal or agency basis.
Whether, or in what time frame, an update of this information will be published is not determined in advance.
Additional disclosures
1. This report is dated as at 02 November 2021.
2. All market data included in this report are dated as at close 01 November 2021, unless a different date and/or a specific time of day is indicated in the report.
3. HSBC has procedures in place to identify and manage any potential conflicts of interest that arise in connection with its Research business. HSBC's analysts and its other staff who are involved in the preparation and dissemination of Research operate and have a management reporting line independent of HSBC's Investment Banking business. Information Barrier procedures are in place between the Investment Banking, Principal Trading, and Research businesses to ensure that any confidential and/or price sensitive information is handled in an appropriate manner.
4. You are not permitted to use, for reference, any data in this document for the purpose of (i) determining the interest payable, or other sums due, under loan agreements or under other financial contracts or instruments, (ii) determining the price at which a financial instrument may be bought or sold or traded or redeemed, or the value of a financial instrument, and/or (iii) measuring the performance of a financial instrument or of an investment fund.
Disclaimer
This document is prepared by The Hongkong and Shanghai Banking Corporation Limited ('HBAP'), 1 Queen's Road Central, Hong Kong. HBAP is incorporated in Hong Kong. This document is for general circulation and information purposes only. This document is not prepared with any particular customers or purposes in mind and does not take into account any investment objectives, financial situation or personal circumstances or needs of any particular customer. HBAP has prepared this document based on publicly available information at the time of preparation from sources it believes to be reliable but it has not independently verified such information. The contents of this document are subject to change without notice.
This document is not investment advice or recommendation nor is it intended to sell investments or services or solicit purchases or subscriptions for them. You SHOULD NOT use or rely on this document in making any investment decision or decision to buy or sell currency. HBAP is not responsible for such use or reliance by you. You SHOULD consult your professional advisor in your jurisdiction if you have any questions regarding the contents of this document.
You SHOULD NOT reproduce or further distribute the contents of this document to any person or entity, whether in whole or in part, for any purpose. This document may not be distributed to the US, Canada or Australia or any other jurisdiction where its distribution is unlawful.
Hong Kong
In Hong Kong, this document is distributed by HBAP to its customers for general reference only. HBAP is not responsible for any loss, damage or other consequences of any kind that you may incur or suffer as a result of, arising from or relating to your use or reliance of this document. HBAP gives no guarantee, representation or warranty as to the accuracy, timeliness or completeness of this document.
Miscellaneous
Notwithstanding this document is not investment advice, please be aware of the following for the sake of completeness. Past performance is not an indication of future performance. The value of any investment or income may go down as well as up and you may not get back the full amount invested. When an investment is denominated in a currency other than the local currency of an investor, changes in the exchange rates may have an adverse effect on the value, price or income of that investment. Where there is no recognised market for an investment, it may be difficult for an investor to sell the investment or to obtain reliable information about its value or the extent of the risk associated with it.
This document contains forward-looking statements which are, by their nature, subject to significant risks and uncertainties. Such statements are projections, do not represent any one investment and are used for illustration purpose only. Customers are reminded that there can be no assurance that economic conditions described herein will remain in the future. Actual results may differ materially from the forecasts/estimates. No assurance is given that those expectations reflected in those forward-looking statements will prove to have been correct or come to fruition, and you are cautioned not to place undue reliance on such statements. No obligation is undertaken to publicly update or revise any forward-looking statements contained in this document or any other related document whether as a result of new information, future events or otherwise.
The Hongkong and Shanghai Banking Corporation Limited, its affiliates and associates and their respective officers and/or employees, may have interests in any products referred to in this document by acting in various roles including as distributor, holder of principal positions, adviser or lender. The Hongkong and Shanghai Banking Corporation Limited, its affiliates and associates, and their respective officers and employees, may receive fees, brokerage or commissions for acting in those capacities. In addition, The Hongkong and Shanghai Banking Corporation Limited, its affiliates and associates, and their respective officers and/or employees, may buy or sell products as principal or agent and may effect transactions which are not consistent with the information set out in this document.
© Copyright 2021. The Hongkong and Shanghai Banking Corporation Limited, ALL RIGHTS RESERVED. No part of this document may be reproduced, stored in a retrieval system, or transmitted, on any form or by any means, electronic, mechanical, photocopying, recording or otherwise, without the prior written permission of The Hongkong and Shanghai Banking Corporation Limited.