FX Trends November 2021| The USD's holiday cheer | Article – HSBC VisionGo
The USD's holiday cheer
Finance · · 8 mins read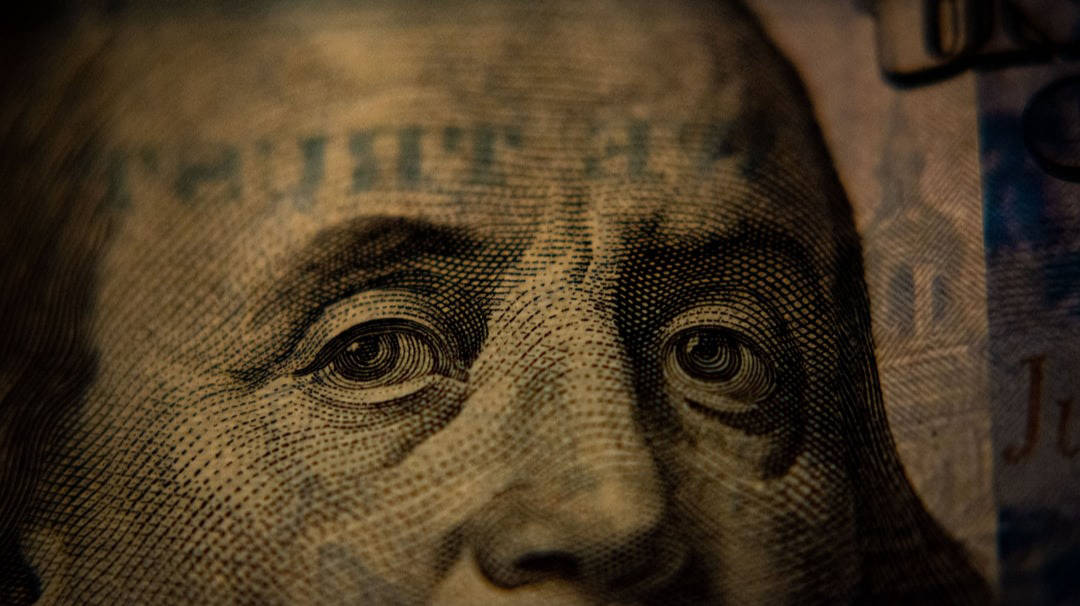 We expect the USD rally to extend into year-end 2021, potentially aided by US data and the 14-15 December FOMC
Relative monetary policy outlooks make the EUR look especially vulnerable…
…failure to meet the market's rate hike expectations may pose downside risks to the currency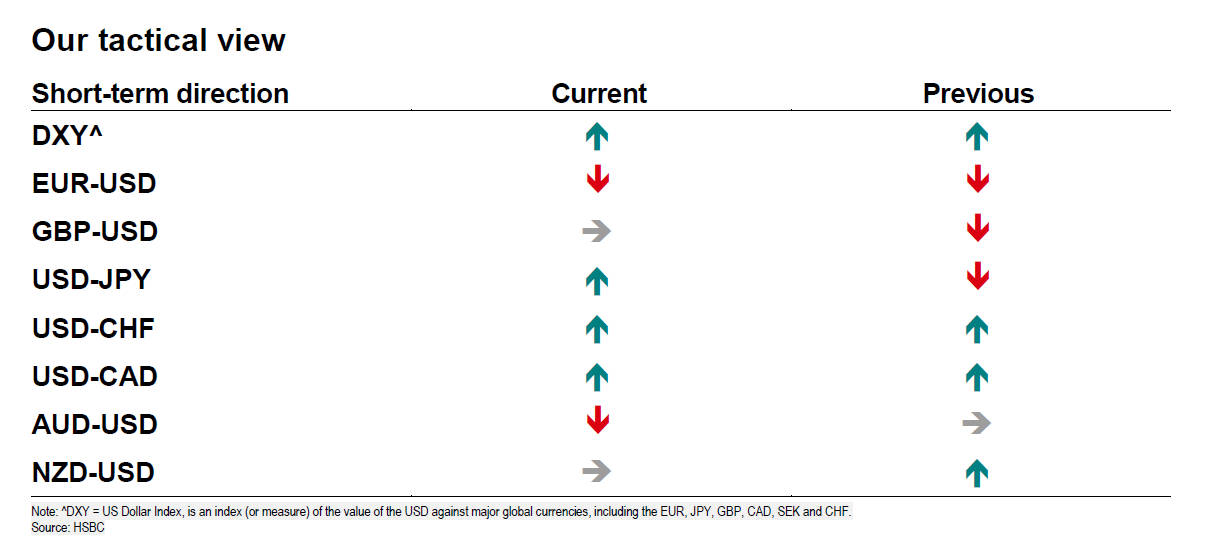 USD: We expect the USD rally, which has accelerated of late, to be sustained into year-end 2021. The 14-15 December Federal Open Market Committee (FOMC) meeting should be the highlight for the USD. We do not expect any policy change to be announced at the meeting, so the main FX pinch point will be the updated "dot plot" (i.e., interest rate projections, but the projections are not a policy commitment rather they reflect the personal views of policy makers) and economic forecasts. Were the dot plot to signal a hike in 2022, the gap between the Federal Reserve (Fed) and the market (which is pricing in at least two hikes in 2022) would be closing, probably helping the USD to some extent. The market may also approach the meeting contemplating the idea that the Fed could increase the taper pace from that announced in November, so the US employment and inflation reports (to be released on 3 and 10 December, respectively) could move the needle on taper and rate hike expectations. The market may once again focus on the US debt ceiling and government shutdown topics, and we think the USD's role as a 'safe haven' would win out should the stand-off continue closer to the deadlines.
EUR: The recent acceleration lower in the EUR means it is the worst performing currency in G10 so far in 2H21. We do not expect things to improve into year-end 2021. A new wave of COVID-19 cases and the flash PMIs for November (to be released on 23 November) will unlikely be provocative for the EUR. The flash estimate for Eurozone November inflation (to be released on 30 November) is likely to hit a record high, but inflation will likely moderate in 2022 and 2023, probably matching the trajectory that the European Central Bank (ECB) has in mind, in our economists' view. So when the ECB meets on 16 December, the narrative is likely to be another dovish outpouring. As the pandemic emergency purchase programme (a non-standard measure to counter the risks posed by COVID-19) ends in March 2022, the ECB may announce some dovish actions (like an expansion of the Asset Purchase Programme). ECB President Lagarde and other policy makers have offered a clear push-back against market expectations for a rate hike in 2022, but the impact of this guidance on the heels of a likely very different tone from the Fed on the previous day could be impactful for the EUR.
GBP: We expect GBP-USD to move sideways in the short term. In our view, a 15bp hike at the 16 December Bank of England (BOE) meeting may not be enough to spur the GBP higher, given that it is already priced into the market, while dovish guidance may not be enough to prompt a sell-off. It is also worth noting that a rate hike may not be guaranteed (for example, an unexpectedly dour labour market report on 14 December). The 2022 outlook for the UK economy appears to be challenging, amid an uneven recovery, Brexit frictions and ongoing negotiations regarding the Northern Ireland protocol. These may be considerations for next year, but they can still have a bearing on the near-term outlook for the GBP.
JPY: In our view, USD-JPY has been and will continue to be mostly beholden to the movements in US 10-year bond yields. The currency pair will also keep an eye on developments around the US government shutdown and debt ceiling deadlines. Domestic stories, such as the prospect of another fiscal stimulus in Japan and local data releases like Japan's disappointing Q3 GDP print, are not impactful as the Bank of Japan (which will meet on 17 December) cannot really respond and, in any event, improvement ahead is expected. We look for modest upside in USD-JPY, but the risk case is actually for JPY strength should risk aversion become more pronounced.
CHF: Our expectation for a somewhat weaker EUR in the coming weeks means that the downward pressure on EUR-CHF is likely to persist. We suspect the Swiss National Bank's tolerance for the CHF strength may be reaching its limit, as the CHF trade weighted index has pushed to new highs, which risks pushing inflation back to negative territory again during 2022, if it persists. We look for EUR-CHF to track sideways, with USD-CHF moving to test its April highs.
CAD: We look for modest CAD weakness as the Bank of Canada (BOC) meeting on 8 December may struggle to sound quite hawkish enough to support the market's current aggressive rate hike expectations. Canada's high level of debt, which comes in around 350% of GDP nationally when the various types are added, suggests rate hikes may quickly reveal any financial or economic frailties beneath the surface. We expect oil prices to move lower during 2022, viewing current levels as excessively high. It may be another reason for the grind higher in USD-CAD to continue.
AUD: We expect the recent trend lower in AUD-USD to continue in the near term, given the lack of upcoming positive catalysts with the risks biased to the downside. The push-back from the Reserve Bank of Australia (RBA) on 2022 rate hike expectations is likely to continue, when the RBA meets on 7 December. Besides, as the slump in iron ore prices deepens further, amid possibly weaker demand from China, this may present a further headwind to the AUD staging a recovery.
NZD: The NZD-USD is better shielded from the bearish external backdrop, owing to a stronger domestic outlook and a more hawkish central bank. The key tactical driver for the NZD is likely the Reserve Bank of New Zealand's (RBNZ) 24 November meeting. Even if the RBNZ delivers a rate hike later this month, which should be broadly supportive, the NZD may struggle to make sizeable gains given how much is already priced in. As such, we see the NZD to consolidate over the near term, with risks biased to the downside, if the RBNZ underwhelms market expectations.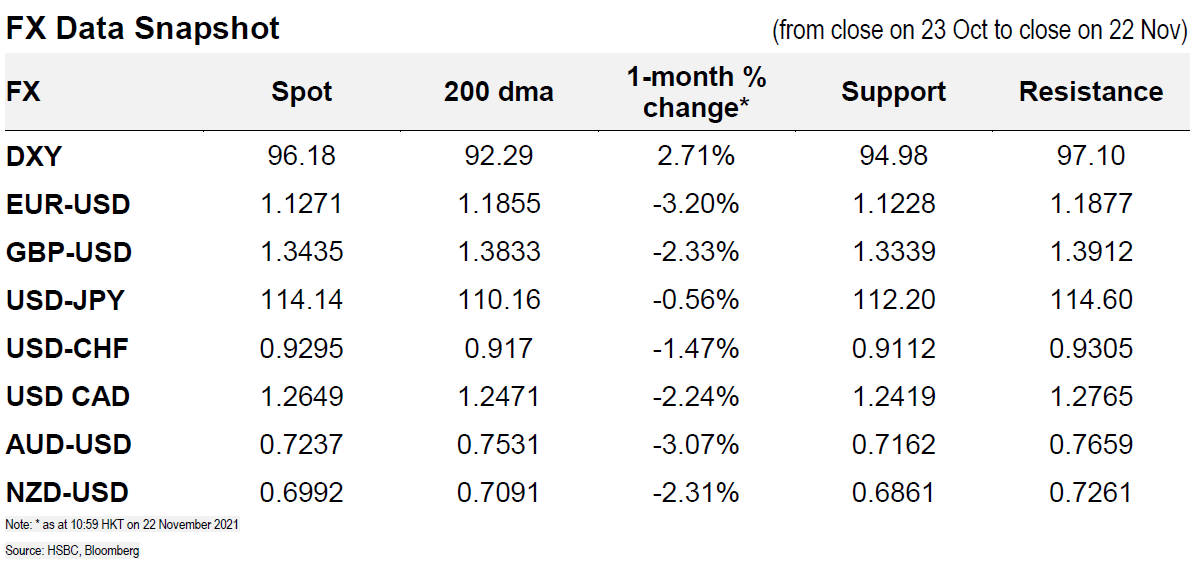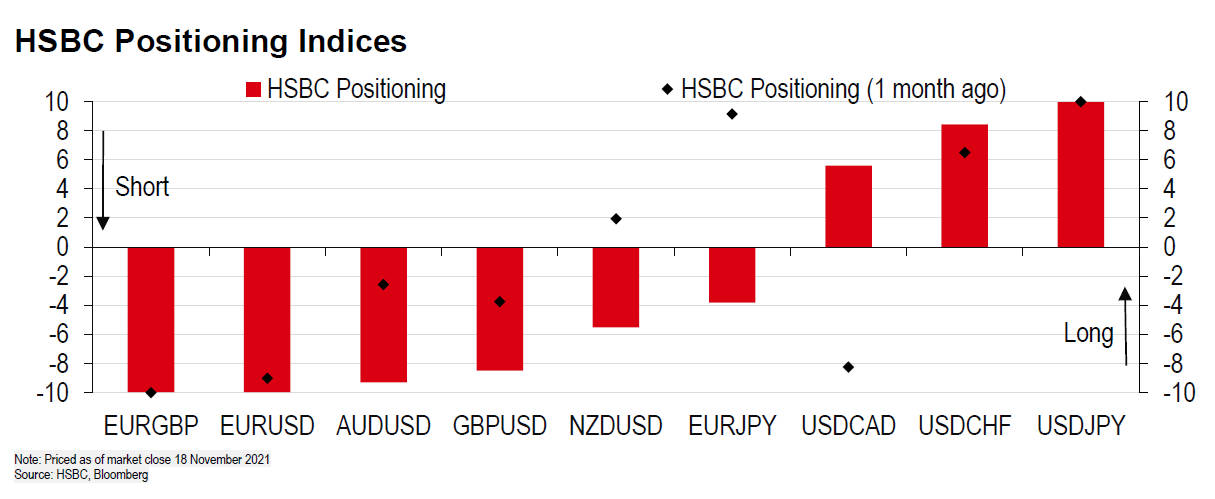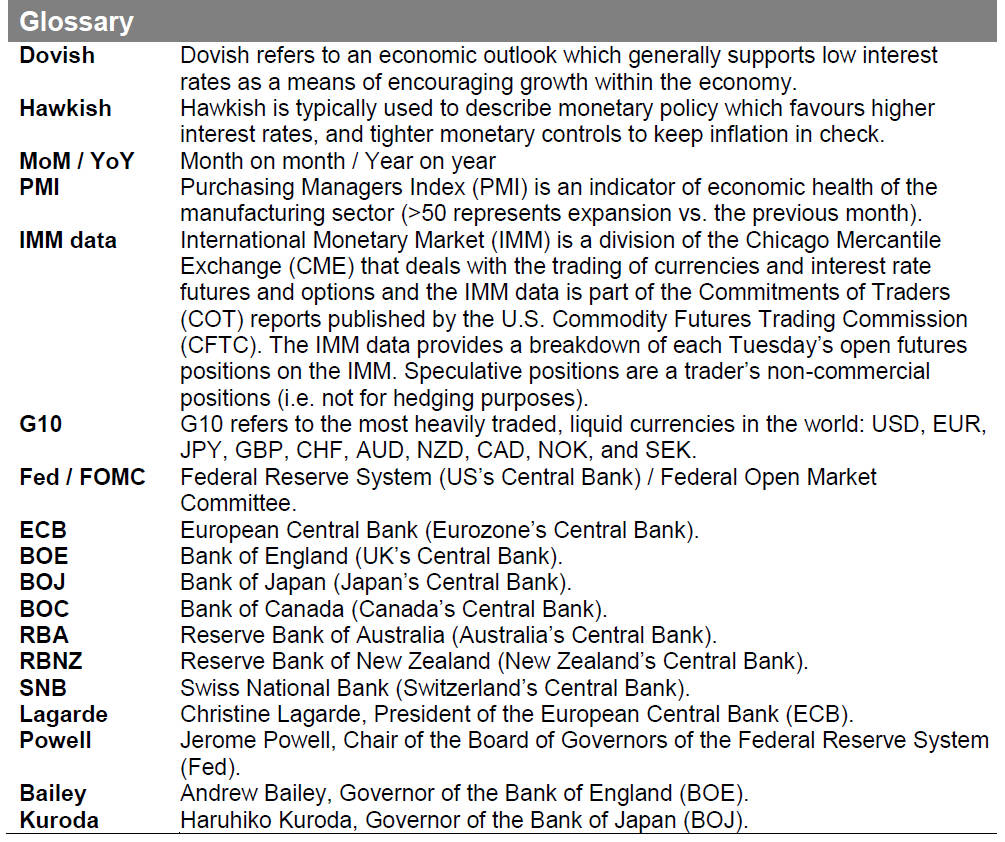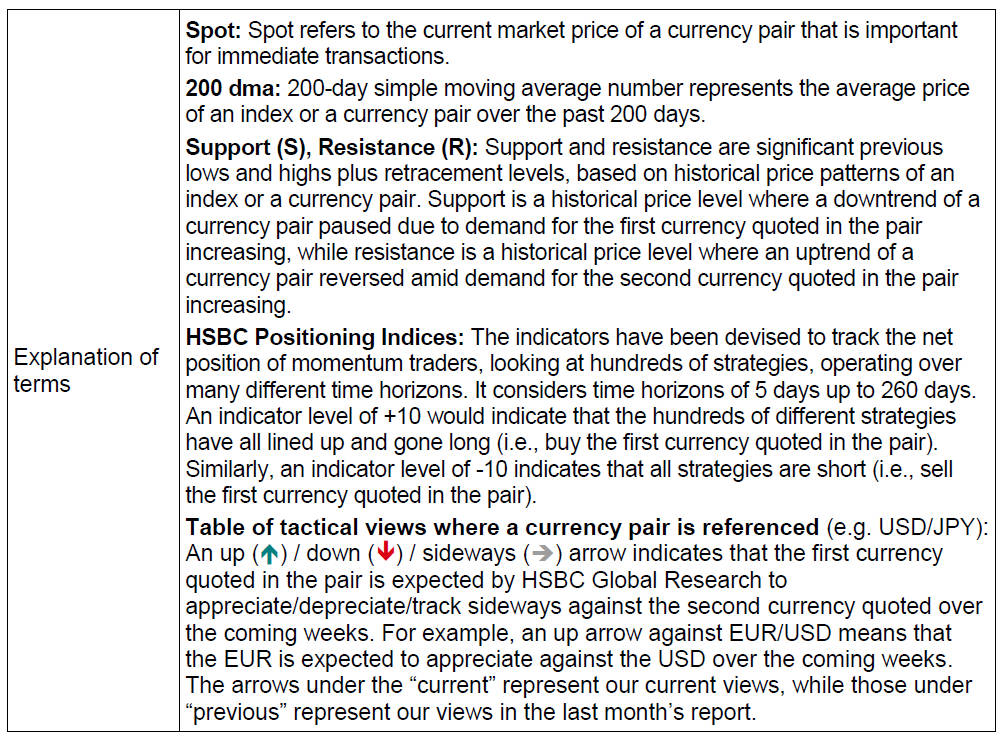 Disclosure appendix
This document is for information purposes only and should not be regarded as an offer to sell or as a solicitation of an offer to buy the securities or other investment products mentioned in it and/or to participate in any trading strategy. Information in this document is general and should not be construed as investment advice, given it has been prepared without taking account of the objectives, financial situation or needs of any particular investor. Accordingly, investors should, before acting on it, consider the appropriateness of the information, having regard to their objectives, financial situation and needs and, if necessary, seek professional investment and tax advice.
Certain investment products mentioned in this document may not be eligible for sale in some states or countries, and they may not be suitable for all types of investors. Investors should consult with their HSBC representative regarding the suitability of the investment products mentioned in this document and take into account their specific investment objectives, financial situation or particular needs before making a commitment to purchase investment products.
The value of and the income produced by the investment products mentioned in this document may fluctuate, so that an investor may get back less than originally invested. Certain high-volatility investments can be subject to sudden and large falls in value that could equal or exceed the amount invested. Value and income from investment products may be adversely affected by exchange rates, interest rates, or other factors. Past performance of a particular investment product is not indicative of future results.
HSBC and its affiliates will from time to time sell to and buy from customers the securities/instruments (including derivatives) of companies covered here on a principal or agency basis.
Whether, or in what time frame, an update of this information will be published is not determined in advance.
Additional disclosures
1. This report is dated as at 22 November 2021.
2. All market data included in this report are dated as at close 19 November 2021, unless a different date and/or a specific time of day is indicated in the report.
3. HSBC has procedures in place to identify and manage any potential conflicts of interest that arise in connection with its Research business. HSBC's analysts and its other staff who are involved in the preparation and dissemination of Research operate and have a management reporting line independent of HSBC's Investment Banking business. Information Barrier procedures are in place between the Investment Banking, Principal Trading, and Research businesses to ensure that any confidential and/or price sensitive information is handled in an appropriate manner.
4. You are not permitted to use, for reference, any data in this document for the purpose of (i) determining the interest payable, or other sums due, under loan agreements or under other financial contracts or instruments, (ii) determining the price at which a financial instrument may be bought or sold or traded or redeemed, or the value of a financial instrument, and/or (iii) measuring the performance of a financial instrument or of an investment fund.
Disclaimer
This document is prepared by The Hongkong and Shanghai Banking Corporation Limited ('HBAP'), 1 Queen's Road Central, Hong Kong. HBAP is incorporated in Hong Kong. This document is for general circulation and information purposes only. This document is not prepared with any particular customers or purposes in mind and does not take into account any investment objectives, financial situation or personal circumstances or needs of any particular customer. HBAP has prepared this document based on publicly available information at the time of preparation from sources it believes to be reliable but it has not independently verified such information. The contents of this document are subject to change without notice.
This document is not investment advice or recommendation nor is it intended to sell investments or services or solicit purchases or subscriptions for them. You SHOULD NOT use or rely on this document in making any investment decision or decision to buy or sell currency. HBAP is not responsible for such use or reliance by you. You SHOULD consult your professional advisor in your jurisdiction if you have any questions regarding the contents of this document.
You SHOULD NOT reproduce or further distribute the contents of this document to any person or entity, whether in whole or in part, for any purpose. This document may not be distributed to the US, Canada or Australia or any other jurisdiction where its distribution is unlawful.
Hong Kong
In Hong Kong, this document is distributed by HBAP to its customers for general reference only. HBAP is not responsible for any loss, damage or other consequences of any kind that you may incur or suffer as a result of, arising from or relating to your use or reliance of this document. HBAP gives no guarantee, representation or warranty as to the accuracy, timeliness or completeness of this document.
Miscellaneous
Notwithstanding this document is not investment advice, please be aware of the following for the sake of completeness. Past performance is not an indication of future performance. The value of any investment or income may go down as well as up and you may not get back the full amount invested. When an investment is denominated in a currency other than the local currency of an investor, changes in the exchange rates may have an adverse effect on the value, price or income of that investment. Where there is no recognised market for an investment, it may be difficult for an investor to sell the investment or to obtain reliable information about its value or the extent of the risk associated with it.
This document contains forward-looking statements which are, by their nature, subject to significant risks and uncertainties. Such statements are projections, do not represent any one investment and are used for illustration purpose only. Customers are reminded that there can be no assurance that economic conditions described herein will remain in the future. Actual results may differ materially from the forecasts/estimates. No assurance is given that those expectations reflected in those forward-looking statements will prove to have been correct or come to fruition, and you are cautioned not to place undue reliance on such statements. No obligation is undertaken to publicly update or revise any forward-looking statements contained in this document or any other related document whether as a result of new information, future events or otherwise.
The Hongkong and Shanghai Banking Corporation Limited, its affiliates and associates and their respective officers and/or employees, may have interests in any products referred to in this document by acting in various roles including as distributor, holder of principal positions, adviser or lender. The Hongkong and Shanghai Banking Corporation Limited, its affiliates and associates, and their respective officers and employees, may receive fees, brokerage or commissions for acting in those capacities. In addition, The Hongkong and Shanghai Banking Corporation Limited, its affiliates and associates, and their respective officers and/or employees, may buy or sell products as principal or agent and may effect transactions which are not consistent with the information set out in this document.
© Copyright 2021. The Hongkong and Shanghai Banking Corporation Limited, ALL RIGHTS RESERVED. No part of this document may be reproduced, stored in a retrieval system, or transmitted, on any form or by any means, electronic, mechanical, photocopying, recording or otherwise, without the prior written permission of The Hongkong and Shanghai Banking Corporation Limited.