FX Viewpoint | The last stretch of the USD's cyclical decline | Article – HSBC VisionGo
The last stretch of the USD's cyclical decline
Finance · · 3 mins read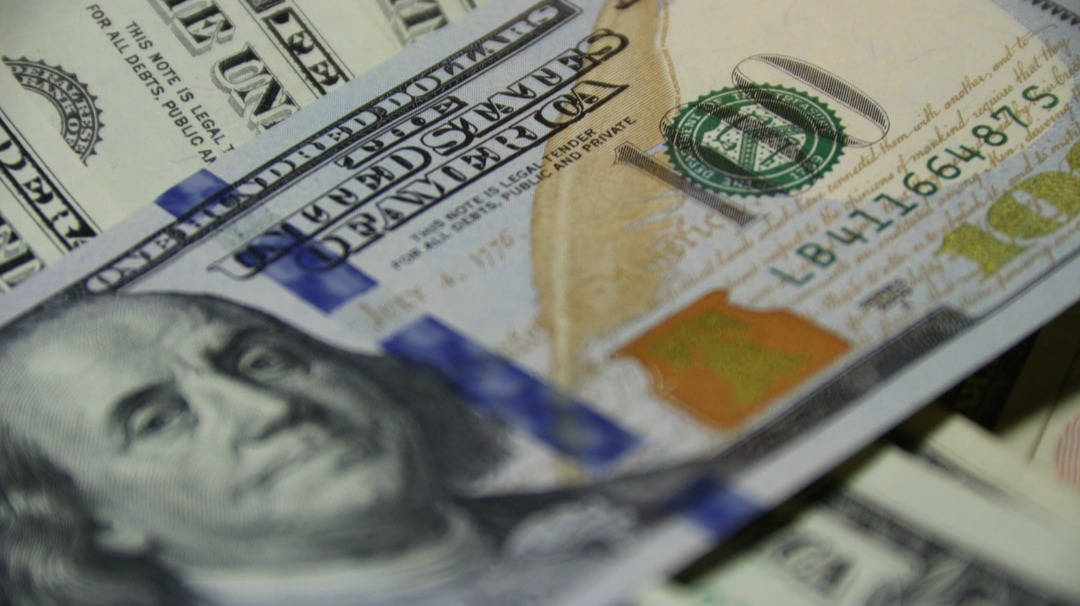 The USD's strength in the aftermath of the June FOMC decision has been significant and broad-based
Yet, we are still in the last stretch of the USD's cyclical decline which has yet to reach a turning point
Higher shorter-dated US rates or a more significant global slowdown would be the key catalysts for the USD to strengthen more meaningfully, in our view
The USD's strength has been significant and broad-based, since the 15-16 June Federal Open Market Committee (FOMC) meeting, with the new median dot showing two 25bp rate hikes by the end of 2023. The upward move by shorter-dated US Treasury yields has also been pronounced (see FX Spotlight: FOMC: USD goes dotty, 17 June 2021 for details).
The USD is still not behaving in a fully pro-cyclical manner to US data surprises, in our view
In our view, when the FX market is focused on the Federal Reserve's (Fed) policy tightening, the USD should mostly exhibit pro-cyclical behaviour – strengthening when US data is good and weakening otherwise. Nevertheless, the USD is still not behaving like this. For example, the USD weakened after nonfarm payrolls beat expectations on 2 July and it strengthened on a day when the ISM services index disappointed expectations on 6 July (see chart below). Thus, we are in the last stretch of the USD's cyclical decline that started in April 2020, and remain less convinced that its turning point has now been reached.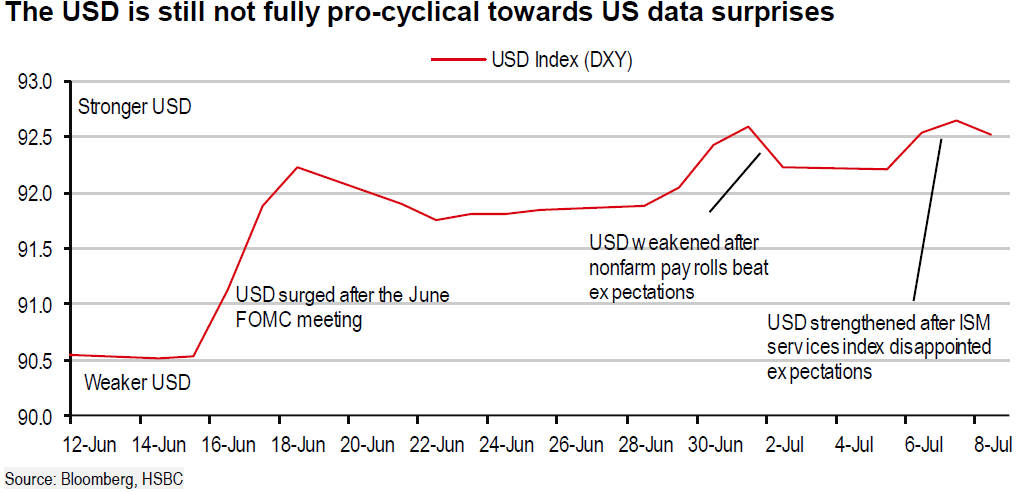 In our view, the broad USD should begin to bottom in the months ahead when the Fed starts tapering
To be clear, we are debating when the USD's cyclical decline will end, rather than refuting the ending. Our long-standing view has focused on the actual start of the Fed's tapering being supportive for the USD, although this should have greater meaning for the G10 than emerging markets (EM) FX, especially those major central banks that could be expanding their balance sheets in contrast to the Fed.
Higher shorter-dated US rates or a more significant global slowdown could see the USD strengthening more meaningfully
One of the key risks to our short-term USD view is higher shorter-dated US Treasury yields (possibly due to a reduction in excess USD liquidity over time). We are also mindful of how global growth could be peaking on a sequential basis. If global growth momentum is truly peaking, even if the USD does not become pro-cyclical and stays anti-cyclical, it should nevertheless strengthen due to weaker risk appetite.
Disclosure appendix
This document is for information purposes only and should not be regarded as an offer to sell or as a solicitation of an offer to buy the securities or other investment products mentioned in it and/or to participate in any trading strategy. Information in this document is general and should not be construed as investment advice, given it has been prepared without taking account of the objectives, financial situation or needs of any particular investor. Accordingly, investors should, before acting on it, consider the appropriateness of the information, having regard to their objectives, financial situation and needs and, if necessary, seek professional investment and tax advice.
Certain investment products mentioned in this document may not be eligible for sale in some states or countries, and they may not be suitable for all types of investors. Investors should consult with their HSBC representative regarding the suitability of the investment products mentioned in this document and take into account their specific investment objectives, financial situation or particular needs before making a commitment to purchase investment products.
The value of and the income produced by the investment products mentioned in this document may fluctuate, so that an investor may get back less than originally invested. Certain high-volatility investments can be subject to sudden and large falls in value that could equal or exceed the amount invested. Value and income from investment products may be adversely affected by exchange rates, interest rates, or other factors. Past performance of a particular investment product is not indicative of future results.
HSBC and its affiliates will from time to time sell to and buy from customers the securities/instruments (including derivatives) of companies covered here on a principal or agency basis.
Whether, or in what time frame, an update of this information will be published is not determined in advance.
Additional disclosures
This report is dated as at 09 July 2021.

All market data included in this report are dated as at close 08 July 2021, unless a different date and/or a specific time of day is indicated in the report.

HSBC has procedures in place to identify and manage any potential conflicts of interest that arise in connection with its Research business. HSBC's analysts and its other staff who are involved in the preparation and dissemination of Research operate and have a management reporting line independent of HSBC's Investment Banking business. Information Barrier procedures are in place between the Investment Banking, Principal Trading, and Research businesses to ensure that any confidential and/or price sensitive information is handled in an appropriate manner.

You are not permitted to use, for reference, any data in this document for the purpose of (i) determining the interest payable, or other sums due, under loan agreements or under other financial contracts or instruments, (ii) determining the price at which a financial instrument may be bought or sold or traded or redeemed, or the value of a financial instrument, and/or (iii) measuring the performance of a financial instrument or of an investment fund.