ASO Localization Guidelines for the iOS app Store in Mainland China | Article – HSBC VisionGo
Leading users to an app is one thing, convincing them to download the app is another.
Marketing · · 3 mins read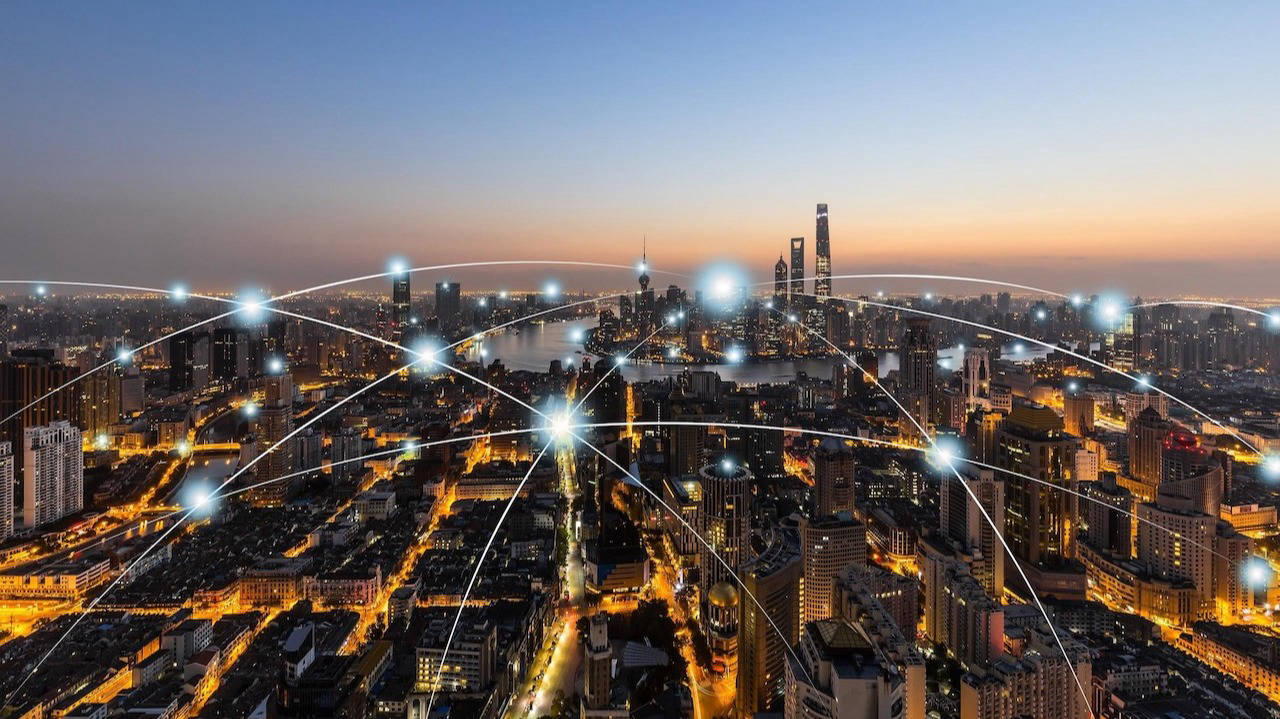 "Leading users to an app is one thing, convincing them to download the app is another."
With the launch of Apple Search Ads (renamed as Apple Ads) in China, countless app developers and brands are clamouring to utilize this newest mobile marketing tool to get a slice of the Apple App Store market share. This shouldn't come as a surprise – China is the world's third largest market for iOS Apps and has demonstrated significant growth that shows no signs of stalling anytime soon. Since its inception, the China app store has generated more than 200 billion yuan in sales.Therefore, it is critical that any developer wanting to capitalize on this rapidly emerging market use all the tools at their disposal, such as Apple Ads. However, leading users to an app is one thing, convincing them to download an app is another.
ASO localization, the process of adapting and configuring how you present your app to a new geographic market, is the key component in bridging this gap. This article will guide you through key items to consider when localizing your ASO variables, whether it be for empowering your China Apple Ads campaign or for your app launch in the China iOS app store.
Localization instead of getting lost in translation
Chinese is vastly different to English, so it can be safe to assume that a simple Google translation won't cut it for your app marketing strategy. You need to ensure your texts go beyond word-to-word translations and actually reflect an understanding of Chinese colloquialisms and current language trends.
For app developers and brands with no native Chinese content experts, using a translation agency or mobile marketing agency with Simplified Chinese language and content expertise would be the optimal decision. Failing to do so and potentially showcasing an app with poor Chinese language, and/or a glaringly obvious foreign background could dissuade potential iOS users from downloading your app, and could even have a negative impact on your brand perception. After all, in an environment where local apps dominate the market and "western" looking apps aren't too popular, assimilation is everything.
Create visuals that resonate with Chinese audiences
Localization of your icon and creative visuals are a necessity when pursuing an app market such as China. Be sure to conduct competitor research on top of localization research, identifying common visual trends or patterns shared by successful apps within the same category as your own. Reference the visual below –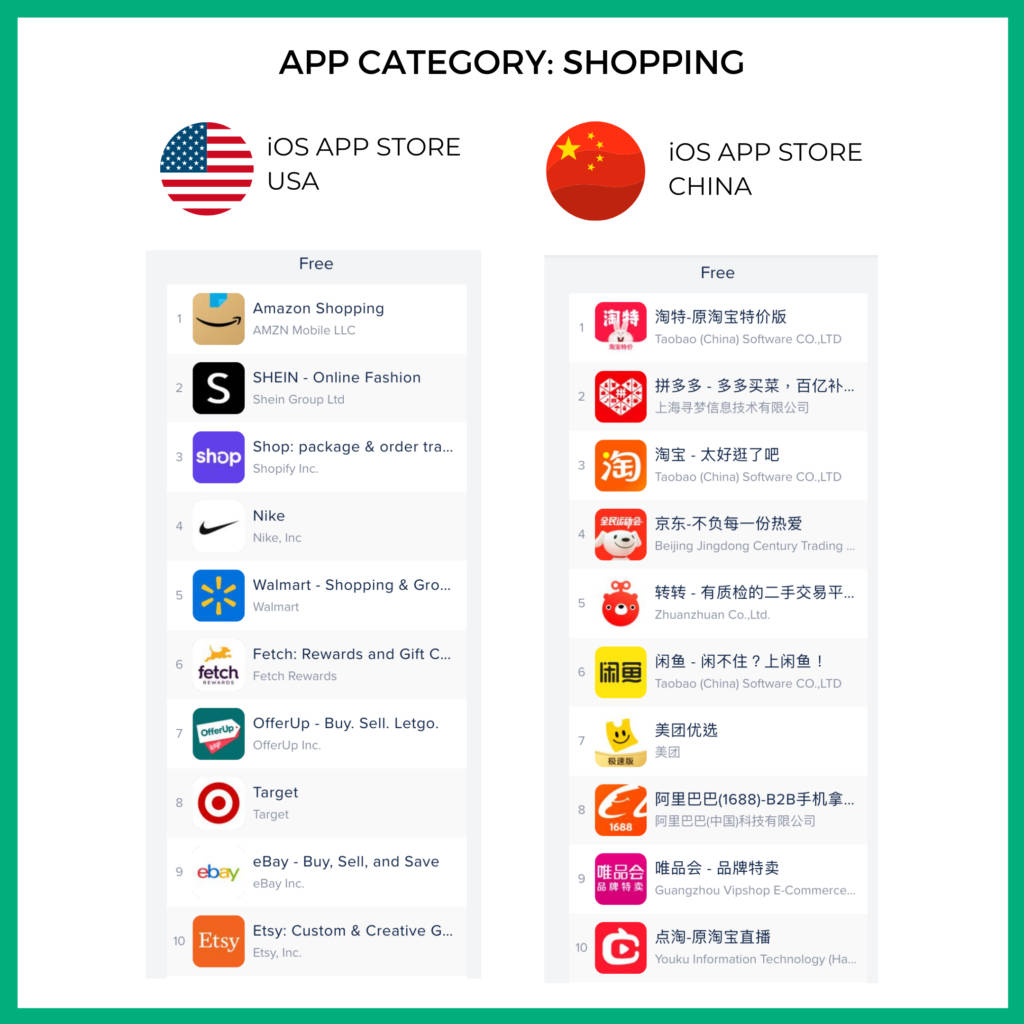 Observe the top 10 ranked shopping apps in the iOS app store. In contrast to USA's shopping app icons which utilizes color as a way to differentiate themselves as a brand and stand out, China's shopping app icons use color as a way to tie their brand with traditionally positive associations. Red and yellow symbolize ideas of wealth, luck, prosperity, and fortune in China. This is a clear demonstration of the significance and importance placed on cultural symbols and motifs within the China region. As GoGoChart VP of Marketing Liam Lo puts it:
"Mobile marketers need to approach China with a perspective cognizant of the various facets of consumer behavior, societal influences, and cultural sensitivity within the China region. At GoGoChart, having a mixed workforce from both western, asian and Chinese backgrounds has certainly proven valuable for this, and that's why I believe we've been as successful as we have with projects such as these."
Let's turn to another example. Looking at Temple Run 2's screenshot visuals in both the China and USA market, there are major aesthetic differences.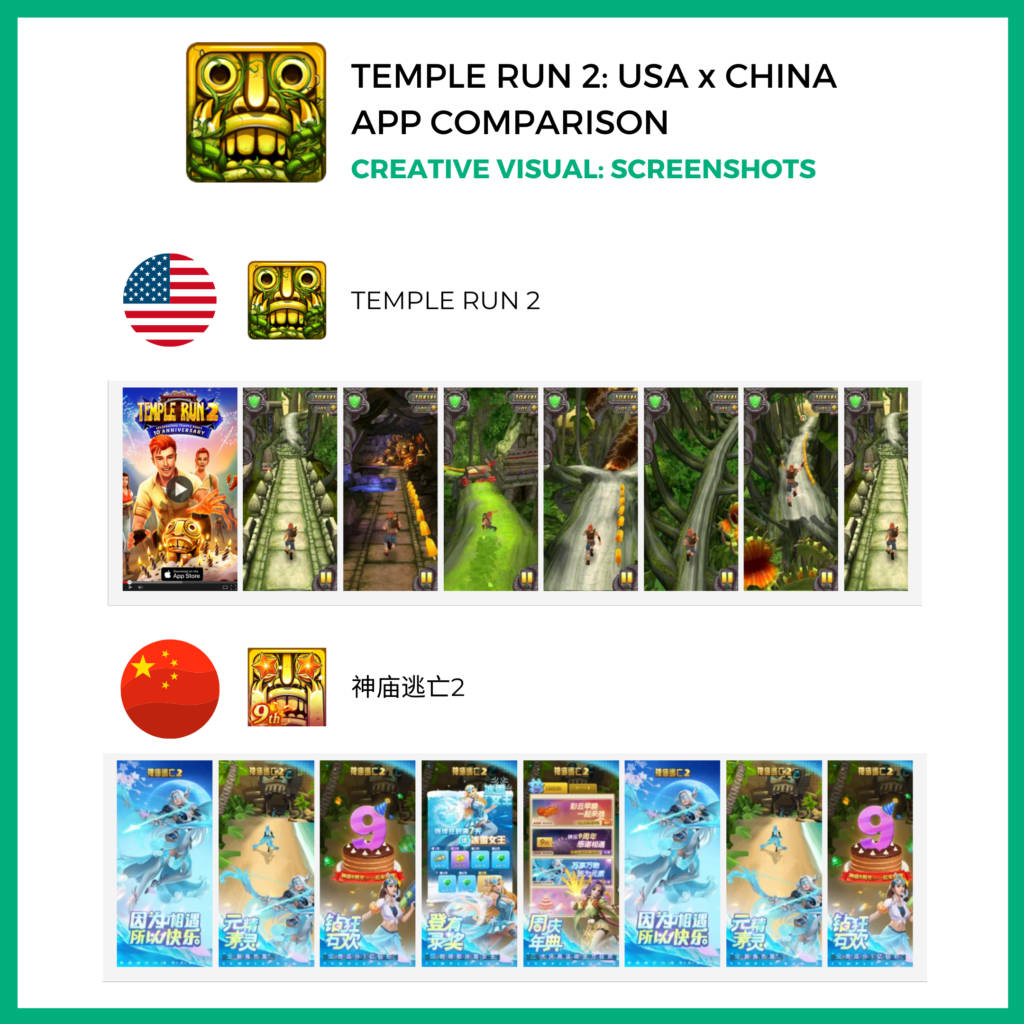 The visuals of Temple Run 2 in China clearly cater to a Chinese audience. Screenshots of apps in China tend to look more "busy," with various visual elements such as graphics, texts, characters versus the more minimalistic elements USA app visuals generally possess. Again, this emphasizes the importance of understanding visual trends and expectations of the relevant market you are catering to. For a more comprehensive understanding of Chinese ASO localization tips, be sure to download our free cheat sheet down below.
The importance of contextual understanding over macro issues
While language and visuals are the most significant attributes to localize for your app marketing strategy, there are additional factors to consider. Understanding sensitive topics within China is a must. In addition, the intense app competition within China demands that you regularly update your app to consistently offer consumers an improved experience. As the saying goes, your app is only as good as your last software update.
Ultimately, while the China app market looks to be more lucrative than ever with new ways to engage consumers, it is imperative that any mobile marketing strategy includes ASO localization.
At GoGoChart, we've successfully introduced thousands of apps into the China market. Our 6 years experience in the China app market and expertise in localization promises a mobile marketing strategy that delivers in ROI, increased awareness, and successful cross-cultural communication that caters to the relevant demographic at hand. If you have an app that you want to launch in China, contact GoGoChart today for a free preliminary audit.
Need some help on app visibility & app installs at app store platforms? Contact us to enjoy an initial app/business audit free of charge with an accompanying consultation.
Contact us:
Email: info@gogochart.com
Whatsapp: +852 6319 2613