Greater Bay Area- Industry Clusters for Global Innovation | Article – HSBC VisionGo
Bay Area, the formation and value of industrial clusters
Management · · 2 mins read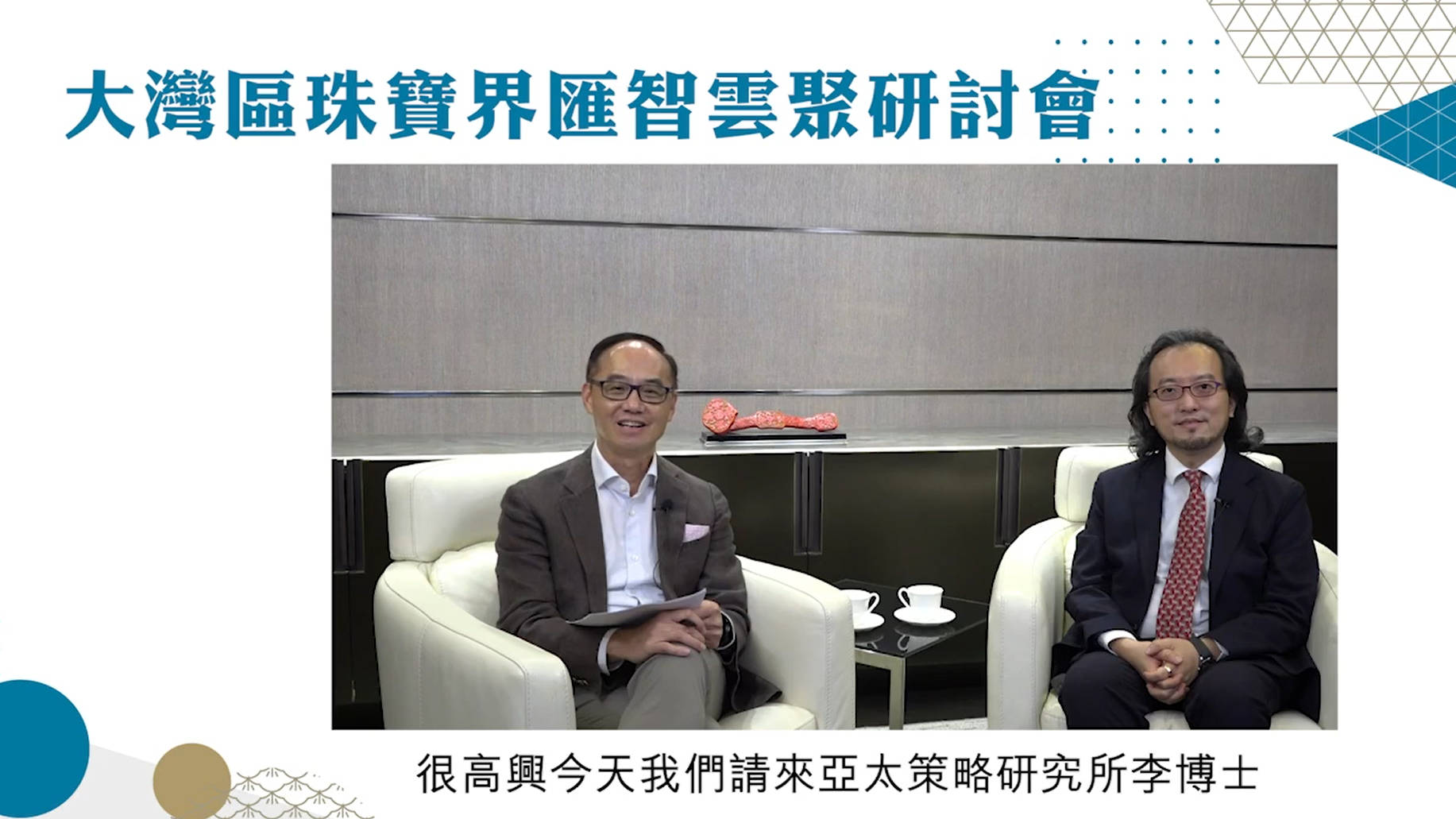 [Greater Bay Area] Industry Clusters for Global Innovation
Moderator: Mr. Kent Wong
Managing Director, ChowTaiFook Jewellery Group Co., Ltd.
Guest: Dr. Mark Lee
Overview
Dr. Lee shared the origin of the Bay Area, the formation and value of industrial clusters, and the strategic opportunities of the jewelry industry in the Greater Bay Area.
Mr. Wong combined with years of experience in the jewelry industry to make insights into the future of the industry.
Highlights
1. Global Innovation Centers
Bay Area System: Typical overseas Bay Area systems include Silicon Valley in the Science and Technology Bay Area, New York in the Financial and Political Bay Area, etc. A large economic system is created near the Gulf Coast.
2. The Right Timing in GBA
Urban development process: In the first stage, the countryside enters the city; in the second stage, there are many small cities around the city, turning into a simple network; people and knowledge converge, and the more they converge, the more productivity is increased. Technology continues to increase, forming a larger spider web, which continues to circulate. The third stage gradually revolves around certain industries, forming industrial clusters.
3. Multiplier Effects
Cluster is like an onion. Many industries revolve around core capabilities. The convergence speed of capital, talents, information, and logistics is more advantageous than any other place in the world to do the same industry, and finally, reach the world's strongest.
Industry clusters are not necessarily in the Bay Area. For example, fashion. You will definitely think of Milan and Paris. They form industry clusters. In addition to good designers, there are also reviewers, lawyers, and industry protection.
The cluster is actually an innovation center, forming a cluster effect.
4. China's Coming Advantages
The mainland has an industrial advantage in supply, and it also has a population of 1.4 billion. However, Hong Kong has a natural advantage. It can fly to half of the world's population within 6 hours, including India, Japan, Singapore, etc., in terms of supply and demand. Form a strong cluster.
Hong Kong can use the technology of the Shenzhen Greater Bay Area and the demand characteristics of Southeast Asia to make the supply chain and update the cycle of products faster and iterate continuously to form an innovation center. Hong Kong can dispatch the supply of the entire Bay Area to meet the needs of Southeast Asia or larger customers.
The Chinese have entered the stage of pursuing taste and have their own characteristics. They are no longer just pursuing overseas tastes but integrating Chinese and Western cultures, which has a specific role in promoting the entire jewelry industry.
5. Cross-Industry Synergies
First, the industrial cluster is actually an onion effect, and the resources obtained near the industry may not necessarily be your industrial resources; second, the industrial cluster is not just production, there are more professionals, etc.; third, high requirements are required Of customers, China's 1.4 billion population, plus Southeast Asia's population with unique tastes.
Because there are requirements, innovation will be driven, and innovation is forced.
6. Jewelry Industry Cluster as Example
The jewelry industry has the basic conditions and advantages of industrial clusters, and the world's raw materials import and export trade amounts to 150 billion. In Hong Kong, there are multiple rice shops in jewelry stores with retail sales of nearly 100 billion. In addition, finance can support us in exporting more than 40 billion yuan a year to the United States.
Hong Kong jewelry is mostly manufactured in Panyu and Shunde, with a very strong manufacturing industry. Domestic sales account for 600 to 700 billion of retail value a year, and 70% are mainly manufactured and wholesaled in Shenzhen. Many services are needed: finance, packaging, technology, etc.
In the jewelry industry, we have hardware advantages and supply chain advantages. We must emphasize culture and educate customers. Keep trying in all aspects, working as a laboratory together, and gaining growth through innovation.
7. Two-wheel Drive
In addition to high-quality and low-cost supplies, we must continue to educate customers and learn from them, because human needs are closely related to the characteristics of his life.
The "two-wheel-drive" industry cluster: in terms of supply, it combines artificial intelligence, industry 4.0, and industry 4.0; in terms of demand, it constantly does experiments, is curious about customers, and thinks about how to use jewelry culture to enrich the truth, goodness, and beauty of life.