How do you empower employees to embrace sustainability practices? | Article – HSBC VisionGo
By connecting their workers with a sense of higher purpose and investing in training, companies can help embed the sustainability message.
Management · · 2 mins read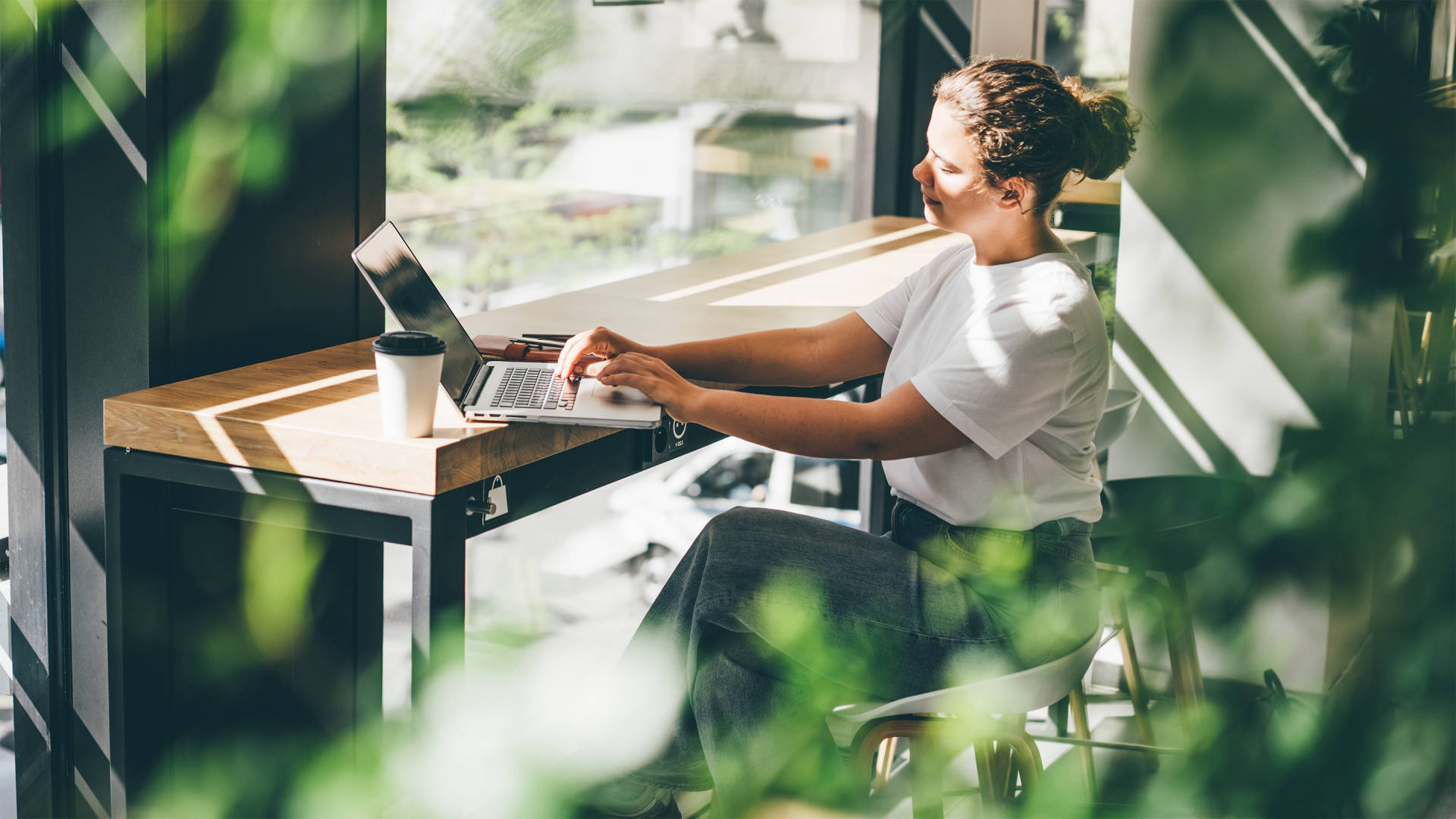 By connecting their workers with a sense of higher purpose and investing in training, companies can help embed the sustainability message.
Before COVID-19, customers, investors and employees were already beginning to question the long-held belief that profit came before planet and people. The idea of a 'purpose-driven' company – one that can articulate who they are, what they stand for and how they impact the wider community – was gaining traction.
This focus on purpose has accelerated during the pandemic and is a key driver of the sustainability agenda. It also benefits the bottom line. According to research by Accenture1, businesses that "combine the sprint on their COVID-19 responses with the marathon of longer-term societal and economic impact" will have a significant competitive edge.
Our Future of Work survey showed that nearly all business leaders (96%) understand that getting buy-in from their workforce is essential for building sustainability practices. There were some regional differences: 78% of respondents in Mexico and 72% in India agreed that the workforce was very important to improving overall sustainability credentials, whereas only 47% in Singapore and 38% in Germany shared this opinion.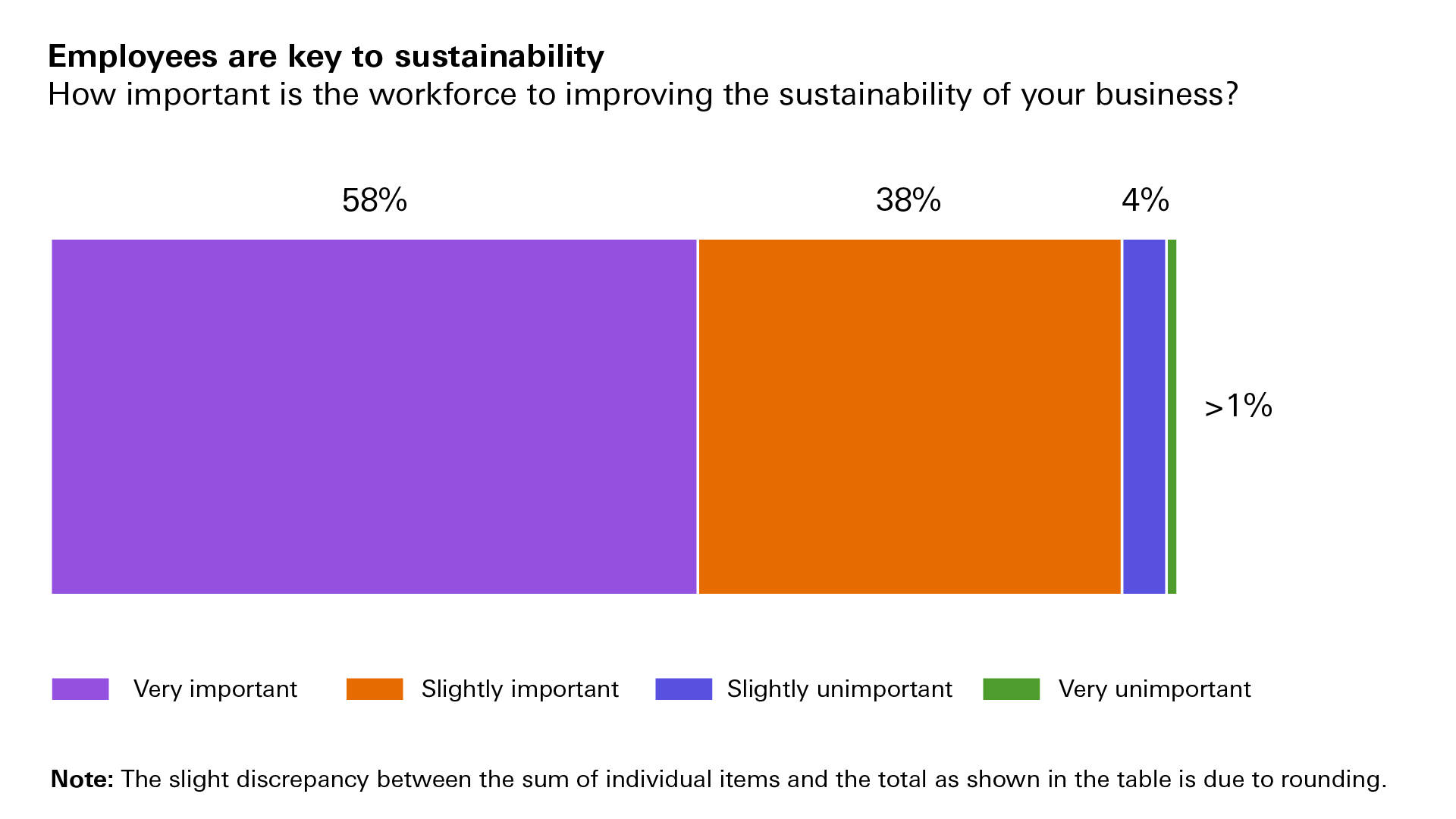 Businesses are investing in sustainability training
Half of the business leaders in our survey (50%) said they were planning to train or educate their workforce on sustainability, environmental and social governance (ESG) issues, while 45% planned to set up working groups, and 44% had developed policies or set targets for behavioural change. Almost a third (31%) said they intended to hire people with specific sustainability expertise.
High-growth companies tended to be more proactive in formulating their sustainability plans and were more likely to say they would create staff working groups to improve their ESG performance.
But there are some barriers to engagement
A concern shared by some corporate decision makers was that employees worried sustainability targets would impact their ability to do their job properly. A lack of engagement (36%), expertise (32%) or accountability (30%) were all cited as potential barriers that could disrupt businesses' efforts to be more sustainable.
Employees are more likely to embrace sustainability if they believe the company is sincere about making a positive difference.
More practical steps to bringing your workforce on board include:
Defining your company's purpose in writing – and showcasing it on your website
Spelling out the financial benefits of sustainability at a project and business level
Nominating a sustainability leader and champions within the company
Including your employees in the sustainability conversation, inviting their input, co-creating initiatives with them
Encouraging 'easy wins' in the office, such as recycling, energy/water saving measures, car sharing or cycling to work
Employees who feel they have a stake in achieving the company's sustainability goals are more likely to engage with them – and take pride in being a force for change.
---
Danone's 'One person, one voice' programme
Since 2018, Danone has involved its employees in its efforts to reach its 2030 UN sustainable development goals (SDGs) via its 'One Person, One Voice' programme. The company facilitates this with an internal digital platform featuring extensive sharing and learning resources. These include content created in collaboration with partners such as the United Nations Institute for Training and Research (UNITAR). All Danone employees therefore have the opportunity to learn and build on the issues, challenges and opportunities around SDGs.2
Sources
1. Accenture, COVID-19, A Brand. New. Purpose.
2. Danone.com