HSBC ROAR programme helps female founders scale businesses to new horizons | Article – HSBC VisionGo
The free HSBC ROAR programme, brought to female founders by HSBC and AllBright, has been specifically designed to help supercharge their businesses.
Startups · · 4 mins read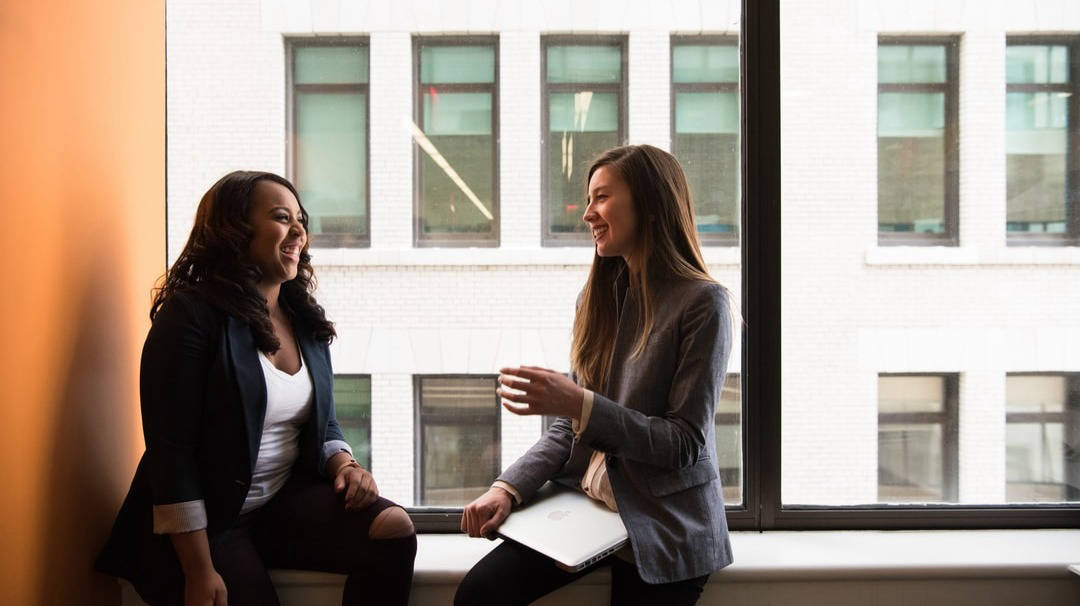 We know that being an entrepreneur requires grit and determination. But being a female founder during a global pandemic? Even more so.
The free HSBC ROAR programme, brought to female founders by HSBC and AllBright, has been specifically designed to help navigate the challenges and scale their businesses.
Are you preparing to scale your business internationally?
Are you already operating in multiple markets, but finding it difficult to gain traction?
Are you feeling stretched and struggling to balance priorities as your business expands?
Are you looking to consolidate your growth plans?
If you answered 'yes' to any of the above questions, then the HSBC ROAR programme is for you.
Why HSBC ROAR?
HSBC ROAR is our joint commitment to supporting female founders looking to scale their businesses. We will provide the tools, connections and confidence you need to truly supercharge your business - all in one place.
Research from HSBC states the biggest barriers to female entrepreneurs accessing capital are:
Access to networks - a lack of peers and mentors is limiting female entrepreneurs in terms of growth
Role models - Female entrepreneurs are more likely to be inspired to start their business by other women in their industry or female role models
Overcoming bias of investment panels
Lack of investment knowledge - female founders want more transparent investor criteria and constructive feedback
HSBC ROAR actively addresses all of these barriers by connecting you to inspirational female entrepreneurs, giving you support from qualified Executive Coaches, preparing you with insights from leading Venture Capitalists to scale your business to new horizons, topped off with hands-on support from a top performing Relationship Manager.
Why 'roar'? HSBC's lions are a symbol of strength and courage, but in a pride of lions it's the lionesses who lift up the pack and support each other to thrive amidst adversity. Get ready to roar, and make the world hear you in numbers too big to ignore. So, are you ready to embrace your inner lioness?
How It Works
The inaugural HSBC ROAR programme will be launched in September 2021, with applications now open for the Hong Kong SAR, UK and US chapters. We will only be accepting a small number of applications for this pilot programme, but don't worry - we've also got plans to launch in other markets in early 2022.
Over the course of an exciting three months, successful applicants will gain access to an exclusive network of founders, coaches and experts, all focused on helping you to scale your business. You can find out more about the topics covered in the programme below.
Each month, over the course of three months, you'll cover an essential topic that will form the basis of a masterclass and a small group coaching session.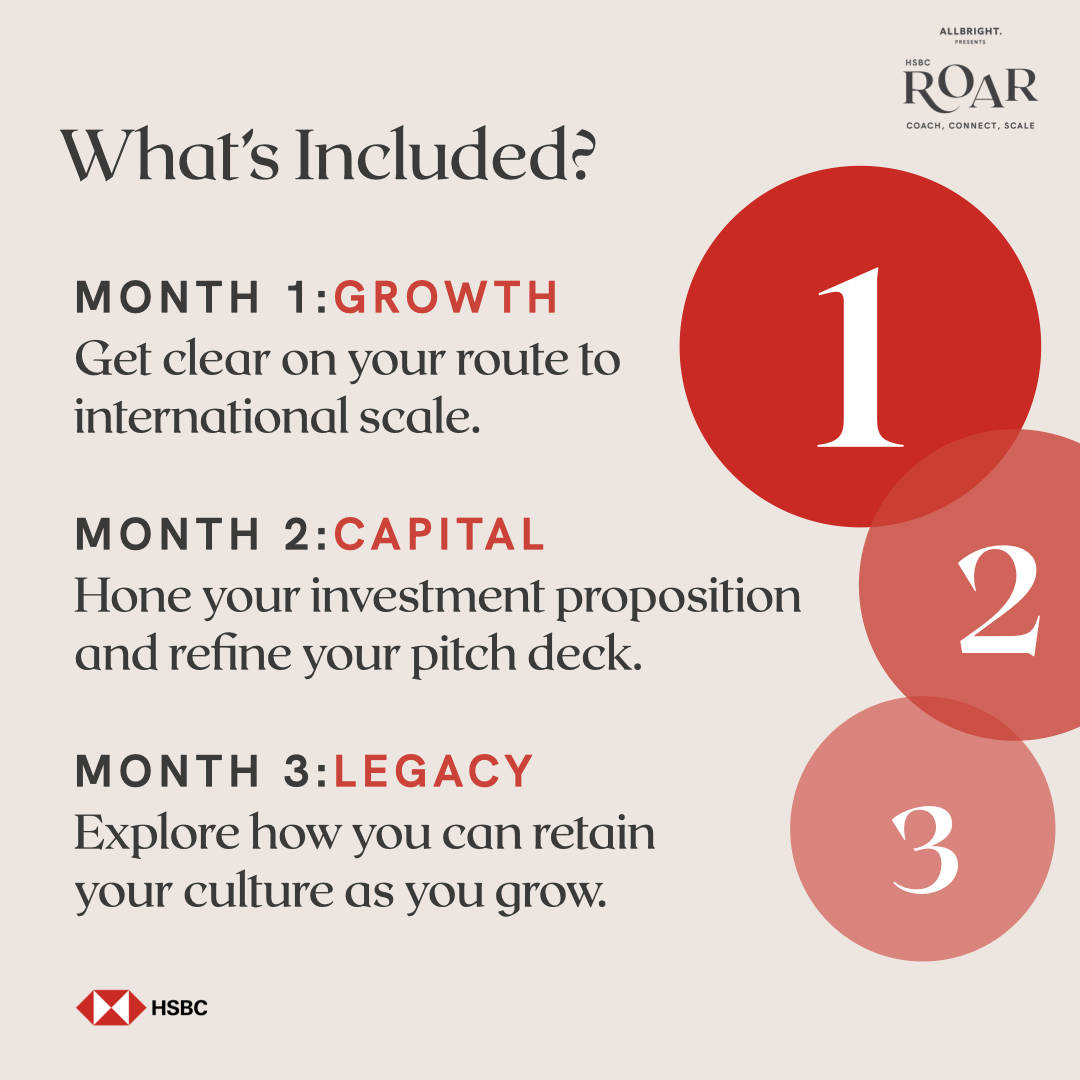 Am I eligible?
The HSBC ROAR programme has been designed to support female founders looking to scale their businesses. In order to ensure the programme is as useful as possible for all participants, we will only accept applicants who meet the following criteria:
You are the female founder or co-founder of your business
Your business is headquartered in Hong Kong SAR, the US or the UK
You are already operating internationally, or have plans to do so in the next 1-2 years
You have raised investment previously, or have plans to do so in the immediate future
Your business is less than 5 years old
Your business fits within the Technology, Sustainability, Health, Education, E-commerce or Logistics sectors
If you fit the criteria, apply now by filling out the application form via this link by 27 September, 2021.
Successful applicants will join one of two cohorts taking place in each pilot location. Each cohort will welcome five founders.
Each month, you will be invited to attend an exclusive, 1.5-hour virtual Masterclass, hosted by a renowned female entrepreneur on the topic at hand. Following this, you will have access to AllBright Digital, an invaluable bank of resources and additional materials including online tutorials, worksheets and readings, to continue developing the insights shared.
Looking for more support?
Successful applicants will attend a monthly, interactive coaching session with their cohort, facilitated by a qualified Executive Coach.
You'll also have access to an exclusive hub on AllBright Digital, where you can check in with your cohort and browse the additional resources on offer.
Finally, you'll have access to inspirational speakers during regular events hosted as part of the programme, as well as complimentary annual membership to AllBright+. AllBright+ gives you all-inclusive access to AllBright's full range of over 170 training courses, daily live events, curated content, bespoke networking opportunities and everything you need to supercharge your career.
FAQs
When does the HSBC ROAR programme start?
Exact dates will be shared with successful applicants upon acceptance, but the programme will start in all locations between September and October 2021.
Does the programme cost anything?
No! This programme is offered free of charge by HSBC, as part of their commitment to advancing female-led businesses.
What is the application process?
If you are ready to apply, simply complete this application form to apply. Please note this form will take between 20-30mins to complete and will ask you to submit an overview deck for your business.
What is the time commitment?
All founders are asked to commit to a minimum of four hours per month, for the three-month duration of the programme. Three hours of this will be spread across two monthly sessions, a 1.5-hour Masterclass and a 1.5-hour small group coaching session. The additional hour is dedicated to preparation work before and after each workshop.
What happens if I can't make a session?
All dates for programme workshops will be shared in advance, so we ask that you commit to as many sessions as possible.
Introducing the HSBC ROAR Coaching Partner
HSBC ROAR in partnership with AllBright has joined forces with Ignition Coaching, to offer exclusive access to some of the best coaches in the world. Specialising in Corporate, Executive and Resilience Coaching, Ignition is a team of experienced coaches based in the UK, the USA, Canada, Asia and Australia. The coaches at Ignition are united in their purpose is to inspire others to live more meaningful lives, so that we can all create a world filled with greater kindness and compassion, together.