* Over 1,000 SMEs already confirmed intention to apply for the scheme *
* Dedicated taskforce of over 100 operational staff *
* Online application form available on HSBC website *
* 24 collection points across Hong Kong *
* Professional support via online tutorials and dedicated hotline *
HSBC accepts customer applications for the Special 100% Loan Guarantee under the SME Financing Guarantee Scheme starting from 20 April 2020 (Monday).
To assist companies to apply for the special scheme and support the processing, HSBC has already rolled out a series of support measures, including a dedicated taskforce of over 100 operational staff, as well as a comprehensive suite of webinars, video tutorials and one-on-one consultation. The team has been preparing for weeks to enable HSBC customers to access the scheme at the first opportunity.
From HSBC's earlier outreach, over 1,000 SMEs have already confirmed their intention to apply for the scheme, and the Bank will assist with their preparation.
Terence Chiu, Head of Commercial Banking, Hong Kong, HSBC, said, "As a staunch supporter of the business community in Hong Kong, we understand that quick support for SMEs hit hard by the pandemic is essential in these difficult times. Leveraging our digital capabilities and our deep understanding of our customers' businesses, we are doing everything we can to help SMEs tap into this much-needed support as quickly as possible. Our dedicated team of frontline and operational staff is working in full swing to support our customers."
From 20 April 2020, interested SMEs can download the loan scheme application form from HSBC's website (www.business.hsbc.com.hk/sfgs100). Completed applications can be dropped off at 24 collection points in HSBC branches across Hong Kong.
SMEs who would like further support to prepare their application can also access further resources as well as register for webinars and online tutorials on HSBC's new digital community platform, HSBC VisionGo (www.visiongo.hsbc.com.hk). The beta version of HSBC VisionGo was launched last month to help empower SMEs with timely business insights, networking opportunities and practical advice on best practice, including useful tips for the loan scheme.
For any enquiries, customers are welcome to contact HSBC's dedicated service hotline at (852) 2748 8238.
Note to editors:

List of service outlets collecting applications for the Special 100% Loan Guarantee under SFGS:
Business Centres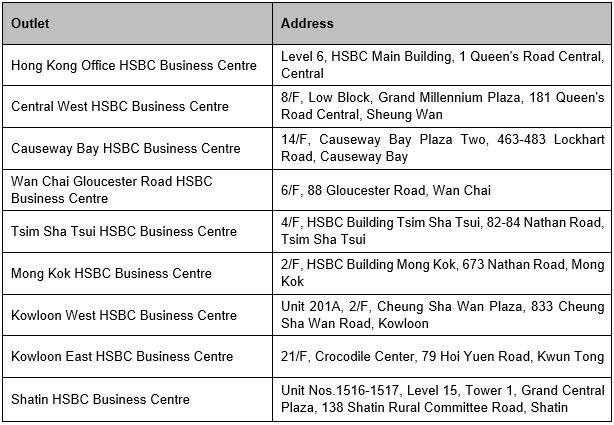 Branches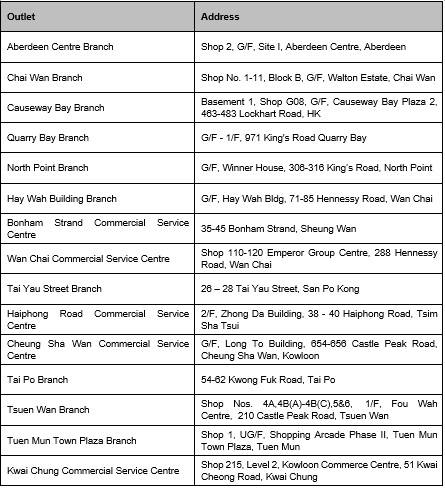 The Hongkong and Shanghai Banking Corporation Limited
The Hongkong and Shanghai Banking Corporation Limited is the founding member of the HSBC Group. HSBC serves customers worldwide from offices in 64 countries and territories in our geographical regions: Europe, Asia, North America, Latin America, and Middle East and North Africa. With assets of US$2,715bn at 31 December 2019, HSBC is one of the world's largest banking and financial services organisations.