HSBC VisionGo – brain trust for GBA businesses looking to go global | Article – HSBC VisionGo
HSBC VisionGo will feed the "HSBC GBA Business Service" WeChat mini program with a growing library of articles relating to doing business overseas.
Perspectives · · 4 mins read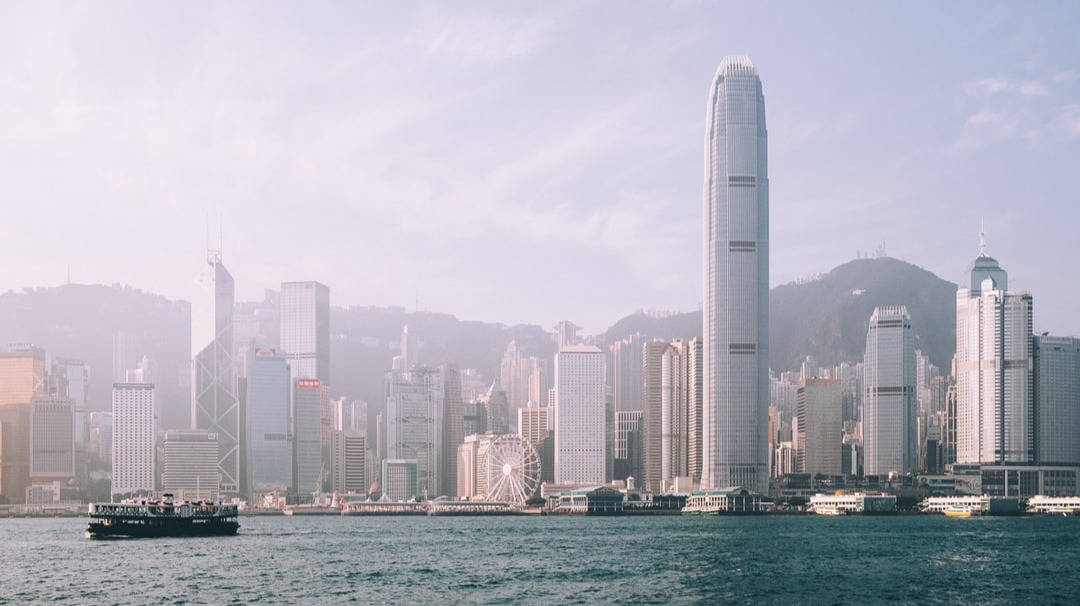 For Greater Bay Area (GBA) businesses seeking to access global markets, Hong Kong is no doubt an ideal platform which will have increasing roles in two-way investment flows between the mainland and world markets, as well as in its position as global trading hub. In order to better empower SMEs from the GBA in their global expansion, HSBC VisionGo will feed the "HSBC GBA Business Service" WeChat mini program with a growing library of articles relating to doing business overseas. With a constant stream of latest information and market trends fed through the mini program, VisionGo will be the brain trust for SMEs wishing to go global.
"HSBC GBA Business Service" WeChat mini program is a digital platform especially developed by HSBC to support SMEs within the GBA. With its enhanced connectivity across borders, and interfacing with various markets throughout the GBA, HSBC is in an excellent position to provide more efficient and convenient financial support to the multitude of SMEs in GBA.

First launched in March 2020, HSBC VisionGo is an online resource-sharing platform built for different business communities. The online platform supports exchange of information and insights among businesses, augmented with experience sharing by leaders and experts in their areas of excellence. With just one click on the column "Market Information" in the "HSBC GBA Business Service" WeChat mini program, you have instant access to contents of HSBC VisionGo - a wealth of information and insights customized for SMEs in the GBA wanting to do business overseas. You can also learn how to leverage the unique strengths offered by Hong Kong as you map your path to world markets. With this mini program, you can do this anytime, anywhere you wish.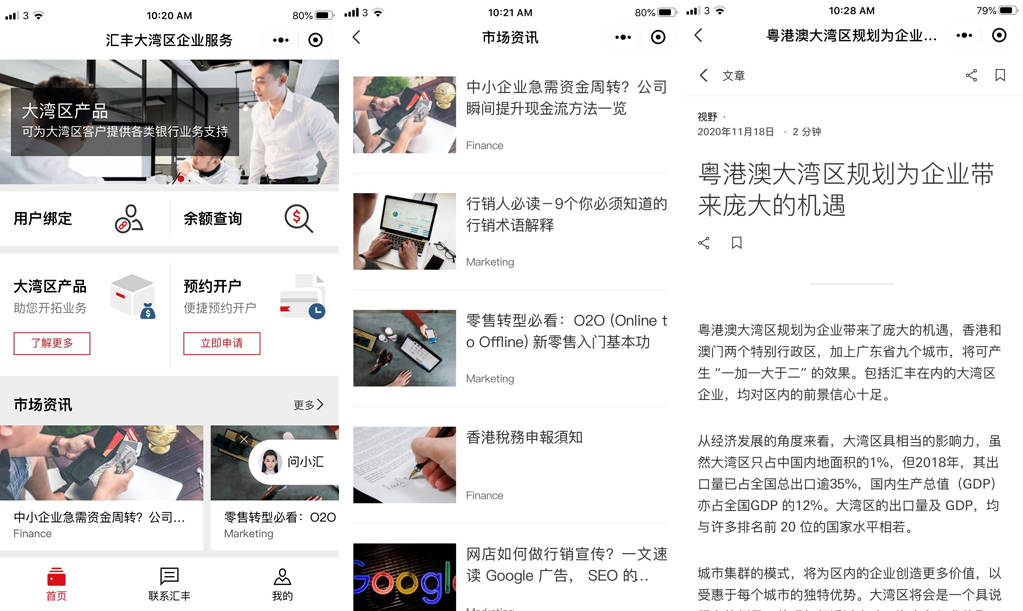 Using application programming interface (API), "HSBC GBA Business Service" WeChat mini program connects users to HSBC VisionGo's most update information about the GBA.
If your business involves a considerable volume of cross-border trade, you may wish to learn more tips from HSBC VisionGo about management of forex risks, or utilization of common hedging tools such as forward contracts. Alternatively, if you are an online seller hoping to boost exports to overseas markets whether under preferential government policies or riding on market trends, this article ("How do cross-border e-businesses expand overseas?") may answer some of your questions (from cashflow or distribution channel to logistics and warehousing) as you try to grow business outside your home-country.
Operating a business across borders inevitably requires access to overseas bank accounts. However, businesses may have much to puzzle about things like "initial requirements", "documents to be submitted" and "steps of account opening" throughout the process. Go through the articles "How to open an overseas bank account" and "Business proof required in applications for bank accounts in Hong Kong", and you will find answers to those questions.
Contents on HSBC VisionGo are updated constantly, to ensure that GBA business players have access to the latest information and business insights from experts in all fields. For example, you may wonder which benefits are currently available to businesses and new startups under preferential policies? How to choose the right platform for your cross-border online business? Which foreign taxes will apply to your cross-border trade? Whether the question is about legal, financial, operational or marketing, technological issues or otherwise, HSBC VisionGo will find solutions for you.
Going forward, HSBC VisionGo plans to roll out a "look for service" function, enabling businesses to do quick searches for the right partner in financial, legal or marketing fields. The function will also support online, one-on-one consultation between parties in such searches.
While SMEs have long been a pivotal force in economic development, they are the first to take the blow whenever challenges or risks arise in contingencies, because of their relative vulnerability in capital, manpower and supply chain positions. In the same token, most of them find it hard to rise above the waters in face of intense competition.
To better support businesses in the GBA, HSBC VisionGo is open to all businesses and individuals free of charge, as a platform for HSBC, its ecosystem partners and stakeholders of the wider community to post articles, hold webinars and online marketing events – so that GBA businesses could enjoy easy access to market information and insights they need, thereby promoting exchange, mutual benefit and win-win situation for all.
Since its launch more than a year ago, VisionGo has published more than 2,600 articles, bringing insights of entrepreneurs and experts from different sectors to its members. In view of ever-changing market conditions and business operational needs, we have been pushing relevant contents especially tailored for GBA businesses by deploying advanced big data and AI analytics. For example, we have pushed through articles like "How Chinese online shops can sell overseas successfully via Hong Kong" and "All you need to know about bank account opening in Hong Kong" based on such analytical technique. Access to information is easier and more efficient on the platform.
Hong Kong, with its competitive edges in financial, trade, investment, legal, accounting and consultancy services, is an important window to the world for GBA, and the perfect platform for businesses to go global or explore opportunities. The information sharing functionalities provided by HSBC VisionGo free of charge is a powerful connector of Hong Kong's unique competitive edges to the vast potentials from GBA, and an accelerator for businesses going global.
HSBC VisionGo brings together the most insightful views in articles, previews, industry leader discussions and brain-storming sessions. The extensive ecosystem partner network and close cooperation among VisionGo members have brought about a wide range of highly successful online events with key partners, including Hong Kong General Chamber of Commerce, InvestHK, Guangdong-Hong Kong-Macao-Bay Area Economic and Trade Association. We are proud to help equip SMEs for these challenges, and to support them with the latest market updates.
We shall organize more online seminars and forums on practical themes about the GBA, with emphasis on understanding the opportunities and challenges faced by GBA businesses, staying up to speed with market trends and policies, as well as tackling operational issues in overseas markets. From recruitment to management, to compliance and cross-border capital flows, any topic that may interest businesses eyeing global markets will be covered.
Wish to stay tuned to market trends and new business information? Register as a HSBC VisionGo member now, and click here to subscribe for our digital newsletter especially published for businesses wishing to go global. You will have access to our articles anytime, anywhere you wish. If you have further questions, feel free to contact our team by email at: hello-visiongo@hsbc.com.hk.