Macro monthly | Slower progress | Article – HSBC VisionGo
Slower progress
Finance · · 7 mins read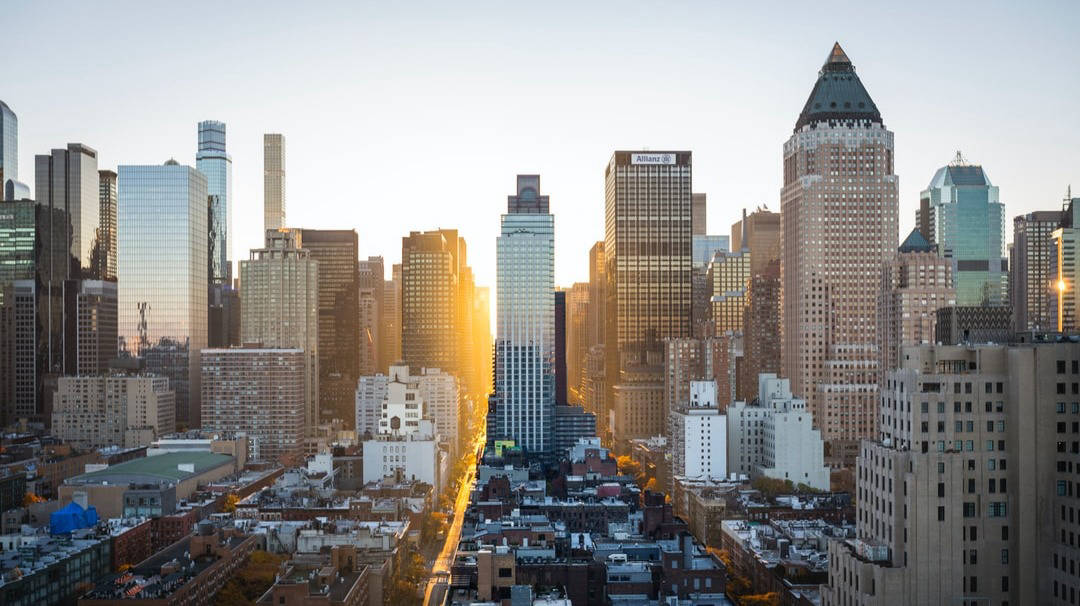 Rising case numbers and lockdowns in parts of the world are denting optimism but vaccine rollouts are cause for hope
Inflationary pressures remain acute, but some signs of a peak in input prices
We raised our 2021 eurozone GDP growth forecast to 4.9% (from 4.4%) but trimmed UK GDP to 6.7% (from 7.1%)
Despite some of the discourse in financial markets in recent times, things are getting slightly better on the pandemic front in some parts of the world.
Different pictures across the world
COVID-19 case numbers remain high in Asia...
Case numbers are still high in much of Asia, lockdowns have been re-introduced and extended in some Australian states and the Delta variant is leading to higher case numbers in various parts of the world. But there is some better news in other places.
…but are broadly stable across Europe
Across Europe, the number of cases are still broadly stable, although rising more rapidly in Germany and the UK (Chart 1), and intensive care unit occupancy rates for COVID-19 patients remain relatively contained. Most European countries are getting closer to the vaccination target of 70% of the population, which they had set out to meet by the end of summer.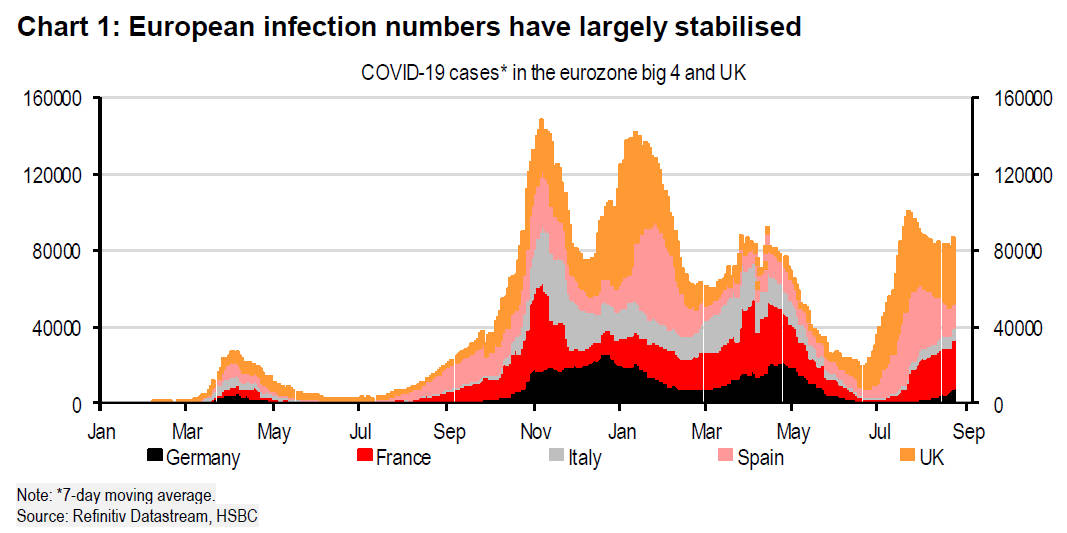 There is growing evidence of vaccine effectiveness
And there is also growing evidence of vaccine effectiveness across the world. Even with cases at more than 30k per day, UK hospitalisations stayed much lower than in previous waves, and the country has now not seen any excess deaths since mid-February, when all over-50s could have received their first vaccine.
Elsewhere, in highly-vaccinated parts of the world, we're seeing hospitalisation rates and deaths rise much more slowly than cases. Whilst there is a long way to go with the global vaccine rollout, this is clearly good news.
Cost-push inflation may have peaked
Inflation still elevated but may be receding
There may be emerging signs that the worst of the cost-push inflationary pressures is behind us too, especially in Asia. Shipping costs are elevated and firms continue to face higher input costs, but global shipping volumes have edged down, consumer spending keeps rotating away from goods, and some commodity prices, such as lumber, oil and precious metals, are falling. The Manheim used vehicle price index in the US has now fallen 3% in two months.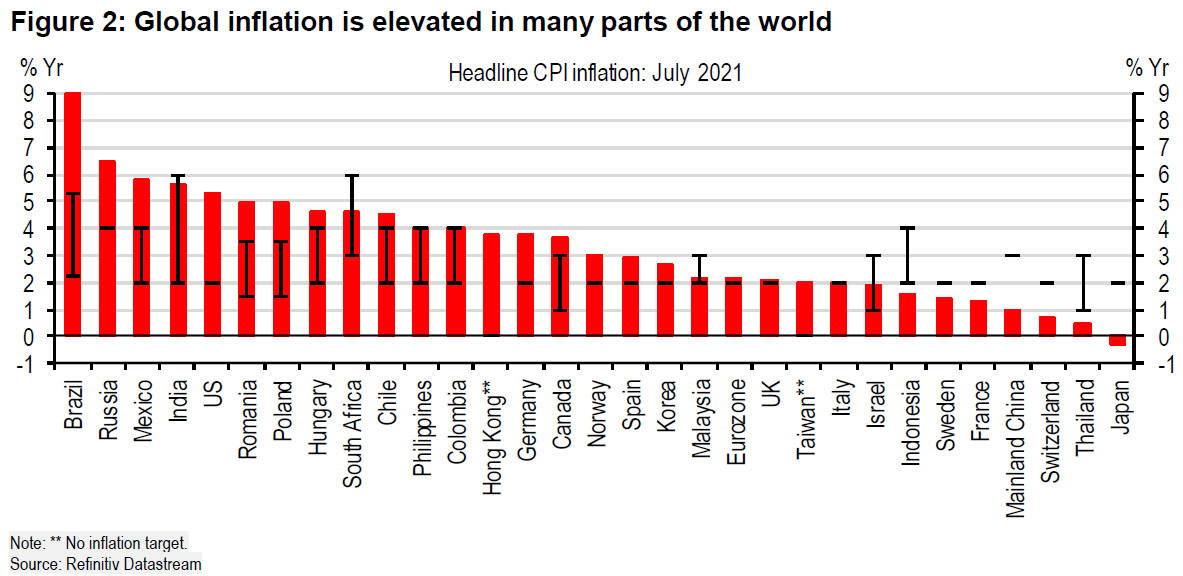 Consumer spending revival likely to be Q3 and beyond
GDP releases
Q2 GDP data have started to roll in, too, with a mixed bag of results. We think the revival in consumer spending in much of the world is more likely to be seen in Q3 and beyond, with restrictions being lifted across Europe at the start of the quarter, and in Asia this is likely to come much later. However, in terms of sequential momentum, global industrial and trade activity may have peaked in May based on PMIs and other business surveys across the world. The global economy, in aggregate, is still improving, but at a slower pace.
Our GDP growth forecasts
We have raised our 2021 eurozone GDP forecast...
We raised our 2021 eurozone GDP growth forecast to 4.9% (from 4.4%) mostly due to stronger-than-expected Q2 GDP growth of 2.0% q-o-q. Leading indicators for Q3 suggest that a rapid pace of expansion has continued, even if it has come off its recent highs as the growth impulse from unlocking wanes. This means that we lock in most of the upside news for Q2 without assuming much near-term payback in terms of a weaker Q3 or beyond.
…but have lowered it for the UK
Meanwhile, in the UK, we have lowered our 2021 GDP growth forecast to 6.7% (from 7.1%) given the lower-than-expected Q2 print. We might normally expect 'payback' in the summer but we are not revising up our Q3 forecasts as the rain, 'pingdemic' and other supply shortages appear to have put the breaks on growth. Instead, we are slightly revising up growth in Q4 and Q1 2022, and raise our 2022 GDP growth forecast to 5.2% (from 5.1%).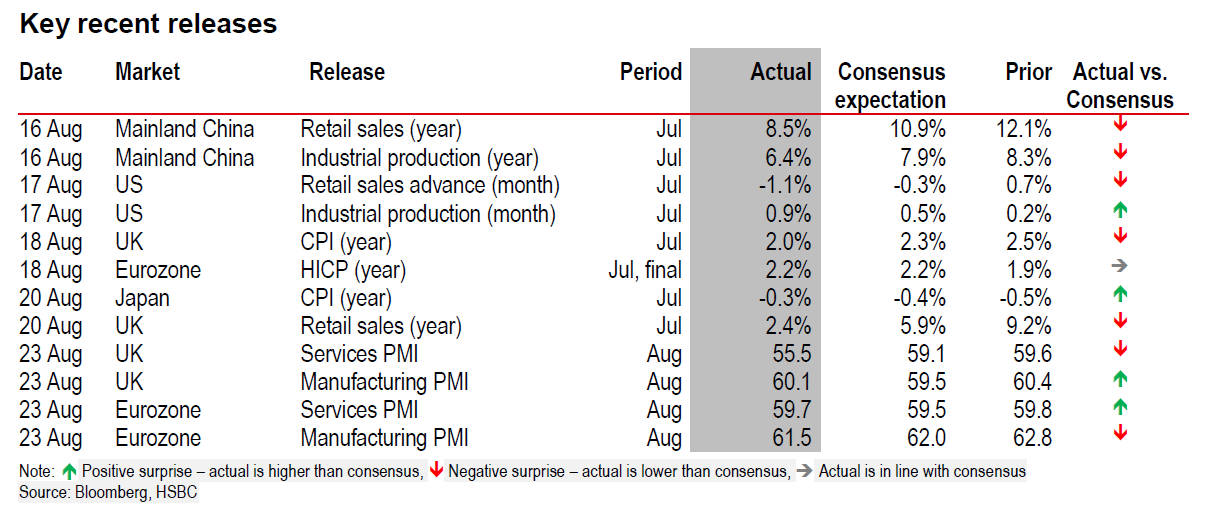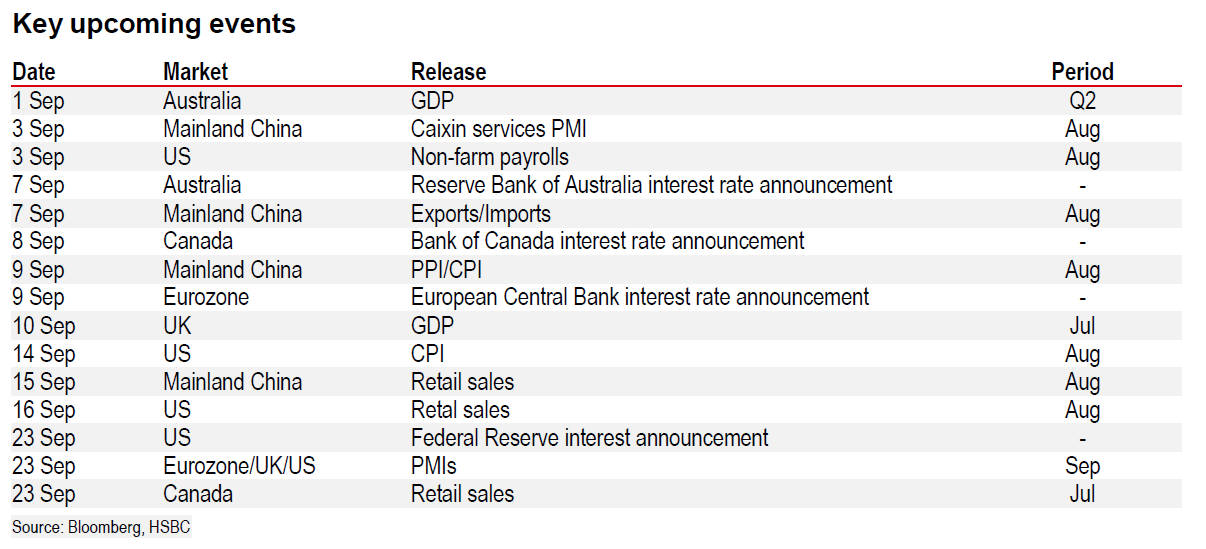 Disclosure appendix
This document is for information purposes only and should not be regarded as an offer to sell or as a solicitation of an offer to buy the securities or other investment products mentioned in it and/or to participate in any trading strategy. Information in this document is general and should not be construed as investment advice, given it has been prepared without taking account of the objectives, financial situation or needs of any particular investor. Accordingly, investors should, before acting on it, consider the appropriateness of the information, having regard to their objectives, financial situation and needs and, if necessary, seek professional investment and tax advice.
Certain investment products mentioned in this document may not be eligible for sale in some states or countries, and they may not be suitable for all types of investors. Investors should consult with their HSBC representative regarding the suitability of the investment products mentioned in this document and take into account their specific investment objectives, financial situation or particular needs before making a commitment to purchase investment products.
The value of and the income produced by the investment products mentioned in this document may fluctuate, so that an investor may get back less than originally invested. Certain high-volatility investments can be subject to sudden and large falls in value that could equal or exceed the amount invested. Value and income from investment products may be adversely affected by exchange rates, interest rates, or other factors. Past performance of a particular investment product is not indicative of future results.
HSBC and its affiliates will from time to time sell to and buy from customers the securities/instruments (including derivatives) of companies covered here on a principal or agency basis.
Whether, or in what time frame, an update of this information will be published is not determined in advance.
Additional disclosures
This report is dated as at 27 August 2021.

All market data included in this report are dated as at close 26 August 2021, unless a different date and/or a specific time of day is indicated in the report.

HSBC has procedures in place to identify and manage any potential conflicts of interest that arise in connection with its Research business. HSBC's analysts and its other staff who are involved in the preparation and dissemination of Research operate and have a management reporting line independent of HSBC's Investment Banking business. Information Barrier procedures are in place between the Investment Banking, Principal Trading, and Research businesses to ensure that any confidential and/or price sensitive information is handled in an appropriate manner.

You are not permitted to use, for reference, any data in this document for the purpose of (i) determining the interest payable, or other sums due, under loan agreements or under other financial contracts or instruments, (ii) determining the price at which a financial instrument may be bought or sold or traded or redeemed, or the value of a financial instrument, and/or (iii) measuring the performance of a financial instrument or of an investment fund.
Disclaimer
This document is prepared by The Hongkong and Shanghai Banking Corporation Limited ('HBAP'), 1 Queen's Road Central, Hong Kong. HBAP is incorporated in Hong Kong and is part of the HSBC Group. This document is for general circulation and information purposes only. This document is not prepared with any particular customers or purposes in mind and does not take into account any investment objectives, financial situation or personal circumstances or needs of any particular customer. HBAP has prepared this document based on publicly available information at the time of preparation from sources it believes to be reliable but it has not independently verified such information. The contents of this document are subject to change without notice.
This document is not investment advice or recommendation nor is it intended to sell investments or services or solicit purchases or subscriptions for them. You SHOULD NOT use or rely on this document in making any investment decision or decision to buy or sell currency. HBAP is not responsible for such use or reliance by you. You SHOULD consult your professional advisor in your jurisdiction if you have any questions regarding the contents of this document.
You SHOULD NOT reproduce or further distribute the contents of this document to any person or entity, whether in whole or in part, for any purpose. This document may not be distributed to the US, Canada or Australia or any other jurisdiction where its distribution is unlawful.
Hong Kong
In Hong Kong, this document is distributed by HBAP to its customers for general reference only. HBAP is not responsible for any loss, damage or other consequences of any kind that you may incur or suffer as a result of, arising from or relating to your use or reliance of this document. HBAP gives no guarantee, representation or warranty as to the accuracy, timeliness or completeness of this document.
Miscellaneous
Notwithstanding this document is not investment advice, please be aware of the following for the sake of completeness. Past performance is not an indication of future performance. The value of any investment or income may go down as well as up and you may not get back the full amount invested. When an investment is denominated in a currency other than the local currency of an investor, changes in the exchange rates may have an adverse effect on the value, price or income of that investment. Where there is no recognised market for an investment, it may be difficult for an investor to sell the investment or to obtain reliable information about its value or the extent of the risk associated with it.
This document contains forward-looking statements which are, by their nature, subject to significant risks and uncertainties. Such statements are projections, do not represent any one investment and are used for illustration purpose only. Customers are reminded that there can be no assurance that economic conditions described herein will remain in the future. Actual results may differ materially from the forecasts/estimates. No assurance is given that those expectations reflected in those forward-looking statements will prove to have been correct or come to fruition, and you are cautioned not to place undue reliance on such statements. No obligation is undertaken to publicly update or revise any forward-looking statements contained in this document or any other related document whether as a result of new information, future events or otherwise.
The Hongkong and Shanghai Banking Corporation Limited, its affiliates and associates and their respective officers and/or employees, may have interests in any products referred to in this document by acting in various roles including as distributor, holder of principal positions, adviser or lender. The Hongkong and Shanghai Banking Corporation Limited, its affiliates and associates, and their respective officers and employees, may receive fees, brokerage or commissions for acting in those capacities. In addition, The Hongkong and Shanghai Banking Corporation Limited, its affiliates and associates, and their respective officers and/or employees, may buy or sell products as principal or agent and may effect transactions which are not consistent with the information set out in this document.
© Copyright 2021. The Hongkong and Shanghai Banking Corporation Limited, ALL RIGHTS RESERVED. No part of this document may be reproduced, stored in a retrieval system, or transmitted, on any form or by any means, electronic, mechanical, photocopying, recording or otherwise, without the prior written permission of The Hongkong and Shanghai Banking Corporation Limited.