Macro monthly Oct 2021 | Supply shortages stoking inflation | Article – HSBC VisionGo
Supply shortages stoking inflation
Finance · · 5 mins read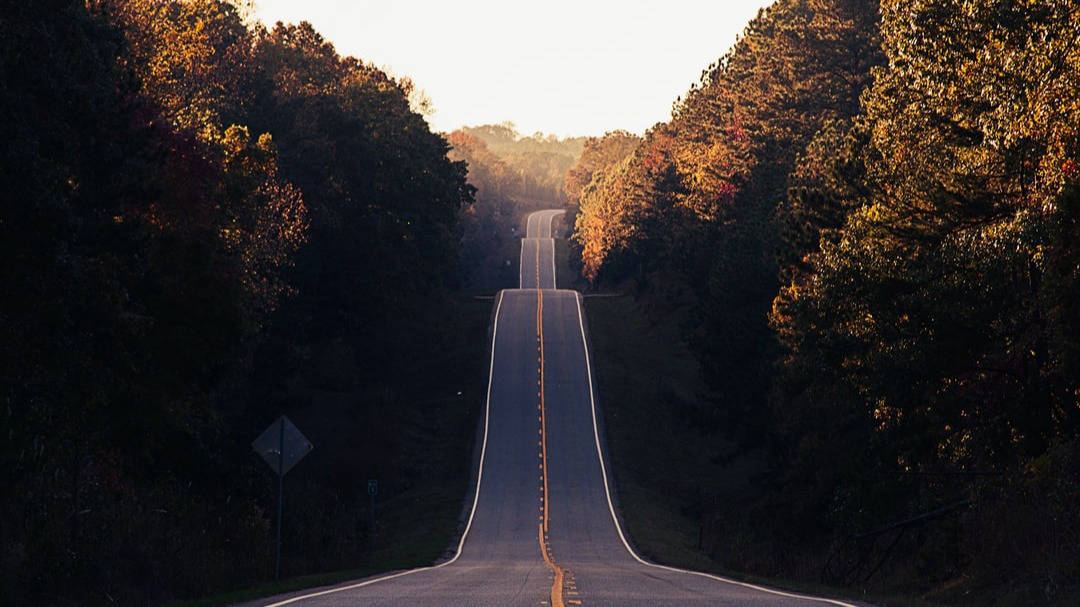 Activity is being held back by supply issues ranging from shipping costs to the availability of labour…
…which continue to add to inflationary pressures…
…forcing policymakers to strike a balance between containing inflation and supporting the recovery
As the pandemic continues to rumble on in much of the world, many of the same issues remain for the global economy. High shipping costs, elevated commodity prices and a shortage of labour are all posing headaches: holding back activity and pushing up prices.
The uncertain road to recovery
This creates a question in terms of the next stage of the economic recovery – will we see a more drawn-out recovery in activity where it takes time for supply to meet rampant demand? Or will we see higher inflation – driven by the demand and supply shocks – squeeze real incomes, causing the recovery to stall? On top of this, as we enter winter in the northern hemisphere, COVID-19 numbers could surge, too, providing another downside risk to growth, particularly if restrictions are re-imposed – however unpopular that may prove with many citizens.
Demand remains robust in advanced economies
Strong wage growth is spurring demand in developed economies
In large parts of Asia-Pacific, pandemic-related restrictions have taken their toll on growth, but for all of the slowdown in economic data in the advanced economies in recent months there is scant evidence that this is due to waning demand. Instead, as economies re-open, consumers spurred by buoyant labour markets, strong wage growth and high levels of household savings are running out of things to buy: be it food, fuel or cars (see Charts 1 and 2 for the US).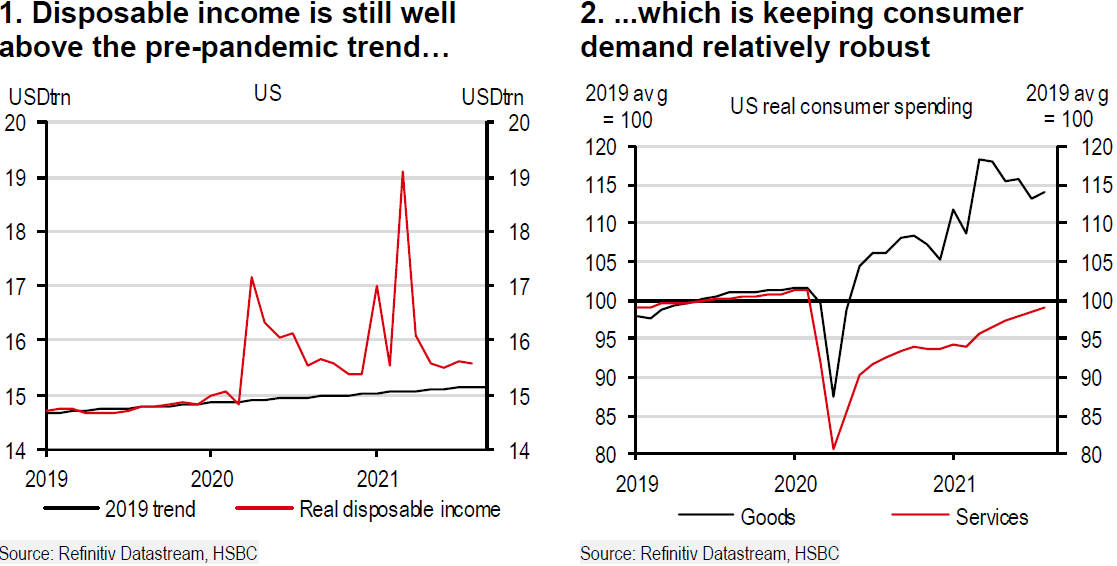 Inflation pressures are elevated
Expectations of sustained inflation are growing
These constraints are pushing up prices – and inflation remains a key topic for financial markets. Although US core CPI was in line with expectations in September, rising rental inflation is acting as a counterbalance to any waning of the "transitory" narrative that had dominated markets for much of 2021 (see Charts 3 and 4). In both August and September, US monthly CPI rose by less than seasonal norms, but increases are broadening out. With growing price pressures for firms there is an expectation that inflation could remain high more sustainably, prompting higher pay rises and leading the Federal Reserve into earlier rate rises.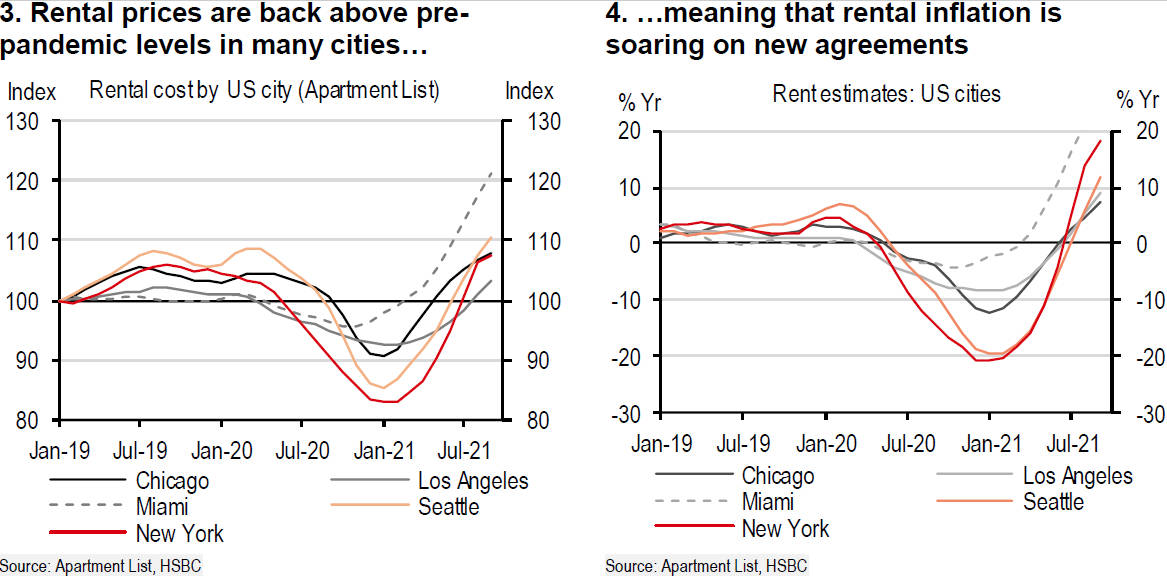 Many emerging markets have lifted interest rates
Elsewhere in the world, notably in Europe where economies continue to re-open, price pressures continue to build, spurred further by high energy prices (see Chart 5). In much of the emerging world, central banks are tightening more aggressively to deal with elevated inflation prints as energy and food prices push higher.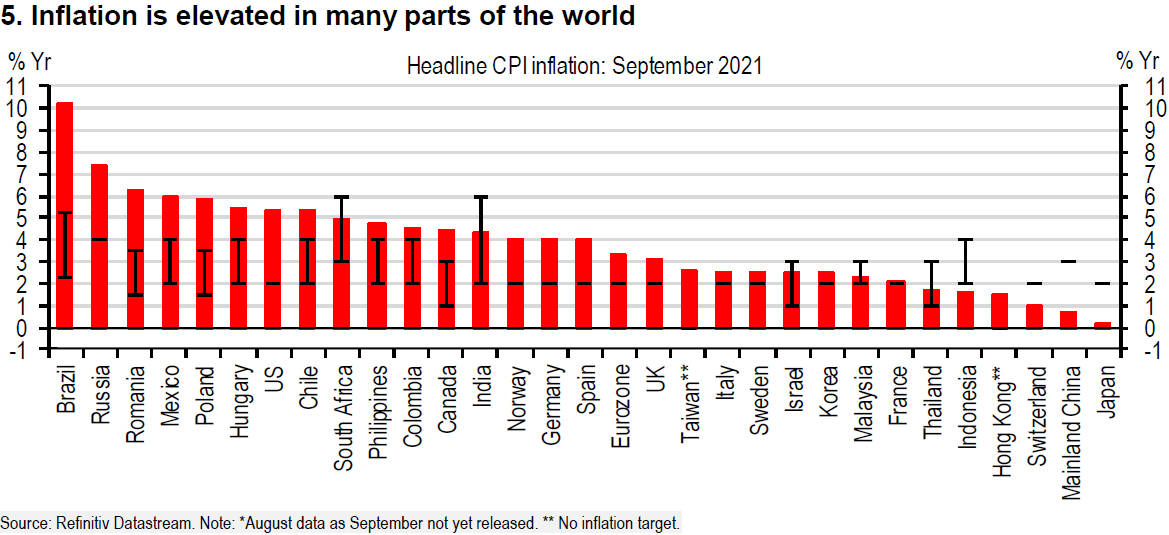 The dilemma for policymakers
Policymakers need to balance containing inflation with supporting the recovery
All of this is keeping policymakers in a bind. Higher rates may be warranted by strong demand and high inflation, but any premature move may nip any recovery in the bud, or intensify any slowdown. Some developed market central banks – the Norges Bank and the Reserve Bank of New Zealand – have already hiked rates – the question is whether any others will follow, and how soon.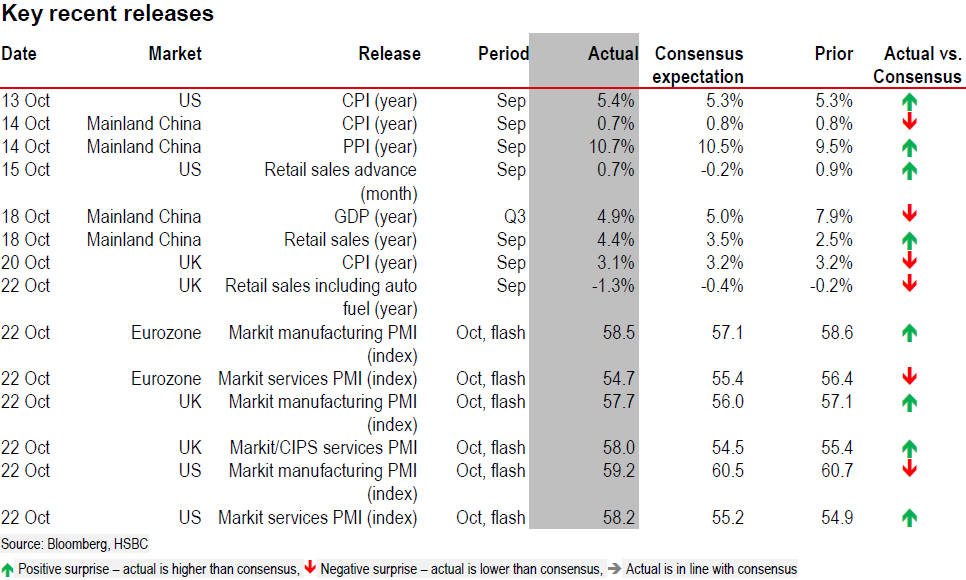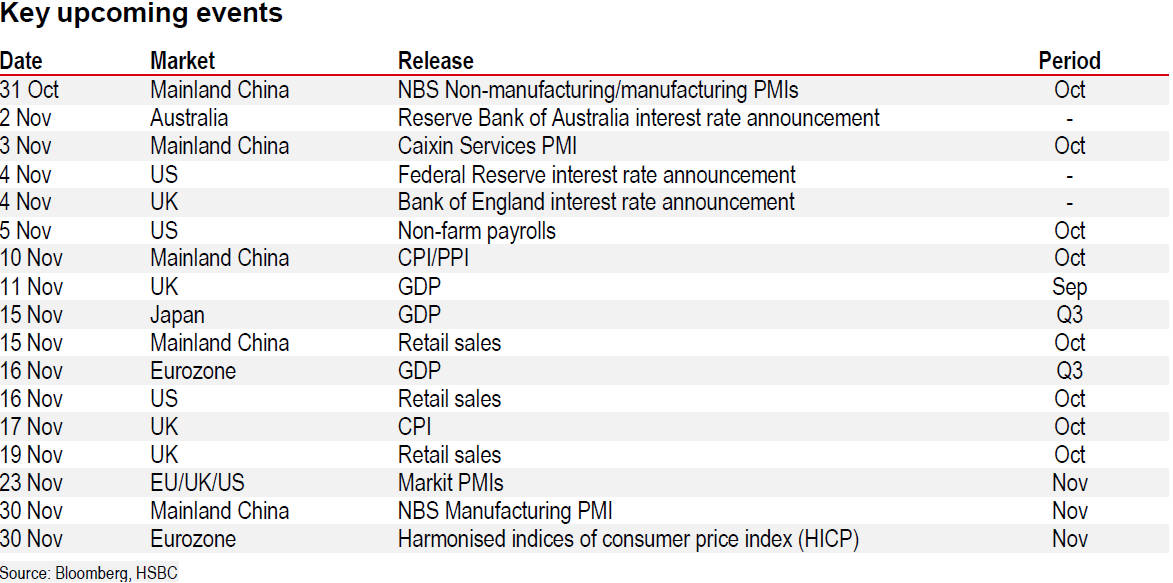 Disclosure appendix
This document is for information purposes only and should not be regarded as an offer to sell or as a solicitation of an offer to buy the securities or other investment products mentioned in it and/or to participate in any trading strategy. Information in this document is general and should not be construed as investment advice, given it has been prepared without taking account of the objectives, financial situation or needs of any particular investor. Accordingly, investors should, before acting on it, consider the appropriateness of the information, having regard to their objectives, financial situation and needs and, if necessary, seek professional investment and tax advice.
Certain investment products mentioned in this document may not be eligible for sale in some states or countries, and they may not be suitable for all types of investors. Investors should consult with their HSBC representative regarding the suitability of the investment products mentioned in this document and take into account their specific investment objectives, financial situation or particular needs before making a commitment to purchase investment products.
The value of and the income produced by the investment products mentioned in this document may fluctuate, so that an investor may get back less than originally invested. Certain high-volatility investments can be subject to sudden and large falls in value that could equal or exceed the amount invested. Value and income from investment products may be adversely affected by exchange rates, interest rates, or other factors. Past performance of a particular investment product is not indicative of future results.
HSBC and its affiliates will from time to time sell to and buy from customers the securities/instruments (including derivatives) of companies covered here on a principal or agency basis.
Whether, or in what time frame, an update of this information will be published is not determined in advance.
Additional disclosures
1. This report is dated as at 26 October 2021.
2. All market data included in this report are dated as at close 25 October 2021, unless a different date and/or a specific time of day is indicated in the report.
3. HSBC has procedures in place to identify and manage any potential conflicts of interest that arise in connection with its Research business. HSBC's analysts and its other staff who are involved in the preparation and dissemination of Research operate and have a management reporting line independent of HSBC's Investment Banking business. Information Barrier procedures are in place between the Investment Banking, Principal Trading, and Research businesses to ensure that any confidential and/or price sensitive information is handled in an appropriate manner.
4. You are not permitted to use, for reference, any data in this document for the purpose of (i) determining the interest payable, or other sums due, under loan agreements or under other financial contracts or instruments, (ii) determining the price at which a financial instrument may be bought or sold or traded or redeemed, or the value of a financial instrument, and/or (iii) measuring the performance of a financial instrument or of an investment fund.
Disclaimer
This document is prepared by The Hongkong and Shanghai Banking Corporation Limited ('HBAP'), 1 Queen's Road Central, Hong Kong. HBAP is incorporated in Hong Kong and is part of the HSBC Group. This document is distributed by HSBC Bank Canada, HSBC Bank (China) Company Limited, HSBC Continental Europe, HBAP, HSBC Bank (Singapore) Limited, HSBC Bank (Taiwan) Limited, HSBC Bank Malaysia Berhad (127776-V) / HSBC Amanah Malaysia Berhad (807705-X), The Hongkong and Shanghai Banking Corporation Limited, India, HSBC Bank Middle East Limited, HSBC UK Bank plc, HSBC Bank plc, Jersey Branch, and HSBC Bank plc, Guernsey Branch (collectively, the "Distributors") to their respective clients. This document is for general circulation and information purposes only. This document is not prepared with any particular customers or purposes in mind and does not take into account any investment objectives, financial situation or personal circumstances or needs of any particular customer. HBAP has prepared this document based on publicly available information at the time of preparation from sources it believes to be reliable but it has not independently verified such information. The contents of this document are subject to change without notice. HBAP and the Distributors are not responsible for any loss, damage or other consequences of any kind that you may incur or suffer as a result of, arising from or relating to your use of or reliance on this document. HBAP and the Distributors give no guarantee, representation or warranty as to the accuracy, timeliness or completeness of this document. This document is not investment advice or recommendation nor is it intended to sell investments or services or solicit purchases or subscriptions for them. You should not use or rely on this document in making any investment decision. HBAP and the Distributors are not responsible for such use or reliance by you. You should consult your professional advisor in your jurisdiction if you have any questions regarding the contents of this document. You should not reproduce or further distribute the contents of this document to any person or entity, whether in whole or in part, for any purpose. This document may not be distributed to any jurisdiction where its distribution is unlawful.
The following statement is only applicable to HSBC Bank (Taiwan) Limited with regard to how the publication is distributed to its customers: HSBC Bank (Taiwan) Limited ("the Bank") shall fulfill the fiduciary duty act as a reasonable person once in exercising offering/conducting ordinary care in offering trust services/ business. However, the Bank disclaims any guaranty on the management or operation performance of the trust business.
© Copyright 2021. The Hongkong and Shanghai Banking Corporation Limited, ALL RIGHTS RESERVED.
No part of this document may be reproduced, stored in a retrieval system, or transmitted, on any form or by any means, electronic, mechanical, photocopying, recording or otherwise, without the prior written permission of The Hongkong and Shanghai Banking Corporation Limited.