"It's not for business!" Busting four myths about the mobile banking app | Article – HSBC VisionGo
As an SME owner or finance manager, have you discovered the benefits of using a mobile banking app?
Finance · · 5 mins read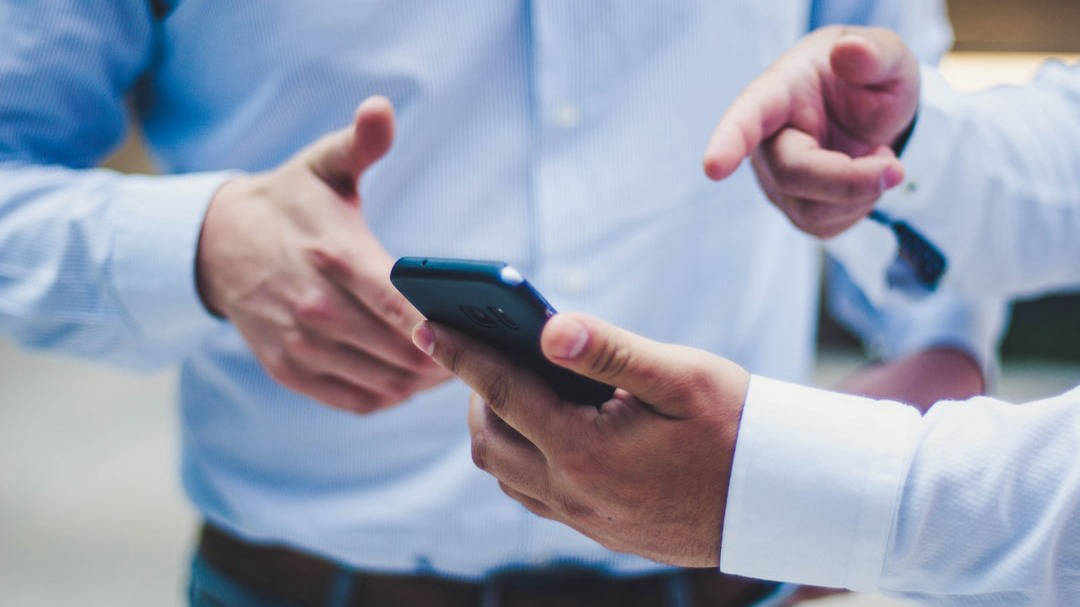 Hong Kong has a smartphone penetration rate of almost 100% for the population aged 15-64. We use our smartphones to stay connected with each other on social media, buy takeaways with Apple Pay, send money to friends through FPS or PayMe … you name it.
But if we look at managing a business's banking needs, mobile app has not been very popular among SMEs. So have SMEs been moving with the times when it comes to what they think about mobile banking apps?
"I would only do my work on a computer."
This might be one of the reasons why internet banking is used by the majority of business banking customers, while far fewer businesses are using a mobile banking app.
In fact, various mobile apps are now widely used in business contexts. You can use PayMe for Business to collect payments or pay for courier service. The bookkeeping app Dext allows a company's employees to snap photos of receipts and drop them directly to the company's accounting system for expenses reimbursements; and insurance companies accept most claims to be made entirely through an app.
No matter how busy you are, there ought to be some bite-size pockets of idle time during the day, such as commuting or waiting for a meeting to start. With a mobile banking app, you can make good use of these slots to tackle your more straightforward banking needs.
Hang Seng Business Mobile App allows you speak to its virtual assistant, BERI, to place foreign exchange orders. If you use the HSBC Business Express app, you can contact the bank's customer service officer 24/7 through the chat function, and stay on the line with the same officer even if you have to switch from one device to another or HSBC Business Internet Banking in the middle of a conversation.
Source: https://www.hangseng.com/en-hk/business/banking-digitally/online-services-beri/
If your company's day-to-day transfers are handled by your staff but require your approval, even though you don't sit in the office all day, you can receive push notifications from HSBC mobile app, and approve the transactions on the app using facial or fingerprint recognition.
"Online banking's got all that I need. Why use an app?"
When it comes to banking, the mobile app is not just about being "mobile". Several features are actually only available on an app.
With DBS's IDEAL app or HSBC Business Express app, you can log into mobile banking, verify a desktop internet banking log-in request or approve a transaction in a flash using fingerprint or facial recognition on your mobile phone or tablet. There is no need for any one-time code to be generated by a traditional hard token, saving you the trouble carrying one around.
Source: https://www.youtube.com/watch?v=-mmHpyp4veI
You can authorise a payment request on the HSBC Business Express app using facial or fingerprint recognition.

You can also customise the homepage of the app on your mobile device, which is not yet possible in the more standardised internet banking layout. With HSBC Business Express app, each user of a business's bank account – typically the business owner and the operations manager – can set up different short-cut keys according to their habits and focus areas.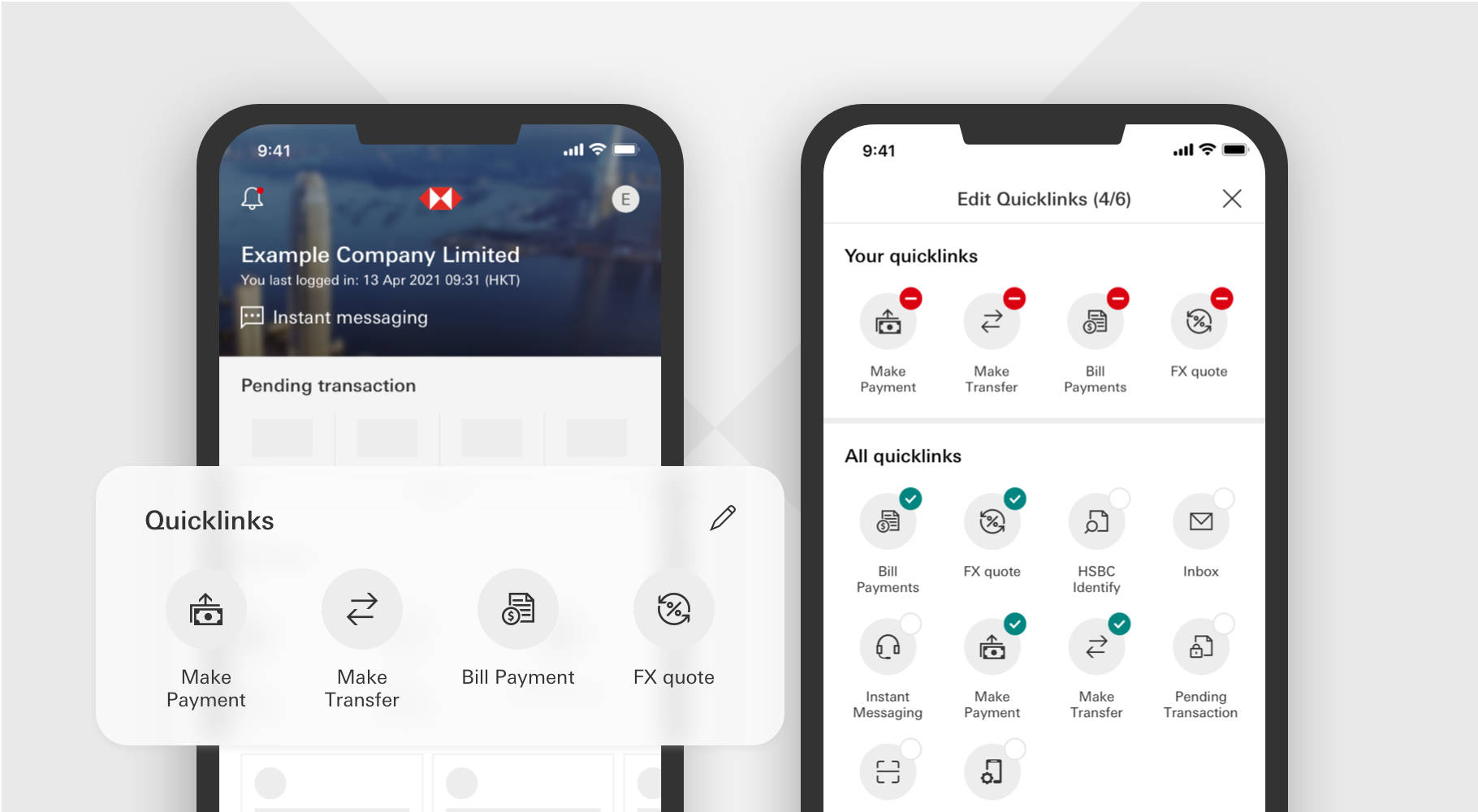 Customise your own homepage on the HSBC Business Express app.

Push notifications can be sent to individual users' mobile devices to alert them to transactions, as long as they are connected to the internet. So the business owner has a clear picture of the account, even though it's the staff running the day-to-day operation.
You can also use the "FPS" QR code to make real-time payments to local business partners who may be using a different bank, and easily store and share the confirmation page. For example, with the HSBC Business Express app, you can scan the QR code provided by your business partner to instantly transfer funds to their account.
Other unique features include credit card activation: when an HSBC Business Banking customer receives a new commercial card, information about the new card will have been pre-filled in the app, so the customer can simply log into the mobile app, review the information and activate the new card, without having to call the credit card hotline nor upload any photo of the card face.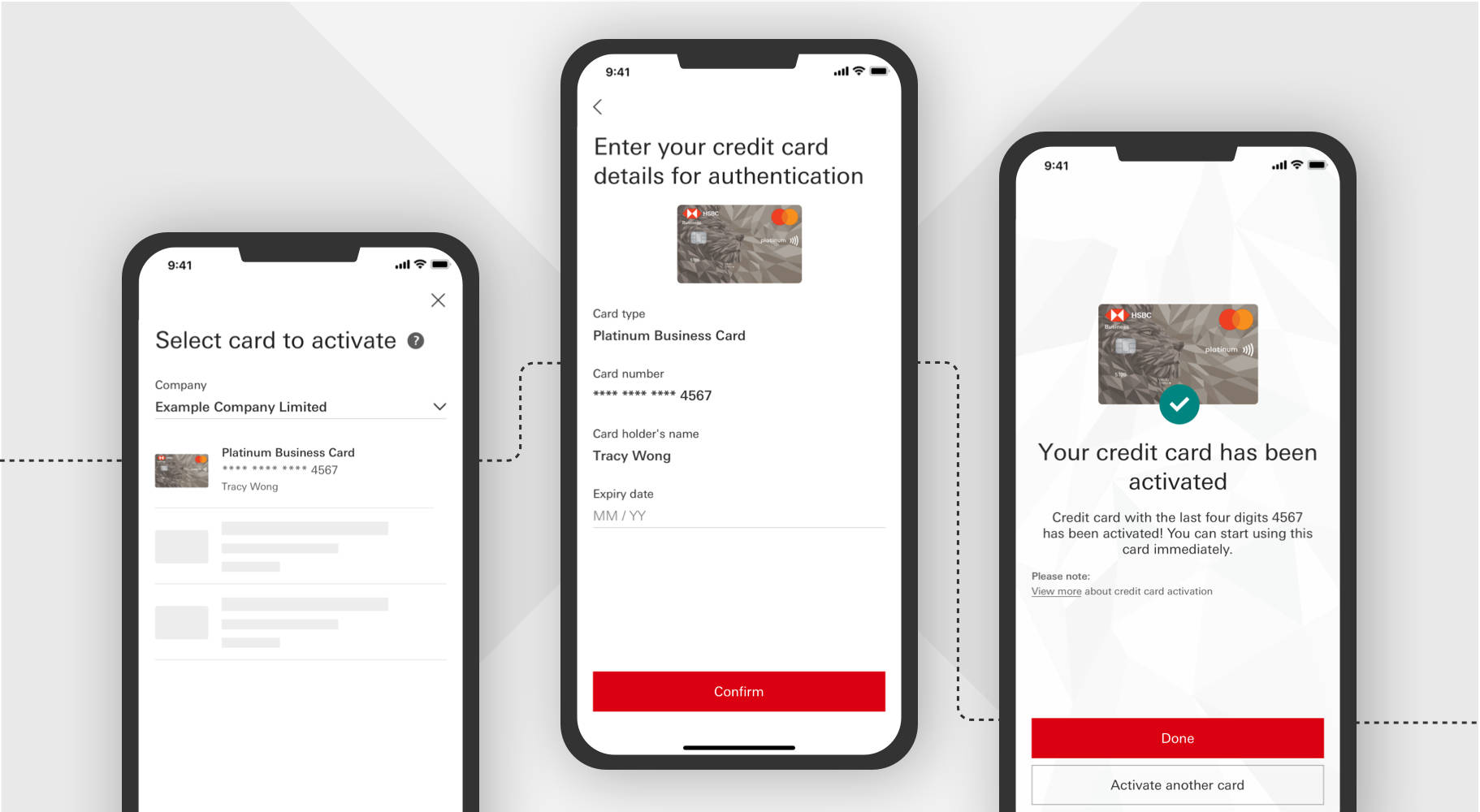 Activate a new credit card on the HSBC Business Express app, with information pre-filled.

"I will never let work invade into my personal life!"
According to a survey on SMEs conducted by the Hong Kong Internet Registration Corporation last year, over 60% of the companies surveyed had adopted remote working, an increase of 20% over the previous year. This work-from-home trend has led to a higher degree of work-life integration, and it's not expected to disappear after the pandemic.
Just like helping our children adapt to the digital age by teaching them about time management, the way to protect our personal space is to sort out when to work and when to chill, and benefit from the synergy of this integration – not to avoid technologies that can streamline it.
Some banks have separate mobile apps for personal and business accounts, such as HSBC, Hang Seng and DBS. Even if you are using only one mobile device, you can arrange the layout of your screen to separate work-related apps from others, creating a boundary between work and life. That gives you extra flexibility, as you will be able to work anywhere, not just in front of the computer.
"Banking on-the-go? Are you sure it's safe?"
When was the last time you were in a bank branch? You've made the transition to internet banking. Why not take one step further to start using the mobile app as well?
Major banks globally have been investing heavily in cybersecurity, and they use extremely secure and high-end encryption technologies in internet banking and mobile security keys. However, a survey conducted by HSBC in 2020 showed that only 8.5% people considered themselves "cyber smart". There is a lot more that we as individuals can do to raise our own cybersecurity awareness. Common sense caution already goes a long way in protecting cybersecurity.
Use a privacy screen on your mobile device or simply stop working when you're in a crowded place; use only trusted Wi-Fi networks or service providers; keep your personal belongings in a secure place to avoid loss and theft of your mobile device... These are golden rules to observe when you're using your mobile phone for any purpose.
Also remember to download a banking app only from official app stores and keep it updated, log out after use, and have the latest version of the operating system installed on your mobile device. These are some of the essential security tips to bear in mind while enjoying the convenience brought by a mobile banking app.
Keep your finger on the pulse of your bank account, wherever you are
In a survey conducted in Q4 2020, over half of the companies surveyed said digital-only platforms and tools are a top future priority in helping them sustain business growth. The whole business eco-system has become dramatically more digitalised compared to a few years ago. With the smartphone being an indispensable component in the digital world, more work is set to be done on the phone.
Mobile banking apps allow banking to be done anytime, anywhere. If you are constantly looking for smarter ways to boost your efficiency, it's time to make the leap and embrace the world of opportunities brought by the mobile banking app.