One device that takes all kinds of digital payment (Limited time offer) | Article – HSBC VisionGo
One device that collects AlipayHK, WeChat Pay HK, Octopus, Tap & Go, PayMe, FPS, credit cards , Apple Pay and more.
Finance · · 4 mins read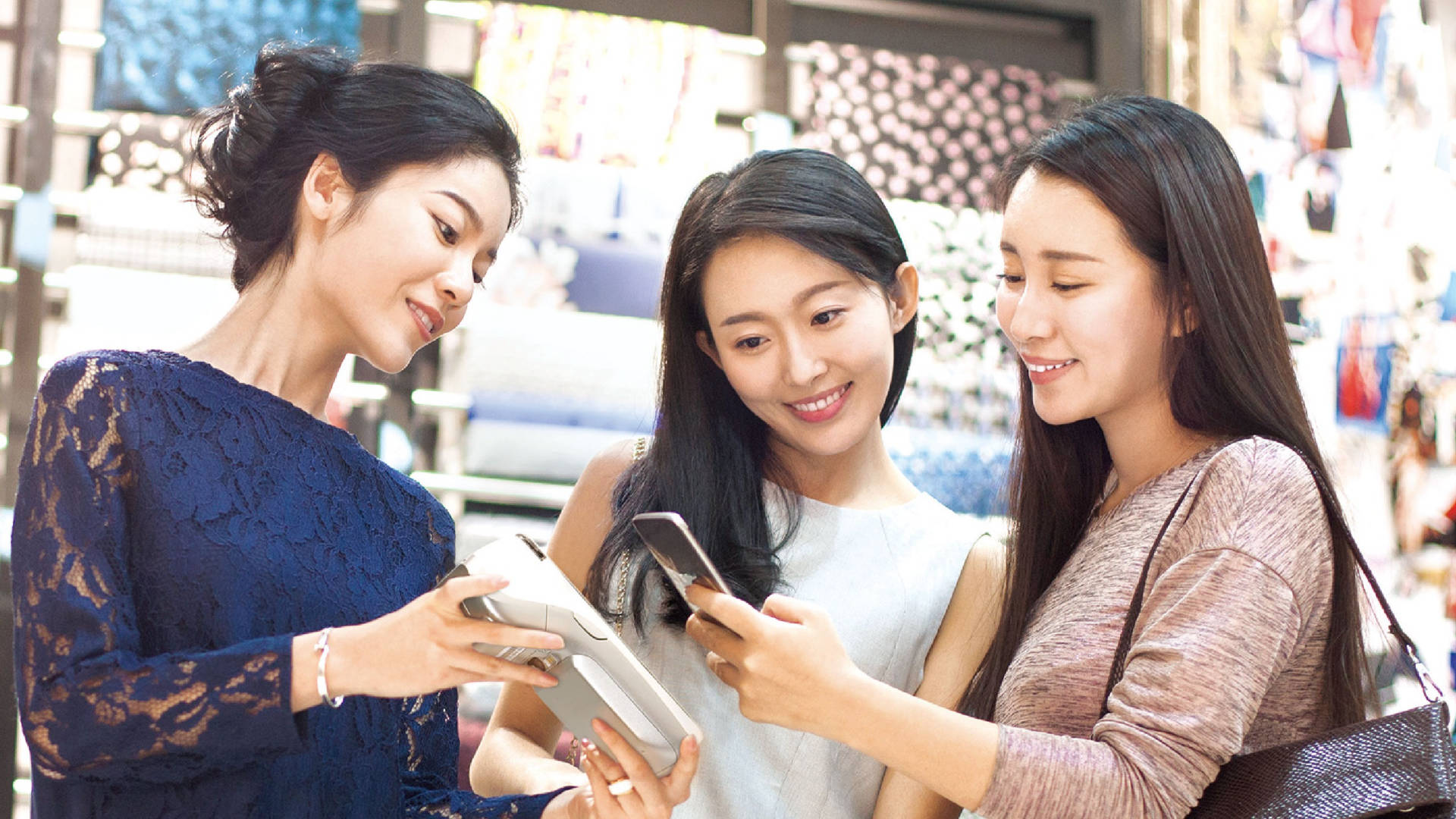 Following the 30% year-on-year jump in retail sales from last February when the sector was hit hard by Covid-19, the government's HKD5,000 electronic consumption vouchers are set to inject life into the economy. As a shop owner, have you got the right tools to capture a share of this HKD36 billion territory-wide shopping spree?
Retail, F&B and online shops are adding digital payment collection to draw customers
The consumption vouchers are currently being distributed to 7.2 million eligible Hong Kong residents through four digital wallets: Alipay, WeChat Pay, Octopus and Tap & Go. In order to capture customers using any of these digital wallets, you've got to equip your shop with the most versatile payment collection solution. You don't want to lose your customers to your next-door neighbour, do you?
In fact, besides bringing a one-off stimulus to the economy, the e-vouchers are also a driver for Hong Kong's retail eco-system to become more digital. With over 5 million digital payment users in Hong Kong, the value of digitally enabled consumer payments has grown by 17% from last year, with an average annual spending of almost HKD3,000 per user, according to Datareportal. The pandemic has also changed the habit of many people: some have been shopping online more often, and some have taken up digital payment to minimise handling cash for hygienic reason. This trend seems to be here to stay, and is certainly not limited to users of the four digital wallets mentioned above.
From the merchant's perspective, digital payment collection allows you to leave the administrative work to technology. No more worries about misplacing cash or receiving counterfeits. Forget about counting banknotes and coins at the end of every day, and trips to the bank to deposit cash. Digital payment also brings you a stronger cash flow compared to traditional credit cards, as money is transferred from the customer to you more quickly – Faster Payment System (FPS) transactions are even processed real-time.
But with the boom of digital wallets, more options for customers may also mean that merchants have to deal with a number of digital wallet providers, and to reconcile transactions made through different wallets.
The most convenient solution for the shop owner? Perhaps one device that allows you to collect payment from all major digital wallets in town, while at the back-end helps you streamline the reconciliation of bills from all these different digital wallet providers.
One device that collects AlipayHK, WeChat Pay HK, Octopus, Tap & Go, PayMe
HSBC Business Collect is a mobile payment collection solution that allows you to collect payments from customers through multiple digital channels. Simply contact HSBC to complete the installation, and with one device, you will be able to accept not only the government e-vouchers paid through AlipayHK, WeChat Pay HK, Octopus and Tap & Go, but also other digital payments using FPS, credit cards, and mobile wallets such as Apple Pay. What's more, this is the only point-of-sale payment collection platform that accepts payment from PayMe's more than 2.3 million users. If you are looking for one solution that allows you to collect payments from all mainstream digital channels while capturing the spending power of PayMe's millennial generation users – this is it.
This one-stop digital payment collection solution covers your physical store, online store, as well as in-app sales and QR code bills. The portable point-of-sales device is run on Wifi or SIM card, so you can easily bring it along if you venture out and set up an outdoor pop-up stall.
It is also integrated with some of the most popular global and local third-party e-commerce platforms. If you set up an online shop on platforms such as SHOPLINE and Boutir, you are all set to collect payments from the widest range of digital wallets. Requesting photos of ATM pay-in slips from customers is becoming a thing of the past.
Convenience to your customers and yourself – all consolidated into one account
Bringing convenience to customers does not mean sacrificing yourself.
With HSBC Business Collect, payments collected from different digital wallets through your physical and online shops will be automatically consolidated and presented in one single report, saving you tremendous time and efforts spent on reconciliation.
And don't worry about having to go through the details with each of the many digital wallet providers. There are just two contracts for you to sign – one with HSBC, and another one with the bank's third-party vendor that processes all the digital wallets for you.
Once you have installed HSBC Business Collect, you can start making use of other free resources provided by HSBC to drive more business, including automating payment requests by email and instant account reconciliation, and promoting offers on VisionGo and get new customers.
Everyone is getting ready. Don't miss the boat!
The second batch of vouchers will be distributed from Oct 1 – so time is running out! Whether you are an owner of a retail shop, food & beverage outlet or online shop, now is the time to get ahead of the game. Gear up for the HKD36 billion e-voucher scheme and future-proof your business – let HSBC help you get equipped with the most popular digital wallets in town.
Sounds good? So act now – don't miss the boat!
Apply for HSBC Business Collect now to enjoy fee waivers**
Submit completed HSBC Business Collect application by 30 June 2022 to enjoy one of the fee waivers. (Please refer to the detail here.)
For HSBC Commercial Banking customers, to set up HSBC Business Collect, please arrange a call back or call 2748 8238.
** Subject to third party vendor's terms and conditions. If there is any dispute related to the offer, the Bank is not liable for any Losses suffered.
** Subject to terms and conditions