Two cross-border payment solutions from Hong Kong to mainland China for companies | Article – HSBC VisionGo
Introduce two methods of cross-border payment from Hong Kong companies to mainland China companies and what preparations are needed for companies.
Finance · · 4 mins read
As services and trade flows between Hong Kong and mainland China keeps growing, the demand for cross-border payments between the companies in both sides is increasing. However, due to the different foreign exchange (FX) policies between the two, Hong Kong companies should learn about the payment currency, corresponding payment flows and requirements for the payments to mainland companies, and subject to the rules and requirements promulgated by mainland China authorities.
This article will introduce two methods of cross-border payment from Hong Kong companies to mainland China companies: in Renminbi (RMB) or foreign currencies, and what preparations Hong Kong companies (payors) and mainland China companies (beneficiaries) need to make respectively, for smooth payment and collection.
Method 1: RMB payment to mainland companies requires one-time registration
For the business beneficiaries located in mainland China, the most convenient possible way is to receive RMB directly. But first of all, payors need to distinguish between onshore RMB (CNY) and offshore RMB (CNH). Onshore RMB (CNY) means RMB traded within the mainland China only, while offshore RMB (CNH) refers to RMB traded outside mainland China, such as offshore RMB markets in Hong Kong, Singapore and London.
Both CNY and CNH are RMB, and there is no need of conversion between the two, since they can move freely between RMB accounts. However, Hong Kong banks can only handle CNH payment transactions and cannot support CNY. Therefore, if Hong Kong companies need to make RMB payments to mainland companies, they need to convert Hong Kong dollars or other currencies into CNH through Hong Kong banks before making the payment.
In addition, the CNY market is subject to more stringent regulation in conversion, while CNH is more freely convertible and hence takes more significant impact from volatilities in international financial markets. This is where a difference in exchange rates would occur between CNY and CNH. Business payors can refer to this article to understand more how to take advantage of the difference in exchange rates between CNY and CNH to reduce the conversion cost.
In particular, the flows of RMB payment from Hong Kong companies to mainland companies are as follows: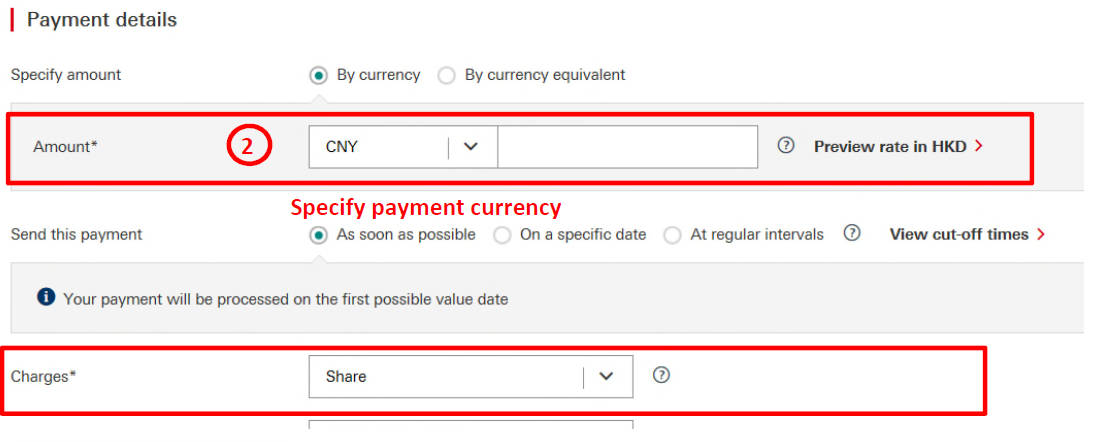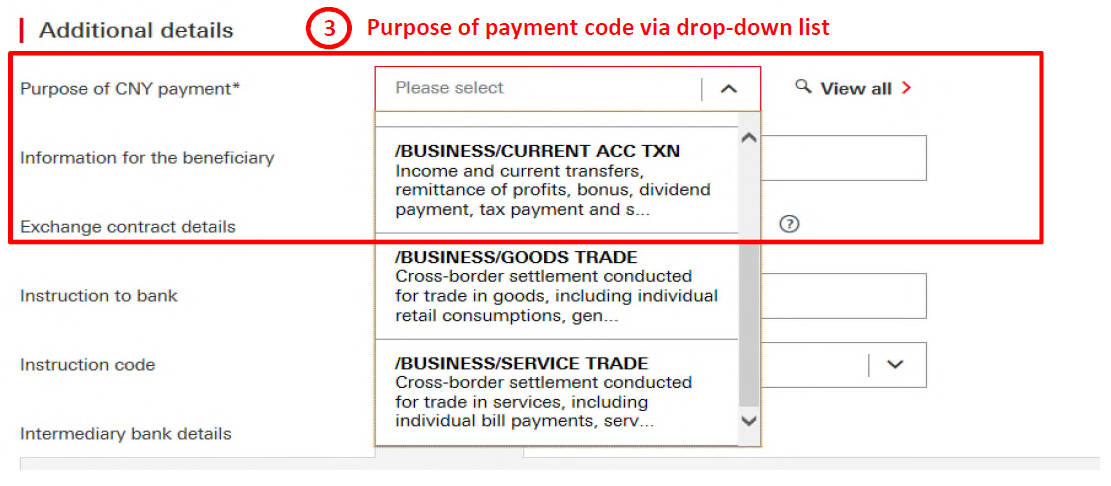 If the payor in Hong Kong and the beneficiary in mainland China have bank accounts in HSBC Hong Kong and HSBC China respectively, the general payment flow is illustrated below. The payment can be received as soon as on the same day.
Method 2: If Hong Kong companies pay more than USD 50,000 or its equivalent in foreign currency directly, mainland companies need the relevant documents such as contracts or invoices for handling
If the beneficiary accounts of mainland companies support USD or other foreign currencies, Hong Kong companies can also choose to make payments in foreign currencies directly. Although business-to-business transfers are not subject to any FX restrictions, a single payment over USD 50,000 shall be made in accordance with the relevant provisions of the Guidelines for the Foreign Exchange Administration of Trade in Services (Huifa [2013] No. 30) and its implementation rules that mainland companies shall provide contracts or invoices or other transaction documents for handling.
In general, mainland banks do not specifically require the filing of transaction documents for a single services trade FX transfer equivalent to less than USD 50,000 (inclusive). However, mainland banks will request mainland companies (beneficiaries) to submit transaction documents for reasonable examination if they have any doubt on the nature of the funds.
It is recommended that enterprises keep abreast of the latest policies and maintain good communication with domestic and overseas banks.
Frequently asked questions on cross-border corporate remittance
Is USD payment always more convenient than RMB payment?
Many people may think that the procedure of USD payment seems to be more simple, so they tend to make USD payments directly to mainland companies. In fact, when making cross-border remittances, companies should also pay attention to the exchange costs arising from exchange rate fluctuations.
For example, a Hong Kong company entered into a contract of RMB 645,000 (equivalent to approximately USD 100,000, assuming the then exchange rate of USD against CNY) with a mainland company. The mainland company has both USD and RMB accounts, and the Hong Kong company has the option to make payments in RMB or USD.
When USD against CNH is higher than USD against CNY (e.g. USD/CNH = 1: 6.5 > USD/CNY = 1: 6.45), this means that each USD can be converted into more CNH. The Hong Kong company can use less than USD 100,000 to convert into RMB 645,000 through its Hong Kong banks before making the remittance to mainland companies. Compared to the direct payment of USD 100,000, the conversion at appropriate exchange rate can lower the cost.
In summary, if the beneficiary company accepts multiple payment currencies at the same time, it is advised that the payor company should take the initiative to make the cross-border payment in the appropriate currency, which has a better exchange rate at the time. Read this article to learn more about: Using the right payment currency helps SMEs reduce remittance costs and effort.
Can Hong Kong companies pay individual bank accounts in mainland China? What are the requirements?
Prior to 2018, cross-border RMB payments remitted into mainland China were generally limited to supporting genuine business needs (including capital injection, trade in goods and services, etc). Since the beginning of 2018, the People's Bank of China has relaxed cross-border RMB business to include all current account items. This has expanded eligible corporates RMB remittances to current account transactions to individual accounts in mainland China, including salary and household remittances, or dividends to their shareholders.
How long does it take for Hong Kong companies to make cross-border payment to mainland companies? Is any handling fee needed?
In general, most banks in Hong Kong can handle and issue on the same day, and the beneficiary can receive the payment on the same day or within 2 to 3 working days. If the payment is made through a Hong Kong branch of a bank to a mainland bank account of the same group, the remittance time may be shortened.
Take HSBC as an example, if Hong Kong companies pay RMB or USD through their HSBC Hong Kong bank accounts to the bank accounts of their mainland trading partners at the Guangzhou, Shenzhen or Dongguan branch in HSBC China, the cross-border payment can be completed within two hours at the earliest. Details can be referred to: HSBC proposal for PRD/HK Payments. If the beneficiary is a bank account at other branches of HSBC China, it can also receive the payment on the same day.
The handling fees charged by different banks are not the same, but the handling fees of making the payment through online banks are generally 50-70% less than the branch charges. For example, if a HSBC Hong Kong account makes a payment to a HSBC China account through Business Internet Banking, only HKD 100 per transaction is required for handling, which is 71% less than that charged by the branches.
With immediate effect until 30 November 2021, the payment from HSBC Hong Kong business accounts to HSBC China business accounts in any city in Guangdong Province is eligible for a rebate of up to 6 months' transaction fees. Please click here for details.