Is it possible to open a business bank account without leaving your home? | Article – HSBC VisionGo
With the launch of remote account opening, business owners can save their precious time and energy by applying for a bank account remotely
Finance · · 3 mins read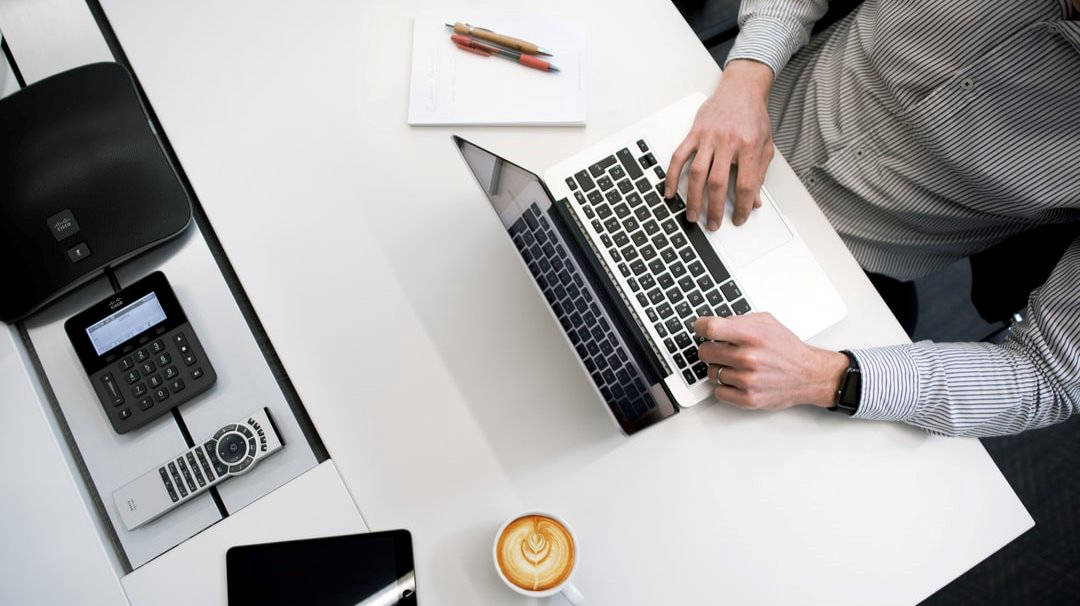 Is it possible to open a business bank account without leaving your home?
When it comes to opening a business bank account, some people may expect a complicated process, like the need to make appointments with the bank, submit numerous physical documents and the long waiting times. But now, with the recent launch of remote account opening by HSBC, business owners can save their precious time and energy by applying for a bank account remotely anytime, anywhere.
【Need a bank account? From now to 31 January 2021, enjoy 15% off the account application fee if you successfully submit an account opening request online. Click here.】
After reading this article, you will understand:
How to open a business bank account without visiting HSBC Business Centre

Processing time and services covered

Documents and information required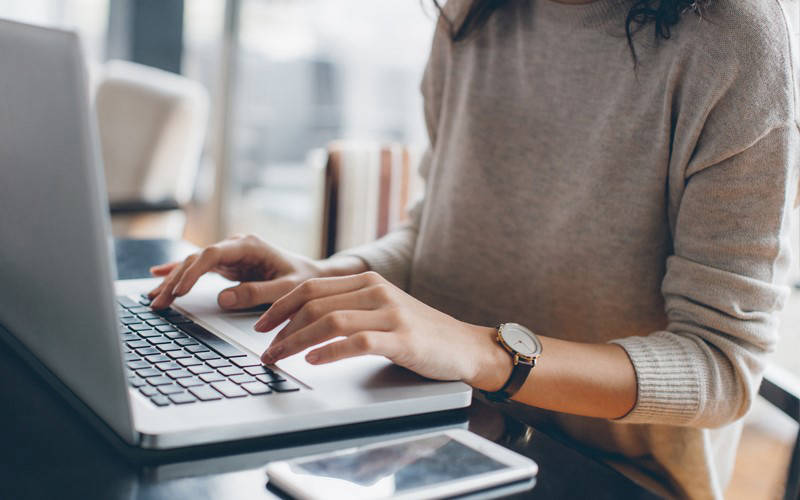 Account opening has traditionally been an offline process. Applicants have to make appointments with the bank, prepare copies of the required documents, deposit the initial fund, sign the application form and wait for the bank's approval prior to receiving the PIN and account number.
However, with the remote account opening solution, small-and-medium enterprises (SMEs) can now apply for a business account with HSBC conveniently from their home. What's more, they can complete the application process within an hour!
HSBC is the first bank in Hong Kong that enables eligible SMEs to complete the entire account opening application remotely. This new solution is initially offered to Hong Kong businesses with a simple company structure and less than three years of establishment. Eligible businesses can open a bank account without needing a face-to-face meeting or video conference, which not only can save them a trip to the branch but can also offer them the convenience of submitting required documents digitally, eliminating the need of all the paperwork.
How to open a business bank account without visiting HSBC Business Centre
When opening an account remotely, there are many more benefits than just saving a trip to the branch. Below, this article will walk through the digital account opening journey, while also highlighting key benefits along the way.
1. Saving a trip to the branch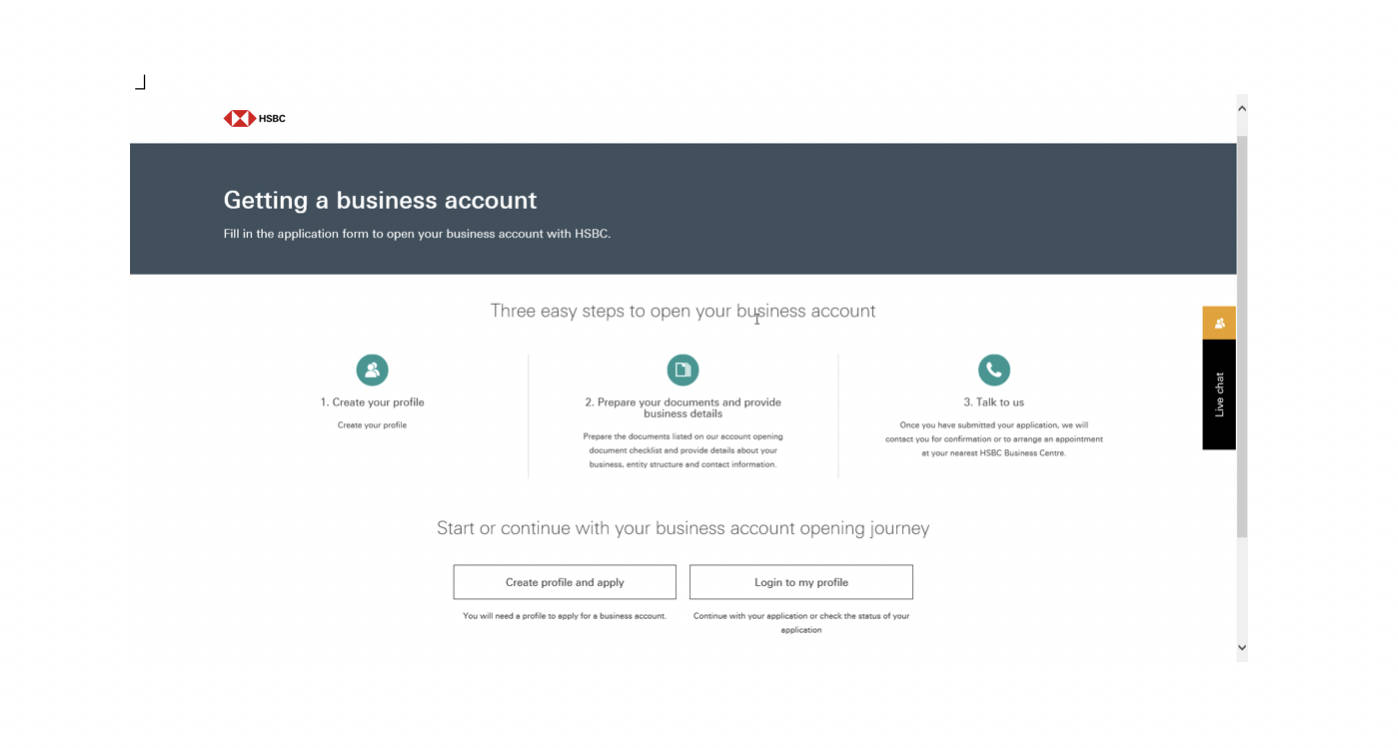 CLICK HERE to start the application journey. Applicants can complete the online account opening form and upload the digital copies of required documents.
The process is completely digital, applicants can also save the application progress at any time and come back to submit the application within 180 days.
[Tip: For the best customer experience, it is recommended to use desktop devices to complete the online application.]
2. Pay the account application fee online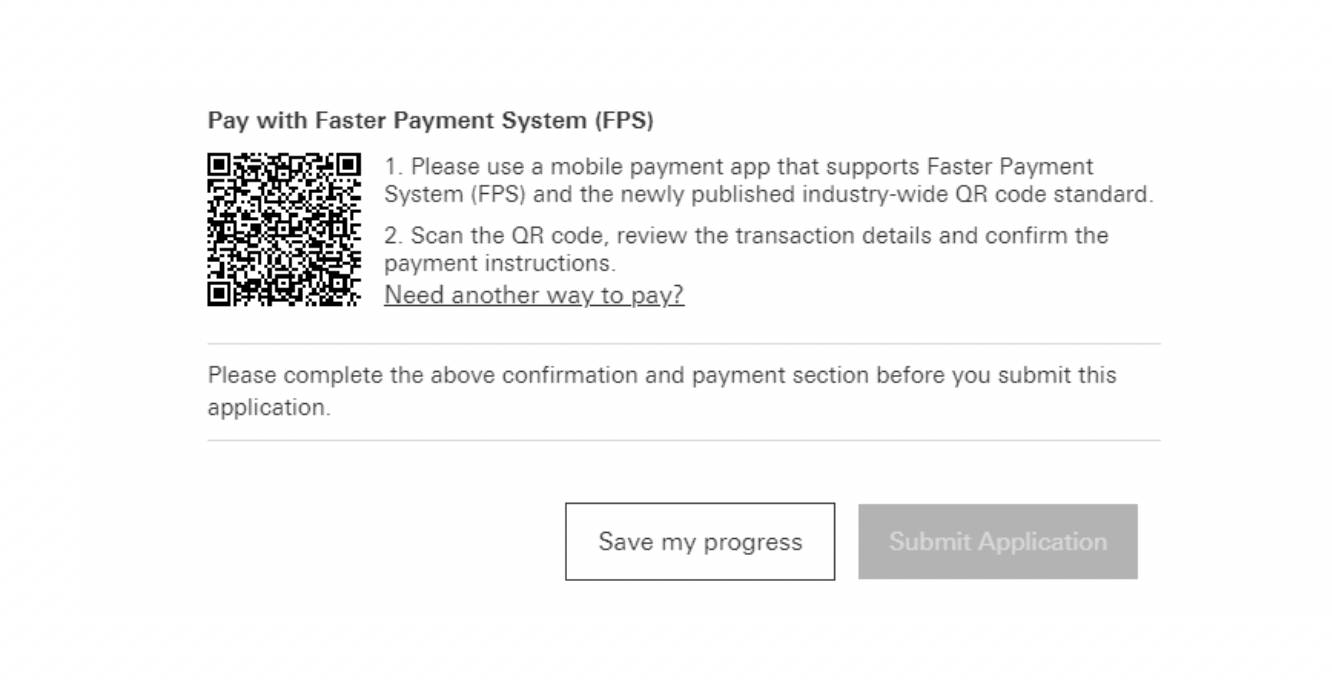 Applicants can use their own mobile payment app that supports Faster Payment System (FPS) to pay the application fee instantly. When the account is opened, applicants can immediately deposit initial fund via online transfer.
3. Receive account number instantly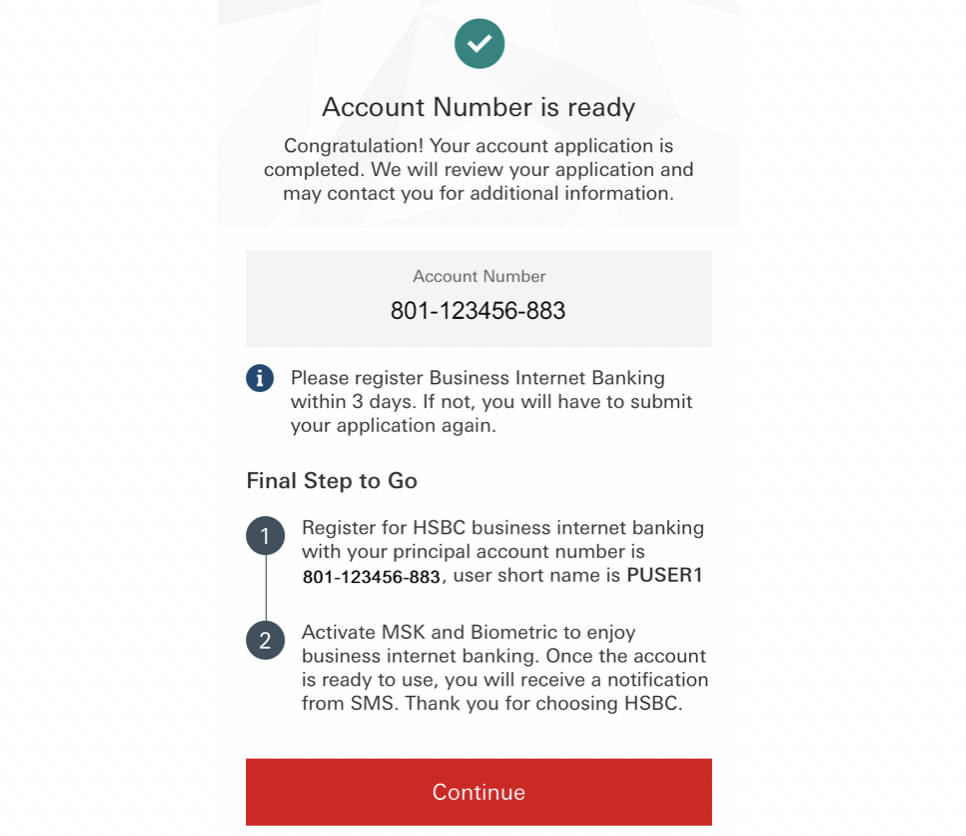 Once the account application is submitted successfully, applicants will receive the account number immediately for greater convenience.
4. Straight-through Business Internet Banking registration: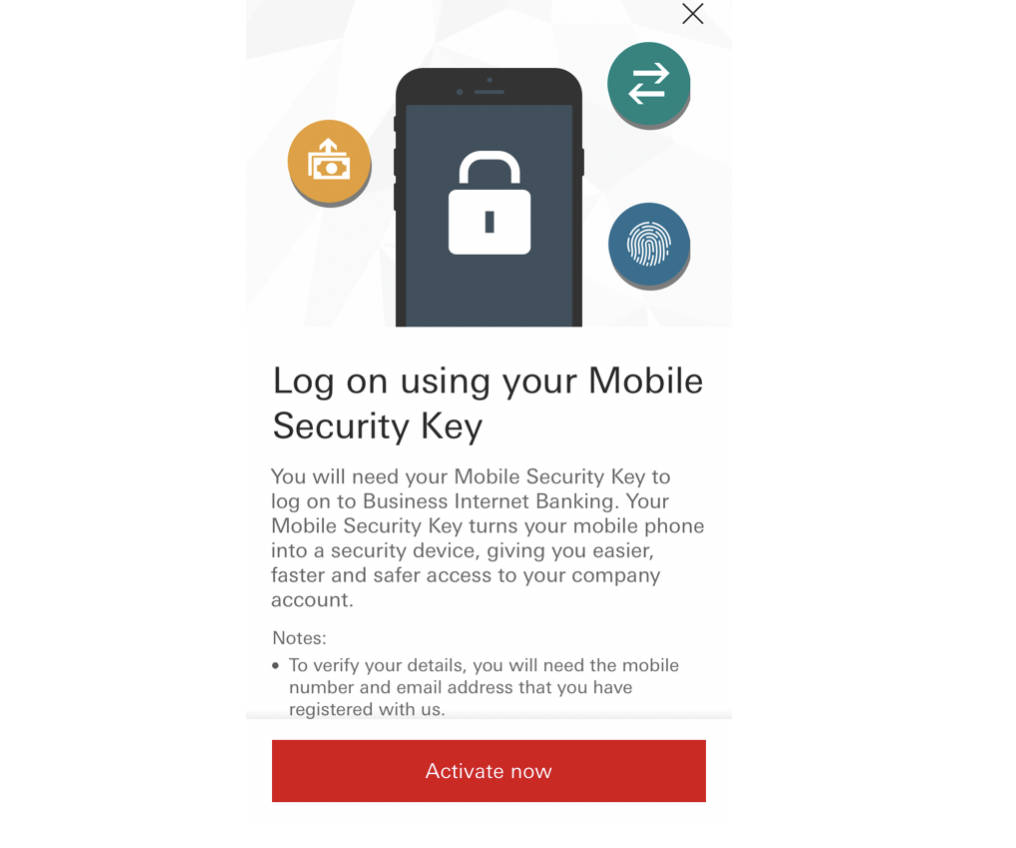 After authenticating the identity by using selfie verification technology, applicants can directly register Business Internet Banking and activate Mobile Security Key via HSBC HK Business Express mobile app. Once the account is opened, account owners will be able to manage the account online without using a physical Security Device.
In case applicants prefer to complete the application process offline, they can simply select "Apply in Business Centre" or call the service hotline to make an appointment with the Bank. Find out the nearest Business Centre here.
Applicants can seek real-time help from a customer service officer through HSBC Live Chat, an online messaging service on the Bank's digital platform.
For more details, please watch the short video below, refer to the Remote Account Opening step-by-step guide, or call the Bank at +852 2748 8288.
Processing time and services covered
HSBC remote account opening solution streamlines the application process, enabling customers to open an account within 2-3 working days and enjoy the frequently-used fundamental banking services like deposits, autopay, payments and foreign exchange straightaway. Depending on the company type and structure, the application processing time will vary.
Once the account is ready, customers can deposit funds, make or receive payments, and manage their account online via Business Internet Banking or HSBC HK Business Express mobile app.
The account owners are invited to visit HSBC Business Centre to provide their signature to activate the full suite of account services, such as credit facilities, credit cards, etc.
Documents and information required in the remote account opening process
The documents required for remote account opening are the same as opening an account at the Business Banking Centre. You can click here to view a full list of supporting documentation required by HSBC or refer to the below for the common documents required for account opening.
Please note that the below checklist is for reference only. You may be asked to provide supplementary documents.
For all business types:
Proof of identity documents
-Hong Kong ID card/Passport with a valid visa (if applicable)
Evidence of business activity documents
-Bank statement from other banks
-Business address proof
-Any business proof and business plan to highlight the core of your business
Company documents:
For sole proprietorship/general partnership

-Business Registration Certificate
-Business Registration Form at Inland Revenue Department
For a limited company

-Certificate of Incorporation (CI)
-Articles of Associations of the company (M&A)
-Incorporation Form (NNC1/NNC1G) or Latest Annual Return (NAR1)
Running a business is tough; that is why you should safeguard your finances with a trusted partner that will help you build your business on a solid foundation.
Visit business.hsbc.com.hk/accountapplication now to open your business account via an innovative, seamless and reliable process.
【Need a bank account? From now to 31 October 2020, enjoy 15% off the account application fee if you successfully submit an account opening request online. Click here.】