Retail in the U.S.: Department store bankruptcies are only the tip of the iceberg | Article – HSBC VisionGo
The Covid-19 outbreak is sending the U.S. economy into an unprecedented recession: Our central scenario anticipates a -2.7% contraction.
Perspectives · · 5 mins read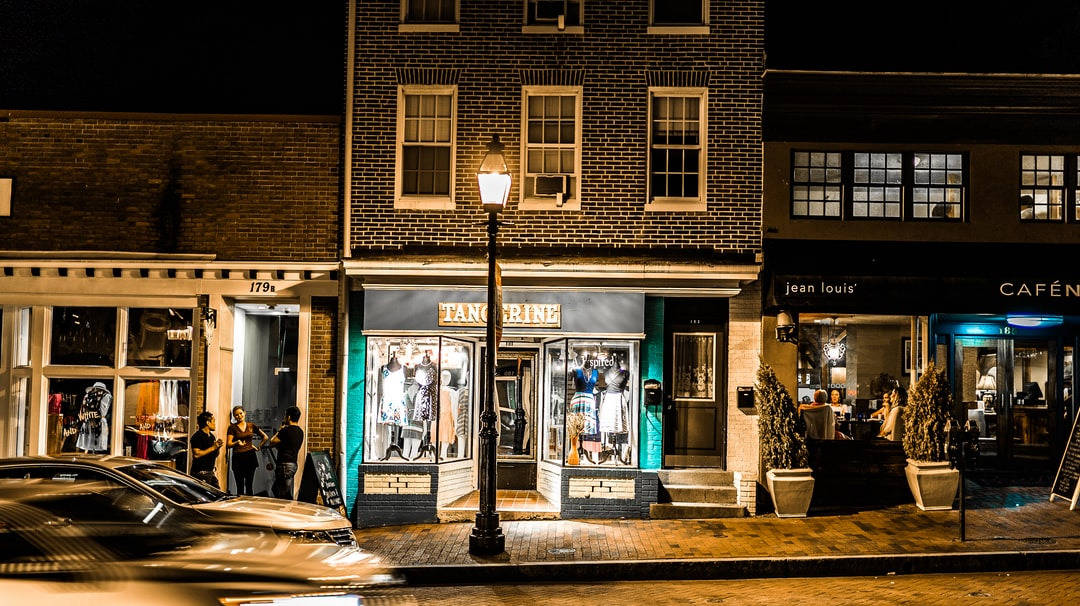 Executive Summary
The Covid-19 outbreak is sending the U.S. economy into an unprecedented recession: Our central scenario anticipates a -2.7% contraction of economic activity for the year 2020, taking into account a two-month lockdown period and a U-shaped recovery starting in Q3. The impact of the crisis on the U.S. retail industry is also unprecedented and will have lasting consequences on all segments. However, we find a clear divide between food retail, which is resilient, and discretionary retail, which is cyclical, at least for the eighteen months to come.
Food retailers will experience their best year since 2001, with annual turnover up 7%. The shift from restaurants, cafeterias, canteens, etc. to grocery and superstore aisles has provided a considerable boost to food sales under lockdown, but additional health and safety measures have a material impact on profit margins. The capacity of incumbent food retailers to capture a sizeable share of the booming online food and beverage market is good news for their top line, but detrimental to their profitability. Accounting for less than 3% of total food and beverage sales, online penetration will continue to accelerate after the crisis and become the new battleground for food retailers for good.
E-commerce growth will accelerate to 17%. The segment has benefited from a near-monopoly on non-essential goods under lockdown and is seeing an acceleration in online grocery sales. We believe the crisis will durably transform shopping habits and further accelerate the penetration of e-commerce across segments. Despite accelerating growth, the challenge for a majority of online pure-players remains largely unchanged: will turnover growth ever turn into profits?
If past years have been a so-called "retail apocalypse" for discretionary retailers, then 2020 will be hell, with aggregate turnover down -22% and no single sub-segment in green territory. Mandatory store closures have smashed store sales and we anticipate only a slow recovery in demand throughout the year amid high unemployment and depressed consumer confidence. The exit from lockdown will coincide with fierce price competition, with retailers rushing to clear their inventories, and the same additional costs food retailers had to bear to prevent a second wave of contamination.
Strategies to reduce the cash burn (fire sales, freeze in rent payments, cuts in jobs – 1.7m or 29% of discretionary retail jobs have already been cut) will not be enough for many household names that were already struggling before the crisis – bankruptcies have only just begun. Announced policy measures (bridge loans, tax breaks, checks to Americans…) will provide relief in the short term, but only businesses that were sound and viable will be capable of recovering durably. We believe that 30,000 to 50,000 stores could disappear by the end of 2021, the equivalent of 6-10% of the U.S. discretionary retail footprint.
U.S. retailers are faced with a unique combination of lockdown and economic recession
The U.S. government declared the Covid-19 outbreak a national emergency on 13 March 2020, paving the way for statewide lockdown measures affecting the vast majority of American businesses. Retail has been no exception, with only so-called essential retailers authorized to remain open – food stores and general merchandise stores selling predominantly food, as well as pharmacies and building material retailers. The immediate impact of the Covid-19 outbreak has therefore been felt very differently across the industry.
As of 18 May, restrictions on retail activities have been progressively lifted across many states. However, adding to the already challenging environment, consumer confidence has collapsed, with jobless claims soaring, the unemployment rate jumping from 4.4% in March to 14.7% in early May and, for the year 2020, an expected -2.7% contraction in U.S. GDP. The fast deterioration of the economic environment will further widen the divide between food retail, which is resilient, and discretionary retail, which is cyclical, at least for the eighteen months to come (see Figure 1).
Figure 1: Retail sales - nominal GDP growth correlation across segments (1992-2019)
The great divide: discretionary retail collapses, food retail booms, e-commerce soars
Our central scenario for the U.S. economy assumes a two-month lockdown period followed by a progressive exit from lockdown lasting another four months, sending 2020 real GDP growth down -2.7%. We combine this macroeconomic scenario with 1) evidence of retail sales performance under lockdown collected from dominant retailers and 2) historical retail sales data at segment-level to provide an estimate of the 2020 turnover of the U.S. retail industry. Our calculations point to an unprecedented divide between the main segments of the industry (see Figure 2):
Food retailers will clearly be winners in the short term, with annual sales up 7%. Early stockpiling and the progressive closure of eat-in restaurants, company cafeterias and school canteens has lifted demand for food to be eaten at home – prior to the crisis, Americans spent 55% of their food expenditure away from home, the highest share in the world. Evidence from large retailers points to a surge in sales comprised between 10% and 20% of food and fast-moving consumer goods under lockdown. We anticipate growth to decelerate with the progressive reopening of restaurants throughout the year and unemployment taking a toll on the purchasing power of Americans. Additional costs and a less favorable product mix will translate into a more moderate increase in profits (see below).
Non-essential or discretionary retailers, on the other hand, will have their worst year on record, with a 22% slump in annual revenue. A majority of stores have seen their turnover under lockdown reduced to virtually zero, with e-commerce and curbside pick-up (where allowed) providing a very limited relief to shop owners. Because they remained open under lockdown, building material and do-it-yourself retailers have fared better until now but will see lower demand in the second half of the year. We anticipate turnover to remain somewhere between -10 to -20% under their 2019 levels throughout the year across segments.
E-commerce growth is set to accelerate to 17% year-on-year. The segment enjoyed a near monopoly on many non-essential product lines under lockdown and has seen double- to triple-digit growth in online grocery orders. We believe the current crisis will boost the segment throughout the year, thanks to a widening customer base and increased purchase frequency among regular buyers. The most noticeable trend is an acceleration of e-commerce penetration in the grocery segment.
Figure 2: Forecast for 2020 retail sales across segments of the retail industry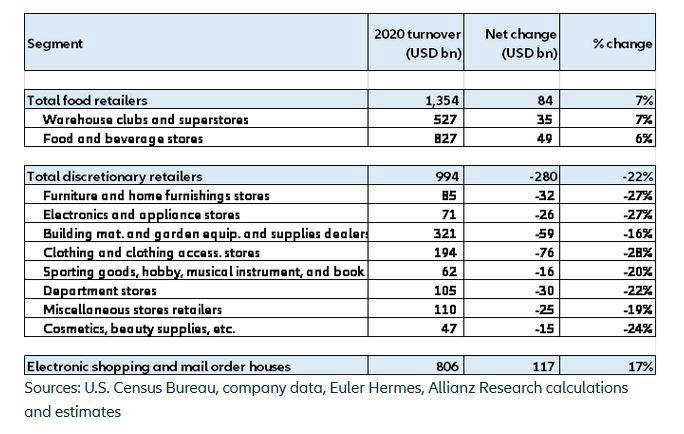 Talk to us now! In Euler Hermes, we have a global network with presence in over 50 countries. We have operational and market data to feed powerful predictive analytics and business intelligence. We are here to help you trade with confidence!
Download the full report here.
These assessments are, as always, subject to the disclaimer provided below.
FORWARD-LOOKING STATEMENTS The statements contained herein may include prospects, statements of future expectations and other forward -looking statements that are based on management's current views and assumptions and involve known and unknown risks and uncertainties. Actual results, performance or events may differ materially from those expressed or implied in such forward-looking statements. Such deviations may arise due to, without l imitation, (i) changes of the general economic conditions and competitive situation, particularly in the Allianz Group's core business and core markets, (ii) performance of financial markets (particularly market volatility, liquidity and credit events), (i ii) frequency and severity of insured loss events, including from natural catastrophes, and the development of loss expenses, (iv) mortality and morbidity levels and trends, (v) persistency levels, (vi) particularly in the banking business, the extent of c redit defaults, (vii) interest rate levels, (viii) currency exchange rates including the EUR/USD exchange rate, (ix) changes in laws and regulations, including tax regulations, (x) the impact of acquisitions, including related integration issues, and reorg anization measures, and (xi) general competitive factors, in each case on a local, regional, national and/or global basis. Many of these factors may be more likely to occur, or more pronounced, as a result of terrorist act ivities and their consequences.
NO DUTY TO UPDATE The company assumes no obligation to update any information or forward-looking statement contained herein, save for any information required to be disclosed by law.