[Know More About Business Loans] Service Trade Finance covers diversified services expenditures like advertising and marketing costs
What you will learn
What is Service Trade Finance

What industries/sectors can be covered by the Service Trade Finance

How can Service Trade Finance help SMEs to capture new opportunities
A small and medium-sized enterprise (SME) owner is probably already familiar with the challenges of obtaining a loan for their business. Particularly when there is financing required to support working capital related to intangible goods and services, such as consulting, advisory, advertising and marketing, normally these can be supported by overdraft facilities only with a higher interest rate.
Considering the above common challenges faced by SMEs, banks have come up with innovative financing solutions with an expansion in the scope of trade finance.
Nowadays the ways of doing business have evolved into dramatically different forms. Understanding that SMEs, especially those from the new economy have unique business models, banks have launched an innovative financing solution to cover various types of service expenditure, namely "Service Trade Finance".
Traditional trade finance initially refers to import and export financing solutions for businesses to improve their cash flow. This type of loan facility usually involves purchase or sale of goods. For the working capital related to non-physical goods, such as trading, SMEs can consider adopting the "Service Trade Finance" service.
Unlike traditional trade finance, "Service Trade Finance" covers non-capital intensive services fee such as advertising space purchase, advertising fee receivables, service fee receivables, legal fees, insurance and even working capital in some industries.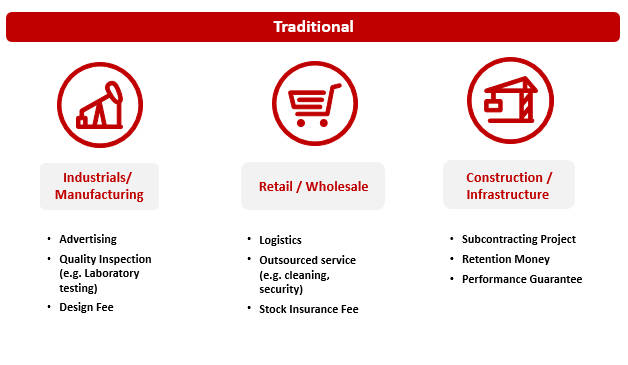 Caption: Service expenditure of traditional industries that can be covered by the Service Trade Finance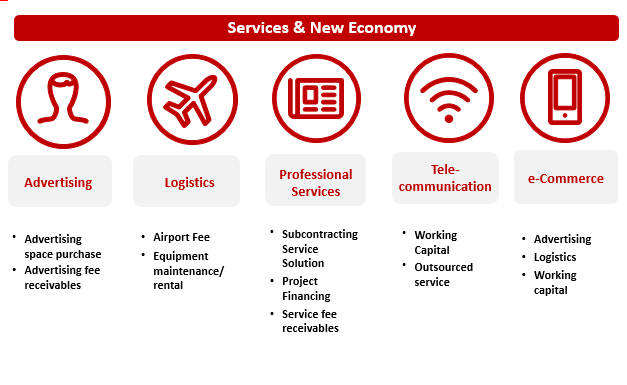 Caption: Service expenditure of service/ new economy industries that can be covered by the Service Trade Finance One of the benefits of obtaining Service Trade Finance is that companies can get finance from new business activities which previously could not be covered.
Case 1:




Sector: Laundry industry
A laundry business, which provides service to retail and institutional customers in Hong Kong, obtained loan up to USD800,000 through Service Trade Finance from HSBC.
The business has contracts with large corporates and the Government departments. Conventionally, trade finance is not an option to service providers as they usually do not involve any purchase or sale of goods. With Service Trade Finance, the business successfully obtained finance to fulfil the working capital needs for operating expenses such as salary, fuel and oil, transportation fee for the early stage of the contract before they can bill the customers.
Case 2:




Sector: Construction industry
A manufacturer, which specialises in aluminum fabricated products, obtained Service Trade Finance with facility size of USD14 million. The loan is for paying the consulting firm for advisory services on a specific project.
Traditional trade finance has long been an option for the construction industry to obtain loan on sourcing of physical raw materials. The Service Trade Finance has expanded the scope by fulfilling the diversified financing needs of a growing business. In this case, the manufacturer obtained a loan for professional services such as advisory services for business restructuring advice, advertising expense and legal fees involved in the project bidding process.
Case 3:
Sector: Digital Marketing industry
A marketing company, which specialises in providing digital marketing and advertising services, secured a USD10 million loan through Service Trade Finance. In the past, companies which provide intangible goods (which means no physical goods involved) and services, can normally only be supported by overdraft facilities with a higher interest rate.
Besides, Service Trade Finance also covers professional service fee payable. Many companies nowadays spend a lot of money on digital marketing. SMEs may have difficulties in paying huge one-off expenses for marketing purposes, which would cause the businesses to run into cash flow problems, especially when SMEs have a relatively low bargaining power in negotiating payment terms with service providers such as advertising agencies and social media companies.
Service Trade finance can help these businesses tremendously by financing their service fee payable, including advertising and marketing, risk products and consulting expenses, which account for most of the SMEs operating expenses.
Key Takeaways from the above cases
1. Depending on the specific loan product, borrowers can be buyers or sellers of goods and/or services, and finance can be provided either after, or prior to, shipment or delivery.
2. Companies who need Service Trade Finance can provide collateral to secure the loan. Companies can also consider to obtain financing through the 80% Guarantee Product (SFGS 80) under the SME Financing Guarantee Scheme (SFGS) backed by the Government.
3. Banks also look at past transactions, payment size and frequency to determine how strong and sustainable applicants and their service providers are. Borrowers with good credit standing by punctual repayment records are more likely to have favourable lending terms.
Getting the financing right is always key to business operation and development. To understand more about HSBC's flexible finance and borrowing options, visit here.
Reminder: "To borrow or not to borrow? Borrow only if you can repay!"
HSBC reserves the final decision on application approval. Please refer the terms and conditions of the application form.