A stress-free approach to FX exposure management | Article – HSBC VisionGo
Never underestimate how much you may potentially lose – or gain – from FX fluctuations.
Finance · · 4 mins read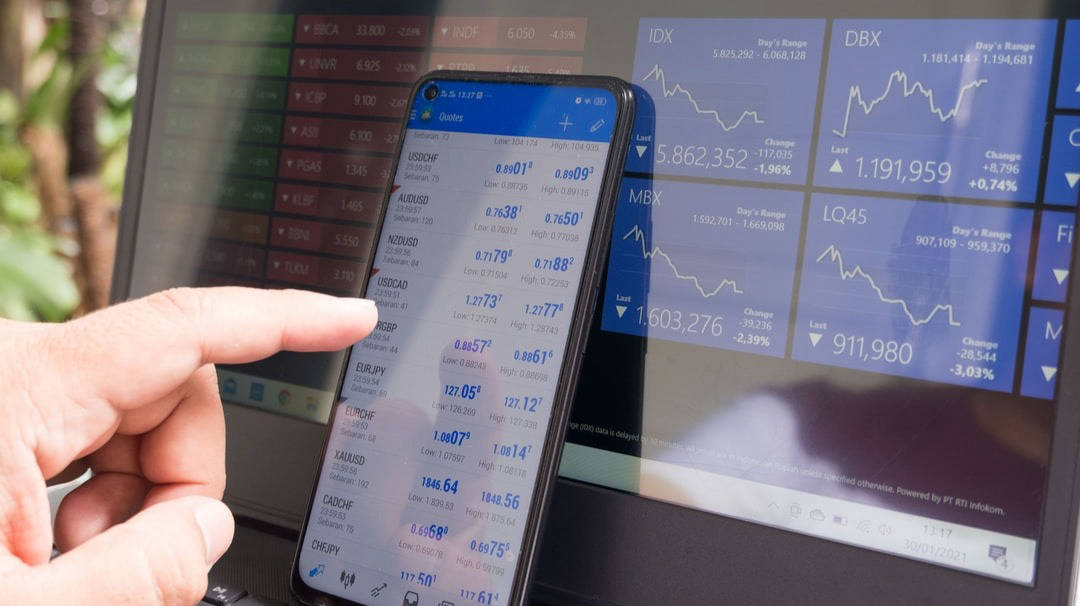 Even if your business is based in Hong Kong, you may be dealing with a number of currencies. You may be using the Hong Kong Dollar for daily operations, such as paying staff and rent. You may be paying your suppliers in mainland China in Renminbi; perhaps your buyers in the United States pay you in the US Dollar.
Have you been managing your foreign exchange (FX) exposure properly?
What is FX exposure?
FX exposure refers to the risks a business faces when it has cash flow in foreign currencies, and that it receives payments from customers in one currency and pay suppliers in another. The business is exposed to constantly fluctuating exchange rates, which may bring losses to the business.
Let's look at an example.
Mr A has an SME selling bakery equipment. He imports most of his supplies from mainland China, and his customers are mainly in the United States.
His customers pay him in USD, while he pays for the supplies in RMB. Every time he has to pay, he sells some USD and buys RMB at the spot rate at the time of exchange.
On 16 February this year, when the value of CNH against USD was at the highest in recent months, Mr A had to get ready to pay his suppliers, so he exchanged USD10,000 for RMB64,100, at 1 USD: 6.4100 CNH.[1]
If he had bought the RMB on 26 February at 1 USD: 6.5000 CNH, for every US Dollar, he would have saved RMB0.09. Put another way, because of FX, his cost for this month was RMB900 higher. It doesn't seem like a large amount of money. But in the long run, that does translate into a pretty good sum.
What can an SME do to manage FX risk?
With proper planning, an SME can reduce its FX risk by getting foreign currencies at a favourable rate, not only when an invoice is due.
If you do nothing at all to manage your cash flow in different currencies, then you are completely exposed to FX risk. But if you manage your FX like a multi-national corporation does, you may have to spend more on professional services and a treasury team, as well as higher bank charges in order to use the more sophisticated financial products and trading platforms.
What about a solution in between – one that fits an SME? Here are some simple and effective tools that are already available to you at no charge.
Let "Rate Alerts" monitor market movements for you
You've probably set up a number of reminders on your phone, such as credit card or other payment deadlines, or key dates for your children's school activities. What about one for FX too?
Here's Ms B, who sells handmade accessories. She imports raw materials from mainland China and sells her products mainly to the United States.
Ms B has set up a few FX-related instructions on HSBC HK Business Express mobile app. After logging into the app, she clicked on "More" in the bottom right corner, then the "Foreign Exchange" tab, and arrived at the page with "My Favourites" and "Rate Alerts".
Under "My Favourites", Ms B can add up to 10 currency pairs for her to monitor real-time exchange rates of these pairs easily. Out of 12 currencies available and based on her FX needs, she added the following:
Sell USD – Buy RMB: because she receives most of her revenue in USD and pays her suppliers in RMB
Sell USD – Buy HKD: because she has a small office in Hong Kong and pays her staff and rent in HKD
Sell EUR – Buy RMB, Sell EUR – Buy HKD, Sell GBP – Buy RMB and Sell GBP – Buy HKD: because she also has a small number of customers in Europe and Britain
Since Ms B does not have the time to log into the mobile app to monitor the rates by herself all the time, under "Foreign Exchange", she has also set up "Rate Alerts" with specific target rate and expiry date for each currency pair. Once the exchange rate reaches the target rate for a currency pair, Ms B will receive alerts immediately through email, SMS, WeChat or mobile app push notifications according to her settings in the HSBC Business Internet Banking notifications centre. She can then log into the mobile banking app to perform the exchange at an amount that matches her cash flow needs.
| | | |
| --- | --- | --- |
| | | |
| "My Favourites": users can monitor real-time exchange rates of up to 10 currency pairs easily. | "Rate Alerts": set up with specific target rate and expiry date. | Setting can be done on mobile device or desktop. |
Automate transactions with "FX Order"
Ms B's company maintains a certain level of USD inflow from sales, and she knows the minimum amount of RMB that she needs to spend every month. So she took one step further and set up "FX Order" for the bank to automatically convert USD10,000 into RMB when the target rate is reached.
Compared to Mr A in the example above, on 26 February when Ms B's target rate was reached, the order was executed automatically to sell USD10,000 and buy RMB65,000 at 1 USD: 6.5000 CNH. She then paused the FX Order, because by then she had got enough RMB for that month. She was able to secure sufficient RMB cash at a relatively favourable price ahead of invoice due date.
| | |
| --- | --- |
| | |
| "FX Orders": the Bank will automatically convert the amount user set when the target rate is reached. | Setting can be done on mobile device or desktop. |
Ms B can set up or delete Rate Alerts and FX Order anytime on HSBC Business Internet Banking and the mobile app, or edit FX Order. Ms B also uses the "FX Tracker", which shows all the Rate Alerts and FX Order she has set up, giving her an overview of her business's FX operations.
All these services, including Rate Alerts and FX Order, are offered free-of-charge. While FX Order is only available to the Primary User of an HSBC Business Internet Banking account, My Favourites and Rate Alerts are available to all users, including the Secondary User.
If not because Ms B has drawn up long-term plans making use of these simple tools offered by HSBC free-of-charge, she could have suffered the same FX loss as Mr A.
Small efforts, big difference
In addition to the functions introduced above, to help you make informed decisions that suit your business, you can also follow the "Daily FX Focus" here on HSBC VisionGo, which is updated every working day with highlights of the latest movements of nine key currencies against the USD and the HKD. Next to the commentary of each currency are buttons that take you directly to the page on HSBC Business Internet Banking or mobile app for you to set up "buy" or "sell" Rate Alerts for the corresponding currency. The monthly review by HSBC, "FX Matters", is also available through internet banking to give you a relatively longer-term view of the FX trends.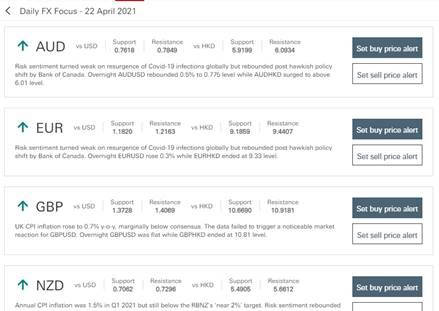 Daily FX Focus highlights latest movements, and support / resistance levels of key currencies. Content is updated every working day.
Never underestimate how much you may potentially lose – or gain – from FX fluctuations. Spending a little bit of time every month can make a big difference. So would you like to be Ms B or Mr A?
[1] https://www.investing.com/currencies/usd-cnh-historical-data