[Updated] What is the SME Financing Guarantee Scheme –Special 100% Loan Guarantee? | Article – HSBC VisionGo
[Updated Sept 16 ]What is the SME Financing Guarantee Scheme – Special 100% Loan Guarantee (SFGS100)? How can I apply for it?
Finance · · 3 mins read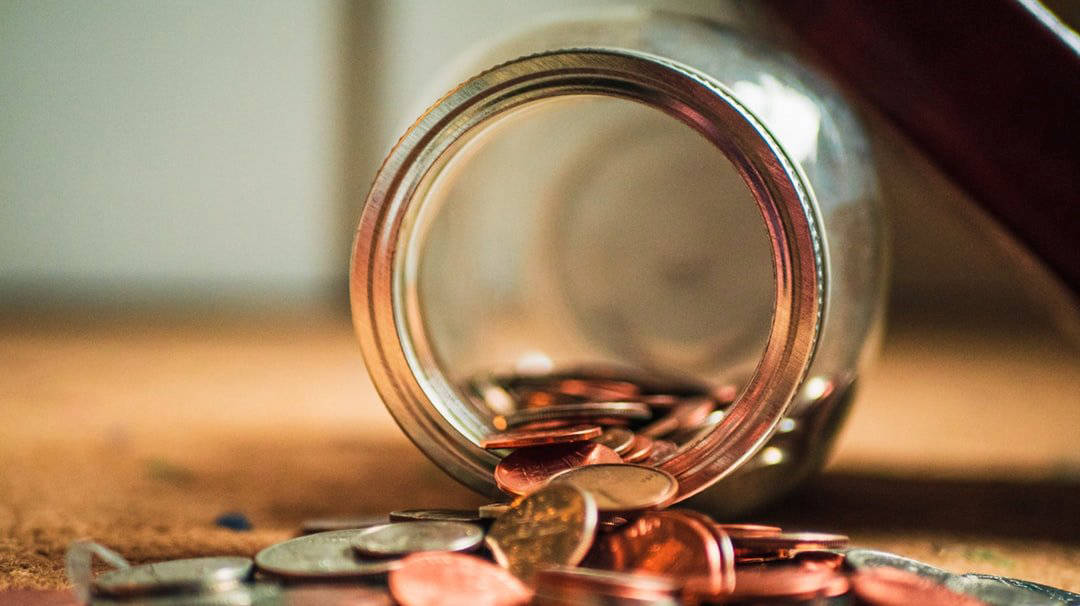 The SME Financing Guarantee Scheme (SFGS) is a financing scheme which the Government guarantees loans to help small and medium-sized enterprises (SMEs) in Hong Kong secure financing with lower interest rates. The Government updates the Scheme from time to time on account of the business environment and it has recently announced a special 100% Loan Guarantee (SFGS100) in view of the current economic downturn.
Compared with the SME Financing Guarantee Scheme - 80% Guarantee Product (SFGS80) and the SME Financing Guarantee Scheme - 90% Guarantee Product (SFGS90), SFGS100 offers the lowest interest rate and is tailor-made for SMEs suffering from reduced income to alleviate their burden of paying employee wages and rents.
As with SFGS80 and SFGS90, the HKMC Insurance Limited (HKMCI) provides guarantees on loan facilities of eligible SMEs approved by banks. With HKMCI's guarantee, banks can approve loans to SMEs having financing needs.
Under SFGS100, HKMCI provides 100% guarantee coverage on credit facilities. Therefore, the eligibility criteria of SFGS100 are different from other SFGS products. Here is more information for businesses interested in SFGS100.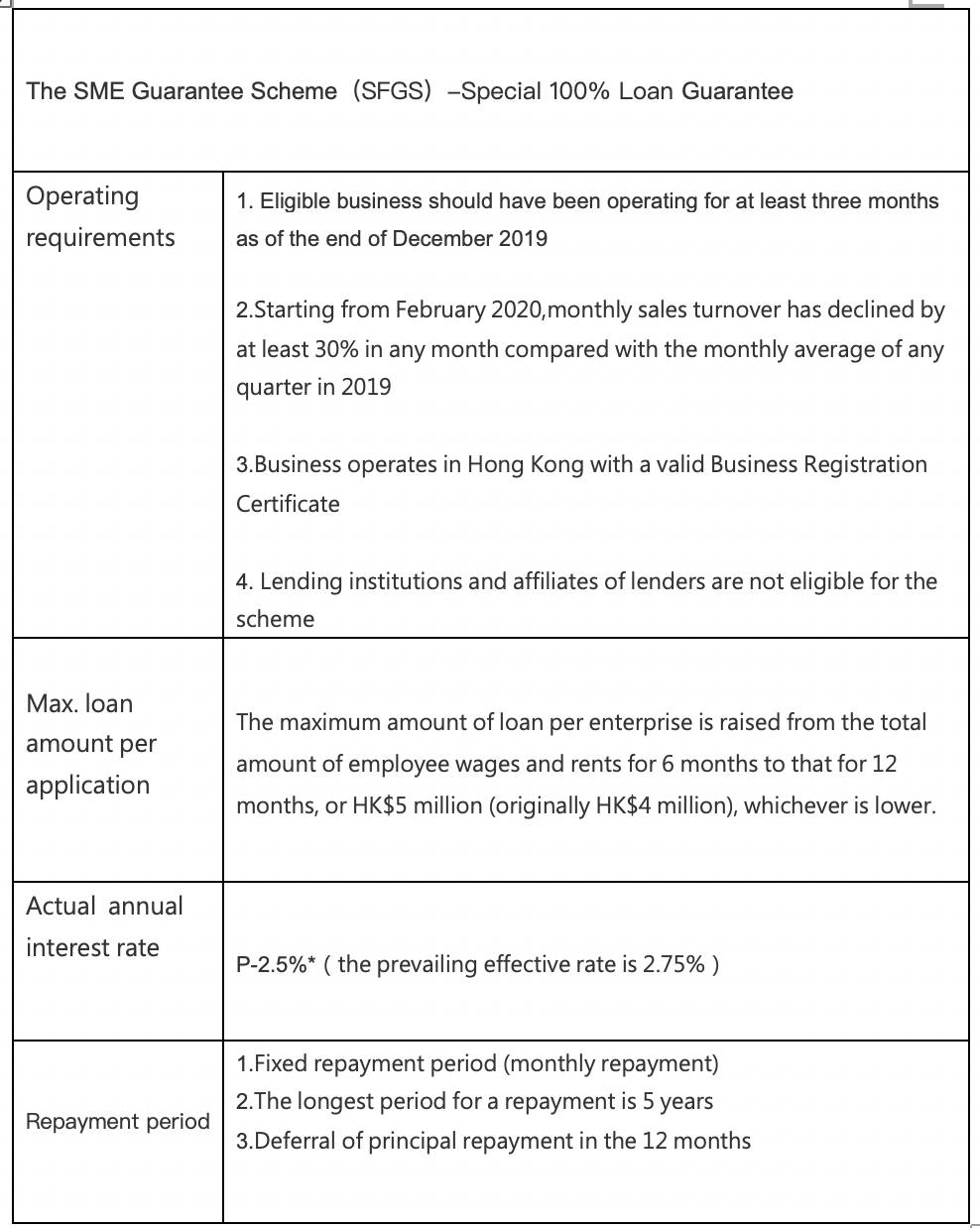 *HSBC offers its Prime Rate-2.25% which means its prevailing effective rate is also 2.75%.
Am I eligible for SFGS100?
The 100% Loan Guarantee aims to ease SMEs' pressure on paying salaries and rents under an environment of reduced income, thereby helping to minimise the demise and layoffs of SMEs. Thus, the Loan Guarantee is applicable to SMEs in all sectors.
Eligible businesses are required to have business operations in Hong Kong and be registered in Hong Kong. Listed companies, lending institutions and affiliates of lending institutions are not eligible.
Under SFGS100, eligible businesses should have been operating for at least three months as of the end of December 2019, and provide proof that monthly sales turnover has declined by at least 30% in any month since February 2020 compared with the average monthly sales of any quarter in 2019.
Details of SFGS100
SFGS100 is guaranteed by the Government, with a total loan amount of HK$70 billion. Interested businesses should file their application as soon as possible. The maximum amount of the loan per business is either the total amount of employee salaries and rents over a twelve-month period, or HK$5 million, whichever lower.
A standard interest rate of the Prime Rate minus 2.5% per annum (i.e. current interest rate is at 2.75%) will be charged by banks. The guarantee fee (i.e. premium that is charged by HKMCI) will be waived.
The maximum repayment period of a loan under the guarantee is 60 months, with an optional principal moratorium for the first 12 months as a means to lessen the immediate repayment burden of the businesses.
Am I eligible for SFGS100?
One special eligibility criterion of SFGS100 is the decline of sales turnover. The sales turnover of the business should have declined by at least 30% in any month since February 2020 compared with the monthly average of any quarter in 2019 (January-March, April-June, July-September, October-December). Therefore, it is recommended that the businesses should estimate whether the sales turnover is eligible before applying.
Assuming that the sales turnover of a business in February 2020 was HK$1.5 million, and the sales turnover in January, February and March 2019 were HK$3 million, 2.5 million and 3 million respectively, which means the average monthly sales turnover in the first quarter of 2019 was HK$2.83 million. In this case, the sales turnover has declined by 47% compared to the turnover in February this year, thus the business is eligible to apply.

What supporting documents should I submit?
Apart from the Business Registration Certificate and the applicant's ID, business should provide copies of bank statements showing a decline of 30% or more in sales turnover. As the loan amount under SFGS100 is calculated on the basis of the total amount of employee wages and rents for twelve months, businesses are required to provide all employees' MPF statements in the past three months, or a payroll record, plus a copy of the prevailing tenancy agreement and/or rental receipts (issued within the last three months). If the relevant documents are not available, the bank will normally require a declaration and will make an estimate based on other supporting documents. Please check with individual banks for more details.
How can I get an approval more easily?
The loan package is basically the same for applicants applying to any bank, as SFGS100 offers a standard interest rate. However, as with other loan financing projects, banks will review the business operation data and credit records when approving the loan. If the company's credit record is good, such as having no overdue payments exceeding two months, no bankruptcy petitions etc., the application procedure should not be complicated.
Application date
SFGS100 will receive applications starting from 20 April.
Application forms
Please visit HSBC website for all the application forms needed.
For more information on products under the SME Financing Guarantee Scheme (SFGS) and application procedures, read these relevant articles on HSBC VisionGo:
Reminder: "To borrow or not to borrow? Borrow only if you can repay!" HSBC reserves the final decision on application approval. Please refer the terms and conditions of the application form.