What you should be aware of when choosing Group Medical Insurance plans? | Article – HSBC VisionGo
Group Medical Insurance is more than just protection for your employees, it can also help you attract top talent in the market.
Finance · · 4 mins read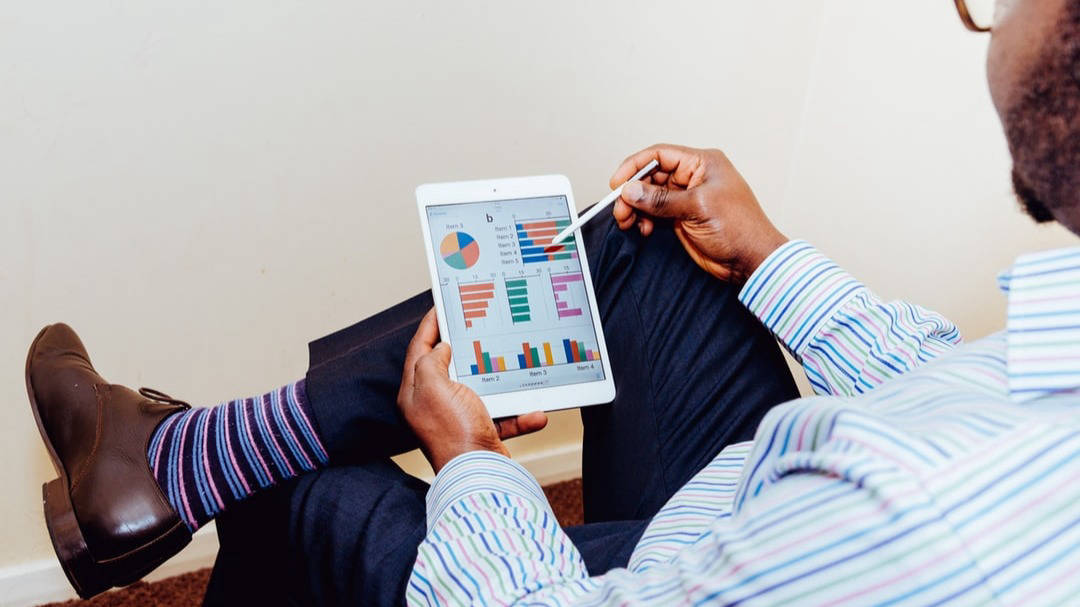 Group Medical Insurance is more than just protection for your employees, it can also help you attract top talent in the market. However, picking the right group medical insurance plan can be difficult given the many different offers/types of plans in the market and the challenges in transitioning from one plan or from one insurer to another.
After reading this article, you will understand:
Am I required to have medical insurance?
What types of group medical insurances are there?
What are the differences between standardised plan and customised plan?
Which benefits are right for my company?
What you should be aware of when switching from one insurer to another?
Companies are not required by law to have group medical insurance plans for their employees at the first place. That said, Group Medical Insurance plan provides employees with much wider medical protection against sicknesses and accidents, while Employee's Compensation Insurance only covers them against accidental injury suffered in the course of employment and the medical benefits under the ordinance is very limited. It also serves as an employee benefit for talent acquisition and retention especially when the coverage is extended to cover the employee's dependents such as employee's spouse and children.
Before purchasing any insurance plans, companies should first evaluate the actual needs of their employees and consider how to improve the company's benefits through medical insurance in order to attract talents.
For companies competing for talent, the right group medical insurance plan can be a strong pull factor helping you to differentiate your company from the competition for your preferred candidates. A company only needs to have two employees to be qualified to join group medical insurance plans. The price of group medical insurance plan could be as low as HKD 1,000 for each employee per year, which can be quite manageable.
What types of group medical insurances are there?
Group medical insurance provides different types of coverage for employees, plans can be standardised or customised according to business needs and scales. For companies that wish to simplify the selection process, they may opt for a standardised plan. On the other hand, larger companies like HSBC tend to have a more customised plan for their employees' specific needs. The needs of company and its employees play a vital role in determining what plan is right for you and your company.
What are the differences between standardised plan and customised plan?
A customised plan is a plan with all benefits and classes designed according to the customer specifications, the price is also quoted by the insurer depending on different cases. Meanwhile a standardised plan means a plan with standard benefits and premiums offered by the insurer, which is not customised according to specific needs, and more than one company can join the same plan. Standardised plan comes with a certain level of flexibility in terms of the benefits combination and such, any customer meeting the specific requirement will be eligible to apply.
The differences between a customised plan and a standardised plan can be generalised into the below factors: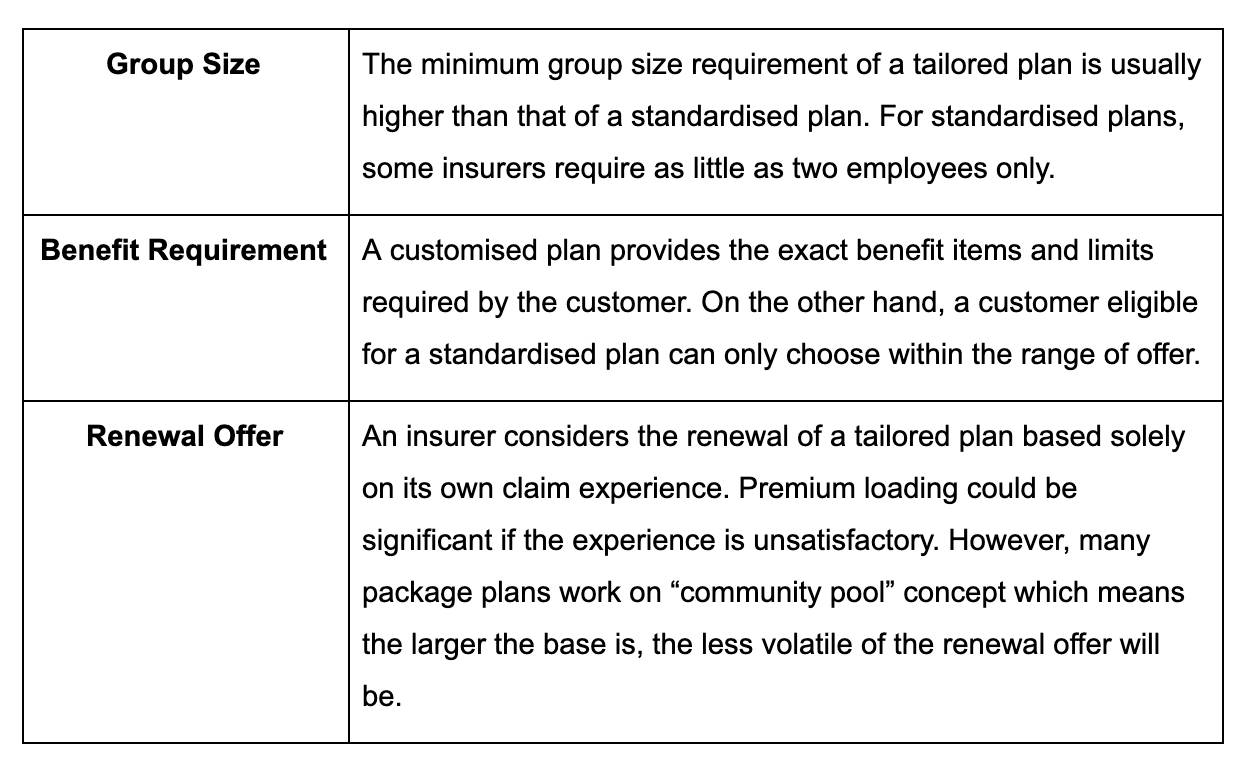 What benefits are right for my company?
Before digging into "the right benefits", you should first understand the general items and benefits included in a group medical insurance plan. For both tailored or package plan, hospitalisation benefit is normally the basic section which each insured member needs to enroll. There are usually options for benefit levels (e.g. from general ward to private ward), or the customer can choose a mix of levels to differentiate employee benefits according to their grades and seniority. Other than hospitalisation benefit, Group Medical Insurance plan generally also includes general practitioner, specialist and Chinese herbalist and bonesetters, supplementary major medical, dental, maternity benefits and more.
There are several things to consider when choosing group medical insurance plan. Aside from price, you should also consider the needs of employees, scale of company and the nature of your business.
Firstly, companies should understand the needs of their employees. The main focus should be avoiding duplications in coverage (if possible). For example, your group medical insurance plans may cover dental services, but if almost all of your employees' personal insurances already cover dental, then you may wish to adjust your group medical plan to cover something else instead of dental.
Second, the price of group medical insurance plans in the market varies, which is a result of the coverage offered, such as different types of hospital wards that can be used, different specialty services and the age of the employees. Companies should evaluate their financial capacity and choose a plan that fits their budget.
Lastly, when choosing group insurance plans, you may also consider the nature of the business. For example, for businesses exposed to higher risks (e.g. construction), an insurance plan with wider coverage is recommended.
What should you be aware of when switching from one insurer to another?
Normally, companies rarely switch from one insurer to another, unless there is a rapid change in company size (rapid growth or mass layoffs) or if the process of insurance claim has become unacceptable, such as lengthy processing time or unable to claim reimbursement.
If you have decided to change your current insurer, the most important consideration is to make sure that the areas covered in the original plan is also covered in the new plan. If there are any gaps in coverage, employees will need to rely on their personal medical service to fill the gap.
Companies should also be aware of the effective date if you have decided to change the insurer. Before changing your insurance plan, you may need to source alternatives quoted from the market, study the alternatives and make the final decision, communicate with your employees about the decision made and allow time for preparing the required documents, such as medical cards for cashless network services. The effective date of each insurance plan differs from every company, in order to transit to the new plan seamlessly, we recommend companies to spare sufficient time for the whole process prior to the end of the effective date of the current plan.
Insurance companies will organise briefing sessions for employees to explain the content and coverage of the new insurance plan. Companies should arrange a time slot when everyone is free to participate, so as to make sure every team member understands the transition and the content of the new plan.
HSBC launched Group 100+ Medical Plan which can help solve many of the issues mentioned above. Other than different tiers of plans for you to choose from, the plan also offers a seamless transition from current plan, ensuring full coverage during the transition period.
Group 100 Plus Medical Plan is underwritten by AXA General Insurance Hong Kong Limited ("AXA"), which is authorised and regulated by the Insurance Authority of the Hong Kong SAR. AXA will be responsible for providing insurance coverage and handling claims. The Hongkong and Shanghai Banking Corporation Limited ("HSBC") is registered in accordance with the Insurance Ordinance (Cap. 41 of the Laws of Hong Kong) as an insurance agent of AXA for distribution of general insurance products in the Hong Kong SAR.
For more information, please contact HSBC at our official website: https://www.business.hsbc.com.hk/en-gb/hk/generic/contact-us
Or call Commercial Banking Service Hotline: +852 2748 8288