[Updated on 16 Sept] Which one should I apply for - SFGS 100, SFGS 90 or SFGS 80? | Article – HSBC VisionGo
The Government introduced three guarantee products under the SME Financing Guarantee Scheme (SFGS). Which one should a company choose?
Finance · · 1 mins read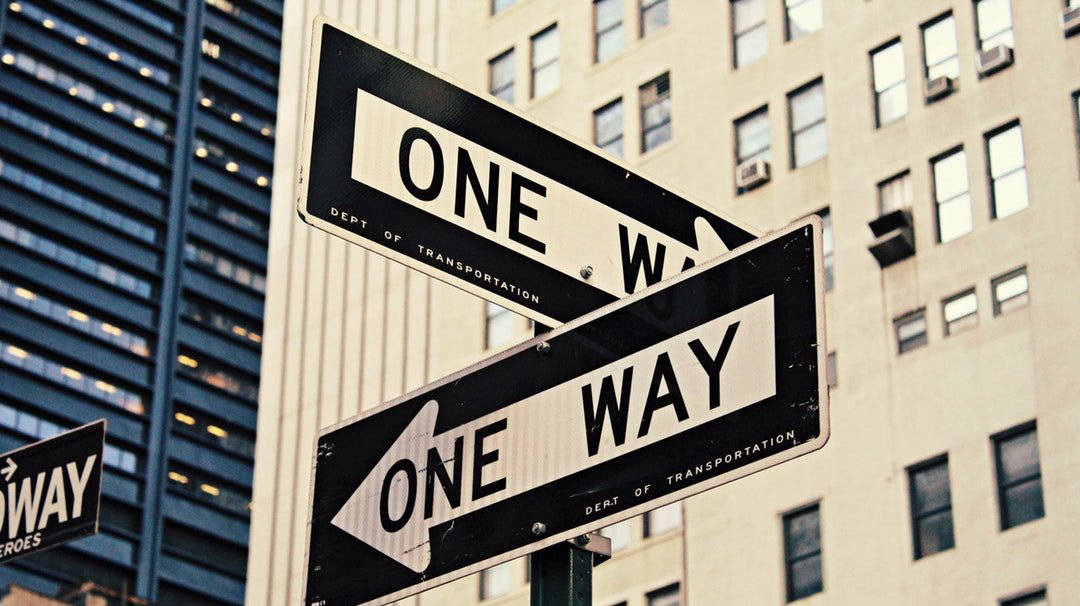 [Updated on 16 Sept]
Details of the SFGS100 has been updated in Mid Sept, including:
The maximum amount of loan per enterprise under SFGS100 is raised from the total amount of employee wages and rents for 6 months to that for 12 months, or HK$5 million (originally HK$4 million), whichever is lower.
The maximum repayment period of the guaranteed loans is increased from 3 years to 5 years.
The total guarantee commitment is raised from $50 billion to $70 billion.
Borrowers with existing loans under the Special 100% Loan Guarantee can apply to their lending banks for increasing the loan amount and/or extending the repayment period if they deem appropriate, and in general no additional supporting documents will be required. The enhanced scheme will start receiving applications from 18 September.
The Government introduced the SME Financing Guarantee Scheme (SFGS) to guarantee loans to help small and medium-sized enterprises (SMEs) in Hong Kong secure financing with lower interest rates. There are three loan products provided under SFGS, namely:
The 80% Guarantee Product (SFGS 80) – launched in 2011

The 90% Guarantee Product (SFGS 90) – launched in 2019

The Special 100% Loan Guarantee (SFGS 100) – announced in early 2020
What are the differences between these products? Which one should a company choose?
【Need a bank account? From now to 31 January 2021, enjoy 15% off the account application fee if you successfully submit an account opening request online. Click here.】
Loan amount
Each of the products has a different maximum loan amount, of which SFGS 80 provides the largest amount: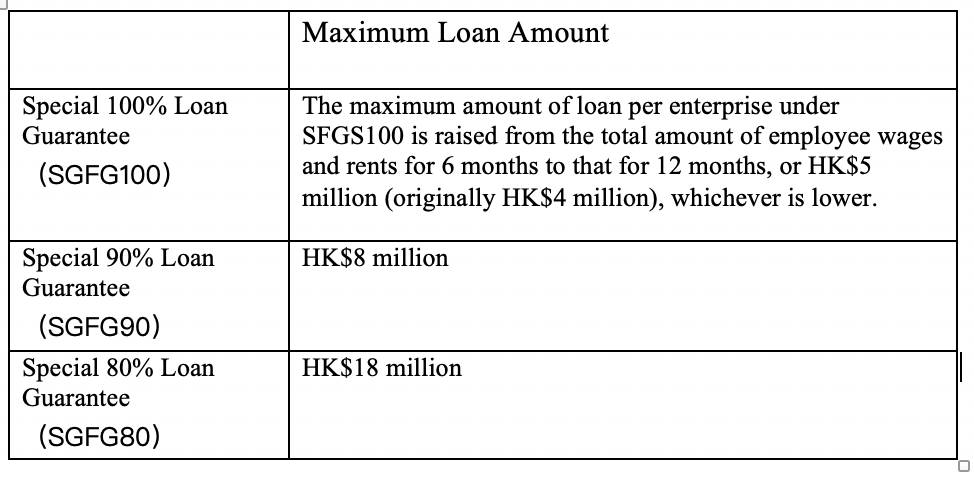 Targeted segment
Three products can be applied by businesses across almost all industry (except Money Lender). However from the loan amount and application requirements, we can see that each product serves a different SME segment.
Eligibility
All products require applicants to be businesses* registered and operating in Hong Kong. As the targeted segments are different, certain eligibility criteria of each product var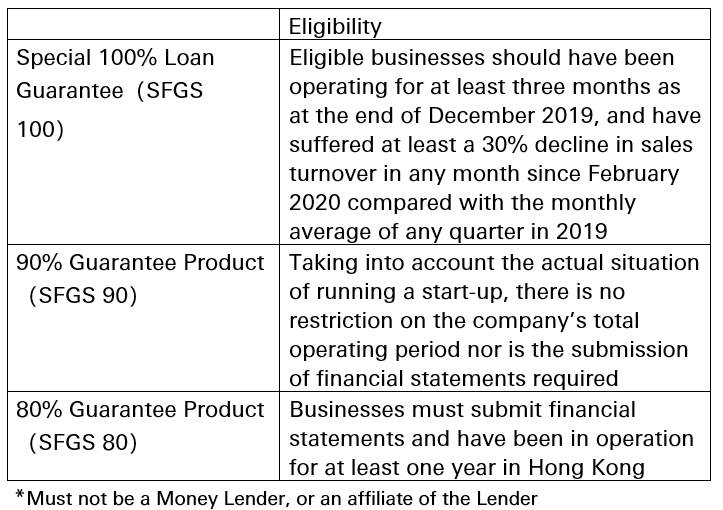 Overall Interest Rate
Generally speaking, the interest rate of Guarantee Products under SME Financing Guarantee Scheme (SFGS) will be lower than other loan products offered in the market. Businesses need to pay the guarantee fee to the HKMC Insurance Limited (HKMCI), who will guarantee the loan for the businesses, so that banks can offer lower interest rates to them. Among the three Guarantee Products, SFGS 100 offers the lowest rat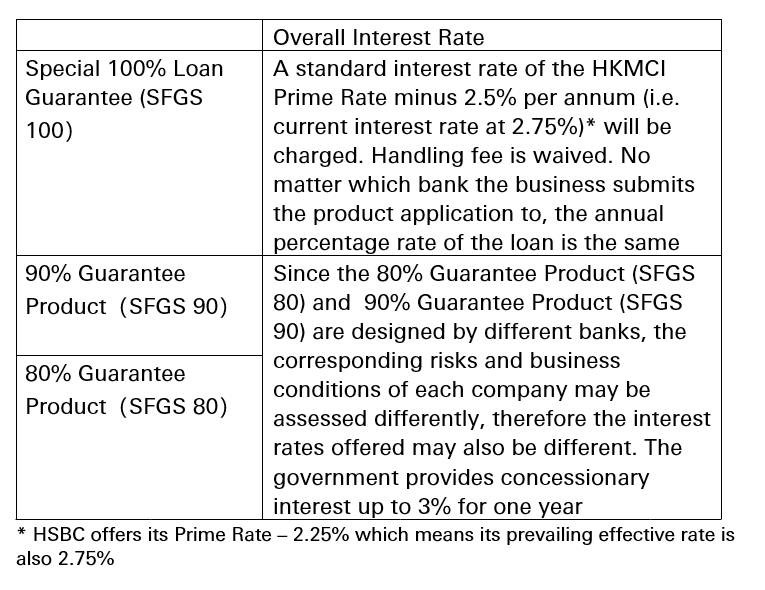 In addition, according to SFGS latest update on 29 May, the Government will provide interest subsidy for the 80% and 90% guaranteed loans, with the amount of subsidy subject to a cap of 3%.
Guarantee fee
All three loan products are guaranteed by HKMCI, however the guarantee fee of SFGS 100 is waived.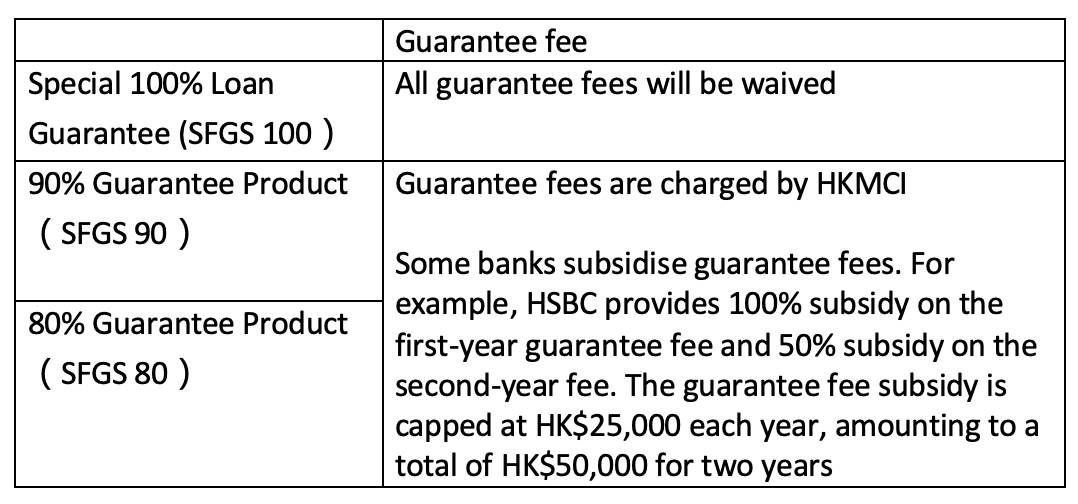 For more information on products under the SME Financing Guarantee Scheme (SFGS) and application procedures, you may read relevant articles on HSBC VisionGo:
Reminder: "To borrow or not to borrow? Borrow only if you can repay!"
HSBC reserves the final decision on application approval. Please refer the terms and conditions of the application form.