#WhyESGMatters The path to 'net-zero' emissions | Article – HSBC VisionGo
In this issue of #WhyESGMatters, we look at how Big Oil companies' climate ambitions are shifting in favour of net-zero emission strategies.
Lifestyle · · 8 mins read
The path to 'net-zero' emissions
In a year which has seen major disruption for global oil & gas markets due to COVID-19, the issue of the energy transition and climate has continued to rise up the agenda. Meanwhile, the consequences of global warming from increasing greenhouse gas (GHGs) emissions continue to be felt through extreme weather events such as floods, storms, droughts, and bushfires. Therefore, managing the transition to cleaner energy is likely to be the defining issue for the oil companies in the coming years.
In this issue of #WhyESGMatters, we look at how Big Oil companies' climate ambitions are shifting in favour of net-zero emission strategies. We also discuss the progress of emerging market oil companies towards low-carbon energy production.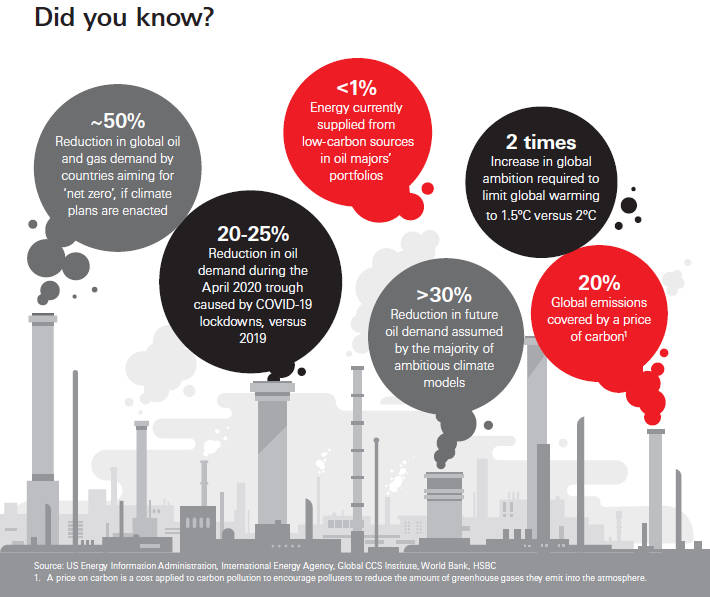 1. What is 'net zero' and why is it topical?
Moving to 'net zero'
The latest climate science (from the UN's climate science body) tells us that emissions need to be reduced significantly and eventually hit 'net zero' (see Box 1) if we are to limit global warming to within 1.5°C and stave off the most severe consequences of climate change. This requires a rapid shift of direction to that of a much lower carbon trajectory (Chart 1).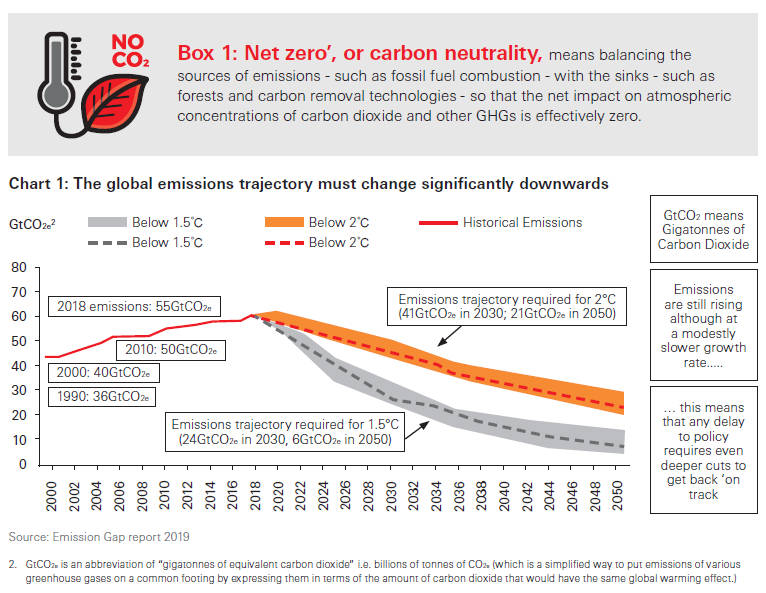 Net-zero pledges on the rise
This year, a number of countries/regions have announced plans to go net zero by mid-century including the European Union (by 2050), China (by 2060), South Korea (by 2050) and Japan, which in October 2020 brought forward its carbon-neutral pledge to 2050. In his climate plan (see Box 2), US president-elect Joe Biden pledged for the US to also be net zero by 2050, with power generation to be net zero by 2035. Current pledges mean that around two-thirds of global emissions and 75% of world GDP could be set for full decarbonisation by mid-century.
Businesses too are responding with their own climate pledges. One example is Microsoft, which is seeking to become carbon-neutral by removing its entire historical corporate emissions footprint through measures to reduce its carbon dioxide and remove additional atmospheric CO2. But with emissions from fossil fuel energy (oil, gas and coal) accounting for around two-thirds of the total globally, oil & gas companies are key to the energy transition. Some of these companies have made public long-term ambitions to drastically cut the carbon intensity of their energy supply or even to become net zero.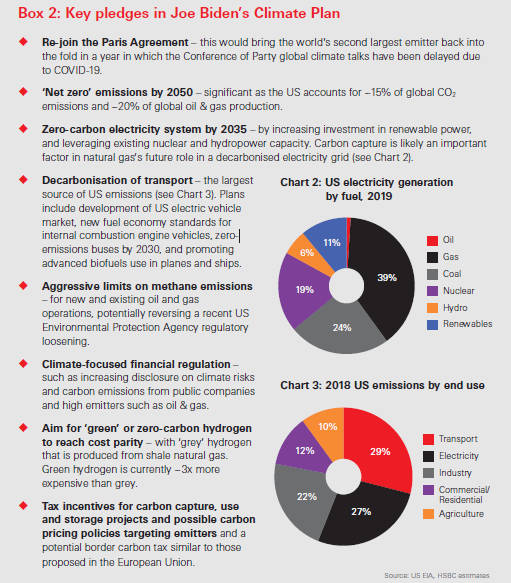 2. How is Big Oil responding?
A recent wave of Big Oil climate strategy announcements means ambitions are raised across the board to decarbonize in Europe, with US companies now further behind. We look at the nature of these long and short-term plans laid out by Big Oil companies to meet climate aims.
Long-term plans
The six European oil majors, for example (BP, Eni, Equinor, Shell, Repsol and Total), now all plan for their operations to be net zero by 2050 or earlier. These companies also have long-dated strategies that cover the total lifecycle of carbon emissions, including those from downstream customer activities (such as transportation) as well as their own production.
Strategies to reduce emissions include a range of approaches, such as lowering emissions from the energy supply, new absolute emission reductions targets, investment in new energies, actions on specific sources of GHG emissions (e.g. natural gas flaring or methane leaks), and deploying technologies at scale (carbon capture and storage, biofuels, and renewable energy).
Climate ambition for US oil majors currently lags behind that of their European counterparts, and despite Mr. Biden's climate plans, we do not think overnight change is likely. However, two large US-based producers – ConocoPhillips and Occidental – recently announced 'net zero' emissions aims, firsts for US operators, indicating some level of change is underway.
Shorter-term milestones
Visible change in the energy mix will likely be gradual given the long-term nature of the strategies, and indeed, a majority of companies do not even have shorter-term (e.g. 2025/30) milestones against their 2050ambitions. But some institutional investor groups still are pushing to see long-term net-zero plans backed up by meaningful emissions reductions within five years.
However, some company ambitions are set to fundamentally change the shape of significant industry players within 10 years. BP, for example, has laid out 2025/30 markers towards its 2050 aims which entail a ~40% cut in oil & gas volumes and aggressive build-out of renewable energy (see Chart 4) – both of which imply an aggressive, and unprecedented, redeployment of capital.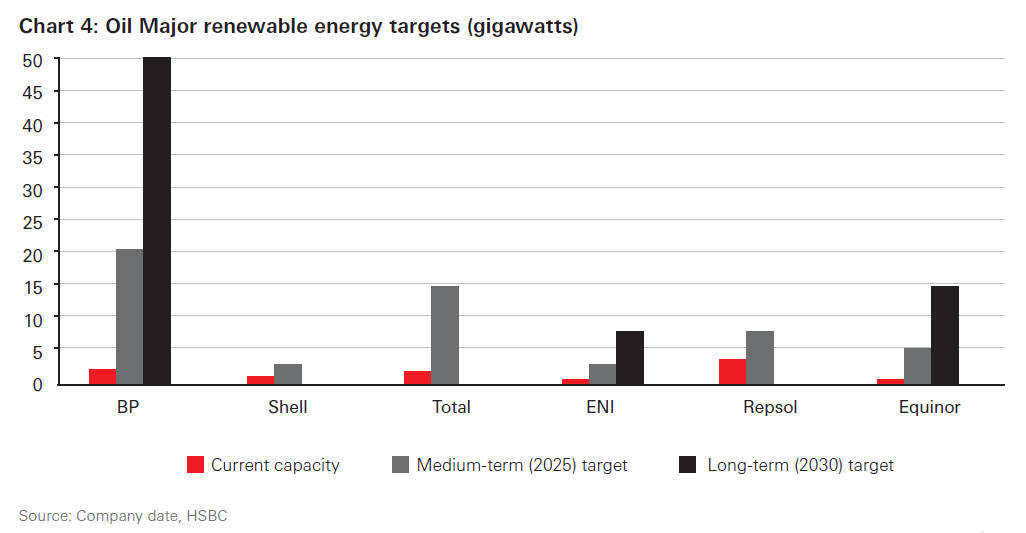 3. The emerging market role in oil & climate
We now shift focus to emerging market (EM) oil and gas operators by looking at a sample of 13 companies (see Chart 5) that collectively account for ~30% of global oil & gas production. Our grouping of companies includes the world's largest oil exporters and natural gas producers, among others:
CNOOC (China), Ecopetrol (Colombia), Gazprom (Russia), Lukoil (Russia), Novatek (Russia), ONGC (India), PetroChina (China), Petrobras (Brazil), PTTEP (Thailand), Reliance Industries (India), Rosneft (Russia), Saudi Aramco (Saudi Arabia), Sinopec (China)
Less transformational change
We found, in general, EM producers are planning for less transformational change in the coming decades than some of their developed market (particularly European) peers, with the most common approaches being a combination of upstream (i.e. exploration and production) emissions efficiency and increasing gas in the production mix. This is a set of measures favoured by European majors around five years ago and is the current strategy of some large US majors. However, disclosure on climate-related information topics is also improving in EM companies, but is not without gaps in places – such as downstream emissions reporting.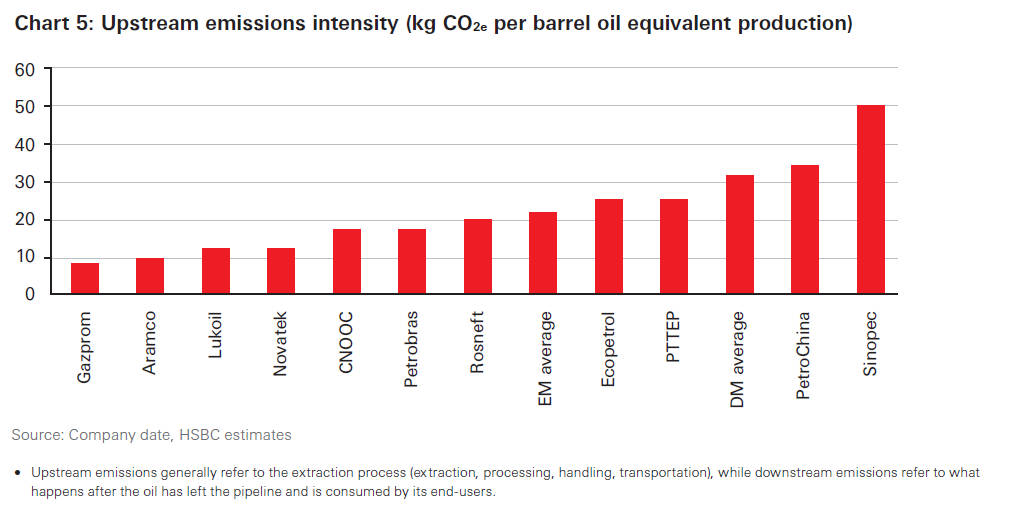 Broader implications
We also note that EM producers can, importantly, be accountable to differing stakeholders (shareholders or state ownership) or have more ingrained relationships with state objectives – e.g. directly contributing to national finances, energy policy goals or climate objectives. For example, as the world's largest energy importer, China's recent announcement of its intention to reach net carbon neutrality by 2060 could spell significant change for not only Chinese producers but also oil & gas exporters to the Chinese market.
4. Conclusion
The move towards net-zero emissions is gaining traction from shareholders, policy makers and civil society to combat the effects of global warming. More major oil and gas companies, particularly in Europe, have made public long-term ambitions to drastically cut the carbon intensity of their energy supply mix, or even become net zero – signalling the potential for significant future changes in their nature. The energy transition poses challenges, but also opportunities for those that can successfully transition while enhancing shareholder value.
Disclosure appendix
This document is for information purposes only and it should not be regarded as an offer to sell or as a solicitation of an offer to buy the securities or other investment products mentioned in it and/or to participate in any trading strategy. Information in this document is general and should not be construed as personal advice, given it has been prepared without taking account of the objectives, financial situation or needs of any particular investor. Accordingly, investors should, before acting on it, consider the appropriateness of the information, having regard to their objectives, financial situation and needs. If necessary, seek professional investment and tax advice.
Certain investment products mentioned in this document may not be eligible for sale in some states or countries, and they may not be suitable for all types of investors. Investors should consult with their HSBC representative regarding the suitability of the investment products mentioned in this document and take into account their specific investment objectives, financial situation or particular needs before making a commitment to purchase investment products.
The value of and the income produced by the investment products mentioned in this document may fluctuate, so that an investor may get back less than originally invested. Certain high-volatility investments can be subject to sudden and large falls in value that could equal or exceed the amount invested. Value and income from investment products may be adversely affected by exchange rates, interest rates, or other factors. Past performance of a particular investment product is not indicative of future results.
HSBC and its affiliates will from time to time sell to and buy from customers the securities/instruments (including derivatives) of companies covered in HSBC Research on a principal or agency basis.
Whether, or in what time frame, an update of this analysis will be published is not determined in advance.
1. This report is dated as at 3 December 2020.
2. All market data included in this report are dated as at close 2 December 2020, unless a different date and/or a specific time of day is indicated in the report.
3. HSBC has procedures in place to identify and manage any potential conflicts of interest that arise in connection with its Research business. HSBC's analysts and its other staff who are involved in the preparation and dissemination of Research operate and have a management reporting line independent of HSBC's Investment Banking business. Information Barrier procedures are in place between the Investment Banking, Principal Trading, and Research businesses to ensure that any confidential and/or price sensitive information is handled in an appropriate manner.
4. You are not permitted to use, for reference, any data in this document for the purpose of (i) determining the interest payable, or other sums due, under loan agreements or under other financial contracts or instruments, (ii) determining the price at which a financial instrument may be bought or sold or traded or redeemed, or the value of a financial instrument, and/or (iii) measuring the performance of a financial instrument.
Disclaimer
This document is prepared by The Hongkong and Shanghai Banking Corporation Limited ('HBAP'), 1 Queen's Road Central, Hong Kong. HBAP is incorporated in Hong Kong and is part of the HSBC Group. This document is for general circulation and information purposes only. This document is not prepared with any particular customers or purposes in mind and does not take into account any investment objectives, financial situation or personal circumstances or needs of any particular customer. HBAP has prepared this document based on publicly available information at the time of preparation from sources it believes to be reliable but it has not independently verified such information. The contents of this document are subject to change without notice.
This document is not investment advice or recommendation nor is it intended to sell investments or services or solicit purchases or subscriptions for them. You SHOULD NOT use or rely on this document in making any investment decision or decision to buy or sell currency. HBAP is not responsible for such use or reliance by you. You SHOULD consult your professional advisor in your jurisdiction if you have any questions regarding the contents of this document.
You SHOULD NOT reproduce or further distribute the contents of this document to any person or entity, whether in whole or in part, for any purpose. This document may not be distributed to the US, Canada or Australia or any other jurisdiction where its distribution is unlawful.
Hong Kong
In Hong Kong, this document is distributed by HBAP to its customers for general reference only. HBAP is not responsible for any loss, damage or other consequences of any kind that you may incur or suffer as a result of, arising from or relating to your use or reliance of this document. HBAP gives no guarantee, representation or warranty as to the accuracy, timeliness or completeness of this document.
Miscellaneous
Notwithstanding this document is not investment advice, please be aware of the following for the sake of completeness. Past performance is not an indication of future performance. The value of any investment or income may go down as well as up and you may not get back the full amount invested. When an investment is denominated in a currency other than the local currency of an investor, changes in the exchange rates may have an adverse effect on the value, price or income of that investment. Where there is no recognised market for an investment, it may be difficult for an investor to sell the investment or to obtain reliable information about its value or the extent of the risk associated with it.
This document contains forward-looking statements which are, by their nature, subject to significant risks and uncertainties. Such statements are projections, do not represent any one investment and are used for illustration purpose only. Customers are reminded that there can be no assurance that economic conditions described herein will remain in the future. Actual results may differ materially from the forecasts/estimates. No assurance is given that those expectations reflected in those forward-looking statements will prove to have been correct or come to fruition, and you are cautioned not to place undue reliance on such statements. No obligation is undertaken to publicly update or revise any forward-looking statements contained in this document or any other related document whether as a result of new information, future events or otherwise.
The Hongkong and Shanghai Banking Corporation Limited, its affiliates and associates and their respective officers and/or employees, may have interests in any products referred to in this document by acting in various roles including as distributor, holder of principal positions, adviser or lender. The Hongkong and Shanghai Banking Corporation Limited, its affiliates and associates, and their respective officers and employees, may receive fees, brokerage or commissions for acting in those capacities. In addition, The Hongkong and Shanghai Banking Corporation Limited, its affiliates and associates, and their respective officers and/or employees, may buy or sell products as principal or agent and may effect transactions which are not consistent with the information set out in this document.
© Copyright 2020. The Hongkong and Shanghai Banking Corporation Limited, ALL RIGHTS RESERVED. No part of this document may be reproduced, stored in a retrieval system, or transmitted, on any form or by any means, electronic, mechanical, photocopying, recording or otherwise, without the prior written permission of The Hongkong and Shanghai Banking Corporation Limited.