#WhyESGMatters Cities and Climate Change | Article – HSBC VisionGo
In this issue of #WhyESGMatters, we discuss the potential impacts of climate change on cities, how they should respond and some financial instruments.
Management · · 9 mins read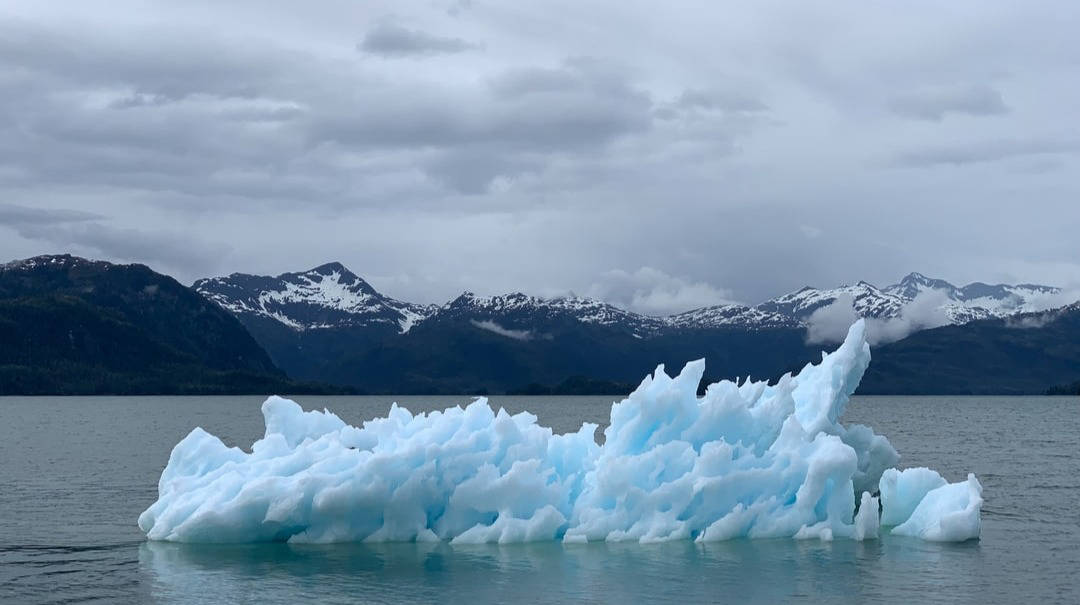 Cities and Climate Change
The United Nations Climate Change Conference (COP26) ended with modest progress across most climate issues. Yet one fact became clear: cities around the world must work towards radical decarbonisation as atmospheric emissions continue to accumulate.
Urban areas consume 78% of the world's energy and produce more than 60% of greenhouse gas (GHG) emissions, and likely to feel the impact of climate change more acutely and disproportionately. Coastal cities face the direct challenge of flooding, tsunamis and hurricanes, while some cities may face extreme temperatures, droughts and water scarcity.
In this issue of #WhyESGMatters, we discuss the potential impacts of climate change on cities and how they should respond. We also highlight some of the financial instruments that will help fund mitigation and adaptation efforts in urban areas.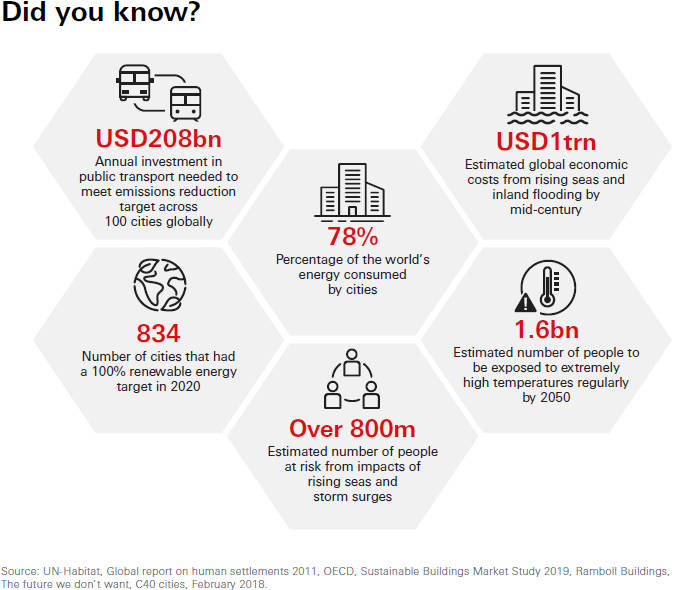 1. How does climate change affect urban areas?
For cities, climate change is likely to mean higher temperatures, higher sea levels, air pollution, and destruction of property following extreme events. It could also affect the water and food supply, and the overall health and prosperity of people living in urban areas.
Rising temperatures
Global warming increases the earth's surface temperature. Today, nearly one-third of the world's population is exposed to life-threatening levels of extreme heat for at least 20 days each year[1]. With temperatures soaring, higher energy demand is likely as more household devices are needed to beat the heat.
The cooling industry consumes up to 30% of global electricity and generates 8% of GHG emissions worldwide. By 2030, the number of air conditioners is projected to increase by two-thirds from the two billion units currently installed, and electricity demand for cooling in buildings could also rise by as much as 50% globally[2].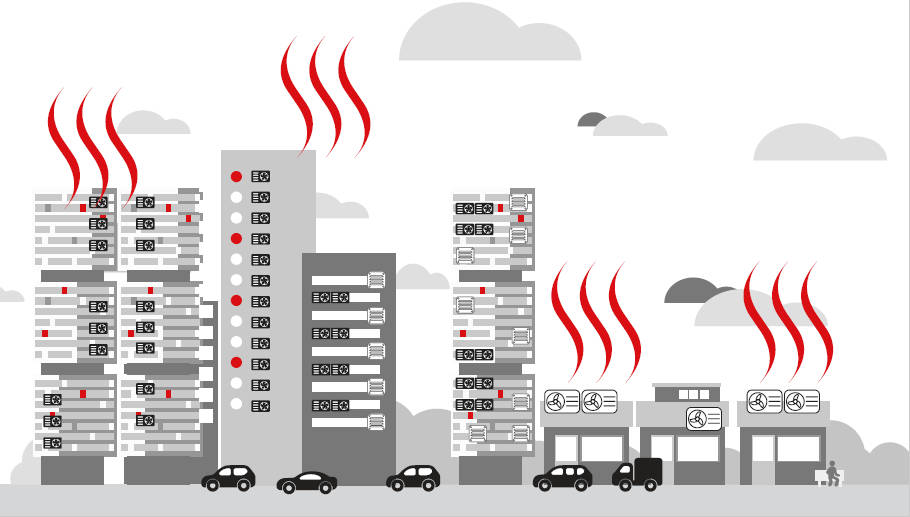 [1] The future we don't want, C40 cities, February 2018.
[2] IEA (2020), Cooling, IEA, Paris
Water: too much or too little?
Higher sea levels due to climate change increase the chances of flooding and tsunamis for coastal cities (Figure 1), putting assets at risk. Asia and Northern Europe may see heavy precipitation, putting dwellings at a high risk of coastal and high tide flooding, and tsunamis. But equally, if climate change makes weather more erratic, some regions, such as the Middle East and South America, may face extreme droughts and water shortages.
Less rainfall, a lack of renewable water resources, and poor urban management or pollution could lead to water scarcity. This may become more pressing if water demand increases by 20-30% by 2050 (as expected by the UN). In emerging markets, cities such as São Paulo, Bangalore, Cairo and Beijing, could all face water stress in the coming years. In developed markets, Tokyo, Miami and London could experience similar issues, with the Greater London Authority suggesting that the latter could have serious water shortages by 2040.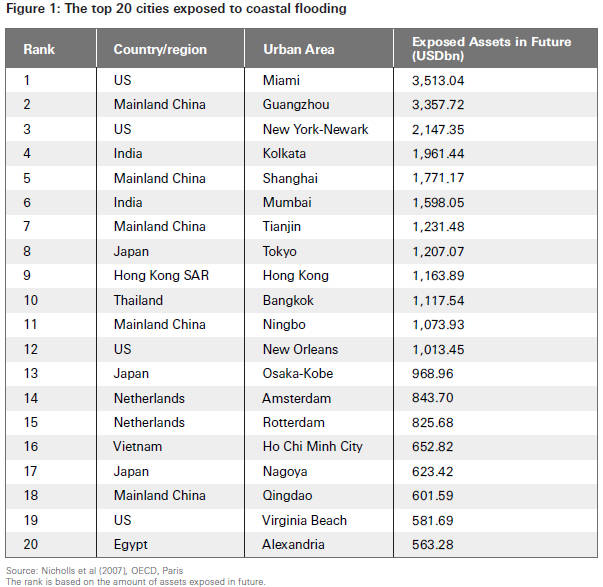 2. What should cities do?
The C40 initiative – a global network of city mayors aiming to tackle climate change – will be key to sharing best practices and driving the discussions further in the coming years. While much of the climate policy is set at a national level, local authorities are responsible for policy that could be far more important. Cities need to react to the threat of climate change. The solutions are two-fold: mitigation and adaptation.


In many cities, after decarbonisation of the power sector, transport and building emissions still remain the most significant. To date, over 1,000 cities and regions globally have committed to being net zero, covering over one-fifth of the global urban population. Much more must still be done, however, if the world is to avoid hitting crucial climate tipping points.
Urban climate mitigation will centre on transport policy – more public transport, greater incentives to walk or cycle, and cutting down on the use of petrol or diesel-powered vehicles. There are many ways to do this, but Amsterdam and Copenhagen may offer a blueprint for providing the infrastructure to make cycling and walking easier, safer, and more appealing (see Figure 2).
While electric and autonomous vehicles will likely play a large part in cutting urban emissions, there's still a significant role for public transport. In fact, if global warming is to stay on track at 1.5°C, public transport in cities across the world will need to double in capacity by 2030 (this was also announced by the C40 initiative during COP26). The exact type of transition will depend on city size, geography and wealth, but investment is needed across the board.

During COP26, world leaders were called on to ensure that "everyone living in urban areas has safe, frequent, affordable and accessible public transport within a 10-minute walk from their home[3]". In addition, USD208bn (equivalent to 0.2% of global GDP) was requested as annual investment to upgrade public transport in 100 C40 member cities, accounting for 25% of the global economy.
Greener buildings will also be a key part of the story – urban buildings, including homes, workplaces, schools, and hospitals, are responsible for an estimated 40% of global emissions – as will changing the energy mix that fuels cities. A step towards a more circular city could help too, cutting waste and increasing re-use and recycle rates. For example, Berlin aims to replace hard surfaces with green space and water-permeable surfaces, to combat the urban heat island effect and enable the city to adapt to heavy rains. Planting rooftops with mosses or grasses increases the ability to absorb water and creates an evaporative cooling effect.

While an estimated 95% of global funding on climate action goes to mitigation, there's a growing acceptance of the need to prioritise adaptation. That is, adapting to become more resilient in the face of the climate risks that will invariably arrive. Some cities have already taken action to adapt to a changing climate.
At COP26, the goals for adaptation were focused on financing resilience, habitat protection and restoration, and communication. It was agreed that adaptation finance flows will reach USD40bn by 2025 ("at least double" of 2019 levels) – to help meet global needs.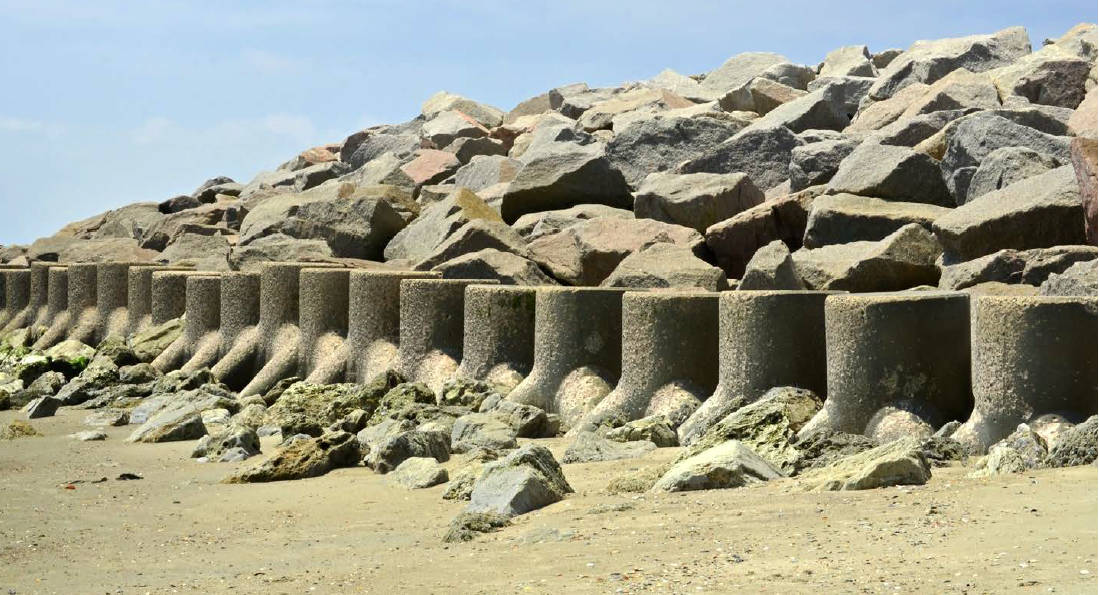 3. Where will the funding come from?
To tackle the substantial environmental and social challenges created by climate change, we expect cities to step up their investment in coming years. This is clearly a significant funding cost – and while much of it will have to come from national governments, both private-public partnerships and capital markets are likely to play a role.
Green, social, sustainability and sustainability-linked bonds, collectively known as 'labelled bonds', are currently USD2.2trn in size. Three green project types stand out as being particularly suited to funding cities: clean transportation, climate change adaptation, and green buildings. Social bonds could also be aimed at providing affordable housing and are well suited to funding cities. Issuers could be sovereigns, regional authorities, or even corporates, especially those in real estate.

Green, social and sustainability bonds also offer two advantages: visibility of the underlying projects and cheaper funding – the 'greenium', or spread at which green bonds trade to non-green bonds, is on average slightly negative.
Source: HSBC calculations, Dealogic, Bloomberg (as of 26 November 2021)
Other financial instruments used for environmental, social and overnance (ESG) activities are highlighted below: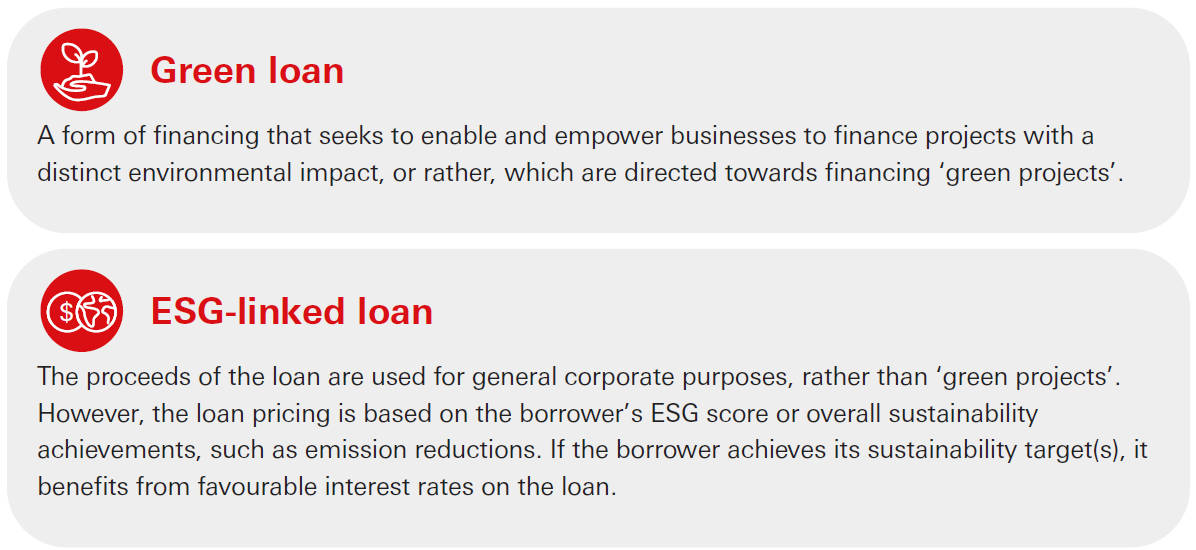 Several large real estate investment trusts have tapped the green bond market over the past year, drawing new, sustainability-focused investors to commercial real estate debt and raising money to finance Leadership in Energy and Environmental Design (LEED)-certified development projects. LEED is the internationally known rating system and symbol for sustainable and environmentally sound buildings.
4. Conclusion
Cities and climate change go hand in hand. While the focus of climate policy has been at the national level in recent months, what the world's urban areas do is likely to be just as important, if not more so. And with a more geographically mobile labour force, making cities work better – with improved public transport and lower levels of pollution – will be key to attracting people to live in them in years to come.

Disclosure appendix
Important disclosures
This document is for information purposes only and it should not be regarded as an offer to sell or as a solicitation of an offer to buy the securities or other investment products mentioned in it and/or to participate in any trading strategy. Information in this document is general and should not be construed as personal advice, given it has been prepared without taking account of the objectives, financial situation or needs of any particular investor. Accordingly, investors should, before acting on it, consider the appropriateness of the information, having regard to their objectives, financial situation and needs. If necessary, seek professional investment and tax advice.
Certain investment products mentioned in this document may not be eligible for sale in some states or countries, and they may not be suitable for all types of investors. Investors should consult with their HSBC representative regarding the suitability of the investment products mentioned in this document and take into account their specific investment objectives, financial situation or particular needs before making a commitment to purchase investment products.
The value of and the income produced by the investment products mentioned in this document may fluctuate, so that an investor may get back less than originally invested. Certain high-volatility investments can be subject to sudden and large falls in value that could equal or exceed the amount invested. Value and income from investment products may be adversely affected by exchange rates, interest rates, or other factors. Past performance of a particular investment product is not indicative of future results.
HSBC and its affiliates will from time to time sell to and buy from customers the securities/instruments (including derivatives) of companies covered in HSBC Research on a principal or agency basis.
Whether, or in what time frame, an update of this analysis will be published is not determined in advance.
Additional disclosures
1. This report is dated as at 09 December 2021.
2. All market data included in this report are dated as at close 08 December 2021, unless a different date and/or a specific time of day is indicated in the report.
3. HSBC has procedures in place to identify and manage any potential conflicts of interest that arise in connection with its Research business. HSBC's analysts and its other staff who are involved in the preparation and dissemination of Research operate and have a management reporting line independent of HSBC's Investment Banking business. Information Barrier procedures are in place between the Investment Banking, Principal Trading, and Research businesses to ensure that any confidential and/or price sensitive information is handled in an appropriate manner.
4. You are not permitted to use, for reference, any data in this document for the purpose of (i) determining the interest payable, or other sums due, under loan agreements or under other financial contracts or instruments, (ii) determining the price at which a financial instrument may be bought or sold or traded or redeemed, or the value of a financial instrument, and/or (iii) measuring the performance of a financial instrument.
Disclaimer
This document is prepared by The Hongkong and Shanghai Banking Corporation Limited ('HBAP'), 1 Queen's Road Central, Hong Kong. HBAP is incorporated in Hong Kong and is part of the HSBC Group. This document is for general circulation and information purposes only. This document is not prepared with any particular customers or purposes in mind and does not take into account any investment objectives, financial situation or personal circumstances or needs of any particular customer. HBAP has prepared this document based on publicly available information at the time of preparation from sources it believes to be reliable but it has not independently verified such information. The contents of this document are subject to change without notice.
This document is not investment advice or recommendation nor is it intended to sell investments or services or solicit purchases or subscriptions for them. You SHOULD NOT use or rely on this document in making any investment decision or decision to buy or sell currency. HBAP is not responsible for such use or reliance by you. You SHOULD consult your professional advisor in your jurisdiction if you have any questions regarding the contents of this document.
You SHOULD NOT reproduce or further distribute the contents of this document to any person or entity, whether in whole or in part, for any purpose. This document may not be distributed to the US, Canada or Australia or any other jurisdiction where its distribution is unlawful.
Hong Kong
In Hong Kong, this document is distributed by HBAP to its customers for general reference only. HBAP is not responsible for any loss, damage or other consequences of any kind that you may incur or suffer as a result of, arising from or relating to your use or reliance of this document. HBAP gives no guarantee, representation or warranty as to the accuracy, timeliness or completeness of this document.
Miscellaneous
Notwithstanding this document is not investment advice, please be aware of the following for the sake of completeness. Past performance is not an indication of future performance. The value of any investment or income may go down as well as up and you may not get back the full amount invested. When an investment is denominated in a currency other than the local currency of an investor, changes in the exchange rates may have an adverse effect on the value, price or income of that investment. Where there is no recognised market for an investment, it may be difficult for an investor to sell the investment or to obtain reliable information about its value or the extent of the risk associated with it.
This document contains forward-looking statements which are, by their nature, subject to significant risks and uncertainties. Such statements are projections, do not represent any one investment and are used for illustration purpose only. Customers are reminded that there can be no assurance that economic conditions described herein will remain in the future. Actual results may differ materially from the forecasts/estimates. No assurance is given that those expectations reflected in those forward-looking statements will prove to have been correct or come to fruition, and you are cautioned not to place undue reliance on such statements. No obligation is undertaken to publicly update or revise any forward-looking statements contained in this document or any other related document whether as a result of new information, future events or otherwise.
The Hongkong and Shanghai Banking Corporation Limited, its affiliates and associates and their respective officers and/or employees, may have interests in any products referred to in this document by acting in various roles including as distributor, holder of principal positions, adviser or lender. The Hongkong and Shanghai Banking Corporation Limited, its affiliates and associates, and their respective officers and employees, may receive fees, brokerage or commissions for acting in those capacities. In addition, The Hongkong and Shanghai Banking Corporation Limited, its affiliates and associates, and their respective officers and/or employees, may buy or sell products as principal or agent and may effect transactions which are not consistent with the information set out in this document.
© Copyright 2021. The Hongkong and Shanghai Banking Corporation Limited, ALL RIGHTS RESERVED. No part of this document may be reproduced, stored in a retrieval system, or transmitted, on any form or by any means, electronic, mechanical, photocopying, recording or otherwise, without the prior written permission of The Hongkong and Shanghai Banking Corporation Limited.