#WhyESGMatters The ESG impact of cyber crime | Article – HSBC VisionGo
In this issue of #WhyESGMatters, we discuss the increasing need for companies and industries to protect themselves from cyber threats, and more.
Finance · · 6 mins read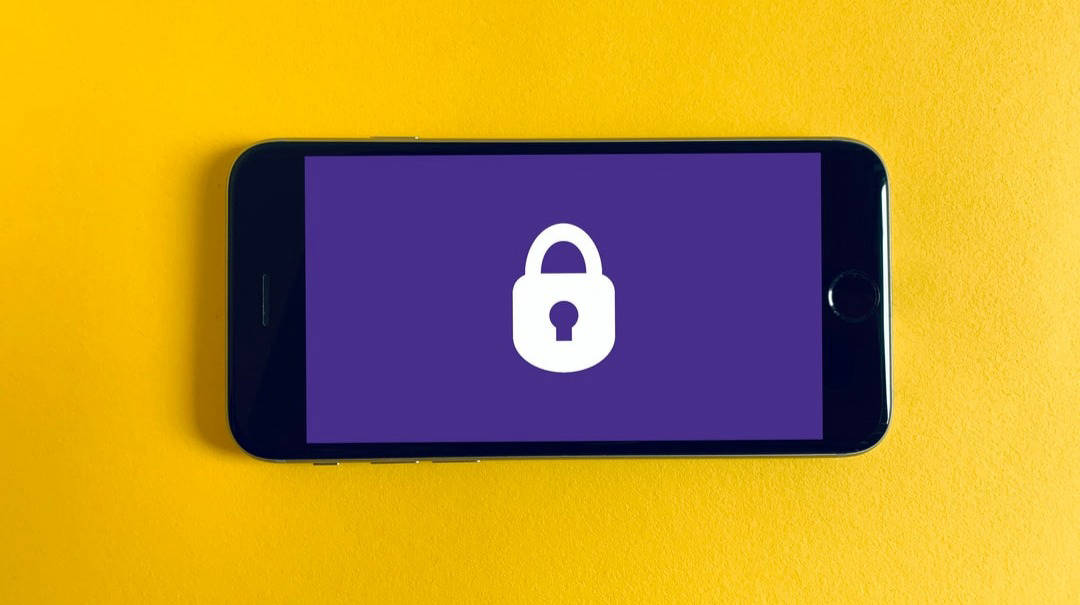 The ESG impact of cyber crime
The speed and breadth of technological adoption highlights the ease of doing things digitally. However, as the global economy becomes more interconnected, countries, companies and individuals face increased risks of cyber crimes. The cost of these attacks globally is expected to reach USD10trn by 2025, up from USD6trn today and equivalent in size to the world's third largest economy. While spending to counter these activities is forecasted to grow 7.7% annually, this may not be enough, particularly if digitisation accelerates faster than expected in a post-pandemic world.
In this issue of #WhyESGMatters, we discuss the increasing need for companies and industries to protect themselves from cyber threats. We also delve into the related Environmental, Social and Governance (ESG) issues, which are rising in signifi cance for companies, and highlight the industries that set to benefi t from the rise of cybersecurity spend.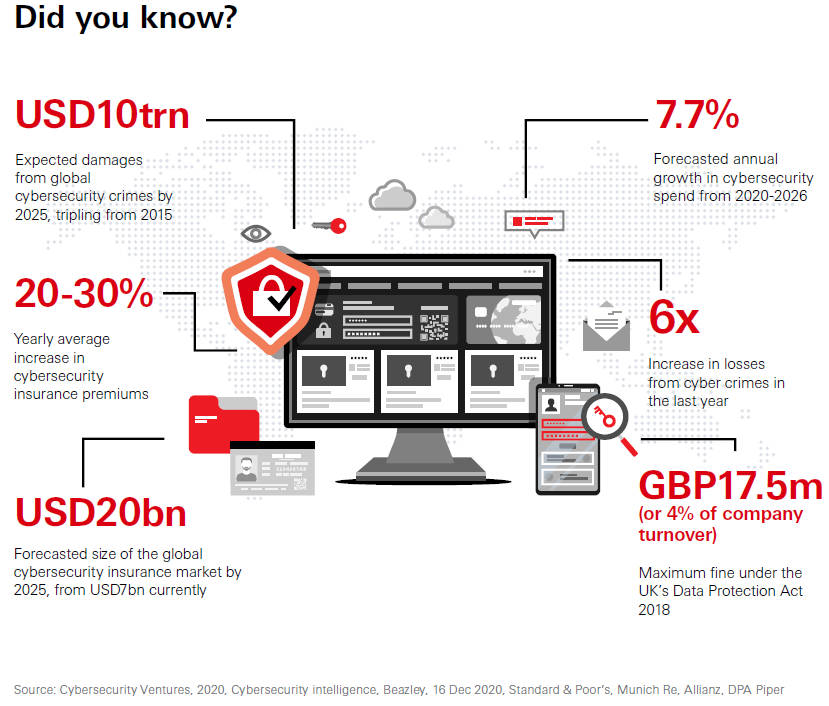 1. The growing need for cybersecurity
As digitisation grows, so too will digital vulnerabilities, allowing damages from cyber crime to grow. The threat of cyber crime can come from a multitude of sources including hackers, insiders, competitors, industrial spies, organised crime groups, nation states and terrorists.
The intention behind cyber crime is often financial gain, but there are other motives too, including theft and spying. Common types of attacks include:

Figure 1 highlights the implications of cybersecurity from an ESG perspective (left) and other factors relevant for investors (right).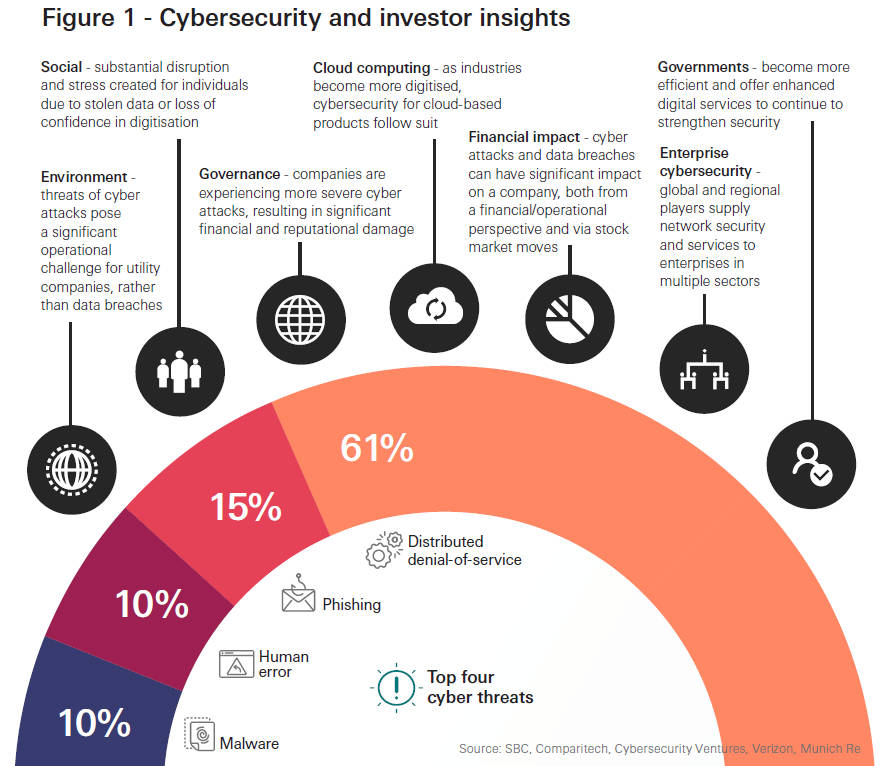 With the threat of cyber crime rising, spending to counter it could reach USD270bn per year by 2026 (see Figure 2).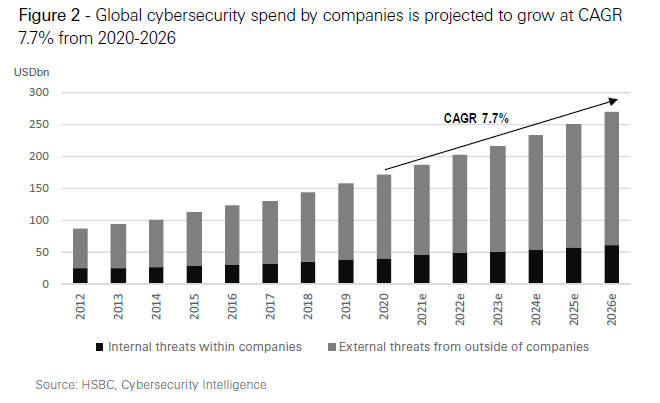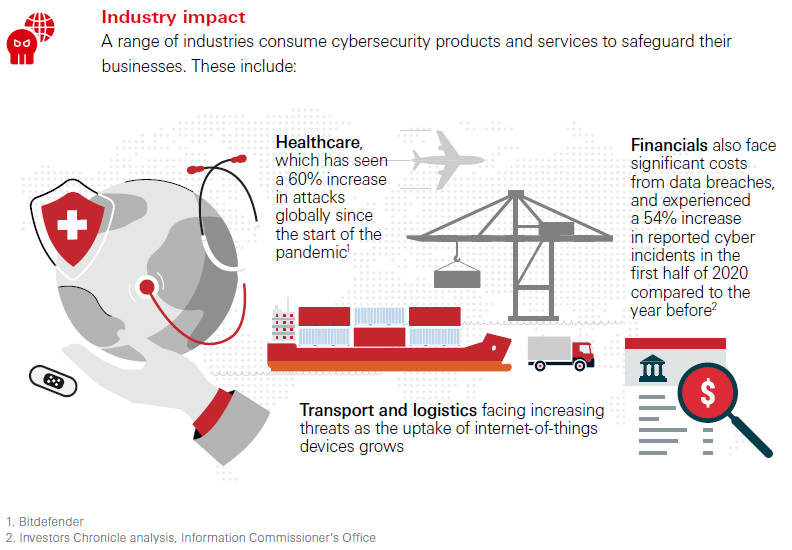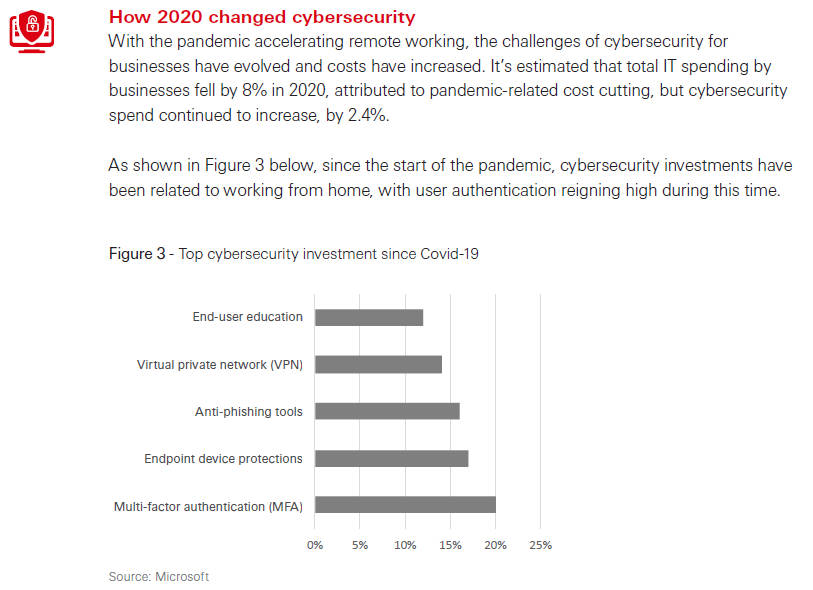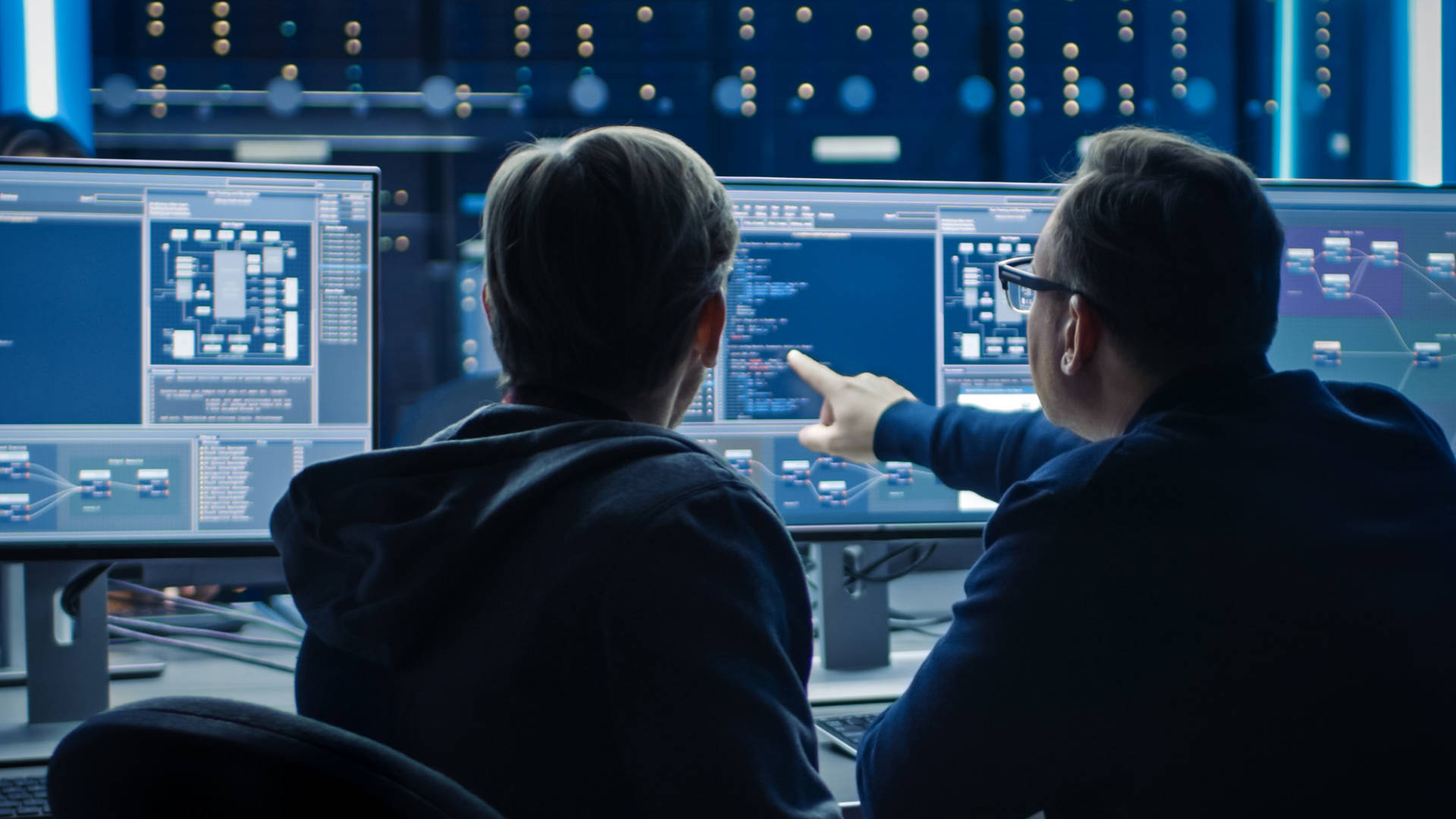 2. ESG implications from cybersecurity
Cybersecurity threats touch upon all three components of ESG, with implications from disrupted connections to national infrastructure, to loss of confidence in technology and reputational damage to firms. Investors should take note of these impacts, as discussed below.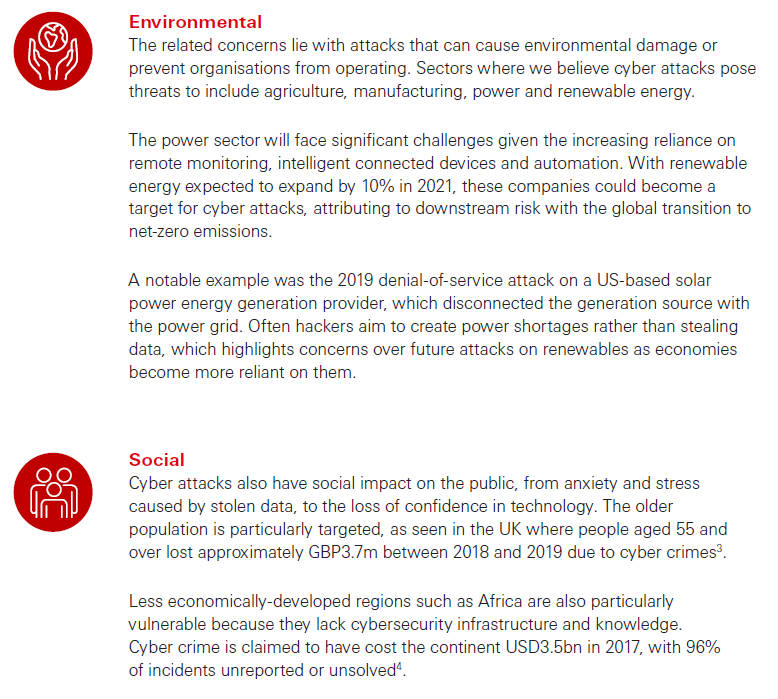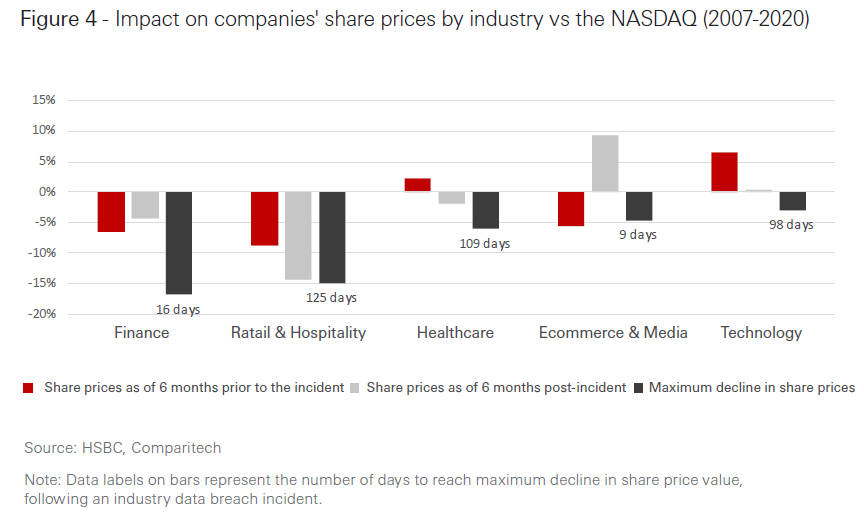 3. Industries providing cybersecurity solutions
In this section, we look at industries with growing cybersecurity revenues - grouped into either managed security service providers or cyber insurers. These are also opportunities for investors to explore.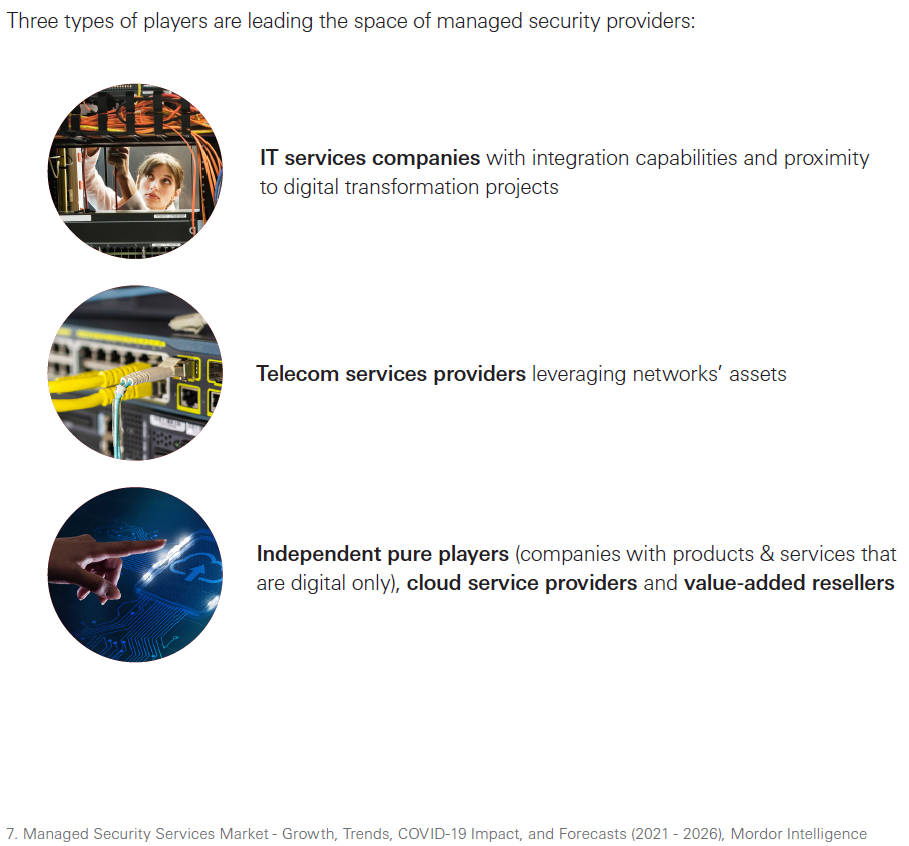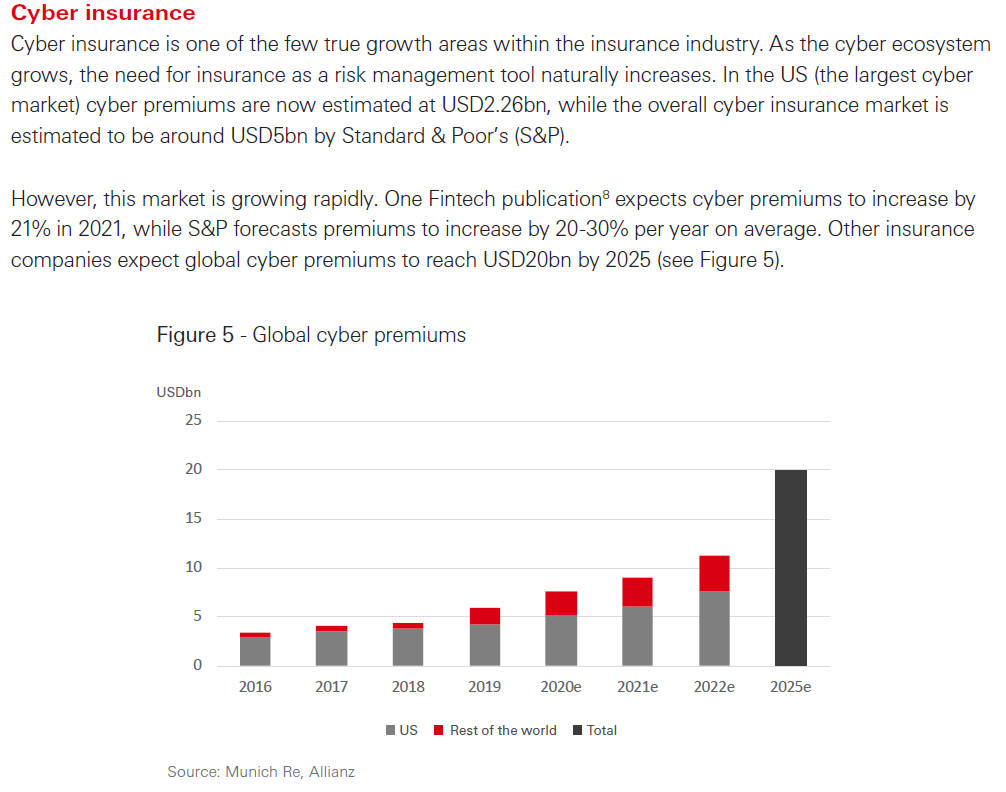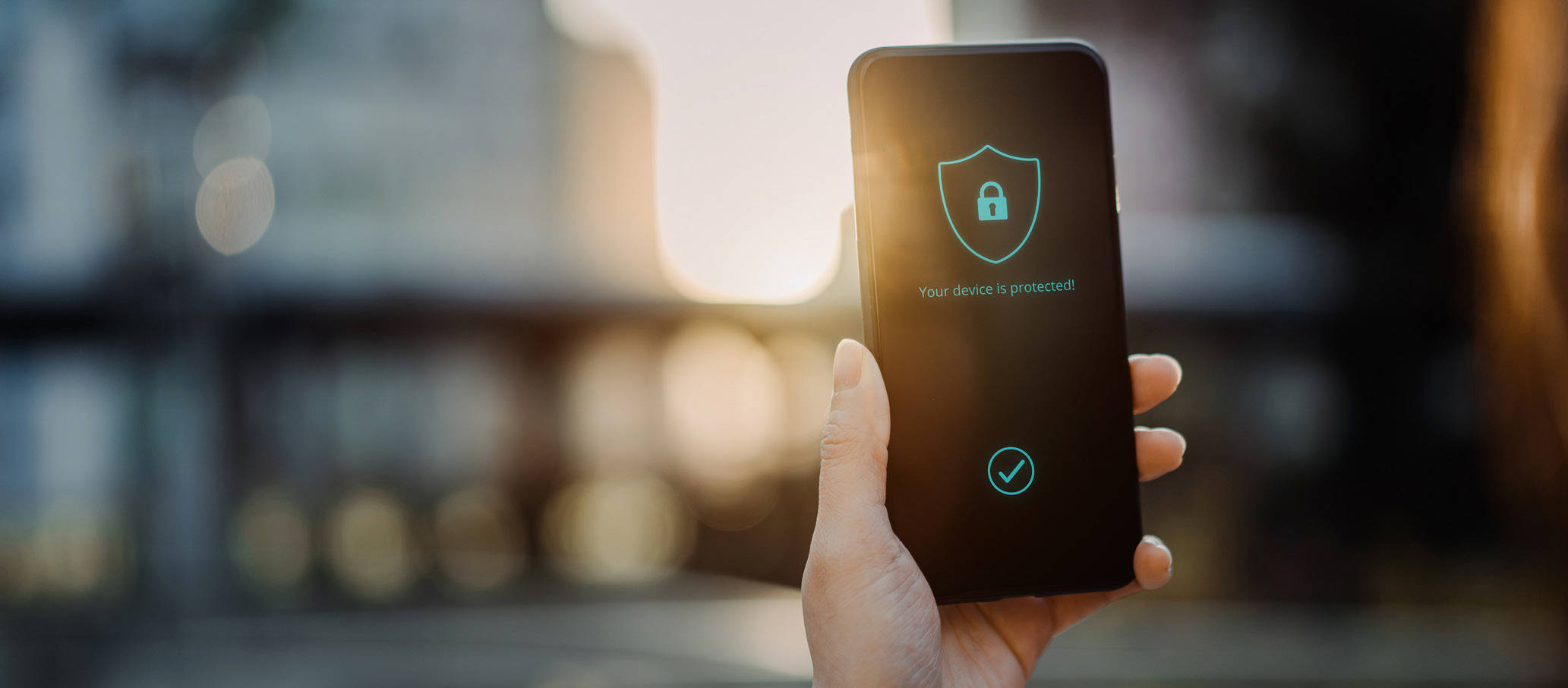 8. Finaria.it
4. Conclusion
With the rapid increase in digitisation leading to a growing threat of cyber crime, spending on cybersecurity across industries is set to rise. This will help companies and their investors to protect against ESG risks, which include infrastructure outages, loss of personal data and reputational damage.
Investors should also be aware of industries that are set to benefit from companies boosting their defenses against cybercrime, such as IT service companies, telecoms and cloud service providers. With clear indicators of continued growth in cybersecurity, this will offer investors more opportunities within the technology theme.
Disclosure appendix
This document is for information purposes only and it should not be regarded as an offer to sell or as a solicitation of an offer to buy the securities or other investment products mentioned in it and/or to participate in any trading strategy. Information in this document is general and should not be construed as personal advice, given it has been prepared without taking account of the objectives, financial situation or needs of any particular investor. Accordingly, investors should, before acting on it, consider the appropriateness of the information, having regard to their objectives, financial situation and needs. If necessary, seek professional investment and tax advice.
Certain investment products mentioned in this document may not be eligible for sale in some states or countries, and they may not be suitable for all types of investors. Investors should consult with their HSBC representative regarding the suitability of the investment products mentioned in this document and take into account their specific investment objectives, financial situation or particular needs before making a commitment to purchase investment products.
The value of and the income produced by the investment products mentioned in this document may fluctuate, so that an investor may get back less than originally invested. Certain high-volatility investments can be subject to sudden and large falls in value that could equal or exceed the amount invested. Value and income from investment products may be adversely affected by exchange rates, interest rates, or other factors. Past performance of a particular investment product is not indicative of future results.
HSBC and its affiliates will from time to time sell to and buy from customers the securities/instruments (including derivatives) of companies covered in HSBC Research on a principal or agency basis.
Whether, or in what time frame, an update of this analysis will be published is not determined in advance.
1. This publication is dated as at 07 July 2021.
2. All market data included in this report are dated as at close 06 July 2021, unless a different date and/or a specific time of day is indicated in the report.
3. HSBC has procedures in place to identify and manage any potential conflicts of interest that arise in connection with its Research business. HSBC's analysts and its other staff who are involved in the preparation and dissemination of Research operate and have a management reporting line independent of HSBC's Investment Banking business. Information Barrier procedures are in place between the Investment Banking, Principal Trading, and Research businesses to ensure that any confidential and/or price sensitive information is handled in an appropriate manner.
4. You are not permitted to use, for reference, any data in this document for the purpose of (i) determining the interest payable, or other sums due, under loan agreements or under other financial contracts or instruments, (ii) determining the price at which a financial instrument may be bought or sold or traded or redeemed, or the value of a financial instrument, and/or (iii) measuring the performance of a financial instrument.
Disclaimer
This document is prepared by The Hongkong and Shanghai Banking Corporation Limited ('HBAP'), 1 Queen's Road Central, Hong Kong. HBAP is incorporated in Hong Kong and is part of the HSBC Group. This document is for general circulation and information purposes only. This document is not prepared with any particular customers or purposes in mind and does not take into account any investment objectives, financial situation or personal circumstances or needs of any particular customer. HBAP has prepared this document based on publicly available information at the time of preparation from sources it believes to be reliable but it has not independently verified such information. The contents of this document are subject to change without notice.
This document is not investment advice or recommendation nor is it intended to sell investments or services or solicit purchases or subscriptions for them.
You SHOULD NOT use or rely on this document in making any investment decision or decision to buy or sell currency. HBAP is not responsible for such use or reliance by you. You SHOULD consult your professional advisor in your jurisdiction if you have any questions regarding the contents of this document.
You SHOULD NOT reproduce or further distribute the contents of this document to any person or entity, whether in whole or in part, for any purpose. This document may not be distributed to the US, Canada or Australia or any other jurisdiction where its distribution is unlawful.
Hong Kong
In Hong Kong, this document is distributed by HBAP to its customers for general reference only. HBAP is not responsible for any loss, damage or other consequences of any kind that you may incur or suffer as a result of, arising from or relating to your use or reliance of this document. HBAP gives no guarantee, representation or warranty as to the accuracy, timeliness or completeness of this document.
Miscellaneous
Notwithstanding this document is not investment advice, please be aware of the following for the sake of completeness. Past performance is not an indication of future performance. The value of any investment or income may go down as well as up and you may not get back the full amount invested.
When an investment is denominated in a currency other than the local currency of an investor, changes in the exchange rates may have an adverse effect on the value, price or income of that investment. Where there is no recognised market for an investment, it may be difficult for an investor to sell the investment or to obtain reliable information about its value or the extent of the risk associated with it.
This document contains forward-looking statements which are, by their nature, subject to significant risks and uncertainties. Such statements are projections, do not represent any one investment and are used for illustration purpose only. Customers are reminded that there can be no assurance that economic conditions described herein will remain in the future. Actual results may differ materially from the forecasts/estimates. No assurance is given that those expectations reflected in those forward-looking statements will prove to have been correct or come to fruition, and you are cautioned not to place undue reliance on such statements. No obligation is undertaken to publicly update or revise any forward-looking statements contained in this document or any other related document whether as a result of new information, future events or otherwise.
The Hongkong and Shanghai Banking Corporation Limited, its affiliates and associates and their respective officers and/or employees, may have interests in any products referred to in this document by acting in various roles including as distributor, holder of principal positions, adviser or lender. The Hongkong and Shanghai Banking Corporation Limited, its affiliates and associates, and their respective officers and employees, may receive fees, brokerage or commissions for acting in those capacities. In addition, The Hongkong and Shanghai Banking Corporation Limited, its affiliates and associates, and their respective officers and/or employees, may buy or sell products as principal or agent and may effect transactions which are not consistent with the information set out in this document.
© Copyright 2021. The Hongkong and Shanghai Banking Corporation Limited, ALL RIGHTS RESERVED. No part of this document may be reproduced, stored in a retrieval system, or transmitted, on any form or by any means, electronic, mechanical, photocopying, recording or otherwise, without the prior written permission of The Hongkong and Shanghai Banking Corporation Limited.