Zhang Lei's green vision | Article – HSBC VisionGo
Chinese cleantech giant Envision now powers 200 GW of renewables around the world. How much do you know about what this innovator is doing?
Technology · · 4 mins read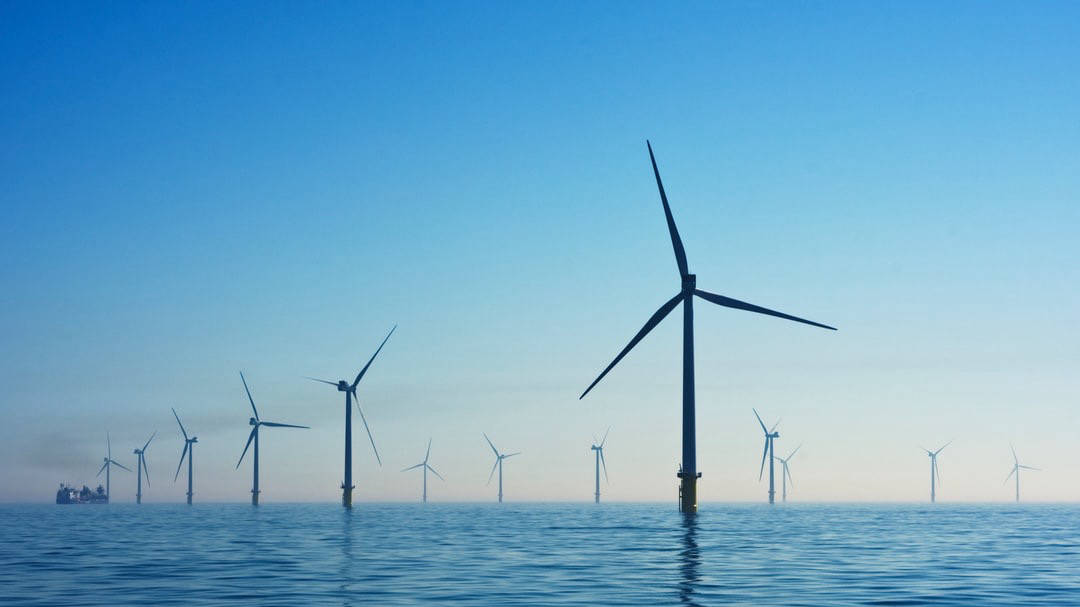 Covid-19 has made international travel much more complicated. Crossing borders is still a struggle. There are a jumble of pandemic-based rules and restrictions – many of which seem to change on a regular basis. But Zhang Lei, the founder of Envision Group, has carried on travelling through the summer. The 44 year-old was seen rubbing shoulders with French President Emmanuel Macron in Douai, an industrial town in northern France, at the end of June, for instance. Four days later, he was spotted alongside British leader Boris Johnson on a tour of an electric vehicle assembly plant in Sunderland in northern England.
His accompanying of the two political heavyweights highlights Envision's growing influence in the electric vehicle sector. In Douai, Envision is building a low-carbon electric vehicle (EV) battery facility with annual production capacity of 9 gigawatt hours (GWh) in 2024, before scaling that up to 24 GWh by the end of the decade. This €2 billion ($2.4 billion) investment is also a key plank in French carmaker Renault's plan to establish Europe's largest EV production cluster, making 400,000 new energy vehicles a year.
In Sunderland, once a world leader in shipbuilding, Envision will build Britain's first gigafactory next to the carmaking base where Nissan (a long-term partner of Renault) has been making vehicles since 1986. The plan is for the factory to be powered by a microgrid generating up to 132 MW of renewable energy from Nissan's wind and solar farms. It will also feature an on-site energy storage system with repurposed batteries. It will likewise have a first-phase capacity of 9 GWh (and ultimately 35 GWh). The Sunderland project is part of a £1 billion ($1.4 billion) EV36Zero initiative that the British government will help to finance.
At a time of heightened sensitivity about Chinese infrastructure investment in Europe, Envision's inking of two deals of national significance is an achievement. Its 'energy storage' role in both is also notable – given it is a lesser known player in the EV battery space, a field that has been dominated by its Chinese peers like CATL and BYD (see WiC537).
In fact, it was not until 2018 that the Shanghai-based Envision focused on storage technology by acquiring Automotive Energy Supply Corporation (AESC), the lithium-ion battery unit of Nissan (which has retained a 25% stake in the entity). Envision stepped in when GSR Capital, led by high-profile investor Allen Zhu (see WiC396), failed to procure sufficient funds for a deal estimated at around $1 billion, reported Nikkei Asia.
Founded in 2007, privately-held Envision started out manufacturing wind turbines. From small roots it grew into a major player. For instance, in the three years to 2019, revenues had more than tripled to Rmb23.2 billion ($3.6 billion), piggybacking on favourable policies in the sector including tax breaks for wind power programmes that led to domestic installations.
Envision has leapfrogged a number of rivals in the industry. Since 2017 it has consistently ranked as China's second largest wind turbine maker by newly installed capacity, closing the gap on market leader Xinjiang Goldwind. Last year its local market share amounted to 17% with 10.1 GW of wind installations, while Goldwind grabbed 21% of the market, data from BloombergNEF showed.
In projects overseen by state-owned enterprises, Envision took first place by clinching 24% of the available deals (totalling 5.6 GW in scale), while state-backed Goldwind trailed at 19%, according to 21CN Business Herald, a financial news outlet. A sizable portion of those projects were offshore, meaning that the turbines must be moored to the seabed, presenting a greater technical challenge than installing them on land.
Envision prefers to compete at the higher-end of the market, emphasising its product quality and reliability. In a recent interview with Bloomberg, Zhang noted that his firm's turbines are equipped with sensors to collect data for real-time status reports and subsequent analysis. The technology crucially enables their operators to identify tiny cracks on the blades of the offshore turbines (which are frequently struck by lightning) which helps to prevent future outages.
Zhang's travels meanwhile reflect that Envision's commercial footprint extends far beyond China. Last year it secured the contract to build its second wind farm in France after winning an earlier tender for construction of a 40 MW project in Burgundy in 2019. Located in the Haute-Marne region, the new wind farm has been designed to supply renewable energy to 52,000 people a year. Envision's equipment has also been installed in Argentina, Chile, India, Kazakhstan, Mexico, Montenegro and Vietnam. The Global Wind Energy Council estimates that 12,500 of Envision's wind turbines are working across the globe, making it the world's fourth largest supplier of the technology.
Somewhat unusually Envision positioned itself as a multinational company from day one. In the same year that the group was founded 14 years ago, Zhang put Envision's global innovation centre in Silkeborg, a Danish town close to the global headquarters of windpower giants Vestas and Siemens.
Until two years ago it was led by windpower veteran Anders Rebsdorf, who pulled together a team of hires from firms including IBM and General Electric. For instance, the lab (aided by funding from the EU) devised the world's first wind turbine generator with high-temperature superconductors for its drivetrain – a breakthrough that reduces the overall weight of the nacelle by 25% and reduces reliance on rare earth components that are expensive to source.
Zhang lays claim to a fair degree of cultural diversity. After graduating from the London School of Economics he worked as a trading strategist at French oil giant Total, and later as an energy derivatives product manager at Barclays. In 2009 he was tempted back to China through the Thousand Talents Programme, a national scheme that encourages overseas Chinese to come home with generous research and start-up subsidies (see WiC27).
Born in Jiangsu province to a family which owned manufacturing businesses, Zhang chose to strike out on his own in renewable energy. He decided to look not just at hardware but focus too on the software and networking technologies that help to achieve cost savings in electricity storage and distribution.
This vision crystallised in EnOS, a new platform unveiled in 2016. Through real-time computing, machine learning and Big Data analytics, EnOS is designed to guide how renewable energy is produced, transmitted, stored and consumed. To scale up the platform, Envision went on an acquisition spree that saw it purchase Bazefield (the second largest renewable energy management company in Europe), ChargePoint (an operator of a network of independently-owned EV charging stations across North America and Europe), AutoGrid (a Silicon Valley-based Big Data company that predicts demand and supply on electric grid networks), and SonnenBatterie (Europe's largest distributed energy storage company, based in Germany).