Ransomware attack? You are the next one! | Offer – HSBC VisionGo
Ransomware attack? You are the next one!
Technology · ·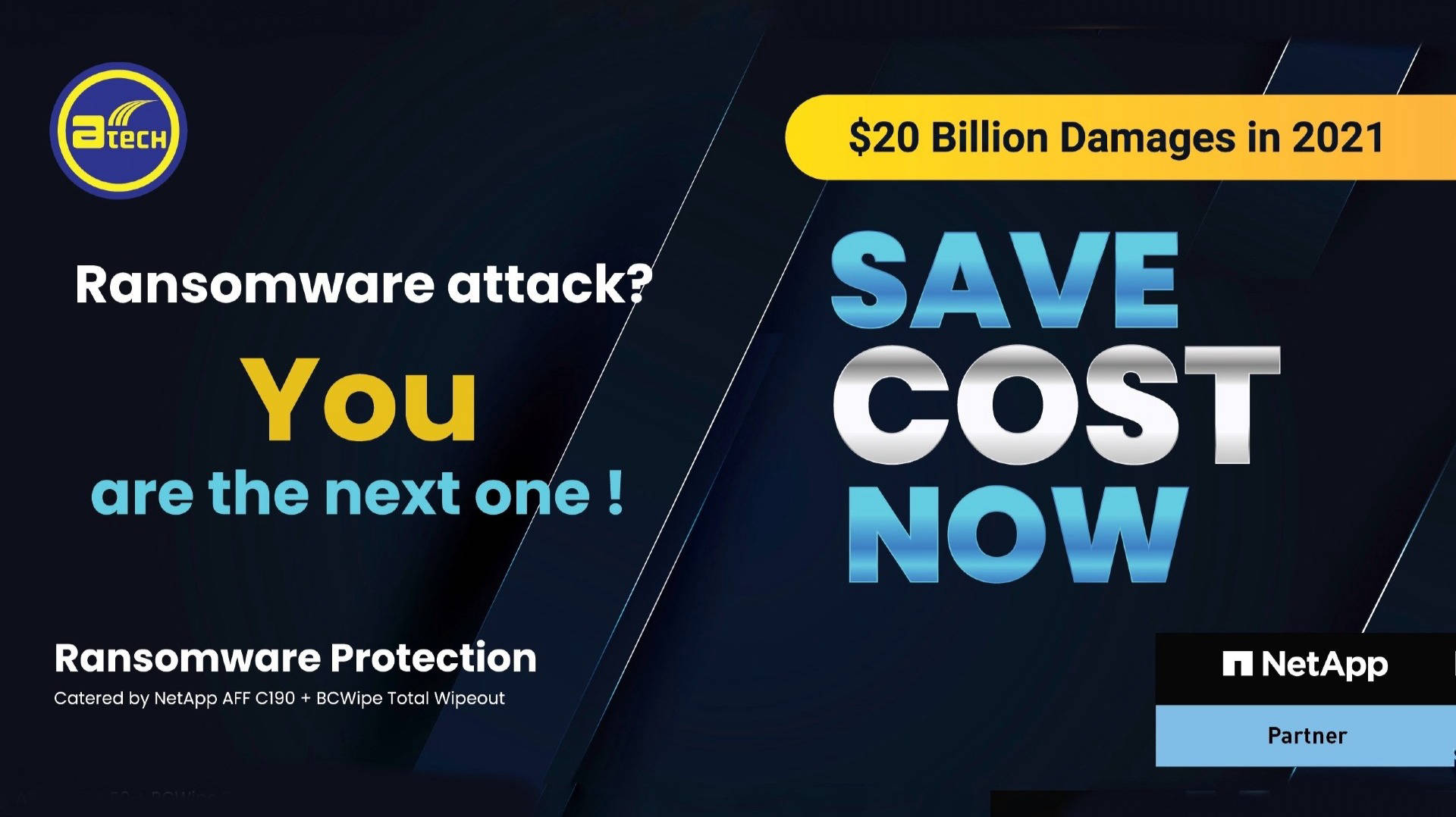 There are $20 Billion in damages from ransomware in 2021.
Ransomware is the fastest-growing version of cybercrime, and it is true that downtime caused by ransomware is costly.
The main findings of the Global Survey of the State of Ransomware in 2021 include:
The average cost of fixing ransomware attacks has more than doubled in the past 12 months. Repair costs, including business downtime, lost orders, and operating costs, have increased from an average of US$761,106 in 2020 to US$1.85 million in 2021. This means that the average cost of recovering from a ransomware attack is now an average of 10 times the ransom payment.
The average ransom paid was $170,404. Although US$3.2 million was the highest payment among respondents, the most common payment was US$10,000. 10 organizations paid a ransom of $1 million or more.
The number of organizations paying ransom increased from 26% in 2020 to 32% in 2021, although less than one-tenth (8%) managed to retrieve all data.
Read More: What is Ransomware and Why you can't prevent it?
Do Not Pay the ransomware! Meet our ransomware protection solution which is catered by NetApp AFF C190 and BCWipe Total WipeOut!
ATech —3 Steps Approach to Prepare for Ransomware Attacks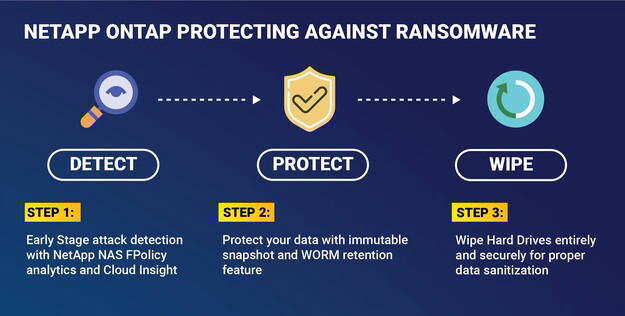 Step 1:
Early Stage attack detection on user behavior and file access analytics with NetApp NAS FPolicy analytics and Cloud Insight.
Step 2:
Protect your data with immutable snapshots and WORM retention features with NetApp ONTAP.
Step 3:
Wipe Hard Drives entirely and securely for proper data sanitization with Jetico Central Manager Console.
How does NetApp ONTAP protection against ransomware?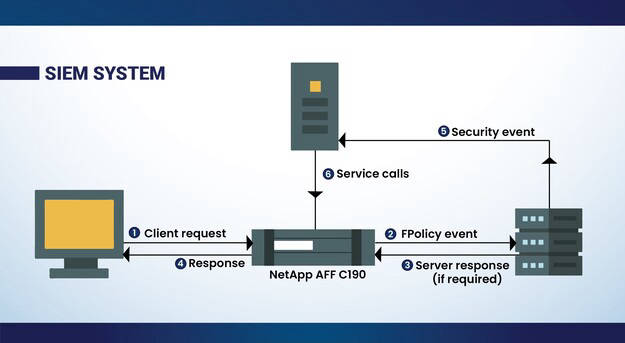 NetApp provides a variety of tools to prepare our customers for ransomware and implement success and business continuity plans:
• NetApp professional consulting services can help with data protection and security assessments.
• NetApp's e-book "Ransomware in the Cloud" is full of resources and information to help customers develop practices to prevent and respond to ransomware.
• ONTAP customers can find specific instructions on ransomware prevention and repair and complete NetApp ransomware solutions.
• To help detect potential ransomware attacks, users of NetApp Cloud Insights can take advantage of NetApp Cloud Secure, which uses an unattended data request method when analyzing access patterns.
• To help prevent ransomware from executing in a storage environment, customers can use NetApp FPolicy.
• To help recover from ransomware, NetApp SnapCenter technology provides business continuity and data recovery options.
• NetApp therapy needs to run on multiple platforms. Our ransomware solution includes interoperability with the Splunk enterprise environment.
If your storage needs and recovery strategy are, NetApp can provide solutions to help you develop ransomware protection and mitigation strategies.
Read More: What is the best way to detect Ransomware?
NetApp AFF C190 + BCWipe Total WipeOut Offer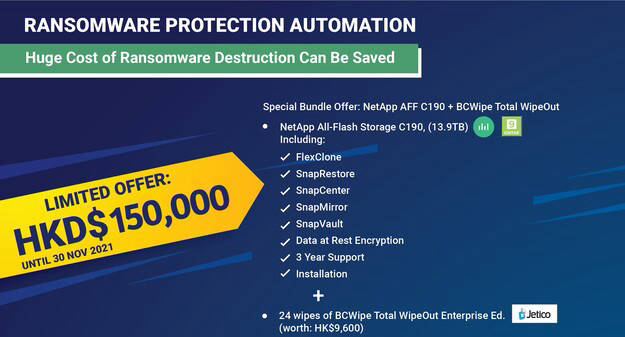 Huge Cost of Ransomware Destruction Can Be Saved with Ransomware Protection Automation.
We have a Limited Offer: HK$150,000. Below are the details:
NetApp AFF C190 + BCWipe Total WipeOut Offer
NetApp All-Flash Storage C190, (13.9TB)
Including :
✔Flex Clone
✔Snap Restore
✔Snap Center
✔Snap Mirror
✔Snap Vault
✔Data at Rest Encryption
✔3 Year Support
✔Installation
24 wipes of BCWipe Total WipeOut Enterprise Ed. (worth: HK$9,600)
About ATech Communication (HK ) Limited
Ahead of Technology and Communication
ATech is a Leading IT service provider in Hong Kong. We provide the best value, the most widely used system of quality products, customized solutions, and services to strengthen our reputation. ATech is committed to providing total solutions through the expertise we have developed, the talents we have, and the experience we have gained to meet customer expectations. If you'd like to learn more about ATech and the work we've done, visit our Cases page. For more information on ATech, please contact us at enquiry@atechcom.net.