Subscribe to Bot Builder - Stella through HSBC Smart Solution & enjoy 50% off | Offer – HSBC VisionGo
Subscribe to Bot Builder - Stella through HSBC Smart Solution & enjoy 50% off
Technology · ·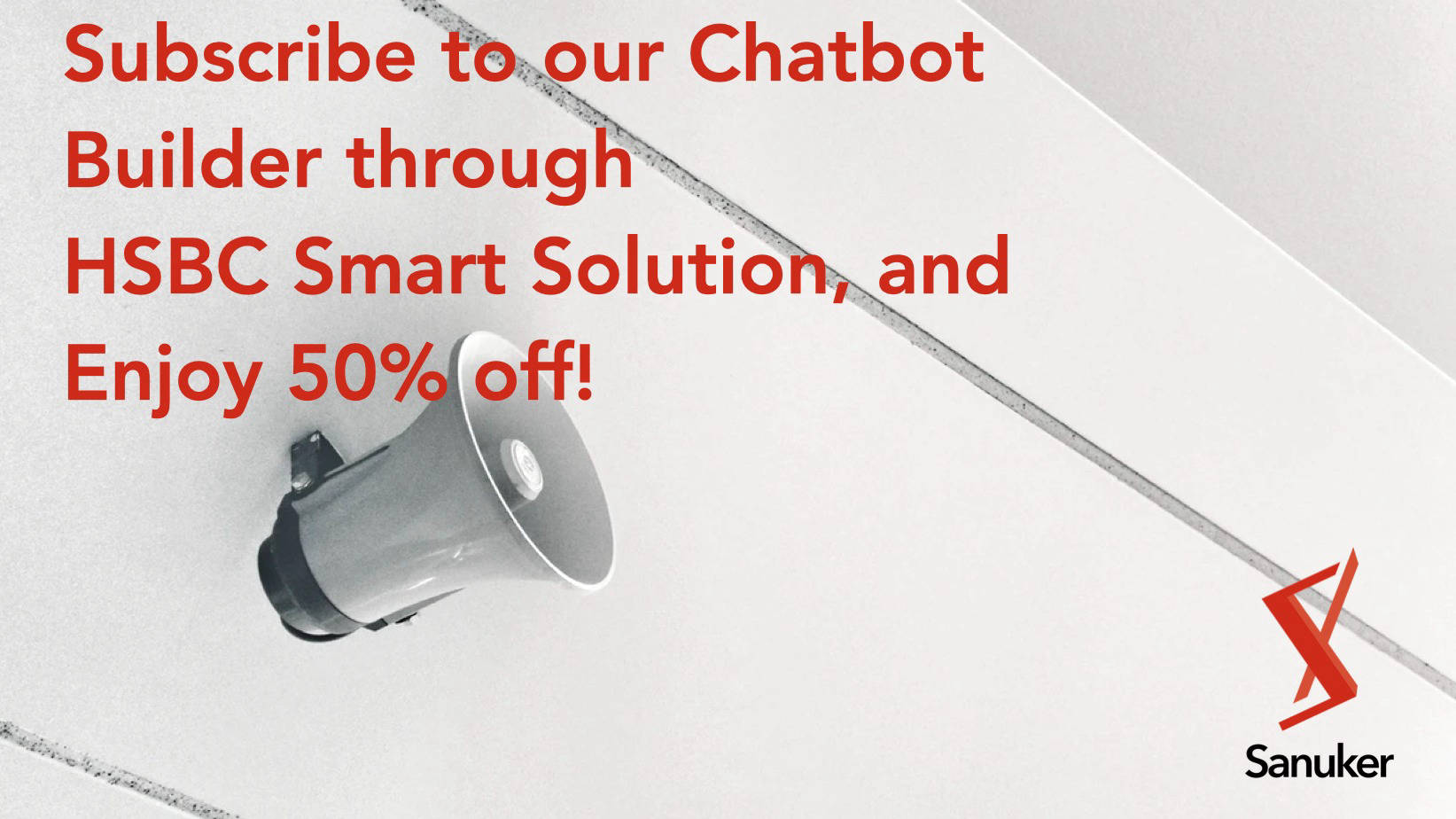 Interested in revolutionizing your business with automated chatbot solutions? Act now and Subscribe with 50% off!
Sanuker has partnered with HSBC to enable HSBC Business clients to drive significant business impact through conversational commerce on Facebook Messenger, Instagram, WhatsApp, and more.
We at Sanuker and HSBC share the passion for making your business journey manageable and innovative. By deploying the Stella Chatbot builder on HSBC Smart Solution, you can enjoy 50% off your first 6 months and a free 60-minute consultation session with a Sanuker chatbot specialist.
What can you do with Stella?
Stella comes with a unified interface and methodology for developers to build chatbots on various instant messaging platforms. Stella also provides an extensive API for custom integrations with CRMs, e-commerce platforms, and live chat solutions.
A chatbot acts as a welcoming pre-sales assistant that ensures all your customer inquiries are being handled. This keeps your customers happy as your business will be responsive while allowing your customer service team to attend to leads without being caught up in answering simple, repetitive questions. Having a chatbot also allows you to transform every click on your ads into a meaningful conversation with your potential clients and captures real-time business opportunities.
Building a chatbot through Stella will benefit not only your sales and marketing departments but also your operations and customer service teams.
Chatbots can:
Lower operation costs with 24/7 services

Collect and analyse customer data

Retarget and engage consumers
And more benefits waiting for you to explore! Subscribe to Stella through HSBC today!
Sign up to Stella for a free trial: https://build.stellabot.com/register
Want to know more about our services? We are here to help.
Contact us
Email: hello@sanuker.com
WhatsApp: +852 6822 7287
About Sanuker
Sanuker is a consulting company that provides business messaging solutions and chatbot solutions to international brands in Asia and Europe. We lead the market with our rapid development strategies across messaging platforms and are selected as a Global WhatsApp Business Solution Provider.
We are looking for talents who believe in building good chatbot solutions to help businesses around the globe.
Check us out at https://sanuker.com/
Talk to us at https://m.me/sanukerinc