About Us


Who We Are
JC Legal律師事務所專門從事公司及商業法律、監管合規及爭議解決。我們接通香港和東南亞政府部門、商會及本地專業人員,專為有意拓展香港和東南亞市場的企業提供兩地跨境咨詢。
我們的客戶包括上市公司和持牌金融機構等,並透過初創企業法律計劃支援創業家及中小企的成長。我們亦協助高淨值人士和家庭處理財富傳承、家事等事宜。
Headquartered in Hong Kong with office in Leeds, the United Kingdom, JC Legal has established a broad practice in corporate and commercial law, regulatory compliance and dispute resolution. We pride ourselves on cross-border advisory for businesses who aspire to operate in Hong Kong and Southeast Asian markets, in collaboration with government authorities, trade associations and local professionals.
We assist startups as well as large, established enterprises, listed companies, licensed corporations and industry leaders in their own right in all legal matters, together with our local partners in Hong Kong, PRC and France. With our cross-border legal expertise, we also help global citizens and multicultural families on family affairs and legacy planning.
Besides, as a startup lawyer with long-term legal protection in mind, we advise small businesses on venture capital, fundraising and corporate law through our flagship Startup Steward Programme and Enterprise Growth Programme, so the risk of costly dispute resolution is minimised.
We are on LinkedIn and Instagram. Visit our website and read our brochure for more information.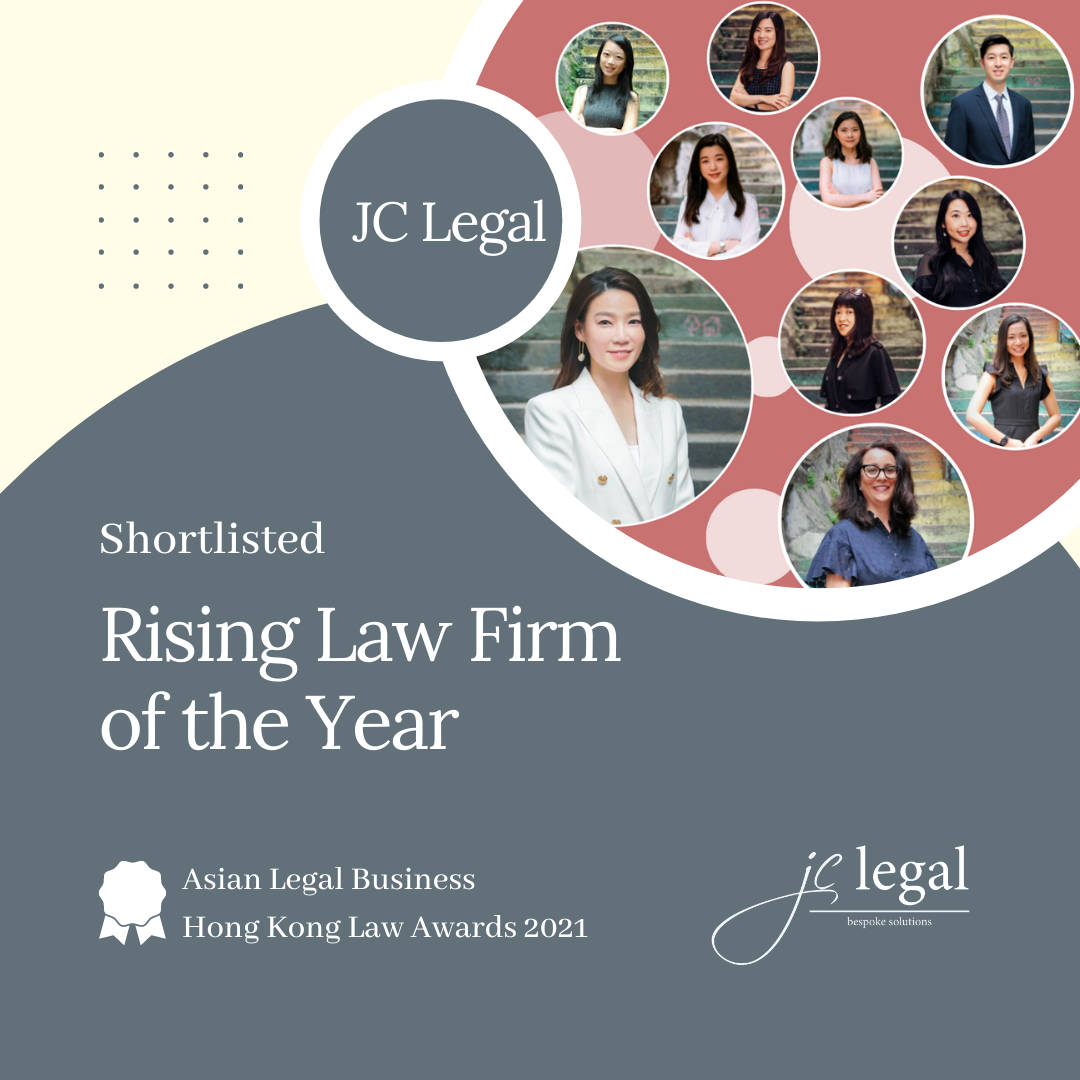 Take Our Clients' Word
Janice is a professional lawyer proficient in English, Cantonese and Mandarin. Effective communication is key to doing business nowadays. Janice has professional knowledge of the litigation process in Hong Kong, and is able to provide clients with strategic and pragmatic advice with her rich experience in the field. She also liaises closely with lawyers from the Chinese mainland and Hong Kong to offer comprehensive legal support for businesses.
– Cathy Ng, Director, Genesis Capital Investment (HK) Limited
I find JC Legal to be both responsive and thorough, with a down-to-earth, non nonsense approach which serves my purposes and own style very well.
– Philippa Huckle, Executive Chair and Director of Investment and Tax Planning, Aria Forum Wealth Management